June 2016 Articles
Cover Story
Paul Moffett
Columns
Rick Cain
Eddy Metal
Eddy Metal
Blogs
Got Shows?
Send Them To Us
Bookmark Louisville Music News.net with these handy
social bookmarking tools:
Available RSS Feeds
- Top Picks
- Today's Music
- Editor's Blog
- Articles
Add Louisville Music News' RSS Feed to Your Yahoo!

Issue: June 2016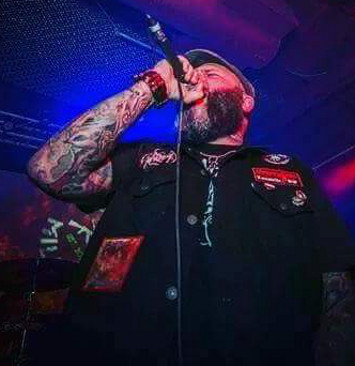 JD Hall
Name: My name is JD Hall.
Age: I am 40 years old.
Instrument: I do vocals and guitar.
Band/Former Bands: My current band is Helfire Militia. My former bands were Graveflower, Churchbomb, and Kallus.
How long on instrument: I have been on vocals for fourteen years.
Equipment: Equipment I use is Sure 58 mic.
Influences: My influences are Black Sabbath, Black Flag, Neurosis, Entombed, Kreator and more.
My first gig: My first gig was in the Summer of 2001, at the New Albany IN Amphitheater, playing bass for Kallus. I was extremely drunk and played nothing that I was supposed to. I heard it was a grand performance.
Hobbies: My hobbies include being a great dad, staying sober, playing and listening to great music.
My favorite movies: Any movie with swords and/or axes.
My favorite food: Popeye's chicken.
My favorite place: My fave is Red River Gorge.
My favorite sports team: The New Orleans Saints.
What I listen to nowadays: Now days I listen to Black Breath, Cattle Decapitation, Windhand and Nate Hall.
The coolest thing I have ever done: Is getting sober.
My most embarrassing moment: Getting drunk wrecking, my sister's car and going to jail.
My Bad Habits: My bad habit is over-spending.
My first concert: My first concert ever was Endpoint in 1993.
If you could meet a Rockstar ( past or present ) who would it be and why: If I could meet a rockstar past or present, it would be Tonni Iommi from Black Sabbath because he is a huge influence on my music style.
Who do you love: I love Chloe Moon Hall, my daughter.