May 2016 Articles
Cover Story
Paul Moffett
Columns
Mike Suttles
Eddy Metal
Eddy Metal
Blogs
Got Shows?
Send Them To Us
Bookmark Louisville Music News.net with these handy
social bookmarking tools:
Available RSS Feeds
- Top Picks
- Today's Music
- Editor's Blog
- Articles
Add Louisville Music News' RSS Feed to Your Yahoo!

Issue: May 2016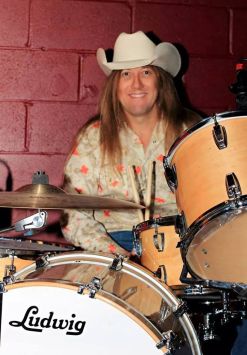 David Williams
Name : David L. Williams Jr.
Age : 50
Instrument : Drums
Band/Former Bands : Sioux Savage, White Hot, Hired Gun, Bugzy Moran, Pushing Up Daisies, The Kelly Richey Band, Crazy Train, my current band is "The Big Rock Show" witch I have been a member of for the past 15 years.
How long on instrument : 41 years
Equipment : Ludwig Drums!!!!!!!!!!!!!
Influences : Buddy Rich, Johnny Roy, Brad Canaday, Ringo, Jerry Reed, Bon Scott, Hank Williams Sr., Chuck Jones and Charles Bukowski.
My first gig : Chapel service during freshman year in High School, We played "I've Got a Feeling" by The Beatles and "Freebird" by Skynyrd, we brought the house down.
Hobbies : Toy Trains, pop culture and hats, classic cinema.
Favorite movies : The Empire Strikes Back, No Country for Old Men, Apocalypse Now and The Petrified Forest.
Favorite food: Fried Chicken.
Favorite place : Savanna, Georgia.
Favorite sports or team : No favorite team, I don't care about sports at all. If I had two TV channels to choose from, one were sports and the other was watching old ladies sew quilts together, I would watch them sew!!!!!!
What I'm listening to nowadays : Lately it has been The Eagles, 70s country and The Rolling Stones with Brian Jones.
Coolest thing I've done : I once met Rick James a party in Los Angeles at a record producer's house for Motown Records, we all sat down around a big table to eat dinner, the first thing that I said after the prayer was "Hey Rick, pass those beans down here man!!!", he looked at me like "WTF??!!" then he said "Ahite den Dave, pass Dave down there the beans" and then he passed them down. He died a few months later. I have had lot's of cool experiences, too many to pinpoint the coolest.....
Most embarrassing moment : Hitting myself in the eye with my drumstick while playing a gig, I had to go to the hospital. I had to wear an eye patch for a few days so the band got me a cardboard pirate hat from Long John Silver's to wear while I played the next night. No pictures of this exist, it was during the pre-cell phone era.
Bad Habits : Not drinking beer anymore.
What was your first concert ever : Sammy Hagar/ ZZ Top at Freedom Hall in Louisville, Ky. in 1983.
If you could meet a Rockstar ( past or present ), who would it be, and why : I would want to meet Jimi Hendrix because I would like to just sit and talk to the man for a couple of hours about life in general.
Who do you love : I love what is left of my family, my co-workers at my day job, my co-workers in music my true friends and myself.