December 2015 Articles
Cover Story
Paul Moffett
Columns
Sue O'Neil
Eddy Metal
Eddy Metal
Bookmark Louisville Music News.net with these handy
social bookmarking tools:
Available RSS Feeds
- Top Picks
- Today's Music
- Editor's Blog
- Articles
Add Louisville Music News' RSS Feed to Your Yahoo!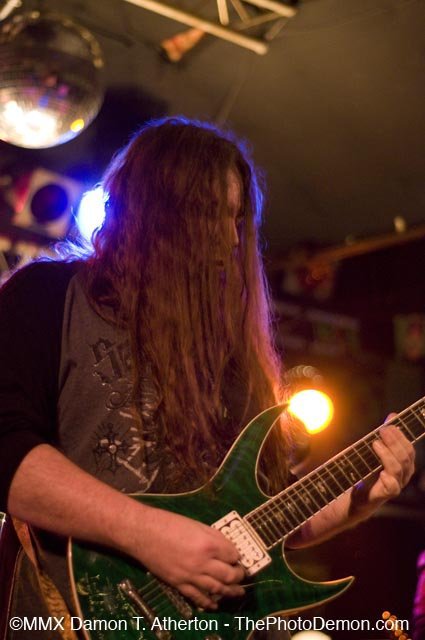 News From the Pit
Good Riddance 2015!!!
Twenty-fifteen has been one up n' down roller coaster of a ride, mostly bad for me. My venue I booked shows at for 15 frikkin' years, the Phoenix Hill Tavern, closed suddenly (screwing many bands out of a great place to play) and is now destined to be a trendy highlands apartment complex (ain't that a bitch? all that history - gone!), I lost two good friends that I cared a lot about to pill addiction (I hate that crap!!), one of my bands broke up, I got Plantar Fasciitis in my foot which hurts like hell, my eyes are starting to go bad (getting old sucks!) and the ultimate icing on top of this shit-covered cake was that I just got cheated on - on Thanksgiving, no less! Such a lovely Happy Thanksgiving gesture. Perhaps you would like to slit my dog's throat on Christmas Eve for an encore?
Jokes aside. It was probably all my fault for real. I'm kinda difficult. In my defense, we both could have tried harder though. But I have no hate in my heart. I wish her all the best and happiness. She is a great gal. I am a sad guy. Thanks to my friends and family who have tried to cheer me up. Breaking up is a MF!! Its always been hard for me to let go of women I care about, even when a once good relationship goes down the toilet. Pain sucks. Oh, well, thats life for ya! Right when all is right with the world, you get a huge, unexpected kick in the ballsack. I'll be ok though, it will just take a lil' time to get over the shock of it all.
On a positve 2015 note — I did play some badass shows this year, and my band recorded an awesome demo that people seem to like! We've been getting the new stuff played on the radio, too! Take that, haters! Thank you to all who have been kind and supportive. It means a lot to an old fogie like me. And Louder Than Life was a lot of fun as well! Oh yeah, I wanna see you people at my last two shows of 2015!! On December 13, we are playing Hard Rock Cafe to raise toys for Orphans for Christmas (I love helping with stuff like this, it makes me feel great) and also a huge New Year's Eve show at Trixie's, featuring newly signed Louisville rockers Flaw. Congrats to those guys for the record deal! That's awesome. I can't wait to play this show, I bought a sweet new guitar I'm itching to try out! So c'mon out and party with me and the guys in Flaw on NYE.
I'm making big changes in my life and I intend to come back in 2016 in full force, maybe even acquiring a new showcase if I can find the right venue/sponsors! And I'll be having Rock For Kosair again if I have to frikkin' rent a place! The kids have last year's toys we raised, so they will need all new toys for Christmas 2016! And I'm gonna try my hardest to not let them down. But I'm going to need your help too people, so get ready!
This time of year things slow down musically in our scene, so my column is a bit short. Bands take time off to spend with family and get Christmas stuff done. Jillian's has been having tons of shows recently, and I haven't seen really much out of Diamond Pub lately? What's up with that? I love Diamond Pub but that is a hard room to fill. It's big.
Anyways, I wish all of you a merry Christmas and a killer New Year!
Look out 2016, here I come. Hell, it's gotta be better than 2015.
The Metal Grapevine
STP Singer Scott Weiland Dies:
Former singer for the Stone Temple Pilots & Velvet Revolver, Scott Weiland, has died. Sources won't say how he died, but we all know it was heroin. I've seen them a few times and he was a great vocalist when he was sober. No, he was amazing! But the last few years that demon took its toll. When he left, or was fired, from STP, he got really bad. He started his own group. One that probably allowed him to do his thing. Big mistake. But that thing got worse. One of the reasons I did not go see him at Diamond Pub for Gobblestock not long ago was that someone had posted a video of his new band playing live, and it was horrible. Scott sounded terrible and was high as a kite apparently. It sounded nothing like him! A cover band would have sounded better. Heroin is no joke people! I have been no angel in my life, but I would never touch that stuff with a 50 foot pole! Nowadays it's the occasionally doobie and that's it. When you dance with the devil, there is always a price to pay. R.I.P Scott.
Steel Panther Concert Review:
I frikkin' love this band. I've been into these cats for a few years now. Before they were famous. Hell, on the way walking to the venue from my car, some dude stopped me and said "Hey dude! You are the guy who introduced me to Steel Panther when you played them at one of your shows years ago!" I was proud. Dude was happy as f**k.
Steel Panther always puts on a great show no matter where they play. The musicianship is off the hook with these southern California rockers, and you gotta admit, they have a pretty good little deal going on. What they do is different, funny, entertaining, and downright rockin'. I was quite looking forward to seeing them in a close intimate setting like the Mercury Ballroom. Before, I had only seen them at Louder Than life and opening for Judas Priest in a big arena. Those guys for the longest time would not come to Kentucky. They only seemed to play far away, but we finally got them here in a smaller club and I'm glad, because I had a blast at their show. As always they sounded great. All of the guys were in top form. Vocalist Michael Starr is one of the most under-rated singers in rock today. I truly don't see how that man sings the way he does every night and still can talk normally during the day. The highs he can hit are retarded good! He is an actual singer, and one hell of one, too. I've never seen a singer try so hard to hit the notes correctly. He cares about putting on the best show he can, and I love him for that reason. Many singers slack like a MF.
Here is a bit of trivia for ya! Mr Starr was in the movie "Rockstar" with Mark Wahlberg. He was in the scene where the band Steel Dragon was trying out new vocalists. Michael was the guy singing right before Mark Wahlberg tried out! It musta killed him to actually try to sing bad. Anyways I used to look up videos of their former Van Halen cover band Atomic Punks, because they were incredible!
They were even endorsed by VH, from what I've heard. Michael sang David Lee Roth better than DLR. And what can you say about Satchel the guitarist? His real name is Russ Parrish and he used to play for the metal band Fight, who was fronted by legendary vocalist Rob Halford of Judas Priest. Satchel lit into a mind-boggling solo at the show that was pure baddassery. I wish I could have got that solo on video for you peeps. Wow. He even played drums at the same time he played the guitar solo! I've never seen that before. I was like "WTF." But I've always liked Russ' style of playing, even way back with Fight. He has mucho soul in his playing. As a guitarist myself, it's easy to say that Satchel is in a league that many of us axemen can only dream of achieving as a musician. I've had people make fun of the band because of the way they look and present themselves, but the fact of the matter is, these dudes can really really play.
Bassist Lexxi Foxx as always was primping his hair at his mirrored nightstand set up near his bass rig. I told my bassist, who was with me, that he should get a Lexxi Foxx pink leopard skin print bass like Lexxi's. He laughed too hard. Lexxi did his famous Hair Solo, where you think he is gonna just kill the bass, but he only primps and plays with his hair.
Stix Zadinia, the drummer, is a badass as well, and has all the drum chops. Dawg is a beast.
The band loves to bring up the ladies onstage, especially for the song "Asian Hooker." At one point, they had about 15 hotties onstage at once! The crowd this night was a good one. It was packed. People had a lot of fun, and I saw a lot of good friends there. They all had a big smile on their face!
Of course the band joked and insulted each other all through the show as always. They dog each other pretty hard. It's funny. And they poked fun at almost everything.
The band played "Eyes Of A Panther," "Fat Girl" (I love the line "I wont joke about your body, if you only let me in. I wanna sink my summer sausage into your double chin!") "Tiger Woods," "Asian Hooker," "Girl From Oklahoma," (the "cmon pretty baby suck my balls all night, I'm jacked up on cialis and you're high as a kite" chorus is catchy and funny as hell.) "Glory Hole," "17 Girls" and my two favorites, "Death To All But Metal," and "Community Property," ("when I come home, my dinner is made and the front lawn is mowed, I'll kiss your mouth even after you've swallowed my load.")
These guys are hilarious. The band ended the night with "Party All Day."
Like I said, I love these guys. Once you get over the goofy glam parody gimmick, you have some seriously talented musicians with a musical pot of gold at their fingertips. It must be nice.
Oh yeah, if you like SP, you might wanna get their Live DVD they put out not long ago. I bought it and it rocks!
What a show! Opening band Kingslayer did well. I had to get there early and support the locals. They had a good early crowd, too. I love that about The Merc. They always have a good crowd early if your band is opening! Always. I think Kingslayer may have been a little bit too heavy for this bill, but they did great anyway. I like those guys. Good dudes and good musicians. Vocalist Chris Leone is a beast. Such a great voice. Two rockin' guitarists! Solid bass playing, and I really enjoy Michael Kidd's drumming, too. They did two covers, including Dio's "Holy Diver" and Iron Maiden's "Run to The Hills." Nice choices! I like how Steel Panther gave Kingslayer props for opening the show. Classy move by SP.
The sound quality at the Merc is wicked. You can't ask for better. And the soundguys and staff there are super cool. All of them. They have been slowly opening their doors to more and more Louisville original bands, including Signal The Revolution, Caducus, The Tunesmiths, Kingslayer and the bands I've been in, as well. I can't wait to play there again, for the fourth time! Hearing my guitar echo out across that venue is a feeling I would like to feel every day!
I had been having a terrible week, and this was just what the doctor ordered. I had an absolute blast, and hung out with some lovely and super sweet ladies. Thanks to Terry Harper and Mercury Ballroom for making this happen! You rule! I got some good pictures of SP, too. Check them out!
Rock The Holidays, Help Poor Kids!
On Sunday, December 13 at Hard Rock Cafe, from 2 p.m. to 7 p.m., you can help poor children have a good Christmas by bringing a toy up to the Rock the Holidays benefit. You get free admission and parking for a wrapped toy! Live music and great food! Bands participating in this noble event are Klinch, Chadillac Dundee, Year Of The Gun and Wild Wood. There may be no Rock For Kosair this year, but this one is a great cause, also! Promoter Kristi Stewart is a sweetheart for doing this for the kids, so do your best to be there and help kids who may not have such a great Christmas without our help! Also, we will be taking donations for a very cute little boy named Chase who is suffering from brain cancer! The poor lil' guy and his family have been through hell and back and we are going to try to raise money for them for hospital bills and such. So please, have a heart, and give what you can! I know it's Christmastime and all, and people are the poorest they've been all year, but every little bit helps! And this lil' guy's family needs all the help they can get. C'mon out and help all you can! I LIVE to do things like this! To me, this is what playing music is about: using your talents as a musician to do some good.
Props to Kristi Stewart for making this happen. That lady is one of my new favorite people in the music scene. A heart of pure gold. And exactly what we need in a scene that has become overrun with greedy a-holes, Facebook warriors and egomaniacs. Thanks Kristi. You rule, chick! I'm sure the family of the lil' boy appreciates your care and concern, too! Way to go!
Don't forget, it's 2 p.m. to 7 p.m. at the Hard Rock Cafe on Sunday, December 13th.
Hot Action Cop Concert Review:
I went out to Bardstown for a Hot Action Cop concert and had a good time. Bardstown peeps are cool. Never really been there to party, but I'll probably go back. The place was packed and the band sounded great. Those guys have really gotten tight as a unit. HAC is good fun party music. I haven't seen them in several years, so I thought I'd go and see what's up. They did a Fleetwood Mac cover that was outstanding. I was standing in the back and I thought they had a guest female singer come up, but it was the band's singer Rob Werthner! Dude has an uncanny ability to imitate singers, apparently, even female ones. It was impressive. And the sound there was very good, too, you could hear every note on every instrument. Mike Taylor the soundguy has gotten real good at running sound. One of the best around right now. The show was a memorial to a guy who recently passed away, by the name of Jacko Bo Tingle. I didn't know him but it's obvious he had a lot of friends who cared about him.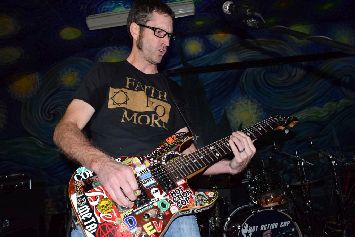 Hot Action Cop. Photo By Eddy Metal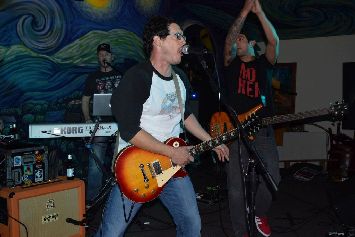 Hot Action Cop. Photo By Eddy Metal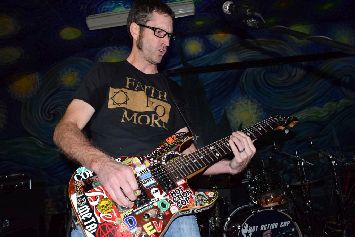 Hot Action Cop. Photo By Eddy Metal
The club was the Bluegrass Tavern and they had a cool-looking painted ceiling and walls that looked like Monet's "Starry Sky" painting. It looked cool. I also saw a friend I'd hadn't seen in eight years. She is a sweetheart. The guys in HAC were on fire, all right. I'm not familiar with their music but I do know they played the song that got them some decent exposure nationally ,"Fever For The Flava."
I was really digging rhythm guitar player Brian Smith's guitar tone. Sounded great. Of course, Juan Chavolla was thumpin on that bass. I like that dude. He has always been cool. And you know ole Tim Flaherty was getting down on the axe. I thought maybe he'd play the guitar he built, but no, he loves that old sticker guitar. I'm the same way. I buy lots of guitars but tend to not want to sway from what works best for me live, namely ole reliable, a buttery smooth white Bernie Rico V with a sound of the angels singing. The drumming was very solid as well. All-around rockin' musicians. Like I said, I don't know their music well, but I do know they are a good band and are fun to watch. People were rockin' to HAC. It was a fun night guys. Thanks. I needed that.
40 Below Summer Coming To Trixie's:
New Jersy nu-metal rockers 40 Below Summer are coming to Trixie's Entertainment Complex on January 15. Opening the show is Incursion, the Surviving Thalia (reunion) and the all new Intak. Here is one of their newest singles.
Introducing Guerrilla Red:
A guy from Etown recently complained about not paying enough attention to bass, drums and hip hop rock in general, and he was right. One thing about me is that I do admit it when I'm wrong. I've always been a vocals-and-guitar guy and sometimes I forget to pay homage the other vital instruments of rock music. Anyways, the band is Guerrilla Red from Etown. They do jam! Formed not long ago at all, in February 2015, they still have a formidible sound and energetic presence despite their short existence. Guerilla Red is self-described as hip hop, rock, rap, melodic metal with a touch of funk and jazz. It's true. These guys are diverse. The band is vocals, Aaron Fogle; guitar/vocals, Matt O'Riordan bass/vocals, Erik Marchand and drums, Richard Dewey. All members are skilled, but the bass playing of Erik Marchand, the guy who pointed out my not giving bassists and drummers their due, is pretty frikkin' rockin'. Great sound and technique. I decided to give him Musician Of the Month when we played a show together on Halloween. It is in this issue. Check it out.
Vocalist Aaron Fogle is a super-cool dude and fantastic frontman. He can sing and rap well, mixing it up often, which is what I like. He also works a crowd vey well. Yup, these guys got it going on. The band is currently in the studio recording four songs at Talbert Studios. Tunes like "Happy," "Get Up," "My Mistake" and "Whore." I wonder if it was about an ex-GF? I once wrote a love song about my ex called "Inhuman F**king Whore" that I played at a huge show she was at!
Anyways, I will post their new music when it hits the streets! Sorry about not plugging hip hop rock as much as I should guys, but peeps make mistakes. And, boy, have I made some doozies in my day! Oh, well, no one is perfect.
The band has signed a management deal with Dragon Net Entertainment and they are looking at hitting the road for a Midwest tour around summer of 2016. I'm actually playing a show with them on NYE at Trixie's, and they better buy me a drink for this sweet ass hookup! j/k.
I was glad to do it, fellas. In the meantime, check out some live Guerrilla Red! A lil diddy called "Happy."
A Rumor Of War:
Metal!!!! I just wuuuuv metal. Hence the cheeseball name I have. I don't know these guys nor have I heard them before. They didn't contact me, I just found them! A Rumor Of War is a metalcore band consisting of; Kristian Kemker on guitar; Jakup Crenshaw on bass; Austin Smith on keyboard/synthesizer and Josh Smallwood on drums. Let's do this review! I'm listening to a song called "Bruises" and I like it!
Great vocals, nice punchy thrashy guitars, sick drumming, nice sound quality recording. It's energetic and powerful. I like it when the backround vocals kick in melodically. Perfect addition right there.
The solo is a bit low in the mix but other than that. it's good to go. Not bad, guys! I'd like to see them live in action. If I still had my PHT showcase, I would have surely invited them to participate. Here is a sample of their music. Check it out. Support Louisville metal!
Thanks To My Haters, Extra Hits On My Column Rule!
Being a critic is a tough one, and probably not many could deal with it. Musicians get butt-hurt easy, especially if you are an honest critic who don't hold back much. Every six months to a year, I get attacked online by haters. This has been going on forever. It went on when I was a radio DJ, too. It's funny how they try any little thing they can to try to hurt me, as if that will work. They hover above me like vultures waiting for anything they can use.
They obsessively try over and over to turn folks against me by lying or twisted things to suit them and their pitiful pathetic cause, or to badmouth me from the safety behind a computer. Are you really that bored? What's even funnier is that when I see these cowards out at shows, they NEVER do or say shit. Talk about pu**ies. Big bad and vicious online, but face to face, meek and weak beyond all knowing. One nice guy I don't even know that well that is in the scene posted on my page how he thought it was really low of these people "For someone to go completely out of their way to try and ruin you just because they didn't agree with your status, is a bit low. It's one thing to post an opinion, or even a valid argument. But trying to bash someone and ruin their career because they are too much of a baby to accept the fact that not everyone has the same opinion as them is just ridiculous."
Thanks Cheyenne Powell. Those are my thoughts exactly.
You lame-o haters can't hurt me. Let's boycott Eddy, some punk rocker cried! You know how many times I've heard that doo-doo? Sorry, but it has never worked. I'm still rockin' and I'm still doing what I do. I'm still playing and writing music and I love it! And I love writing this column and helping our city's musicians. Talk about me all you want, and please continue to tell your friends about me, too. We here at LMN love the extra hits it brings to our website. Preshadit.
Keep my name on your lips. Love me or hate me, just don't ignore me!
Cuz ya know what? Everyone knows me. And I am confident my past actions, and twenty-year history of helping our city's musicians, whether it be my radio days playing local music, or my fifteen-year column here, the numerous benefits I've played, or my Rock For Kosair Benefits that have raised over $60k in toys for poor children for Christmas, are testament to what I am truly about. So go ahead, you and your small percentage of bored, angry, little immature sheep do what you do. Hate. It only makes you look the fool for being obsessed with me.
Don't worry, when I'm finally dead, you haters can celebrate. Until then, enjoy the show!
Peace out, bitches.
Nye W/ Kid Rock Sells Out:
So the NYE bash at KFC Yum!Center is sold out! That promises to be a fun night. I have a gig so I won't be there. I always liked Kid Rock. I met him before he was famous, and he was a very nice guy. He came up and talked to me. He is a fantastic musician and good soul. He deserves his success.
Thunderstruck Guitarist Passes Away Much Too Young, R. I. P :
I didn't know the guy, nor had I ever seen him play, but I have heard good things. Allan "Angus" Wheatley, age 21, was a young guitarist for the AC/DC Tribute Thunderstruck. He was formerly of Riffraff and Bonfire, too. I've never been much of an AC/DC fan, so maybe that's why I never saw him jam. All I know is that the guy was waaaay too young and talented to have died. It's a damn shame! Who knows how much ass he woulda kicked in the future had he lived? If he was playing Angus Young riffs, he HAD to be a bad mofo on guitar! I couldn't do it! It sucks badly, and I feel for his family and friends and bandmates. R. I. P., bro. You can rock that SG in heaven now.
Klinch To Record In January!
Louisville hard rockers Klinch will be recording their new five-song demo in january.
Musician Of The Month, Bassist Erik Marchand Of Lethean And Guerrilla Red:
Check out Erik's feature this month. This guy is relatively new to the scene, but he is a beast on the bass guitar.
Overload Seeking Metal Drummer:
The Louisville metal band Overload is looking for a drummer. They have some talented guys in the band, so if any of you bored metal drummers out there wanna be playing A.S.A.P., with some good players, this could be your deal. Don't hesitate. Call 812-557-2577 or email cheyenne. powell@yahoo. com
LMN Live — Chadillac Dundee:
Some Louisville hip hop rock for ya.
LMN Live- Guerilla Red:
Check out these hip hop rock guys from E-town!!
LMN Live — Signal The Revolution:
Check out these guys opening for Pop Evil at the Mercury Ballroom:
LMN -LIVE — Klinch:
Good guys. Good band. New demo coming soon, too.
LMN Live — Year Of The Gun:
We suck! We should be a Staind cover band.
LMN Live — Despite The Fallen:
I just got turned on to this southern Kentucky band recently. Great vocals! Great songwriting. Great guitar layering/composing.
Upcoming Shows
The Depot
Saturday, December 5 — Redline. 8 p.m..
Diamond Pub
Friday, December 18 — Intronaut.
Tuesday, January 26 Epica, Moonspell and Starkill. 7 p.m.. $22
The Drydock In Madison Indiana.
Saturday, January 2 — Gallifrey Falls, Ursa Minor, In Fears End and The Page Left Blank. 7 p.m..
Expo 5
Tuesday, January 12 — Nile. 7 p.m.. $20
Friday, February 19 — Enforcer, Warbringer, Exmortus, Cauldron, Savage Master. 7 p.m.. $12
Headliners
Monday, December 7 — Attila w/ Mourning Augment, Heart Of Kings and A Rumor Of War. 7 p.m.. $20
Jillians
Saturday, December 12 — Havok w/ Lethean, Untold Rellik, Sons Of Medusa and Fallen From Nowhere.
Saturday, December 19 — Rockaway Drive, Granshaw, OIC, SIC, Ships Revenge, Sins of Motion, American Bombshell, Scarecrow Saints. 7 p.m..
Massies Entertainment Venue
Saturday, December 19 — Lethean, Untold Rellik and Charming Demons.
New Albany Production House
Wednesday, December 9 — Dylan Holland, Nick Tangorra, Mason Osborne, Jacob Resch.
Sunday, December 20 — Austin Jones, Run 2 cover, Gnarly Quinn, Goodbye Goodnight and Lucy.
Tim Faulkner Gallery
Friday, December 11 — Caducus, Haughville, Sinful Lilly and Guerilla Red.
Trixie's Entertainment Complex
Tuesday, December 8 — Deicide w/ Season Of Suffering, Stonecutters, Savage Master and FaithXfactor. 7 p.m..
New Year's Eve Bash, featuring Flaw, Signal The Revolution, Year Of The Gun, Guerrilla Red, Chadillac Dundee and Despite the Fallen. 7 p.m.. Be early!
Friday, January 15 — 40 Below Summer w/ Surviving Thalia (reunion), Incursion and Intak.
Wicks On Baxter
Saturday, December 12 — Unleashed. 10 p.m..
Wicks On Goose Creek Rd
Saturday, January 23 — Battle Of The Bands w/ Intak and others.