December 2015 Articles
Cover Story
Paul Moffett
Columns
Sue O'Neil
Eddy Metal
Eddy Metal
Blogs
Got Shows?
Send Them To Us
Bookmark Louisville Music News.net with these handy
social bookmarking tools:
Available RSS Feeds
- Top Picks
- Today's Music
- Editor's Blog
- Articles
Add Louisville Music News' RSS Feed to Your Yahoo!

Issue: December 2015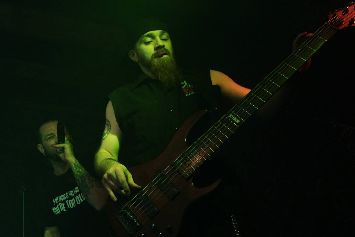 Eric Marchandl
Name: Erik Marchand
Age: 33
Instrument: Bass/backup vocals
Band/Former Bands: What Lies Inside 2008-2009 (metalcore), Evil Emily 2010-2011(progressive metal I guess), Hurt Circle 2012-2013(Rock), Lethean 2013-2015(Pure American Metal), Guerrilla Red 2014-Present(a bit of everything).
How long on instrument: 15 years
Equipment: Warwick 410 speaker cab, Peavey Pro Bass 500, ART power conditioner, BBE 362 Sonic maximizer, Rouge Chorus pedal that turns out was stolen from my current singer, Tech 21 Sansamp Bass Driver, ESP/ltd D-6 six string bass with La Bella Nickel wrapped strings, and can't forget the tiny carbon fiber jazz 3 picks. Still looking for a few more pieces to get the perfect tone to my ears, but that'll all come with time and money. It works.
Influences: Ryan Martinie, Les Claypool, Cliff Burton
My first gig: Shooters in 2008 right here in Louisville with What Lies Inside. Turns out my mother (her choice in music is country) was on a cross country trip and came through Kentucky at the right time. Stayed up til 3am (about 6 hours past her normal bedtime) through 4 other metal/punk bands, just to see her son's first show. That'll always be a good memory.
Hobbies: Playing bass of course, video games when I'm not completely tired of the ones I have. I really need to get another trail bike and find some trails to ride, used to love that when I lived out west.
Favorite movies: So many to list...how much space do I get? Transformers, Resident Evil, Supercop, Super Troopers, The Last Samurai, 47 Ronin, Saw, you get the idea. Sci-fi, action, drama, horror, love kung-fu movies, stoner flicks. Basically if there is gore or action we're good.
Favorite food: Again, so many to list, can't go wrong with Doritos, nacho cheese naturally. If you don't consider Doritos food, we can't be friends, just saying.
Favorite place: Very partial to the NW United States. Oregon and Washington are where it's at. Mountains and oceans, rivers and valleys, forests and deserts, how could anywhere else compare?
Favorite sports or team: Love ice hockey. Go Bruins! Not sure how many people reading this even know what hockey is.
What I'm listening to nowadays: Thy Art Is Murder, Impending Doom, Lamb of God, Volumes, Killswitch Engage, metal 99% of the time. Occasionally I like to chill and listen to jazz and try some of the bass lines I hear. Gotta keep improving.
Coolest thing I've done: What defines cool these days? I've jumped out of a perfectly fine plane before, skydiving is a rush, you should try it! Yeah that would have to be it, sitting here thinking for anything else I'm drawing a blank. Could just be the stoner memory.
Most embarrassing moment: Pretty recently here. Playing a show at Phoenix Hill Tavern on the roof garden, I thought I'd be a show-off and jump off the highest part of the stage during a song. Busted my ass pretty good.
Bad Habits: Cigarettes, cussing like it's going out of style, and I'm sure my wife could point out a few more. Please don't ask her, a guy has to have a few secrets right?
What was your first concert ever: 2001 Family Values Tour in Portland Oregon. First thought was, "Holy shit that's a lot of people and why is it so loud?" I had no clue what I was in for. That's when I became a Static-X fan, R.I.P. Wayne.
If you could meet a Rockstar ( past or present ), who would it be, and why: Ryan Martinie for sure. From the first time I ever heard Mudvayne, the bass stuck out the most. Such an unorthodox style but man can that guy play. Best bass player on the planet in my opinion. He's a big reason why I chose to play bass.
Who do you love: My wife Jessi, my son Adrian, the guys from Guerrilla Red, all the guys from Lethean, current and former, anyone that supports local music, and maybe my cats (when they aren't being like me).