July 2015 Articles
Cover Story
Paul Moffett
Columns
Les Reynolds
Martin Z. Kasdan Jr.
Eddy Metal
Eddy Metal
Blogs
Got Shows?
Send Them To Us
Bookmark Louisville Music News.net with these handy
social bookmarking tools:
Available RSS Feeds
- Top Picks
- Today's Music
- Editor's Blog
- Articles
Add Louisville Music News' RSS Feed to Your Yahoo!

Issue: July 2015

I've Got A Mind To Ramble
The scene is the lettersong gallery on Louisville's Story Avenue, end of May, 2015. It's a tribute to the legendary Bob Dylan, featuring local musicians, mostly male. Well into the event, the only two female singers (Carla Reisert and Judy Tyler), who wind up as duo on one tune, receive the loudest appreciation from the crowd thus far.
Fast-forward one weekend, to the Germantown-Schnitzelburg Blues Festival. The popular neighborhood event's second night featured "the Louisville Divas," backed up by da Mudcats (with Cort Duggins standing in on guitar). Four women – Laurie Jessup, Sheryl Rouse Crawford, Tanita Gaines and Sue O'Neil – took turns at the lead on various blues tunes. The crowd loved it.
The "quartet" had not all sung on one stage together before that time, yet each had made her individual mark on the Louisville music scene – some more recently than others – with various bands and individually. The same could be said for the two onstage at the Dylan tribute. These six women, and five other local singers to be featured in this article, contribute much to the local flavor of Louisville music. Let's find out what makes 'em tick…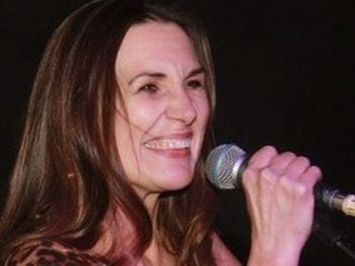 Carla Reisert
Living And Feeling The Blues: Carla Reisert
A 25-year hiatus, brought about due to an abusive relationship that basically ended her singing career, was part of the catalyst which brought Carla Reisert back to it.
Reisert, from Southern Indiana, began singing in 1979, right out of high school. She said "I had to work my way back, and it took a while. I had stage fright." However, saying that "music is medicine, it's cathartic," Reisert basically gave the formula for her comeback in those very words.
She credits karaoke with the discovery that "I was a decent blues singer. I fell into it, really. Everybody kept telling me I sounded like a blues singer, no matter what I was singing." Reisert cites mostly male influences ("I don't particularly like a lot of female singers," she admits), naming Sam Cooke, Otis Redding, Al Green, Sonny Boy Williamson. The few females she mentioned did have an effect, as well: Linda Ronstadt and Tina Turner the first two who came to mind.
Reisert identifies with blues music. "It's where I come from in life. Blues puts the music close to life situations; and it gets to the rawest of emotions."
Her current band is Carla Z (her middle name is Zee) and the Holy Smoke. They have a July 3 gig at the Fourth of July Festival in Pekin, Indiana. They will be on Crescent Hill Radio on July 8, Stevie Ray's on July 11 and Quad Bar in Jeffersonville, Indiana, on the 18th. As a female singer, she feels pretty much respected, at least in Kentucky. "I don't see a lot of female performers as much over where I live. What a difference a few miles makes," she noted.
Reisert has been building her band for about six months, and she says the group is getting busier. "It does take some patience to deal with me, though" she said. "'Cause you know, I just gotta feel that song!"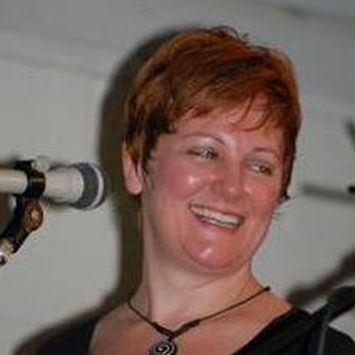 Judy Tyler
The Potluck That Started It All: Judy Tyler
Although Judy Tyler recalls singing a Doors tune at the tender age of three, it was a 2002 potluck dinner at Tim Krekel's house, where she sang Dylan's "Silvio," which really jump-started her singing. The song resonated with her. Krekel encouraged her, invited her onstage from time to time to sing with him. She recorded "Fever" with Krekel.
Krekel is only one of Tyler's innumerable influences, which include artists ranging from Dylan, Robert Johnson, Lucinda Williams, Billie Holiday, and others.
Tyler notes the irony of singing blues. "When you are really down and depressed, then playing some gritty blues seems to magically rewire your brain to let in some positive energy. I have also found blues songs are suited to my voice."
As a female singer, Tyler feels well-received and appreciated. She also in turn appreciates the music scene in Louisville, although she says "I am only one person (with a day job), but it seems like women only represent a small percentage of the musicians I have seen out locally. Also, I do need to get out more."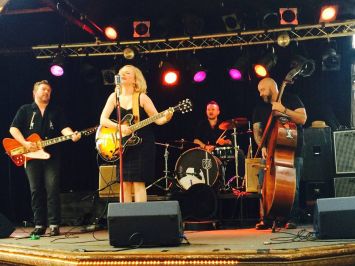 Laurie Jane & The 45s
From Shrub To Club…Laurie Jessup
As the lead singer of Laurie Jane and the 45s, Laurie Jessup (now officially Duggins, as she has recently married lead guitarist Cort Duggins ) has come a long way from performing dressed as a shrub in a 3rd grade school musical. There were more musicals, choirs and singing as a teenager while driving around in the car. Further musical endeavors resulted in playing in other bands, fronting her own band, and now, she's been with Laurie Jane and the 45s for two years.
Jessup (she prefers her former name for her musical endeavors) dabbles with piano and guitar, but says singing comes more naturally to her. "It's easier to connect with the music and have fun.
Connecting more specifically with the blues, however, didn't happen until she was in college. She was studying aviation and was interested in vintage aircraft developed in the 1940s. Her studies also drew her to the musical tastes of that era. Ella Fitzgerald led her to Bessie Smith, "which then opened up the door to all the original blues greats.
Jessup believes female blues singers are well-received in Louisville, a city which "has generations of great talent. I think Louisville has always embraced its blues women!"
Trebella: l to r: Amy Johnson, Patty Cain and Sue O'Neil
Trebella:
This new band's web site asks: What happens when you put three lead vocalists, each with her own resilient musical career, together to make one big melodic sound? What happens when you mix old school soul, dynamic vocal presence, and jazz stylings together to make one big sound?
TreBella!
Three women – Amy Johnson, formerly of the band Little T&A; Sue O'Neill, who has returned full time with da Mudcats; and Patty Cain, keyboardist and singer – put together this band supported by four of Louisville's finest: David ("Spoony") Witherspoon on guitar; Rob Edwards – drum/percussion; Rick O'Neil, bass and vocals; and saxophonist/multi-instrumentalist Gary Mattingly.
Meet the three leaders:
Amy Johnson:
Johnson's music influences were all over the map but had one thing in common – soulful voices. Etta James, LouAnn Barton and Linda Ronstadt were among them. Johnson grew up singing and performing and never doubted that is what she would always do. At age 18, Johnson began singing professionally in bands. Johnson continues to love singing and all kinds of music. "It really all melds together as far as I'm concerned. I'm not a purist. Pop music? No thank you." Johnson says Louisville has a great and supportive music scene, although "maybe not as great as 'back in the day'." She says she is concerned about the future, and the future of blues music specifically here, because of the recent loss of three "icons" (Jimmy Gardner, Byron Davies, and Lamont Gillispie) who kept blues alive. "So many bands are just playing what you hear on the radio, and people love it. It's just not for me." And regarding how women are perceived here, she doesn't see any prejudice – there's not an issue. "Fortunately, it's not a back-stabbing community between us gals. We are all genuinely happy and supportive of each other. It's a really cool thing!?
Patty Cain:
Church music was a huge part of Cain's musical upbringing, as well as playing in bands. The Shelbyville native was a church pianist as early as age 14. She also soon realized, while playing in bands as a teenager, that bands were a lot of work compared to singularly providing music for a congregation. She had a 15-year run as a church musician as well as 10 years as choir director at Cove Baptist in Fairdale .
"I loved those years," she said. Cain's first "legitimate" band, Leo Night and the Moonlighters, where she sang backup and played keys, provided good experience but some "scary" times for a 16-year-old who would "hide in the back room on breaks" when the group played Jim Porter's. During her church music days, she met Rob Edwards, Jim Dishman and Scott Anthony, who introduced her to solo and small group secular performance, and that re-energized her desire to explore Louisville's music scene, just on a smaller scale. Her major influences and favorite musicians remain local: Rick Cain, leader of the KingBees, is at the top of her list. "That man can write, sing, and play a song! I am so amazed by his abilities …no one taught him. He just has it"
Bandmate Sue O'Neill is another. Cain sneaked out of her house at age 17 to the Butchertown Pub to hear the original Mudcats and was "immediately enthralled with one Sue O'Neil. She opened my eyes to the blues." Cain recalls being "mesmerized" by her other current TreBella bandmate, Amy Johnson, first hearing her when the KingBees invited Johnson onstage with them at a benefit at Stevie Ray's. "I shushed everyone so I could hear that magnificent voice. I never wanted that sound to stop."
Regarding TreBella, she notes that a mutual friend, Cheryl Jaggers, was the one who came to her with the vision of such a band. "It's been a labor of love for all of us, a challenge, renegotiating our roles as shared principals of a cohesive endeavor…We all still have our separate projects…I know TreBella is real special to all of us, and we are just getting started."
Sue O'Neil:
O'Neil, a native and resident of Louisville, performs with both TreBella and da Mudcats. O'Neil began singing at a young age, influenced by her cousin Judy Marshall, who appeared on the TV program "Hayloft Hoedown." "I wanted to be just like her," she said.
Other influences include Koko Taylor, Bonnie Raitt, Janis Joplin, Etta James, Aretha Franklin, and others. James tops the list. O'Neil says she relates to the irony and the feeling of the blues more than any other genre. She is drawn most to the authenticity and the relationship blues has to the reality of life. Regarding TreBella, she said it was formed with the idea it would be different than what was already out there locally. It is not a blues band, but incorporates some blues into the set lists. O'Neill particularly loves singing in harmony with bandmates Johnson and Cain and drawing from their energy and talent, as well as the bond of friendship. Along those lines, O'Neil believes most of the musicians here regard female singers with respect. Although no longer a bandleader, she recalls that when she was, she was treated well. She lives by what is generally known as The Golden Rule, and says that has worked for her. As for the local blues community: "It's a tight-knit group of mostly veteran musicians who are like family…We're aging and we need to mentor and foster our younger musicians who show an interest…our biggest challenge right now."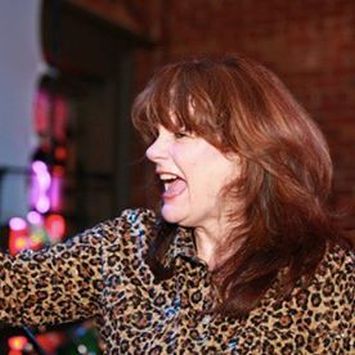 Marilyn Kington
Still Lovin' The Music: Marilyn Kington:
Marilyn Kington has a few recent changes in her life, including a new marriage and residence change from Jeffersonville to Georgetown, Indiana. One thing that hasn't changed is her love for singing. In fact, the Morton's Gap, Kentucky, native says her passion has grown even stronger than ever.
Kington, whose musical base has been Louisville, notes so many music influences she quipped that she could take up an entire interview just talking about that. Among the numerous names mentioned were Bonnie Raitt, Mahalia Jackson, Janis Joplin, early Tina Turner, and Billie Holiday. Her parents listened to big band music and groups like the Ink Spots. She began singing when she was very young. "Music just touched my soul. I understood the feel of it. I sang songs unlike the way other children sang them," Kington recalled. "It moved me and excited me" As she got older, she would take songs not originally composed as soulful and sing them in a soulful manner.
Kington recalled trying cheerleading for a couple of years. "I'm thankful that didn't work out well, as it would have likely ruined my voice due to all that screaming."
Kington would sing at family gatherings and accompany herself on guitar. When she got into bands, that represented a whole new era in her life. Kington was with the Fanatics for a long time, then led a band called 2 Loose. She recalled that during the 1980s, her life consisted of keeping bands working. Now, however, it's evolved into a situation where she picks and chooses. "I'm just in a different place," she said. Always in love with gospel music, Kington now has a jail ministry, is the praise and worship minister at her church in Jeffersonville, and still sings in festivals and at benefits. She says some of her music friends are burnt out. "Not me. Music is an extension of my soul."
As a female performer, Kington says that overall, it's been a very positive experience, and that some venues, such as the recently closed Jim Porter's, have been very supportive. "I think a lot of it is because I always had an attitude of being thankful and respectful."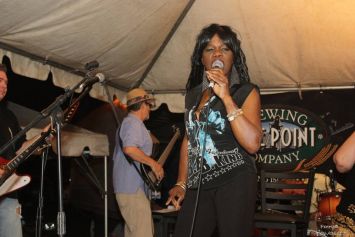 Sheryl Rouse
An Impressive Résumé: Sheryl Rouse
Soul, blues, jazz and r&b singer Sheryl Rouse Crawford, a native of North Carolina, has been living and singing in Louisville for 14 years, and prior to that, has had some impressive items to put on her résumé. Her first professional band was in 1985 in her home state. In addition, Rouse has performed at the Monterey Blues Festival in California (2009-2011) and back in 1994 was Showtime at the Apollo undefeated champion in Harlem, New York. She has opened for KC and the Sunshine Band, the Ojays and Aaron Neville and the Neville Brothers.
Her all-time favorite singer is Gladys Knight, who she also lists as her most influential, along with Aretha Franklin, Patti LaBelle and Stevie Wonder.
She realized at the age of three that music was her true calling. Her parents were musicians, involved in both religious and secular ends of the music business. She learned to sing blues from her father. "I feel that blues speaks to your soul more than any other genre of music…it feels real…like singing the truth about your real life." Still, blues ranks a close second to soul and R&B music.
She feels fortunate in her music career over her entire life. "When I moved to Louisville, though, some of the female vocalists wanted me to move back to North Carolina! They told me to my face!" (This said with a touch of humor.) "Of course, I didn't listen and it made me push harder and perfect my craft as a female lead vocalist." She said her recent appearance with some of Louisville's "blues queens" at the 2015 Germantown blues fest was one of her best times ever singing on stage.
Rouse is currently working on a mini-CD titled "Finally" and performs regularly at Brendon's Catch 23 at the Embassy Suites hotel downtown. Several hotel gigs, private parties, and a trip to Nashville, Tennessee, are on her itinerary during the summer, and she will be on the bill at the Garvin Gate Blues Festival in October.
A Legacy Of Gospel And Blues: Artie Wells.
Artie Wells, lead singer for the Walnut Street Rhythm and Blues Band in Louisville, said she admires, and was influenced by, Aretha Franklin, Etta James and Ella Fitzgerald, and loved the "gospel feel." Like many, Wells started out singing in church, and she continues to do so today. Singing is a true family affair and a legacy for her. "It's in my blood. Singing is something we all love to do."
Wells did not sing blues much in the past. Her father-in-law, Foree Wells, introduced her to the blues of the type often heard in Louisville – a bit more of an older style of blues. "There are different types of blues that are focused on and different sounds you'll hear in different cities in the US. Some I love – some I tolerate. The blues you hear now is okay, but it doesn't touch me like it used to."
Wells had much to say about the Louisville music scene, regarding women in particular. "I find it's not terribly friendly at times; it seems political – and I don't like the politics." She has had a mixture of positive and negative experiences. "People are so used to seeing the guys up on stage performing. If you don't wear the jeans, if you don't look like the guys, well it also affects the show to a degree when you get that attitude." She was quick to note she has performed in some good places, citing Captain's Quarters as one.
Wells also noted the lack of pure blues venues in town. "It seems to be drying up these days.
"We (referring to the band) need to give the people our own 'flavor.' I like Louisville in general and things will get better. I just keep on singing, do what I feel and what I want to do."
Wells' band is in a bit of a transition period, as well as spending time working on some original material, performing infrequently. Two July shows she noted are at Captain's Quarters on the 31st, and Qdoba's patio (Eastern Parkway & Bardstown Road) on the18th.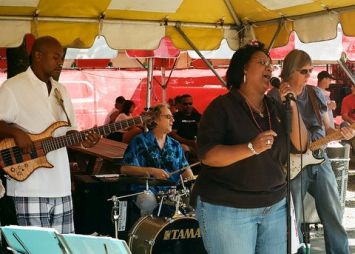 Robbie Bartlett
It's All About The Feeling – And All That Jazz: Robbie Bartlett:
Louisville resident and singer Robbie Bartlett's mother got her started singing at an early age. As she got older, Bartlett realized singing was a good way to release emotions. Also influenced by Etta James, Ella Fitzgerald and Billie Holiday, it was the latter who had the most profound effect. "I don't think she was the best technical singer; but she made me feel what she was singing."
Bartlett has been thought of as a blues singer, but she says she sings very little of that genre, preferring mostly jazz and some old rhythm and blues. "Jazz tells a great story, and in a sweeter and softer way than blues – which is more in-your-face."
She has her own band and is the house band at Jeff Ruby's on weekends. She has a duo, with guitarist Barry King, and they perform at Volare on Wednesday and Thursday nights.
She said she doesn't like working the 10 p.m. to 2 a.m. gigs anymore. "I'm older now, I have regular gigs here. I can work a lot and still be home and work decent hours." And while working overseas isn't something she wants to do long-term, Bartlett admitted that she wouldn't mind maybe just one more European trip. She's done three in the past "It's unbelievable there,: she said. "They love female singers – especially the black female vocalists. I'm not sure why."
Louisville seems to receive its female singers pretty well, she said. "I'm not sure how it is with other musicians, though."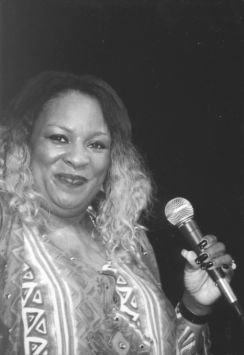 TanitaGaines
On Her Own Terms: Tanita Gaines:
Beginning at age 17, Tanita Gaines' singing career continues today. The Louisvillian has come to a point in her career where she will only perform at gigs she truly wants. "So if you see me doing a gig or a job, it's because I am having fun with it," she said, emphasizing the word 'fun.' In fact, Gaines has stopped taking singing jobs in bars altogether, and still does churches, weddings and some other types of shows.
Her childhood was full of music, so it was only fitting her life would continue on that path. She performed for the first time in 1990 at the Governor's mansion. She's done Derby events, and sang at the State Fair for eight years. And she says she truly appreciates all forms of music
The public seems to prefer Gaines when she's singing blues. "That's okay, because I enjoy it. Blues has a gospel feel. It's gutsy, and gets into the heart.
"In church people say I sound like a blues singer, and when I sing blues, they say I sound like I'm singing in church. I never thought I had a blues type voice, but I guess I don't hear myself as others do. As long as they enjoy it, I'll keep doing it."
Gaines' recently performed with three other women and da Mudcats at the Germantown Blues Festival. "I had a ball!" she said. Her current work includes a twice-a-week gig at Majid's, and she has a six-piece ensemble for private events and other jobs. She said it's been easy for her to pick up musicians she's worked with in the past, even if it's been a long time. "They always know me and my style. Besides, I believe in treating them right, and since they're the ones playing the instruments, I let them do their thing."
Being a female singer seems to be no problem for Gaines, who says she is well-received and gets respect. "Well, I actually demand it," she admitted.
To sum it up, Gaines said she thanks the community at large for being so supportive. In a lighthearted comment, seeming to express surprise, she said" They still like me. I've been doing it so long. I'm a senior citizen. But I am having fun doing what I love."