July 2015 Articles
Cover Story
Paul Moffett
Columns
Les Reynolds
Martin Z. Kasdan Jr.
Eddy Metal
Eddy Metal
Blogs
Got Shows?
Send Them To Us
Bookmark Louisville Music News.net with these handy
social bookmarking tools:
Available RSS Feeds
- Top Picks
- Today's Music
- Editor's Blog
- Articles
Add Louisville Music News' RSS Feed to Your Yahoo!

Issue: July 2015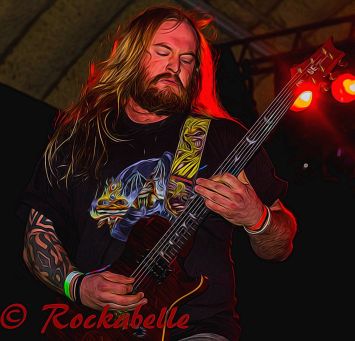 Bradley Wayne Tracy
Name: Bradley Wayne Tracy
Age: 30
Instrument: guitar and cowbell
Band/Former Bands: current band Untold Rellik, former Kneden.
How long on instrument: 18 long, glorious, head-banging years.
Equipment: well, at [the] current moment, my setup is a Randall 120 watt solid state head with a Kustom cab loaded with Celestian speakers. All that's driven by a Boss Me-25 multi-effects unit with a wah and Danelectro EQ. My two main axes are an LTD V-300 with Dimarzio Deactivator pickups. And last but not least is my signature Opeth Paul Reed Smith SE24.
Influences: I have a very broad range of influences ranging from Amon Amarth to Stevie Ray Vaughn. I cite a lot of my playing based on guys like Mikael Akerfeldt, Randy Rhoads, Kirk Hammett, Dime, Ola Englund, Zakk Wylde, and Keith Merrow.
My first gig: My first gig was at a local high school in my hometown for a Battle of the Bands. I remember the set consisting of a mix of covers and originals which included "Enter Sandman" and "Seek And Destroy." While setting up my gear, I had a blond moment that caused me to not have a wah for the set, 'cause I hooked it up backwards but I powered through regardless. I was only 16. Lol
Hobbies: For fun other than guitar I enjoy time with my family who I hold near-and-dear to my heart. Without them, I would not be who I am nor where I am. But other hand, I enjoy video games and all the awesome dorkdom that comes with that, like comics and novels and action figures. But at heart I'm from the country and enjoy fishing far more than any man should.
Favorite movies: I love old classics from the golden age of cinema thx to my grandparents. But the new wave of Marvel movies and Tolkien's tales brought to live action has made me very happy to be front row for it.
Favorite food: Any food that comes from my mother's or her mother's kitchen. U can't beat it and I have had no substitute.
Favorite place: I haven't traveled too extensively in my lifetime but my favorite place would have to be my granny Hubbard's house in the Appalachian mountains. Pines as tall as u can break ur neck to see with the brightest stars u can only dream of. It's my home away from home.
Favorite sports or team: If I don't answer this with the Kentucky Wildcats, I will be drawn and quartered. It's family tradition.
What I'm listening to nowadays: I've been cramming my head space with a lot of everything really. Feared is a band I have been jamming a lot on. So brutal. But Chris Stapleton has restored my faith in the songwriter, guitar-playing country style. Such epic tunes just pour from that cat. Sylosis is another band I recently found that has my attention. Just outright nasty shredding and singing from one dude. Makes me jealous.
Coolest thing I've done: Only one thing comes to mind and that is watching my son come into this world. It has and will be the most beautiful and awesome thing I have ever done.
Most embarrassing moment: Well, one night I was playing the Bulldog Cafe in Louisville and pretty sure it was during a cover of Cannibal Corpse I was winging, head banging and wrapped my hair around the headstock I continued to play but was essentially stuck. But only for a minute. My love of the metal took over and I ripped that shit out, leaving a good chunk of my hair entangled in my guitar's headstock.
Bad Habits: PROCRASTINATION! If I have other stuff to get done, my guitar is always calling for me. Must. Heed. The. CALL!
When/where did you first get some: all I'm going to say is that it involved my sister's best friend and an old farmhouse. Ah memories. I was very happy with the outcome.
If you could meet a Rockstar (past or present), who would it be, and why: This has to be the most difficult question to answer. I would prolly choose Dimebag Darrell and the reason is, he just seemed like the most awesome down to earth guy who would be a blast to hang and shoot the shit with while knocking back some Blue mountains and playing some guitar.
Who do you love: Without any question I love my son more than anything on this earth. He is everything good in me and has heart of gold and is always smiling and enjoying life. He inspires me to no end.