June 2015 Articles
Cover Story
Paul Moffett
Features
Eddy Metal
Columns
Mike Suttles
Eddy Metal
Blogs
Got Shows?
Send Them To Us
Bookmark Louisville Music News.net with these handy
social bookmarking tools:
Available RSS Feeds
- Top Picks
- Today's Music
- Editor's Blog
- Articles
Add Louisville Music News' RSS Feed to Your Yahoo!

Issue: June 2015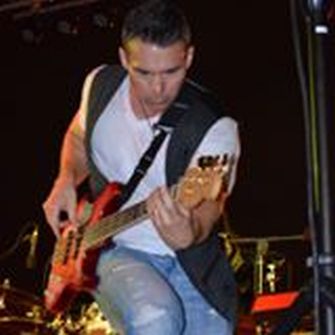 Charles F. "Chuck" Dearing
Name: Charles F. Dearing (AKA Chuck D/Chuckles)
Age: 41
Instrument: Bass
Band/Former Bands: Former: - Fury, Teaser, Joshua, Point1zero, Ballroom Blitz
Present: - Naked Garden and From Paris
How long on instrument: Wow, it makes me feel even older to realize it has been 28 years since receiving my first bass as a graduation present from 8th grade.
Equipment: My primary basses are two American Fender Jazz basses. I use a SansAmp pre amp through an SWR power amp and SWR 4x10 and 2x10 cabinets.
Influences: As a child of the Eighties, my first influences were the larger than life bassists of Mtv. I loved Rudy Sarzo, Nikki Sixx, and Steve Harris. As my musical taste matured, I grew to love Geddy Lee, Victor Wooten and Marcus Miller. But my all-time favorite bassist is John Paul Jones of Led Zeppelin. Without those solid yet flowing bass lines to accompany John Bonham's thunderous beats, Led Zeppelin wouldn't be Led Zeppelin.
My first gig: My first paid gig was as a freshman in high school, I played an 8th grade dance at the grade school where I graduated. We were actually booed off the stage.
Hobbies: At 41 years old, outside of music, health is my biggest hobby. There is something stress relieving about a good work out. If I can't blow some steam on stage, I enjoy throwing weights around.
Favorite movies: I have numerous favorite movies. It's hard to pick just one. Somewhere near the top of the list would be Stripes, A Few Good Men, Caddyshack, and Porky's.
Favorite food: These questions are too hard. I love to eat. I love a good crunchy crust pizza but I also love a good filet mignon. I love the local restaurant scene in Louisville. Another topic that I don't know if I have a favorite. Too many good choices in this town.
Favorite place: Easily on a stage in front of a packed room full of people going bananas while I play. I feel sorry for people who don't get to experience the energy you get from a crowd of people digging what you love to do.
Favorite sports or team: Another result of being an Eighties kid, I am a San Francisco 49ers fan. The 49ers dominated the Eighties and Tom Brady will never be the QB that Joe Montana was.
What I'm listening to nowadays: It's so hard for me to really accept much of the new music I hear. I don't like much new rock, to be honest. When it comes to new music, I tend to listen to Bruno Mars more than much rock. I do love The Winery Dogs, though. Great musicians but still writing catchy hooks. I always fall back to the classics. Old school Ozzy, Motley Crue, Tesla, Journey, and Stevie Wonder are always in the car.
Coolest thing I've done: My trip to Cancun Mexico for my honeymoon is one of the coolest things I've ever done but I can't go into details because what happens in Mexico stays in Mexico. My band Naked Garden did play on the front of a houseboat as it cruised down Dale Hollow in the middle of the night. You could hear us for miles. That was pretty cool.
Most embarrassing moment: My most embarrassing moment had to be in grade school when I totally split my pants from the front to the back. Torn jeans were in style but not that day.
Bad Habits: I have a bad habit of checking my phone when someone is else talking to me. I really don't even realize I'm doing it usually.
When/where did you first get some: Ah yes. Young, dumb, and what the hell do I do with that? It was a hot summer night in the back seat of a 1984 T-Top Camaro at the drive in. Just as awkward and awful as could possibly be but loved it just the same.
If you could meet a Rockstar ( past or present ), who would it be, and why: I would have to start with Elvis Presley. I'd have to meet the King of Rock. I would also like to meet Jason Becker. Besides being my favorite guitar player, I think his life story is so inspiring.
Who do you love: This list will never be completed. I love and am thankful for so many people in my life. I don't want to name names but my wife, my family, my band members (past & present), and some very special friends who understand me like no one else and help keep me sane.