April 2015 Articles
Cover Story
Paul Moffett
Features
Eddy Metal
Columns
Les Reynolds
Eddy Metal
Blogs
Got Shows?
Send Them To Us
Bookmark Louisville Music News.net with these handy
social bookmarking tools:
Available RSS Feeds
- Top Picks
- Today's Music
- Editor's Blog
- Articles
Add Louisville Music News' RSS Feed to Your Yahoo!

Issue: April 2015

I've Got A Mind To Ramble
"If at first you don't succeed…".
"It only takes one" (fill in the blank).
Clichés? Perhaps, but for two local/regional musicians, these phrases have turned out to be both tried and true. Both share their experiences as Kentuckiana Blues Society solo/duo contest winners and as semi-finalists at the International Blues Challenge, the latter held each (late) January in Memphis, Tennessee…
Try, try again
RANDY COLVIN, Postal Service retiree, self-employed owner of a custom framing shop and Greensburg, Kentucky, resident, has been playing guitar for 45 years. That, in itself, is telling.
Although not always a bluesman (in order to perform in a greater variety of venues), Colvin leads his longtime band One Shot Johnny in a repertoire often steeped in blues music – enough to have entered the Kentuckiana Blues Society's band contest many times, the first in 1998.
"I've lost track," Colvin said, chuckling. "Just can't seem to grasp that golden ring," – the "ring" being the winner's spot which allows the victor a chance at representing the blues society at the IBC. The KBS also holds a solo/duo contest. Colvin recalls about three or four attempts in that division, the last try in summer 2014, which he won!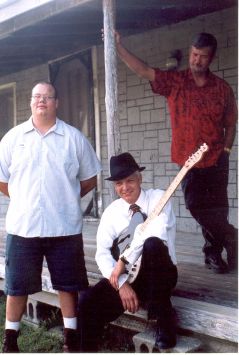 One Shot Johnny
"Gary (KBS president Sampson) said it himself when I won last summer. 'Persistence pays off.'" Colvin noted.
Colvin reached the 2015 IBC semi-finals after an arduous and structured competition format, featuring what has been called a staggering amount of talent, sometimes in excess of 200-plus acts. (Blues societies nationwide send their respective winners in both band and solo/duo divisions.)
By way of explanation, Sampson provided the following: There were 100 solo/duo acts in the IBC this year, of which thirty-two, including Colvin, made it to the semi-finals. (Eight advance to the finals.) There were 117 bands in the contest.
Colvin said it was a rewarding experience performing music at that level, especially doing original songs. "And it was all so much fun – which almost seems ironic since this is a blues event," he added with a touch of humor. "There was just so much to take in."
The event was handled very much like the KBS competition. "Someone said the IBC is run like a German army," Colvin noted. "The KBS' event is more casual, and not nearly as big, but still a good preview and structured a lot like the IBC."
The experience onstage can still create a case of nerves, though, since the judges are quite close to the stage and very visible. "You try to not let it rattle you, but it's like being a deer in the headlights," Colvin quipped.
The musician said the exposure is beneficial, as well as the networking and the pure enjoyment. "You're here because you have something worth listening to, for people to hear."
Colvin believes what helped him most in winning the KBS contest was having mostly original music, playing more to his strengths (guitar over vocals), playing with "heart" and eventually, after so many times, just losing the sense of competing and instead opting for a sense of community and camaraderie.
Speaking to others
Many times, musicians will express disdain for competitions – for varying reasons. Colvin offered his own take on the issue, and recommends that others consider his words.
"Well, if you don't jump in at some point, it'll never happen, so, why not? I don't look at it as a win-lose thing. I just see it as a part of what I do, and to help perpetuate blues music, and to enjoy it.
"I also hear the reluctance, even in my own band (not wanting to enter). Well, you play music, don't you? So, why not? It's what you do. Music is a competitive business, whether you're talking about a competition event or not."
It only takes one
JIMMY DAVIS, 37, of Madison, Indiana, is also now living part-time in Nashville, Tennessee, due in large part to the benefits of also participating in the KBS contest, and the IBC.
Davis, who began playing at age 15 or so, is presently making music his full-time career. However, as he says, it's only been possible within the past couple of years.
Gigging around Madison and Louisville, Davis' session work in Nashville came about after reaching the semi-finals of the IBC in 2011 (he had won the KBS solo/duo contest in 2010). In fact, the aforementioned Colvin, and another local duo (Jimi V and Screamin' John, in 2010), along with Davis, are the only solo/duo acts from the KBS contests to ever reach that level at the IBC. (Only one band, the Beat Daddys, has reached the semi-finals, in 2015.)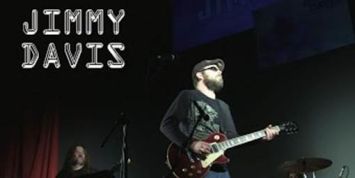 Jimmy Davis
Davis did not necessarily need the persistence, although the number of times he has participated in KBS contests is also low: once each with a band and as a solo/duo act.
As with Colvin, attitude played an important role in Davis' success. "In hindsight, my mindset was right to not focus on the competition aspect," he recalled. "It's such a subjective thing. I'd rather go into it with a sense of enjoyment and learning. And although I didn't win (the IBC), I feel I took a lot from it."
Indeed, there is a lot to take from, and a lot to take in, regarding the IBC. Davis mentioned the jam sessions, and said that "Screamin' John calls it the 'Disneyland of blues music.'" There's likely more blues talent there in one place at the IBC than anywhere else in the world."
So, what exactly, did Davis take away from his experience? Work. It started with one single contact and then snowballed into one of those "I know a guy, who knows a guy, who…" kinds of situations. "It actually wound up being a handful of different people," Davis noted.
Davis is a versatile musician who actually plays more jazz when he's in Indianapolis, and rock chops and country when he's doing his sessions work in Nashville.
At first, some of his work was pro bono, but then it turned into revenue. So while he didn't win the IBC solo/duo title, he came out ahead. "You can lose the battle, but still win the war.: In fact, Davis noted that he has so much sessions work now in Nashville that he is working on actually moving there.
Davis hasn't participated in the KBS contests in a while, and expressed a desire to do so once again. "I have more of my own songs now. I should do it. I might do it. You know, it's funny, last year I wanted to do the KBS contest but couldn't because I had sessions work in Nashville at the same time."
Speaking to Others
Davis says anyone unsure about participating in the KBS contest should just think of it as a showcase and not a competition. "Just put the competition part of it out of your mind." He says that while the KBS event is handled similarly to the IBC, like Colvin, he noted that the main difference is scale (size), and the KBS event is a bit more casual. "I also think at the IBC, they test you to see how you hold up, separate the weekend warriors from the lifers, since you have to perform so many times in such a short period."
Davis then said that one of his great dreams would be to go to the IBC and select from the talent assembled there in order to form a great blues band.
Sampson summed up both the comments and reasons for participating he has gleaned from contestants in the past. "The one thing I hear consistently from participants is, regardless of how they do in the competition, the greatest impact is the contacts they make in Memphis. They may come away with several opportunities to play in regional festivals or venues, and, as is the case with Jimmy Davis, it has had a profound impact on their lives."