April 2015 Articles
Cover Story
Paul Moffett
Features
Eddy Metal
Columns
Les Reynolds
Eddy Metal
Blogs
Got Shows?
Send Them To Us
Bookmark Louisville Music News.net with these handy
social bookmarking tools:
Available RSS Feeds
- Top Picks
- Today's Music
- Editor's Blog
- Articles
Add Louisville Music News' RSS Feed to Your Yahoo!

Issue: April 2015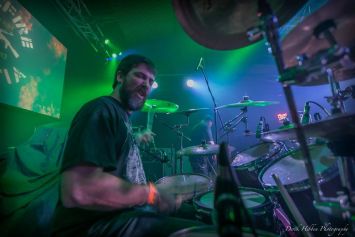 Jason Proctor
Name: Jason Proctor
Age: 36
Instrument: Drums
Band/Former Bands: Current Band Hellfire Militia / Former Bands: Caldera, 16 Penny Nail, 16 Bones, Kentucky Death Wish and few others nobody remembers.
How long on instrument: 32 years
Equipment: Premier Artist Birch drums, Zildjian cymbals mostly Z custom series, Premier, Gibraltar and Yamaha hardware and DW 5000 pedals.
Influences: So many but the main ones who inspired me early on where ZZ Top, Phil Collins, Motley Crue, Metallica, Megadeth, Slayer, Pantera and Sepultura pretty much in that order.
My first gig: Car show Battle of the Bands,1994.
Hobbies: Riding Motorcycles, gun range and fixing things.
Favorite movies: Young Guns 1&2, Natural Born Killers, Pulp Fiction, Transformers Movies and all Horror Flicks and of course porn.
Favorite food: Pizza, Jimmy Johns, Texas Roadhouse Steaks.
Favorite place: Stage, The Casino and the "Y" (not the YMCA).
Favorite sports or team: Louisville Cardinals and St. Louis Rams (yes, I am a Rams fan and don't ask me why).
What I'm listening to nowadays: Damn near everything depends on my mood as long as it isn't pop music.
Coolest thing I've done: three women at the same time and secnd to that would be the time I met Pantera backstage at Louisville Gardens on their Far Beyond Driven Tour. Got everyone's autograph except for Phil Anselmo.
Most embarrassing moment: See first gig. The entire band was out of tune and it was a train wreck, so I quit the next day.
Bad Habits: Smoking and drinking.
When/where did you first get some: In 1992 with my girlfriend at her friend's mom's apartment in the hallway while her friend and her sister watched. The deal was we could not screw unless they watched and I wanted some, so what do you do, you put on a show so I did.
If you could meet a Rockstar ( past or present ), who would it be, and why: Tommy Lee. Just always wanted to meet and hang out with him..
Who do you love: My wife Jennifer and my sons, Austin and Jason Jr.