April 2015 Articles
Cover Story
Paul Moffett
Features
Eddy Metal
Columns
Les Reynolds
Eddy Metal
Blogs
Got Shows?
Send Them To Us
Bookmark Louisville Music News.net with these handy
social bookmarking tools:
Available RSS Feeds
- Top Picks
- Today's Music
- Editor's Blog
- Articles
Add Louisville Music News' RSS Feed to Your Yahoo!

Issue: April 2015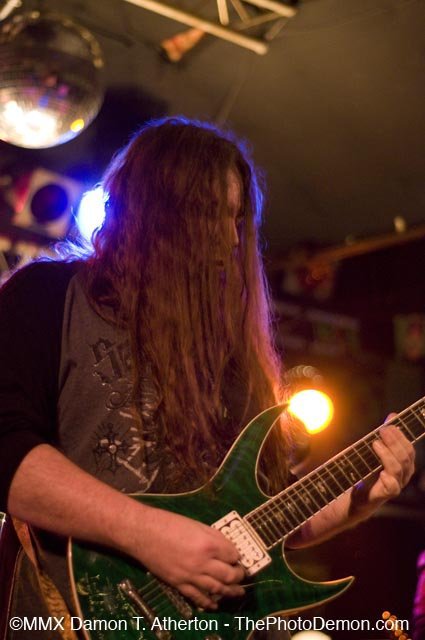 News From the Pit
What up peeps! Are ya ready for summer yet? I sure am. F**K winter!
I'm ready to frikkin' let loose and have some great shows and good memories that are impossible to burn from the mind! I'm really stoked for some shows that are coming up, both national and regional. I'm totally excited to be playing the wicked new venue The Mercury Ballroom twice, with both of my bands, so that is a no-brainer to get excited about. I get to play two different kinds of music at the same venue! How sweet is that? And one of those shows I get to open up for Hellyeah, featuring ex-Pantera and Mudvayne members, so life is good right now! I'm so glad I decided to take the long road long ago, by playing original music, rather than covers. Yeah, you don't get hardly any money playing originals and the gigs sometimes aren't as good, but occasionally you get a real gem of an opportunity. And when that happens you get to shine doing your own thing, music you created from absolutely nothing. And that, is one extremely cool feeling!! I've been blessed with many great shows in my day.
I've recently joined the gym and I actually love it. There for a short while I had turned into a couch slug and had gotten the fattest I've ever been. And while being chubby has never stopped me from jamming, it was starting to give me health problems. But now I go to the gym all the time, and I am feeling a 100 times better and the weight is falling off of me. I feel awesome! I'm a sore bastage, though. So to all you overweight unhealthy slugs out there just like me, get your asses to the gym, and I guarantee you will love it just as much as I do. Heck, come join the gym that I'm a member at, The Planet Fitness at Central Station!!
Just got some cool concert news, The Rockstar Mayhem Festival 2015 is rumored to feature Slayer and King Diamond! It's not set in stone, but its from a fairly reliable source! I've been wanting to see King Diamond again now for several years so it's looking like this might be my big chance, not to mention seeing Slayer with Gary Holt (of Exodus) on guitar!! And the Louder Than Life lineup should be in in a short time from now! I hope it is as cool as it was last year! Eighties icons Van Halen are set to play Cinci and Indy this summer, so that is another cool show coming up.
We have a whole summer of good times ahead of us! I can't wait.
I'm going to be going to Colorado or Key West again this summer, too, so I'm gassed up about that as well!
Remember this; You only live once, so have the best time you can and make the most of your time here on earth. Treat people how you would want to be treated and the world will be a better place.
Nuff Said...
The Metal Grapevine
New Flaw Song Preview:
I was able to get a sneak preview of Flaw's new single that the band just recorded, that isn't even released yet. Not many have heard this at all. This is so cool to be able to be one of the first to hear this new stuff!
The track is called "Bleed Red" and it starts out with a simple drum beat and a strange instrument that I cannot identify, it could be a guitar with a weird effect on it, or it could be a keyboard, I can't tell. It kinda reminds me of an intro of the Nineties band Ultraspank (whom I love). Then it gets Flaw-heavy pretty fast, a grinding hardcore-ish riff that cuts well as it builds up in power. The lyrics are anti-racist and I can relate with the lyrics because I myself have wondered why the government seems to incite racial tensions rather than quell them. This songs seems to touch on that subject. The chorus is catchy and rockin'. And this sounds like one of the heavier Flaw songs I've heard, in spots. There is a cool breakdown in the middle that works very well. This sounds badass! Vocalist Chris Volz sounds great, and there is some new fast n' powerful vocal stylings in there that are pretty sick. The lyrics by Volz are great as always, and well thought out. The sound quality of this recording is awesome! Whoever recorded this has some serious skills. The guitars sound super chunky and damn near perfect. Guitarist Jay Daunt has some damn good ideas and does very well in the studio. There are a few very short filler parts on guitar that are soooo sweet that maybe they should have been extended a hair, maybe? You write a good riff, might as well use it a little more!
Overall, this is classic Flaw, with some new twists and turns for the new age. An anthem for the divided, if you will. A song telling us that we should all just get along because, after all, we all do really bleed red. It's good stuff, and I'm glad they didn't stray from the Flaw formula too much. A lot of bands try to be totally different and it ends up screwing them when their fans go "WTF?" That won't happen here because the band just expanded upon their already great sound, instead of changing shit completely.
I'm ready to hear the other tracks, but that will be later this year, perhaps late summer/early fall?
Thanks to Flaw Manager Scott Frazier for sending me the song, and trusting me to not let it get out there before its release! I saw Scott not long ago and he is still the same cat I've known from long ago, despite his success with Volbeat and Saving Abel. A lot of guys would be stuck up and douch-y having had so much success as of late, but not Scott.
I have always been cool to people of other races. I'm just that kind of guy. But I do admit I have been having problems with my neighbors, who are of a different race. But that has nothing to do with the color of anyone's skin. Their pitbull was getting loose and trying to kill my small dog. I would have called the authorities if they were as white as Mr Roger's on Sesame Street!!
Sadly, one bad apple can ruin the whole bushel if untouched. And that goes for any race!!
Testament/Exodus Coming!!
! On April 21 at The Mercury Ballroom, The Dark Roots Of Thrash Tour II heads into Louisville for one night of mayhem, old-school style! If ever there was a badass show on 4th Street, this would be the one! I'm very stoked about this one! If someone would have told me that Exodus and Testamant would be playing down at 4th Street, I would have said "Yeah right, go smoke some more crack, fool" But its really happening and I'm thrilled about it! Texas metalheads Shattered Sun will be opening the show. This will be a meeting place/gathering for old-school thrashers for many miles around. There will be rockers from all over at this one! Indeed. So don't wait, get your tickets now! There is also a VIP Package you can get! Check this chit out!
" The Dark Roots of Thrash I I tour is your chance to meet TESTAMENT and> EXODUS via a combined VIP Meet and Greet Experience package – available for the first time during this tour via www.slotix.com .VIP packages for all dates will be available on Friday, February 27th> .
" The combined VIP experien> ce includes:
"One Premium Reserved ticket or One General Admission ticket
" A Meet and Greet with select members of TESTAMENT and EXODUS
" Individual and Group Photo opportunities with select members of TESTAMENT and EXODUS
" Exclusive TESTAMENT/EXODUS poster
" Collectible TESTAMENT/EXODUS commemorative laminate
On-site check-in staff."
Hellyeah Coming To Mercury Ballroom On May 16:
Another awesome metal band, HELLYEAH, is confirmed for May 16 at The Mercury Ballroom with We Are Harlot, Archer and Krosjoint. This badass band features members of Mudvayne and Pantera. This should be another barn-burner of a show!
I do know that my band Krosjoint will be the opening band on the bill, and the only band from Louisville. We are very excited to be given this chance at showing what we can do, and we plan to make the best of it! This is a prefect show for Krosjoint!! I hope to see you all there early to cheer us on! Support Louisville original rock/metal!!!
Flaw To Hit The Road For National Tour:
Louisville rockers made good, Flaw, will be heading out on a big tour this spring, The Reawakening Tour. The band will hit 24 cities everywhere from Toronto, Ontario to Dallas, Texas! It's so cool seeing these hometown guys overcome all kinds of BS to get back on that music train and ride it all the way to a brand new fresh beginning. Truly awesome and inspiring. The band will have Seasons After supporting them on this tour. I wish you guys the best of luck!
Here is the official press release:
"Louisville, Kentucky -- Flaw has announced plans to release a new album, and a return to the road after a decade of being dormant, Chris Volz (Vocals), Jason Daunt (Guitar), Ryan Jurhs (Bass / Backing Vocals) and Corey Sturgill (Drums) are poised to begin the next chapter of the band's career. Singer Volz shares, "I'm so excited to announce the soon-tocome release of our first full length album in over 10 years! We are locking down a record label as we speak with our manager Scott Frazier, and have been recording with Grammy winning producer Skidd Mills. We embark on a nationwide tour May 1st with our good friends Seasons After, and I am happy to say that we will be hitting a lot of cities we haven't played in for quite some time. Words can't express how psyched we are to be back and how proud we are of the recordings. See you guys soon! " Guitarist Daunt adds, "After several years apart to work out personal issues we have reunited. The time apart has given us clear heads and a new appreciation for the music we are capable of creating together. We are stoked about our renewed musical relationship and can't wait to share it with the world. " Flaw has selected friends Seasons After to serve as direct support for the upcoming tour. The Wichita-based band recently released Calamity Scars And Memoirs (Pavement), which follows Through Tomorrow. The band premiered the video for the lead single "Lights Out " via Loudwire which can be viewed here: http://loudwire.com/seasons-afterlights-out-exclusive-video-premiere/ Flaw formed in 1995 with a core of Chris Volz (vocals) and Jason Daunt (guitar). They released the independent albums American Arrogance (1996), Flaw (1998) and Drama (2000). At the turn of the millennium, Flaw signed with Universal Republic Records, and released Through The Eyes in 2001. The offering topped the Billboard "Heatseekers " chart, largely fueled by the singles "Payback " and "Whole. " Links to view these clips are placed below. The band released Endangered Species via Republic in 2004, but soon thereafter the band went through personnel changes and ended their relationship with the label. Years have passed, with various incarnations, rumors, and misinformation permeating the band's legacy, but in late-2013, the band's official web site went live once again after eight years of inactivity. Confirmed appearances follow below. Additional dates will be announced shortly
Confirmed appearances follow below. Additional dates will be announced shortly. 5/01 Lancaster, OH Mickey's Bar and Grill 5/02 Battle Creek, MI The Music Factory 5/03 Joliet, IL Mojoes 5/06 Minneapolis, MN POV's 5/07 Des Moines, IA Vaudeville Mews 5/08 Janesville, WI The Backbar 5/09 Waterloo, IA Spicoli's 5/12 St. Louis, MO Firebird 5/13 Merriam, KS Aftershock 5/16 Colorado Springs, CO Sunshine Studios 5/19 Austin, TX Dirty Dog Bar 5/20 San Antonio, TX 210 Kapones Live 5/21 Dallas, TX Trees 5/22 Houston, TX Scout Bar 5/26 Atlanta, GA Masquerade 5/27 Clarksville, TN The Warehouse 5/29 Chesapeake, VA Riffhouse Pub 5/30 Hagerstown, MD Hard Times 6/02 Rochester, NY Montage Music Hall 6/03 Cleveland, OH Agora Ballroom 6/04 Flint, MI The Machine Shop."
Here is the teaser video for the tour!!
https://www.dropbox.com/s/t8ea7plue7f7efy/FLAW-SEASONS_AFTER-TOUR-VID.mp4?dl=0
The Villebillies Speak Out On 2015, And Their Big Derby Show:
It's almost Derby time, and you know what that means! Partying like a MF! And speaking of partying, I took a few minutes to speak to Villebillies frontman Demi Demaree about plans for 2015, record labels, and their huge Derby City BrewFest show coming up at the KFC Yum! Center. Now that sounds like a sweet party!!!
Eddy: Whats up, man? I've heard some rumors that there is some disappointing news regarding record companies saying the The Villebillies are not marketable because you don't fit into any one certain genre? Tell us a little bit about that nonsense. Good music is good music!! F**k genres!
Demi: First let me just say that our label never said VILLEBILLIES are hard to market. However, program directors as well as other industry folks have told us we needed to "pick a lane " as far as our sound if we want to get a fair shot on popular radio.
I understand their take on this to a degree.
The music industry doesn't usually like to take chances on bands like they used too. Even us as a band find it hard to explain what our sound is.
There's rock, country, bluegrass, blues, hip hop etc infused in our music, depending on what song you're listening to, so to define what our overall sound is is pretty complicated.
Where does it fit?
How can it work?
What's the best market to place us?
I could tell you what I think but my opinion is not the one that counts when it comes to these decisions.
I'm just the artist. What do I know, right? Ha ha
To break a band on a large scale usually takes a lot of money, so if its not a no-brainer recycled sound proven to work in the past then most companies are scared to take the gamble. Especially major labels.
We've stressed on these topics and others for a long time and came to the conclusion that we create what we create and that's it. Our sound is VILLEBILLIES. We "picked a lane " long ago. Our own.
We've come this far on the path we've created and will continue to do so until the wheels fall off.
We are very grateful to have done everything we have, and continue to do. Anything else is just an added bonus!
Eddy: You always manage to land some sweet shows, dude. Tell us about this big show you have at The KFC Y> um> ! C> enter> on May 1. It sounds like a helluva time!
Demi: Yeah, we have been a part of some great shows over the years.
As far as the one on May 1st (Derby Eve), the owner of Bluegrass Brewing Company has been wanting to put on a BrewFest for quite some time and decided that this year was the year to make it happen. The BBC team and myself put our resources together and the first Derby City BrewFest was born! Yum center gave us the space and we built it up from there.
We figured mixing local craft beer, food and music during Derby week would be another great festivity in Louisville that everyone would enjoy.
There will be 15+ local breweries, 60+ beers, food trucks and 5 live bands.
The festivities run Friday, Derby Eve from 4:30 pm to midnight. $10 admission.
For more information you can go to Derby City BrewFest on Facebook and Twitter or stop by any of the Villebillies pages where we will be promoting and updating event until day of show. For all the folks who don't subscribe to social media, there's always Google. Ha ha

Eddy: So whats the plan for The Villebillies in 2015 bro?
Demi: The plan for the VILLEBILLIES in 2015 is to knock out these next couple of shows, then spend all our free time finishing our new album. It'll be our fifth. We have a lot of new material and even more ideas.
The absolute best part of doing this music thing for us is creating the music and recording it. Once we are happy with the overall feel of the album, we will package it up and push it out there for the people to hear.
After that, who knows?
Shout out to all the fans, friends and media that support what we do!
The Daily Rock Report, Check It Out:
Louisville musician/music fan Donnie Hardin has created a site for us rockers. It features interviews, reviews, local music news, pictures and all kinds of info and stories on national and regional music. A lot of local music stuff, too. Donnie is a damn good writer! A lot of people in our scene hate competition and do whatever they can to hurt the other parties involved. I think that stuff is a crock of shit. What kind of piece of shit would I be if I purposely ignored other good things in the scene just to further my own agenda? I say whatever can help out our rock scene and get people informed should be appreciated and respected. If I could change one thing about our music scene, it would be that people work together better and show support rather than purposely not showing support. So Donnie Hardin, good job my friend, and keep up the good work. Check out Donnie's writing at https://www.facebook.com/dailyrockreport
A Tribute To Donnie Torrance, A True Louisville Musician, R.I.P My Friend:
I woke up today to some very sad news. Louisville lost a gem of a musician. A longtime friend and extremely talented Louisville musician who sang, played guitar, drums, keyboards, or whatever. Dude could play any instrument! Donnie was frontman/guitarist for Louisville rockers Dump Gang in the Nineties, and that is where I met him. Dude was a trip! Great lyrics, a serious shredder on guitar, and he had a helluva voice. Donnie and I ended up forming a band in 1999 called Sideshow. It was a lot of fun, but short lived. Donnie later played for death metal shredders Sowing Discord. Donnie wasn't your ordinary musician, he played from his heart and wrote some very unconventional music. He didn't care about popularity or trends or stupid crap like that. He was about playing what he liked, and piss on anyone else who didn't care for it. I never had a bad word with the guy after almost 20 years of friendship. He may have not been no popular pretty boy cover band clone, but he certainly left his mark and had peoples respect. R.I.P my old friend. Love ya, bro.
King's X/Living Color Collaboration Coming To Pht On April 28:
Fans of King's X and Living Color will not want to miss this collaboration concert featuring King's X vocalist Dug Pinnick and Living Color's Corey Glover! Dug has one of the best bass tones I've ever heard, and he sings like a bird! This show should be amazing. And another cool addition is that Louisville's Unleashed will be opening the show that night! Rick and Hunter Borowick are huge fans of Pinnick and have followed him for years, and now they finally get to play a show together! Perfect! Soooo cool to be able to play a show with your hero!! So be early to support a great Louisville band like Unleashed before the mighty Dug Pinnick lets loose!
Sepultura Coming:
Those Brasilian metal monsters are coming to Louisville on Saturday, May 23 at Expo 5. Yeah, it's not Max and that kinda sucks, but this should still kick some major butt. Some of their new stuff in pretty badass. I remember seeing the original lineup at Louisville Gardens opening for Ozzy way back in 1991 or 92. I was blown away. They were so tight as a band!
Nightwish Coming!!!
This band is ridiculous! In a good way! Pure awesomeness. I've seen this Finnish band at least twice and I would surely go see them again. I'll get my chance to see the new Dutch singer Floor Jansen in action on Tuesday, May 12 at Expo 5.
Bassist Marco Hietala is a beast who does incredible vocals while playing at the same time, and keyboardist Tuomas Holopainen is a flat-out musical genius. Watching him play keyboards is a wonder in itself. He brings excitement and baffling skills to that instrument, one that is often overlooked in rock/metal. This symphonic metal band is a force to be reckoned with, so you might want to get your tickets for this one-night-only deal, for they don't travel here very often!
I'll see you good folks at the show!
Old-school Legends Prong And Sanctuary Coming Later This Year:
Wow! Looks like my luck has finally changed when it comes to seeing one of my favorite bands in my hometown, finally! Seattle thrashers Sanctuary will be here in Louisville for the first time ever on Monday, October 12 at Expo 5. And NYC metal beasts Prong will be here again on Tuesday, November 10 at Expo 5 as well. The last time Prong was here, they got screwed bigtime by the Louder Than Life event that just happened to be going on the same night. Needless to say, it wasn't a big turnout since everyone and their mother was at LTL, sadly. Hopefully this one will be better for them.
Luther "a Lonely Place For Ghosts" CD Review:
Man, oh, man, I've been waiting to be sent one of the these CD's forever it seems! Finally!
I've loved this southern Kentucky band from the get-go. I'm proud to say I was one of the first promoters to bring Luther to Louisville back in '95 or '96, and we've been friends ever since. The new CD starts out with "The Beginning/Escapee," which is the classic Luther sound. This song has a definite stoner groove vibe and the lyrics are quite genius. "The Salvation" has an Eighties guitar vibe that sounds fantastic mixed with vocalist Stephen Cleveland's gruffy vocals. Killer rhythm guitar work! As always, Richard Bybee is killin' on drums. "Hole In My Head" starts out with some bluesy riffs that smoke. Cleveland sound extra gruffy on this one! I have always admired Stephens vocals. Such power and originality mixed with killer lyrics. Guitarist Jason Williams has gotten so much better on guitar these last several years. Not that he sucked before, because he didn't, he just polished and tightened up on his leadwork. I was watching him play at a show a month or two back and dude was killin' on some leads.
I'm hearing all kinds of Black Sabbath influence on the new Luther music. And I'm a huge Sabbath fan, so ya can't go wrong there! "Child" has an eerie intro riff that fits Luther's sound to the tee. I remember this song! This is an older Luther song. I'm glad they brought it back. It's a good song! Cleveland has always reminded me of Jim Morrison somehow. The guitar tones in this one is badass.
"For A Dime" really reminds me a lot of Stone Temple Pilots' "Sunday Girl" for their opening riff, but it is short-lived as the band makes their way through the song. It slows down to a crawl and gets kinda evil-sounding in doing so. This is a short but well-written song. "All Things Creepy" is classic stoner groove doom metal. Slow and plodding and bluesy and groovin', all the while Cleveland is going to town on vocals. Bassist Andrew Smith gets an opportunity to get a lil funky during a breakdown.
Andrew is quite the showman and possesses some awesome bass skills. I like how he uses his slides. Andrew is slide happy! Bass slides rule. He has this old 1960's Gibson bass that is just perfect. "Bushman Frowns" is one of Jason Williams' favorites, and I can see why.
I'm really digging this one, too. Excellent guitar writing on this one! Already it stands out only seconds into the song. Stephen sounds badass on this one too. Richard Bybee is a beast on drums and has always been! Jason does a short bluesy solo in the neck position that sounds uber creamy. I'm digging the tone of Jason's guitar in this song. "Supercell" has Cleveland singing a little higher up in the scale, and that's kinda weird hearing Stephen sing like that, even though it does sound good. This one is a bit more upbeat that the others. It rocks! Especially the ending when it really lets loose.
"Wartime" features probably the best solo on the CD, and some pretty tasty bass slides. Richard Bybee really goes off drum-wise on this song. Such talented musicians! The sound quality and production by David Barrick is wicked. Great Job! (I'd like to work with Mr Barrick with my band Krosjoint.) Luther is Kentucky's premier stoner groove doom rock band, and an influence to me and many others. People can't get enough of Luther. They've been around since 1995 at least and I hope they stick around for another 20 years. Good guys. Great band. And a sound that emanates from the backwoods of Kentucky!! Power. Soul. Emotion. Groove. That is Luther!
This is a rockin' CD, especially if you love bluesy, Sabbath-y, stoner groove metal! Pick up a copy of A Lonely Place For Ghosts when you get a chance. In the meantime, you can see Luther play live here in Louisville on Monday, May 4 at The Highlands Tap Room at 9 P.M, or in Bowling Green at The Spillway Bar and Grill on April 18.
Van Halen To Tour Again, Dates In Late August And Early Sept:
If you didn't get a chance to see Van Halen last go around, then you are in luck! The band is embarking on a massive US tour and the band has two stops in this general area. August 31 at Riverbend in Cincinatti and Septeber 2 at Klipsch Music Center in Indianapolis. I haven't seen the original Van Halen since they played at Freedom Hall in 1984!
I tried to get tickets to cover VH when they were at YUM! Center, but those Yum! Center people are kinda douches and I was left out, even though I've been writing a music column in this town for fourteen years. Not cool. Hopefully the good people in Cinci will take care of me on this one. I wanna hear some EVH on guitar once again!
Bands, Send Me Your Youtube "Live" Videos:
Bands, send me some live footage of your band kickin' some butt on video. And if I like it, I'll put it online in Louisville Music News. Have many people see your band live in action, where it counts the most! Nothing beats a live performance. Please make sure the sound quality is decent. If it's not, I cannot use it. Send video links to: EDDYMETAL1@aol.com
My Thug Neighbor's Situation, Not Done Yet:
Well, it seems this crap ain't over yet. Still getting death threats for me being the horrible human being that I am, for calling the authorit> i> es on careless people who let their Pit Bull roam the neighborhood free attacking other people's pets at will.
Things have quieted down a bit since I had surveillance cameras installed, but that probably will not stop hardheaded, dumb people from avenging their imagined grievances. People will be assholes, and that is how it is, but I am mostly angry at their landlords now, for letting this nonsense go on as long as it has! These landlords are the worst ever! And I am about to act on this once and for all.
I'm thinking about suing these uncaring, douchebag landlords!
For not caring one bit about good people being harassed and having their pet killed by these careless, irresponsible idiot people next door. I have sent letters, called them, but they simply do not care one bit. Pray you don't get neighbors/landlords next door like what I have. As long as nothing affects them, it does not matter. These thugs neighbors were supposed to move out, but nothing has happened at all, and I'm furious. One would think that if you are a landlord, you would not want felon criminals behind on rent living in your home! Especially when they are trashing the landlord's home and using it for a drug-dealing operation. Unreal. Some people. I guess I'll have to deal with this until a miracle happens. In the meantime, I'll be packing some serious heat.
Willis Music Gone From Louisville:
The last Willis Music has closed its doors in Louisville forever.
That chain has been in Louisville for many years. Why the demise? Too much competition? Too much online buying these days? Maybe it was the expensive properties they rented? Who knows. I wasn't the biggest fan, but I would drop by now and then and see what they had. We've lost First Quality Music and now Willis Music. Sheesh, enough already!
Musician Of The Month, Jason Proctor of Hellfire Militia:
Folks, be sure to check out this month's featured musician, drummer Jason Proctor of the Louisville metal band Hellfire Militia. Dude is an absolute beast on the skins!
Upcoming Shows
Bigshots
Saturday, April 18 – Tameless.
BJs
Friday, April 24 – Tameless
Brewski's
Saturday, April 11 – Guerilla Red w/ Last Question and Dick Dastardly. 9 p.m.
Diamonds
Sunday, April 19 – Saliva w/ Modfire, Despite the Fallen, Better Than Salem. 8 p.m.
Thursday, April 30 – Parade Fest 2015 – Start your Derby Festivities off right with the ultimate all-day parking lot festival at Diamond Pub and Billiards in the Highlands!! Diamonds is teaming up with Summit Media to bring you the first annual Parade Fest 2015 starting at 11am!! The Pegasus Parade just got that much better because they are starting the festivities at 11am. Come down early to check out all the floats and stay late because we have tons of stuff on tap for all ages including:- Live music from 11am-11pm featuring; Cabin, Elephant Room, Shane Dawson Band, Josh woods, PMA, Soul Circus, Bob Anonymous and Ricky Morse. Food Trucks Beer Trucks - 3 Satellite Bars with refreshing Bacardi Cocktails- Many Attractions for Kidos including Jumpies, Bungee Run, and many more!! - Check out all the Floats
Expo 5
Saturday, April 4 – Alesana, Capture The Crown, The Browning, Conquer Divide, The Funeral Portrait, A Rumor Of War and Revision Revised. 7 p.m. $15
Tuesday, April 7 – Orgy w/ 9Electric, Death Valley high, Velvets Saints, Empyrean Asunder, Hello Agony and Rayon Prime. 7 p.m. $20-$50
Wednesday, April 8 – Secondhand Serenade, Ryan Cabrera, Nick Thomas, Wind In Sails and Runaway Saint. 6:30 p.m. $20
Wednesday, April 22 – A Skylit Drive w/ Uh Huh Baby Yeah, Dark Horse, Outline In Chalk, Westlynne and Blindside Drop. $12 7 p.m.
Thursday, April 23 – 10 Years w/ Luminoth, Signal The Revolution and The Everyday, Losers. $15 7 p.m.
Tuesday, April 28 – HedPE. $15 7 p.m.
Monday, May 4 Chelsea Grin w/ The Word Alive, Like Moths To Flames and Sylar. $20 7 p.m.
Wednesday, May 6 – 36 Crazyfists, Johari, Brought By Giants, Gallifrey falls and Driving Beast Daisy. 7 p.m. $12
Thursday, May 7 – Avatar w/ Shines Negative, Untold Rellik, Beyond Duplication and amongst The Waves. $15 7 p.m.
Tuesday, May 12 – Nightwish w/ Sabaton and Delain. 6 p.m. $35 - $170.00
Friday, May 15 – Incantation w/ Funerous, Abominant, Created To Kill, Esoteric Burial, Theories Of The Apocalypse and Gorgy. 7 p.m. $12
Saturday, May 23 – Sepultura w/ Destruction, Arsis, Boris The Blade, Micawber. $28 7 p.m.
Headliners
Sunday, May 3 – All That Remains w/ Eye Ov The Storm, Silent From The Struggle and Dahmers Closet.
$20 Adv/$22 DoS. 7 p.m.
Highlands Tap Room
Monday, May 4 – Luther. 9 p.m.
KFC Yum! Center
Friday, May 1 – Derby City Brew Fest - featuring The Villebillies w/ Whiskey Bent Valley, Jericho Woods, Grateful Derby and Uncommon Houseflies. 4:30 p.m. $10
The Mercury Ballroom
Tuesday, April 21 – Testament/Exodus and Shattered Sun. 7:30 p.m.
Saturday, May 16 – Hellyeah w/ We are Harlot, Archer &(Louisville's own) Krosjoint. 7:00 p.m.
New Albany Production House
Tuesday, April 7 – Defeater, Counterparts, Capsize, Hotel Books, Better Off and The Weekend Classic. 6:30 p.m. $15
Phoenix Hill Tavern
Friday, April 3 – Bury The Wicked, Cadacus, Untold Rellik, Hello Agony and All Saints Fade.
Friday, and Saturday, April 17/18 – Redline.
Tuesday, April 28 – King's X's Dug Pinnick and Living Color's Corey Glover w/ Louisville's Unleashed! 8 p.m.
Friday, May 1 – Jackyl w/ The Velcro Pygmies, The Overreactors, Naked Garden and Str8 Jakkit.
Saturday, May 2 – The Louisville Crashers w/ Jefferson Tarc Bus (original members!), Riff Raff, Tricycle and Dogville.
Friday, May 8 – Tri Tones, Lethean, Atonement, Manic Methed.
Smokey's
Saturday, April 11 – Soundtrip.
Spillway Bar and Grill ( Bowling Green, Ky)
Saturday, April 18 – Luther, The Creatures and Boomstik. 9 p.m. $5
Trixies Entertainment Complex
Saturday, May 2 – 2 nd Annual Ron Jeremy's Derby Gala; featuring Alien Ant farm w/ Hot Action Cop and 7 day, Sun. $20 ADV/$25 DOS. 7 p.m.
Waddystock 2015 (3938 Waddy Rd, Waddy Ky)
Friday, and Saturday, April 24-26 – Redstone Band, Lame, The Reefer Kings, Springliner, Ashton blake, Idder, Ghost Holler, Sunday, Six, Dick Dastardly, Ashes To Ashes, Gregory Scott, Palewalker, Our Southern Pride, Untold Rellik, Caducus and Bad Onion. Music, Camping Fishing 3 day,s for $10. All ages!
Wicks ( Goose Creek)
Saturday, April 25 – "A Concert For Crystal" featuring - Red Wolf, Solar Cab, Backyard Rehab, Matt Jaggers and Juke Joint Revival. 8 p.m.