May 1997 Articles
Cover Story
Kevin Gibson
Features
Vicky Moon
Columns
Berk Bryant
Decimus Rock
Mike Stout
Paul Moffett
Vicky Moon
Vicky Moon
Keith Clements
Tim Roberts
Laura Spalding
Henry C. Mayer
Jimmy Brown
CD Reviews
Bob Bahr
Bob Bahr
Robert Gruber
Tim Roberts
Kory Wilcoxson
Tim Roberts
Jean Metcalfe
Mark Clark
Robert Gruber
Vicky Moon
Paul Moffett
Joseph Dinwiddie
Performance Reviews
Michael Campbell
Vicky Moon
Paul Moffett
Pete Strojny
Bill Ede
Wally Stewart
Tim Roberts
Kevin Gibson
Pete Strojny
Paul Moffett
Calendar
Paul Moffett
Opinion
Kevin Gibson
Blogs
Got Shows?
Send Them To Us
Bookmark Louisville Music News.net with these handy
social bookmarking tools:
Available RSS Feeds
- Top Picks
- Today's Music
- Editor's Blog
- Articles
Add Louisville Music News' RSS Feed to Your Yahoo!

Issue`: May 1997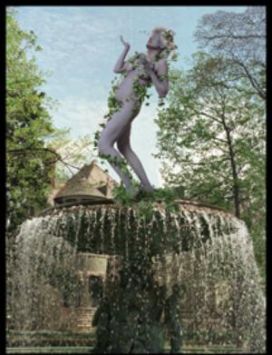 Muffy Junes
Muffy doesn't exactly panic in the face of adversity
By Kevin Gibson
Photos by Ralph Sidway
Muffy shows up for her regular Monday night karaoke gig late and tired, but somehow energized after spending the day on the road to and from Nashville where she picked up her band's debut CD.
She might have waited for it to be delivered two days later, but couldn't. "It's my first one," she reasoned.
"Hi Muffy," can be heard from all corners of the small tavern as soon as they recognize the woman with spiked blond hair, oversized T-shirt and spandex pants, and people stop to greet her as she hauls in her equipment. She has an eager smile for everyone, and seems to revel in showing off the case of compact discs.
"I haven't even heard it yet," she tells a reporter as she hands over the first from the new batch of discs. Once the karaoke equipment is set up and the songbooks are passed out, Muffy cues up a copy of her band's new self-released album, titled "Something Wrongfully Right," and launches into "Birthday," the seventh song on the disc. She spins it first partially because she's pumped that the album is finally finished (the release date was originally scheduled for December), partially because she wants to hear the sound quality and partially because, well, it's her birthday.
She later confesses it's her 35th. Confirmed?
"Nobody really knows," says longtime friend and Muffy Panics guitarist Steve Adams.
As Muffy tears through a karaoke version of "Birthday" to a relatively large gathering at Jake and Elwood's in Louisville, it's obvious her enthusiasm for music – and generally having a good time – is timeless. It doesn't matter if it's her fifth birthday or her 35th.
Stand back and I'll move over
I don't host parasites
Just get your fever outta my face
Your face is terrifying
Remove this goldfish from the bowl
Three minutes more and
I'll explode
– from "Birthday"
Flash Forward to Muffy Panics' album release weekend, April 18 and 19. Shirts, CDs and "Muffy-Mania" beer huggies adorn a display in the center of the Phoenix Hill Tavern Roof Garden. Muffy, Adams, and their bandmates Phil Gatton (drums) and David Cross (bass) seem anxious.
Muffy wears striped tights and a black T-shirt with "Muffy Rules" on the back. She draws hard on her cigarette as she explains that the headline act, New Duncan Imperials, got caught in traffic on their way to Louisville from Chicago, and the delay cost Muffy Panics its sound check.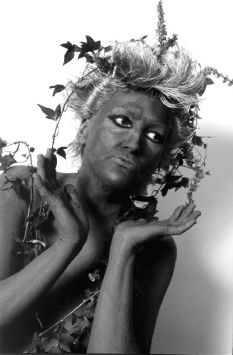 The band didn't even have time to change clothes, and on top of it all they'll kick off their big weekend with a largely improvised show. It's like the baseball player who comes on to pinch-hit after taking no batting practice.
Once on stage, Muffy seems to shake it off. She stares with curiosity at the yuppies who file into the Roof Garden. At one point she announces that the band is a little loose that night, although she doesn't bother to complain about the sound check screw-up.
"We're not wearing our sports bras," she explains.
Between jokes and sarcastic stares, Muffy fills the room with her assertive voice – a voice that could melt dry ice. Opening the show with "Stay Up All Night," the second cut on the new disc, proves sufficient to turn all eyes toward her, for it may be the song that best utilizes her steel vocal cords. The scheduling problem seems a forgotten issue.
It isn't suicide
If I don't cry out loud
Don't tell a lie
He thought I'd never let him down
He was so proud
And that's what I'm sick about now.
– From "Daddy Died"
After the Phoenix Hill show (which was impressive, especially considering the circumstances), Muffy chain-smokes cigarettes and enjoys a couple of mixed drinks with her guitarist, a friend and a reporter.
She is energized even after burning enough energy onstage to fuel a stock car race. It seems to be her natural state of being.
She begins by talking about her childhood, when at age six, growing up in Pleasure Ridge Park, she began to play the organ. She got a Hammond floor model organ at age 10, after which she began to compose and record songs, singing the vocals and dubbing in the music on a tape recorder.
"I still think they're pretty cool," she says, thinking back on those early tunes. She then launches into "Maryann," one she remembers from that time in her life. She makes it through two verses and a chorus before she's finished.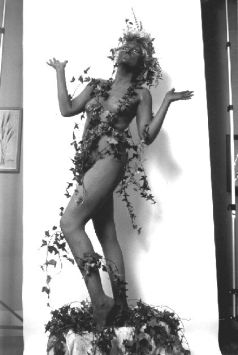 Muffy formed her first band, called JustUs, at age 17 and played in various clubs around the area. She later formed the band Speed Limit, followed by Muffy and the Ducks, the band for which she is probably best known. It was then when the name Muffy stuck (her real name is Tamala Junes).
"I wanted a name. I wanted to start a band that did really fun and funny stuff. It was the '80s. For some reason it sounded cool – it doesn't seem like it now.
"At the time, I wanted to hear them say (on the radio) 'Kick-ass rock 'n' roll with Muffy and the Ducks.' And they did." (She laughs). "I just started being tagged Muffy. I just kept it because it was easier. Now I have an identity crisis."
Muffy and the Ducks played modern hits all the way back to covers of 1950s classics – all Muffy style. Although the group disbanded in 1984, Muffy said many people still remember her from that era.
"I get sick of talking about it. It's like a child actor that is always being referred to his character – 'Oh, the Brady Bunch!'"
Some of her long-ago fans have collected everything she's done, including recordings she made during a nine-year stint in Los Angeles. But she said Muffy and the Ducks fans don't necessarily follow Muffy Panics 15 years later. "Everybody who liked Muffy and the Ducks are home with their kids, so they can't come out, even though they'd like to."
Muffy and the Ducks recorded some local tapes, and one song appeared on an album of local music released by the former LRS 102 radio station. All these connections to the 1980s may be part of why many say the new band has an '80s flair. Then again, maybe not.
"You know why that is," Muffy said. "I'm wearing striped tights and my hair is standing straight up." That probably does have some bearing on it.
See, I read people all the time
I pride myself on knowing
What's inside-
Who's on, who's not
Who gets to have a shot at me
But this time I could shoot myself
My arrogance has left a trail
Like a memory
Of someone I've never been
– From "Talkin' in Maybes"
Muffy departed for Los Angeles shortly after the breakup of the Ducks in hopes of becoming a star. There she formed a band called "Muffy Something" and later "Muffy Panics" which, obviously, was revived with the current band. "It's been one vision with my songs and my voice and my idea of what a band should be like."
While she said her goal was to go "straight to the top," she actually moved to L. A. so she could have the opportunity to play original music, something she found she couldn't do in Louisville. She didn't go straight to the top, but said she felt the trip was an overall success because "I played and wrote a WHOLE lot."
Still, it was difficult. One can't just play music for a living without paying dues. "You have to keep your full-time job because you have to pay your $800 rent and rent your rehearsal space," she said.
Though she recorded some music and even recorded a video, Muffy returned to Louisville during the summer of 1993. "I came back because there was a year or a year and a half period that I had hardly written any songs. I was getting really depressed about that."
And she didn't intend to stay in Louisville long. But, she confessed, "once I got this band together and I had a team ... I decided to stick with it."
Adams, a certified Wesleyan pastor who first played with Muffy in the Ducks, certainly never dreamed he would wind up playing music again. In the nine years after Muffy headed to Los Angeles, he didn't touch a guitar – he spent time on religious sabbatical and visited Israel. Then the two were reunited to form the Louisville version of Muffy Panics.
"He had some kind of dream or something and he looked me up," Muffy said.
"I kind of like knew cosmically that she was back in town," Adams said. "I just sat up in my bed and said 'Contact Muffy.'"
Adams is intense. He was the one band member who seemed to be visibly upset over the group's being bumped from the sound check. The seriousness with which he approaches his music can be found in his piercing gaze, which is accentuated by his shaved head and goatee.
He said that, after contacting Muffy, he initially intended only to help her locate a guitarist. He agreed to resume playing only as a last resort. When the search proved fruitless, he and Muffy went guitar shopping.
"We're old friends," he explained. "I think she had trouble finding people to interpret her. It takes a great deal of imagination. You need to be a jack of all trades ... and to be able to complement her. I don't think I'm the greatest guitar player in the world.
"I wear a lot of different hats. I don't like to be stereotyped. I'm just as at home on stage in a rock 'n' roll band as I am anywhere."
Adams said the fact he grew up with a father who was in the Air Force and who moved the family often helps him to adapt, chameleon-like, to almost any situation.
He also said that if Muffy Panics ever falls by the wayside, he will most assuredly give up the guitar once more. "I'm not interested in playing with anyone else. She's like a worthy cause."
And Muffy doesn't seem to want any other guitarist; she described Adams as "the most tasteful guitar player."
Added Adams, "It seems like we're on the same wavelength. She reads me, and I read her. It's kind of a rare thing. We have the ability to be very spontaneous sometimes. We'll just start running up the wall like mice."
The question is, how far can a band from Louisville go? "We've had a hard time in this city playing originals. If we were doing all Heart and Melissa Etheridge songs we'd have these people dancing on their heads," Adams said.
However, "It's like that everywhere. Its real tough to break into music anywhere."
Asked if Muffy Panics has a chance to take off, he makes a face then says, "It's a big industry. There's a lot of competition. I do feel like it will be a great injustice if she doesn't get a record deal."
What impresses him about Muffy, he says, is her voice and her ability to entertain: "She knows how to push buttons."
Hypnotherapy
For you and me
Can you look inside my brain
I'd really like to know
Who's got control ...
Remedies are all the same
And nothing's guaranteed
And nothing works for me
-From "Hypnotherapy"
"We always have something going wrong," Muffy said following the Phoenix Hill show. Of course, there was the lost sound check and the album that was delayed by more than four months for first one reason and then another, including a switch of studios at one point.
Even when she went to pick up the CDs, she almost didn't get to bring them home. "I didn't expect them to be C.O.D.," she admitted.
But it was worth every growing pain, every inconvenience, she said. And it hasn't been all bad. While Muffy paid for the production of the CD – around $5,000 "give or take a thousand" – there was also a fund-raiser to help cover some of the expenses. The band helped out with that and some friends donated money to help her along. She also received a $3,000 grant in January of 1996, not long after she decided to form the band, from the Kentucky Foundation For Women. She used that money to buy equipment and audition players.
Even if money sometimes runs short, there's no shortage of music. There are 10 songs on "Something Wrongfully Right," and Muffy said there are at least 40 more where those came from – in 1996 alone she copyrighted some 20 songs – and she writes them all herself.
"She's got enough songs that we could do four more CDs," Steve confirmed.
Those songs range from melodic, emotional slow songs to pop/rock, punk and even funk.
"I feel like now this is the best stuff I've ever written," Muffy said. And the band only makes the songs better. "These guys I have here have been a real good team. They're hard workers, and they're extremely nice, '90s guys."
Her goal now is basically every musician's goal: to get a deal with a major label, to have a hit song, maybe win a Grammy. But she tries to not get caught up in the dream too much, lest she lose sight of reality.
"My life is so busy I'm taking one day at a time. I've got an awesome CD and I've got 40 more songs that are not on the CD. I make a lot of phone calls (mostly booking and marketing) between just keeping the band alive.
"When you look at it, it looks like no work at all but it takes a lot of work."
She hosts karaoke a couple nights a week at Jake and Elwood's and Tynker's Too! The Rage, does remote gigs, private parties, and even tends bar. After all, you have to pay the bills.
But the CD is symbolic of her quest to leave it all behind. While the band doesn't expect to make any profit from it (1,000 copies were pressed), it lifts Muffy and her band to a higher rung on that seemingly endless ladder of success.
"I really look at the CD as a glorified demo tape," Muffy said. "It's a wonderful CD. I want people to enjoy it, but there's a million more songs. I'm so happy to be able to finally give fans something to hear, and to help book us and represent us. It's a primo product."
For that she offers credit to producer Todd Smith at Allen-Martin studios. "He was the turning of the tides."
"He's really convinced she's got the stuff," added Adams. "He's really been a good producer. He's got an excellent ear, and he's easy to work with."
Oh, wait ...
I don't want to cross the line, but
Do I do I do I know the facts
There ain't no turning back
for this girl
-From "Enter My World"
And, of course, there's the yet unasked question of Muffy's lyrics. From this energetic, spirited and upbeat performer often spills darkness and hidden pain. "Hypnotherapy," for instance, is the true story of when she tried to quit smoking by being hypnotized. It didn't work, and the hypnotist offered Muffy her money back.
"That's life isn't it?" she says with a shrug. "I go through emotional changes and I write about it. I like to think people can relate to that.
"All people go through these emotional changes, even though men don't admit it all the time."
Tags: