April 1997 Articles
Cover Story
Kevin Gibson
Features
Joseph Dinwiddie
Danny O'Bryan
Columns
Berk Bryant
Decimus Rock
Mike Stout
Paul Carney
Cindy Lamb
Vicky Moon
Cindy Lamb
Keith Clements
Tim Roberts
Laura Karnes
Henry C. Mayer
Alan Rhody
CD Reviews
Bob Bahr
Bob Bahr
Keith Henry Brown
Robert Gruber
Vicky Moon
Kory Wilcoxson
Paul Moffett
Mark Clark
Robert Gruber
Tim Roberts
Joshua D. Smith
Kory Wilcoxson
Performance Reviews
Kevin Gibson
Laura Karnes
Henry C. Mayer
Joshua D. Smith
Marty Rosen
Calendar
Paul Moffett
News Item
Blogs
Got Shows?
Send Them To Us
Bookmark Louisville Music News.net with these handy
social bookmarking tools:
Available RSS Feeds
- Top Picks
- Today's Music
- Editor's Blog
- Articles
Add Louisville Music News' RSS Feed to Your Yahoo!

Issue`: April 1997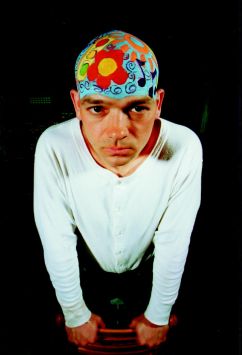 Danny Flanigan deals with duality
By Kevin Gibson
Photos by Ralph Sidway. Art By Nick Anderson
For several years, Danny Flanigan lived a dual musical life.
Like a comic book superhero, he was at times part of Greathouse, the mild-mannered, acoustic folk singer, and at other times a member of Rain Chorus, the plugged-in folk rocker.
He released a local album with each band, but last year found himself torn between the two projects.
"Every time I do one thing, I miss the other and I miss the people that are exclusive to the other," he said.
To reconcile those feelings of duality, Flanigan's next album will be billed Danny Flanigan and will combine the players and styles of both bands - sort of a musical Brady Bunch, if you will.
In November of last year the complete ensemble played its first show. "That was one of the best shows of my life," Flanigan said.
His last two shows in Louisville have been with the hybrid band, another is set for April 5 at the Rudyard Kipling, and Flanigan said he's never been happier. The reason is simple.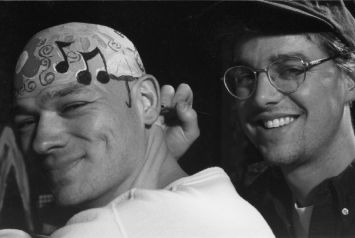 Flanigan was amused by artist Nick Anderson, right
"Everybody shows up. It's all six of us," he said. "All we've been doing the last six or eight months is bringing this all under one roof. Our live show is finally making me happy.
"These particular players are very special to me. They're great people."
"I actually think it's something he should have done for some time," said Cary Shields, Flanigan's drummer from Rain Chorus. "He's talked about it for years, really, wishing he could bring the two together."
"I think it's a natural progression, especially in the music he's writing," concurred Phillip Wakeman, Flanigan's mandolin player, who was a member of Greathouse. "I think the bottom line is they're still songs by Danny Flanigan. I guess the biggest thing is I think people are finding there is an audience for that genre, which is essentially an acoustic rock or a folk rock genre.
"I think it's exactly the right thing."
The Head Painting
When the danny flanigan story was put on the schedule to run, the question of a cover photograph naturally cropped up. The idea of using danny's head as canvas just sort of grew and when the idea to was presented to danny, he suggested that his friend Nick Anderson, Courier-Journal editorial cartoonist do the painting. Of course, we agreed immediately, as did Nick.
Things developed further until we wound up at Anthony's by the Bridge, with Ralph Sidway shooting the pictures and Jim Snyder videotaping the event for his public access show. It was a lot of fun and danny was a great sport.
Thanks to Tony Searcy at Anthony's for the use of the room; to Jim Snyder for arranging for it and videotaping the event; to Ralph Sidway for his great photos and especially to danny flanigian and Nick Anderson for the 'canvas' and the art.
Good job, folks.
Interestingly, Flanigan is anxious about the new approach, even though he believes it is the right way to go. He apologizes profusely if he's "confused" any music listeners with the different band names and styles, but said he initially didn't want the bands to be billed under his name because he feared it would seem "big-headed."
He began to understand, however, that whether it was billed Rain Chorus or Greathouse, the songs were still undeniably Danny Flanigan. He finally decided that to bill his music under his own name could encompass all his material and still maintain the semblance of a band rather than an individual.
And he can continue playing with the musicians he says make him better: Shields, Wakeman, Tim Halcomb on bass, Kelly Render-Wilkinson on backing vocals and John Byrne on guitar.
"Cary Shields is one of the biggest reasons why I'm still sane," Flanigan said. "He is such an amazing drummer - he makes my songs better."
All these people's experience and strengths combine to make Flanigan's songs successful, he said.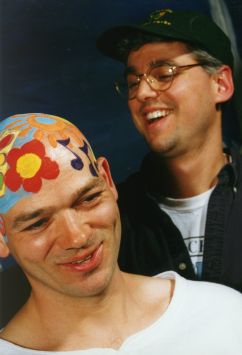 "That's why I've always wanted to be a band. I could get another mandolin player, but I don't want to. I love Phillip. It's got to be Phillip."
But he said the fact is that it all must come together: "That's what I came to terms with."
With that decision, Flanigan is at work on his next album. He has 15 songs in mind for that endeavor - although the collection hasn't been titled - and has already begun to record some of the tracks.
"It will run the gamut of what people have heard me play," he said.
Five of the tunes are electric, a la Rain Chorus, a couple are solo numbers, and the rest are acoustic, Greathouse-style.
But none was written with any style in mind, he insists. It won't be a Greathouse album or a Rain Chorus album or any calculated mixture of the two. It will simply be Danny Flanigan with no boundaries.
"These are 15 of my best tunes in the recent past. I want to demonstrate to people that it's not a phase. I'm a singer-songwriter. I don't want people to think it's one or the other."
His bandmates doubt the album will lean one way or the other.
"His own state of being is what it's going to lean to," said Shields. "He's a father now, and his style might change and lean more toward the folk side. I don't think the band will change it, but his new life might."
In with the new
Flanigan, whose son Benjamin was born not quite a year ago, admits becoming a father has changed his life - not to mention his creative process.
"I'm a big proponent of writing on a schedule," Flanigan said, noting that for years he wrote every morning and early afternoon for four hours. "Since my son was born I can probably count on my hands how many writing sessions I've had."
If his schedule is choked with the new responsibility, however, his inspiration is multiplied, and he won't let the enormous change in his life stifle his creativity.
"I see so many artists who will use marriage or parenthood as an excuse for why they don't write. But I wanted to have a baby. I don't have as much time anymore, but now I have something to write about.
"As an artist it's my ultimate responsibility to reflect what's going on, what I see. What I see lately is a lot of diapers and toys everywhere."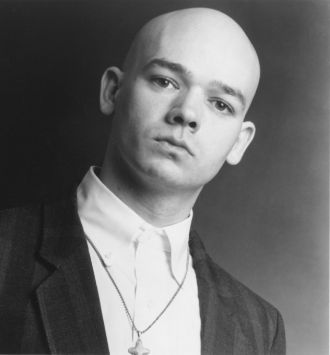 He probably won't rewrite Buzz Clifford's "Babysittin' Boogie," however. And his wife of nearly three years, although she reiterates that her husband has less time to create, said Danny is still inspired to write music.
Joanne Flanigan, a paralegal, said watching her husband develop a song is "inspiring to me. It always has been, ever since I've known him. His is very intense.
"He doesn't have as much time to create as he used to but I love when he comes home and sits down with his guitar and starts playing. It's interesting to see a song forming, both lyrically and musically."
Mrs. Flanigan said she was a fan of her husband's music even before they began dating, which reaches back to Danny Flanigan's days with Hopscotch Army, a popular regional act that reached its peak in the late 1980s and fizzled out in February of 1990.
Originally, the band was called Nouvo and included Jimmy V, who is best known as lead singer of The Hammerheads. Flanigan and his bandmates, however, grew tired of rehashing Top 40 covers and split up the band. They reformed - without Jimmy V - as Hopscotch Army.
"We simply wanted to sing our own songs," said Flanigan. "We sucked as singers, but anyone does compared to Jimmy. We didn't fire him or anything; we just broke up the band and started over the next day as a different band."
The reorganization also included a drastic format change to alternative music - at a time when it truly was alternative.
"We started playing that stuff when no one else was, so we got huge in the region. We made a tremendous living at it.
"Any booking agent would have said we were crazy" to get rid of a singer of Jimmy V's caliber, he continued, "but we were trying to sing R.E.M. and the Cure, and we could sing that just fine."
A different season
Flanigan began to change musically. His songs began a metamorphosis into the folk song writer he is today, and that didn't fit with the band's format. So, in February of 1990 he left Hopscotch Army. Rain Chorus's first gig came about nine months later, on Thanksgiving eve.
"I was starting to find myself as a writer," he explained. "That was the hardest thing in the world for me to accept. It was like being a fish and finding out you really belong on dry land."
But while the genre changed, the pursuit didn't. A native Louisvillian and Waggener High School graduate, Flanigan has always loved music. He is the youngest of a large family including five brothers and a sister. Three of those brothers played guitar, and Danny began to play at age 9.
"I just wanted to be cool like them," he admits.
However, his brothers went on to pursue different interests. Flanigan spent one semester at Berkeley College of Music in Boston, then returned to the University of Louisville and earned a degree in political science. He said the semester at Berkeley was all the formal training he felt he needed, so he returned to Louisville.
He didn't however, give up music. And since none of his brothers spends much time with guitar in hand these days, Danny carries the torch for the Flanigan family.
"I'm not any more talented than my brothers, I just took it more seriously," he said. "There's a certain amount of talent you need to have to survive as a musician, but at a certain point I'd rather stop gaining talent to have gumption and desire.
"So much of it has nothing to do with talent and everything to do with skill."
Flanigan believes any success a person experiences in life is usually a product of determination and hard work. He bristles at the notion that so many people consider a successful musician to be "gifted."
"In America we believe that so many things are a gift. ... (As if) God comes up just before they're born, touches them on the forehead and says 'You're going to be a great basketball player, or you're going to be a musician.'"
But most, including Shields, will attest that Flanigan's passion and drive are what make him successful with his music.
A Cincinnati native, Shields moved to Louisville after living in Houston and Nashville, and met Flanigan in early 1990. Shields said he was shocked when he heard of Hopscotch Army's breakup, but soon afterward Shields attended an open stage night hosted by Flanigan, and it was the best - and most attended - he'd ever seen.
"That is how much he is respected by other musicians," Shields said. He said Flanigan is something of a nurturer of other musicians and songwriters, another aspect that makes him so successful and so vital.
"As if he isn't busy enough, he takes time to help other people. Hats off to him for keeping the Louisville music scene going; years from now people will remember him for that."
Wakeman, formerly of Starbilly, has known Flanigan for about five years and is Joanne Flanigan's cousin. He calls his bandmate "a great artist."
Explained Wakeman, "He's very patient about his art, which I know is very hard for some songwriters. Instead of just letting a song happen, (some musicians) just want it to be done.
"Danny is really good about letting a song feel its way out. He's committed to seeing songs through. If he gets halfway through a song and he sees it's sucking, he'll finish it anyway."
Flanigan's dedication to spending time writing is another aspect of the guitarist that impresses Wakeman. "I think that deserves a lot of respect. There are a million songs out there that are yet to be written because people aren't putting the time aside. Any artist has to give time to their art and a lot of people forget that it makes you better the more you work at it. I think that shows in his songwriting."
And add one more word to Wakeman's list of adjectives which describe Flanigan: honesty.
"Danny is without a doubt making music because it's what he loves to do. That also shows in his art. He's not out there trying to write the hit single. He would love to write the hit single, but he's not going to write one just because, if it doesn't move him.
"It's easy for him to be sincere in all his songs because I think they are all close to his heart in some form or another. Danny Flanigan will always be an artist because that's just what he is. He's not someone pretending to be one - he is one."
The price of art
Flanigan's devotion to his art knows no bounds - not even financial ones.
Nevertheless, finances can cramp the style of any artist. Bills must be paid, and the price of raising a family is staggering. Flanigan earns his living by teaching guitar at Music Warehouse on Hourstbourne Lane. Each week, he passes on his expertise to 55 students.
A dream gig? Not quite. But it pays the bills, and Flanigan seems happy to be doing it.
"I make a living off the guitar - I have the greatest life in the world," he said. But Flanigan likes to record music so people interested in his music will "have something to take home."
And putting out a compact disc costs money. He said he usually releases 1,000 at a time. Overall, about 4,000 Rain Chorus CDs and almost 1,000 Greathouse discs have sold.
"I borrow money from the bank, release the CD, sell them, pay off the loan and start all over again. I'm close to paying off Rain Chorus, so I'm getting ready to do it again."
His hope, however, is always that someone else will be paying for the next album. He doesn't resist commercial success, as long as his pursuit of the art of music remains unwavering.
"I shop my tunes to the major labels, you can believe that," he said.
And he said the first thing he will do when the next album is complete is shop it to smaller labels before he invests in it. It's not that he doesn't want to invest in it - hardly. Rather, he believes the album is good enough that someone else may want to invest in it.
"These aren't the best 15 songs I've ever written, but they're damn close," he said. "I just feel like they're worth shopping."
Flanigan hasn't had success selling previous albums to labels; even the popular Hopscotch Army never got signed. But, he said, he always hears positive comments in the rejections. That is enough to make him hopeful.
"The only thing I can gather from that is they're bullshitting me - and I don't think they're in business for that - or they don't hear any money in it. That's not my goal anyway; my goal is to express myself, not make a million dollars."
Then he quickly adds, "But you never know if the next 15 songs are going to be the 15 they need."
Every artist wants his or her work to be enjoyed by as many people as possible, and a deal - even with a small label - would put Danny Flanigan's name in CD collections and in concert halls across the country instead of just in the Louisville area.
And if a deal isn't forthcoming, Flanigan will be content to release the disc on his own, play gigs with his newly-merged band and focus on writing more songs.
After all, creation is what it's about, whether the CD sells or not. The creative process never ends, ever.
"I don't care what's going on, I'm writing songs," Flanigan said. "I don't care if there's a meteor shower, if there's a president or no president, or if I'm rolling a ball back and forth with my little boy, I'm thinking about the next tune."
Tags: