April 1996 Articles
Cover Story
Kevin Gibson
Features
Paul Moffett
Columns
Duncan Barlow
Berk Bryant
Robert Gruber
Decimus Rock
Mike Stout
Paul Moffett
Keith Clements
Todd Fuller
Henry C. Mayer
Alan Rhody
CD Reviews
Michael Campbell
Michael Campbell
Kory Wilcoxson
Mike Stout
Kory Wilcoxson
Robert Gruber
Robert Gruber
Bob Bahr
Bob Bahr
John Goodin
Jean Metcalfe
Kory Wilcoxson
Performance Reviews
Mike Stout
Pete Strojny
Mike Stout
Mike Stout
Paul Moffett
Calendar
Bob Bahr
News Item
Opinion
Bookmark Louisville Music News.net with these handy
social bookmarking tools:
Available RSS Feeds
- Top Picks
- Today's Music
- Editor's Blog
- Articles
Add Louisville Music News' RSS Feed to Your Yahoo!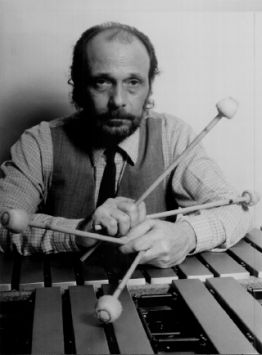 Dock Sisto
Dick Sisto's Good Vibes:
Jazz Music From The Heart (and Soul)
By Kevin Gibson
The intensity with which Dick Sisto approaches his art is tempered with the one emotion he feels is imperative to be successful in art, in life, in any worthwhile endeavor: love.
"It's like raising kids," said the 50-year-old interpretive jazz vibraphonist, whose credentials include nine children. "You can get into a situation where you scrutinize everything they do, whether it's right or not, but the bottom line is if they know you love them, that's it. You've done it."
That kind of love and devotion has brought the Chicago native back to jazz again and again. Without that love he might have moved on to become a full-time farmer years ago.
"It got into my system," he said of jazz, a style of music he found in the windy city during his youth. While he has taken aim at various other pursuits during his life — he even spent 10 years living in the mountains of California — "I've never been able to get the music out of my system."
Sisto: Local Jazz Scene Becoming Stronger and Stronger
Dick Sisto knows that if not for his contemporaries, he probably wouldn't be working Louisville. Not playing jazz, anyway.
"The Louisville jazz scene is becoming stronger and stronger," he said. "The level of musicians is getting better and better."
Sisto teams with bassist Tyrone Wheeler and assorted local musicians each weekend to form the Seelbach Trio, and in February began playing happy hour gigs (5:30 to 7:30 p.m.) Tuesday through Friday.
As more and more clubs begin to showcase jazz in the area, more and more the local talent is able to show what it's made of, he said. And Wheeler is one of those at the top of the heap.
"Tyrone is one of the best bass players ever to emerge from Louisville," Sisto said. "When we play together, he's not an accompanist — he's half the band. We share everything. It's very equal."
Wheeler, who plays both electric and upright bass, returned to Louisville in February after having lived for several years in Indianapolis, where he played regularly at Rick's Cafe, a prominent jazz club there.
In addition, nationally known jazz musicians make frequent stops at the Seelbach to perform with Sisto and Wheeler. June 7 and 8, New York pianist Chuck Mahronic will appear as part of the Seelbach jazz show.
In June, Sisto will play a two-night gig in his native Chicago — on June 21 at Pops and at Andy's on the 22nd. Later in the month and in early July he will participate in teaching at the annual Aebersold Jazz Camps at the University of Louisville, along with some of the national artists who played the Chicago dates.
Some of the other regular events which help the local jazz scene to grow include the Louisville Jazz Week in March and Jazz in Central Park, which is held each summer.
"We have some awfully good events which happen here," Sisto said.
– Kevin Gibson
So after giving up his music (professionally, at least) several times over the years, he has found a full-time gig at the Seelbach where he performs every weekend with bassist Tyrone Wheeler and various local and national guest musicians every weekend. Sisto has become a major player in an ever-growing jazz scene in Louisville.
The Seelbach gig recently won him a string of dates in London, and the success and enjoyment he found there may serve as final proof that his career in jazz may not be easy to leave behind again.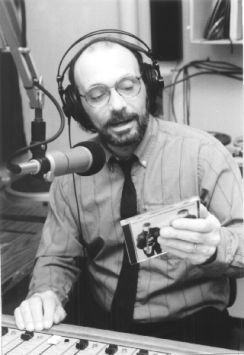 Dick Sisto at the controls for his WFPK radio sow, "The Inner Ear." Phot by Eddie Davis
Playing with drummer Martin Drew (from Oscar Peterson's ensemble), bassist Dave Green and pianist Brian Lemon, as well as some gigs with Terry Gibbs' rhythm section, Sisto played a series of shows at Pizza Express, a popular jazz spot in London.
"Gourmet pizza and jazz," the Floyds Knobs, Ind., resident said.
In addition, he spent plenty of time touring jazz pubs as an observer, listening to the local talent. One of those spots was Ronnie Scott's, London's most famous jazz club. Sisto said when he returns to London (and he has already been offered the opportunity) he may get a chance to play Scott's.
"They have some good musicians over there," Sisto said. "I was in pretty good company."
He also offered high praise for the audiences there: "They listen to the improvisation; they're quiet, they applaud."
And of course Sisto took in some of the tourist sites, one of his favorites being Windsor Castle, which he jokingly told his fellow musicians, is "the ultimate hang."
The trip itself was the result of a chance meeting that prompted Sisto to record a compact disc, broadening his horizons both literally and figuratively.
Seems a couple of years ago a British jazz lover named Peter Bronson and his wife Avril stopped in to catch a few shows at the Seelbach and took an interest in Sisto. Bronson asked for a CD and at the time Sisto didn't have one, so he recorded one.
"And he became my agent," Sisto said.
That meeting is a key element in his career, but Sisto emphasized that "the good thing about it to me is I really communicated to some people and we were able to establish a beautiful relationship because of it."
The compact disc, American Love Song, was also a grand result of that newfound friendship. Recorded with Fred Hersch, a "disciple" of Bill Evans of the Bill Evans Trio (from which Sisto teamed up with drummer Joe LaBarbera for some gigs in January), Sisto said the music happened because it was such an inspiration to play with someone who feels the music so deeply.
"Working with musicians at a higher level than yourself helps you to leap-frog to that level," Sisto said. "I play my best in a studio when I'm locked up in a room. I enjoy the studio setting and listening to the other players."
The disc includes 11 songs, but don't be fooled by the title. No love ballads here.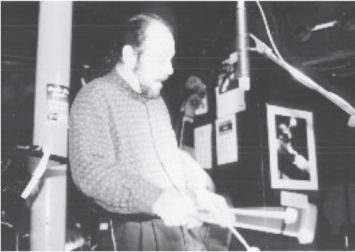 Dick Sisto played recently at the famous Pizza Express in London, England/
"The title 'American Love Song' means it's my romance, my love for American jazz. It really has nothing to do with the songs."
The album is still available locally at ear X-tacy and Hawley-Cooke Booksellers, but Sisto said he won't be pressing any more copies. "It's inspired me but it's also showed me what I need to work on. That's a key point. It's hard to learn from one's self, but if you can that's so important because I think we're all trying to find ourselves in our art. I guess it's about being honest with yourself."
Sisto certainly is. His honesty is why he plays interpretive jazz, and he is serious about his art.
"I was a '60s person, so my thinking was revolutionary, trying to get away from the status quo," he said. Sisto grew up in the 1950s, a time when society was about status quo and behaving in the way society dictated. The next decade enabled Sisto to discover Zen meditation. He went on to live in the mountains of California for many years and met his wife, Penny, at one of California's first communes.
Consequently, spirituality is what motivates and inspires him as an artist. He feels ego breeds self-indulgence, and meditation helps him to avoid such pitfalls.
"Having that dimension is most important, then letting the music come from it. Letting it come from a peaceful center," he said. "If one can use the arts to be an extension of a spiritual dimension rather than an extension of the world — that's what I'm trying to work toward."
He also draws from his experience in the physical world, however. "Life experience is an important aspect of my art. Your life experience varies. It shouldn't be static. Oftentimes, art is an expression of a person's accumulated knowledge of life. There's always some suffering that goes along with it.
"When you feel things deeply, it goes into your art that way. You have to share that. It's a communion — maybe art is about not feeling so alone. You have to share it."
Sisto's personal relationships also enter into his creation of art, specifically through his wife. Penny Sisto is a fabric artist and internationally known for her creations.
"As far as art and spirituality, she is my inspiration," Sisto said. "She's totally into her art and obsessed with it. But her art is always about some deep aspect of life."
Those who know Sisto testify that he has equal conviction when it comes to interpretive jazz. Phil Bailey, program director for public radio station WFPK, is one of those. Sisto hosts a weekly jazz show called "The Inner Ear," Sundays at 11 a.m. on the 91.9 FM station, and the two have known each other many years, having played gigs together as far back as the 1960s.
"Let's put it this way," said Bailey. "He's committed."
Seriously, Bailey said Sisto is "far and away the best vibes player in town. He's definitely in the upper echelon."
What Bailey finds strongest about Sisto is his honesty with himself in his art. "The thing Dick has learned over the years is the parameters of his talent and how to fit himself into those parameters.
"The album is a perfect case in point. It really transcends his ability to play the vibes. It was just a well thought-out project."
Sisto admits the creative process can be troubling at times, especially when you know your own limitations. "It's not always a pleasant feeling, especially when you aren't able to do something you need to do to be a good artist."
To be consistent, he said, one must focus on one's weaknesses. "You have to be your own worst critic. It's important to listen to your peers, but only to a certain degree. Art is relative; that's why it's art. It's not a science."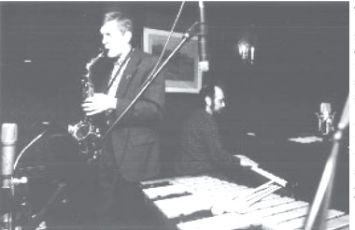 Jamey Aebersold solos while Sisto plays piano. Photo by Eddie Davis
Exercising control is another key, especially in an improvisational art such as interpretive jazz, according to Sisto.
"There's a lot of information you have to process — it's complicated, but it's not supposed to sound that way when it comes out," he said.
Often, Sisto explained, there is too much excitement in improvisation, and what the performer thinks is musical intensity is nothing but his own excitement. "A lot of the things people are being excited by aren't all that exciting," he said.
"I like subtlety in art. I'm not in my 20s anymore so I'm trying to make a more mature side to it. It's also important to have a relaxed and contemplative side to the music. I like to have a lot of elements to my music.
"It's like telling a story: There are lots of things happening; you've got climaxes; if it's just one story-line, it's boring."
Consequently, Sisto will never stop practicing — or learning.
"It's just that over the years you experience changes in your music. . . . You reach some plateaus and it takes time to get off those plateaus."
His goal these days is to be respectful of and to communicate with his audience, and he knows that often means some measure of restraint.
"You want to do what you want to do, but it has to be aesthetically accessible," he said. "It's a subtle process. Technique is fine but it's got to be used in a way that creates form, feeling and intensity."
Bailey believes one of Sisto's greatest attributes is that communication process. "He plays some far-out stuff when the situation warrants it, but he also knows how to play 'cheek to cheek,' depending on what audience is there."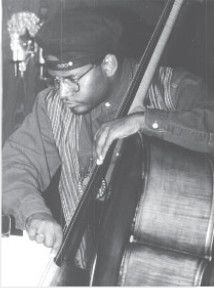 Tyrone Wheeler at the Seelbach. Photo by Paul Moffett
That's what interpretive jazz is all about. Sisto explained that often jazz players will play classic jazz songs from the '30s, '40s and '50s — called "standards" — and will interpret them in their own way.
"This is why jazz is the only American art form," Sisto said.
Jazz, he said, is influenced by blues, originating in early African music. This, mixed with the American tradition of playing this music, gives it "a wide spectrum of emotions," Sisto said.
Also, jazz is influenced more and more by classical music, he said, noting that many of the jazz masters such as Charlie Parker are influenced by classical music.
"More and more, I'm listening to classical music," Sisto said. "The two kinds of music I love are jazz and classical because the range of emotion is so wide. It's kind of like life is, and it's transcending. It enters a spiritual dimension."
As an example of great classical music Sisto offers a piece called "Quartet for the End of Time," by Messaien, written in a German concentration camp where only four instruments were available.
"It's incredible," Sisto said. "It sounds like something in a concentration camp. It blows your mind."
Sisto understands his craft will probably never make him rich. Interpretive jazz is something you do simply because you love it, he said, "unless you're Miles Davis or somebody."
Fame and fortune, however, aren't his goals, and the goals he has may never be fully achieved, especially to the critic inside his mind. "The art of improvisation is infinite. I'll probably never think I'll ever be there and that's healthy. Improvisation is like spirituality, and they're both an infinite process."
So what it comes back to is love, and as long as that is present Sisto will be onstage at the Seelbach, Pizza Express or wherever, doing what he loves.
"You have to love what you do," he said. If you do, something good will happen. That's what it's all about."
Tags: