March 1996 Articles
Cover Story
Kevin Gibson
Features
Paul Moffett
Paul Moffett
Robert Gruber
Columns
Berk Bryant
Robert Gruber
Decimus Rock
Mike Stout
Paul Moffett
Keith Clements
Todd Hildreth
Henry C. Mayer
Duncan Barlow
CD Reviews
Kevin Gibson
Mark Clark
Jean Metcalfe
Robert Gruber
Allen Howie
Heather Butcher
Allen Howie
Kory Wilcoxson
Bob Mitchell
Robert Gruber
Kory Wilcoxson
Kory Wilcoxson
Kory Wilcoxson
Mike Stout
Allen Howie
Mark Clark
Mike Stout
Performance Reviews
Todd Hildreth
Bob Bahr
Wally Stewart
Kevin Gibson
Leslie Turner
Jean Metcalfe
Paul Moffett
Calendar
Bob Bahr
News Item
Preview
Michael Campbell
Jean Metcalfe
Opinion
Errata
Bookmark Louisville Music News.net with these handy
social bookmarking tools:
Available RSS Feeds
- Top Picks
- Today's Music
- Editor's Blog
- Articles
Add Louisville Music News' RSS Feed to Your Yahoo!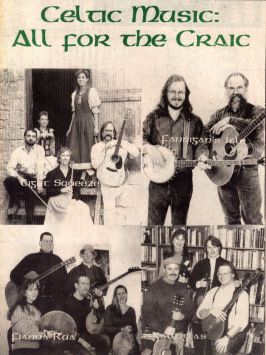 Celtic Music:
All for the Craic
Jerry Ford recalls clearly the first gig his group Drowsy Maggie played some 15 years ago.
The band, then just a duo, played six songs and never received the promised $50 paycheck. "It was a typical musician thing," Ford said. "We got stiffed big-time." Ford also recalls walking on stage at the Galt House that night, the lights so bright he couldn't see the audience at all. He guessed the turnout was small, especially considering the band had been hired to play a science fiction convention.
lt was wild," he laughed. "There were guys dressed up like Spock and everything." Drowsy Maggie wouldn't go home completely empty-handed, however, even though they never saw the 50 bucks and despite the fact the crowd was there primarily to trade William Shatner memorabilia. That night, the two-piece band called Drowsy Maggie would not only launch its own local career and ultimately give birth to an intense local scene in Irish traditional music, but, according to Ford, it would also be the first time Celtic music was ever played live in Louisville.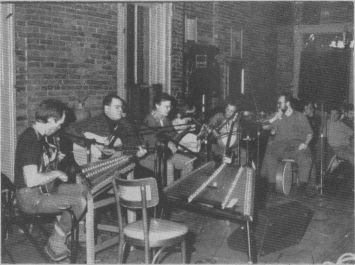 A Celtic "sesiun" at the Rudyard Kipling. From left, Carl Hyland (Fiana Rua), Liamn Hart (Fianna Rua), Paul Whitty (Galloglas), John Woodard (the Rashers), Donal McCaffrey (Cloigheann) and William WHobrey (Pataphysical COuntry. Photo by John Brown
And Louisville liked it. "After we got finished playing, it seemed like an hour's silence," Ford said. "Then the applause started and it looked like there were 300 or 400 people out there. We just got hysterical and started laughing, because we didn't know how many people were actually there." Fifteen years later, Drowsy Maggie is still going strong, having inspired many others to explore Celtic music and start bands of their own.
With just three places in Louisville that feature the Irish traditional sound — the Irish Rover. the Rudyard Kipling and O'Shea's -— one expects survival as a Celtic band would be difficult. Not so, according to Robin Loeffler, who with her husband Bob is part of the band Ten Penny Bit.
On the contrary, Robin said each of the local bands and musicians support each other.
According to Paul Whitty. a Louisville attorney who plays in the band Galloglas, All the bands that are around really do different things. That probably has something to do with the fact we're all friends." Robin Loeffler pointed out that 20 percent of the population of Kentucky has Irish heritage and another l0 percent is of Scottish descent Locals attribute that to the Potato Famine of the 1840s, which forced many Irish families to immigrate to America, where many of them settled in Kentucky.
Look through the names of the counties in Kentucky," Bob said. "A large percent are Irish." "And the basic idea of support for the music has carried over in the Irish community," added Robin. 'That's not to say this is a tiny faction of players who gather to drink Guinness and eat fish and chips on weekends. Along with Drowsy Maggie, Ten Penny Bit and Galloglas, other flourishing groups locally include the Louisville Pipe Band, Out of the Woodwork, Fianna Rua. Tight Squeeze, and the Rashers, featuring native Scotsman Ronan O'Culain.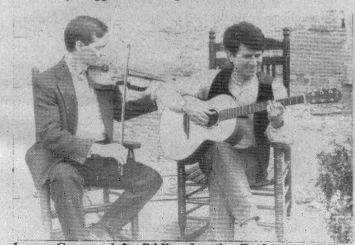 Larry Green, left, fiddler for the Rashers, and Pat Kirtley
All of a sudden in Louisville, there's Celtic everything," Ford said, and he should know. He live in Ireland for several years and currently owns and operates a store on Chenoweth Lane called "Celtic & Heraldic Centre," selling Irish. Scottish and Welsh merchandise from coats of arms to cassettes and compact discs.
The friendships among these bands stem from ' love for their music. Robin pointed out that when she first began playing Celtic music she often got sideways glances from the already established musicians.
That's because we weren't very good in those days," interjected Paul Kinder, another member of Drowsy Maggie Drowsy Maggie.
After a chuckle, Robin went on to say she was soon accepted and has since formed close and lasting friendships within the Irish music community.
This is more like the Irish scene than the American scene," agreed Ford, noting that U. S. bands are more likely to be competitive whereas Irish bands share a tighter camaraderie.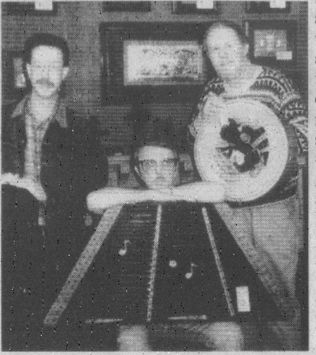 Drowsy Maggie
Asked where the local Celtic music scene began, all point to Ford, who Whitty calls Kentucky's "Celtic Grandfather" (to which Ford replies, "of geriatrics") The Loefflers, Whitty and others agree that after hearing Drowsy Maggie play they were hooked. Many current band members and friends first encountered one another at meetings of the Louisville Dulcimer Society, which meets once a month to play and discuss the dulcimer, a stringed instrument played with small hammers or plucked with fingers like a banjo.
The first Louisville pub to feature Celtic bands was Woody's, which has since gone in a different direction. The Rudyard Kipling took over from there about l2 years ago, thanks in part to owner Ken Pyle's affinity for Celtic music, "I love it." Pyle admitted. "We've been in this business since l967 and we had Celtic music tn the old days, too. It stems from my childhood and growing up around music." Pyle said "The Rud." as patrons and musicians often call the club, draws consistently large crowds for acts such as Galloglas, which recently sold out a weekend gig a month in advance. Another big draw is Celtic Session nights, when local musicians gather at the pub and play music together. This is based on an Irish tradition, and Pyle said it was Ford who initiated it in Louisville.
That's been going on for hundreds of years," Pyle said.
One of the more recently established spots to showcase traditional Irish music is O'Shea's on Baxter Avenue, which celebrated its one-year anniversary last month.
Owner Tommy O'Shea, a Bellarmine graduate, wanted an Irish pub with a theme similar to the now-defunct Fat Cats, which featured good food and blues music. O'Shea traveled to several U.S. cities to check out existing pubs and even went to Ireland for ideas on atmosphere.
The music came later, O'Shea said. "We weren't even sure we were going to do Celtic music until Jerry Ford said he thought the younger kids would get interested in it" based on the club's Baxter Avenue location.
It didn't happen exactly that way, but O'Shea's still features Irish music every Saturday night, and the owner said he has noticed the younger set showing up more and more.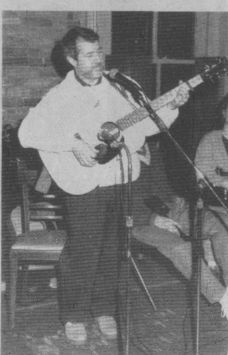 Colin Grant-Adams
. "It grows on them," O'Shea said. "The area has really taken to the place. I don't know if the young kids are following the Irish music, but they are learning to appreciate it." Another of the newer venues is the Irish Rover, a pub on Frankfort Avenue which not only promotes the music but also serves Irish cuisine. Owner Michael Reidy is not just a fan of the music and traditional fare; he is a born-and-bred Irishman himself, hailing from a village called Kilmthil in western Ireland. Reidy came to America in 1984, moving from New York to Louisville, where his wife's family resides, in X987.
After working as a dishwasher for the Terrace Restaurant and bouncing around at various other restaurants, he and his wife Siobhan, with help from her father, opened the Rover in 1994. It was then that Reidy began searching for local players of Irish traditional music. He found what he was looking for.
I hadn't heard too much Irish music (locally), and I didn't know what to expect," he said. "I was really pleasantly surprised by the motivation and talent" he found in the local Celtic scene.
Reidy said he admires "the dedication and commitment these folks put into their bands and the sheer ability. Everyone who plays here has a very appreciative audience from myself and my customers. They have become described as unique individual bands rather than one collective bagpipe band. Every band has unique characteristics." Reidy said some have a hint of a bluegrass background, others excel at ballads and the softer side of Celtic music, and some are just "nitty-gritty bands that just get into it and play.
"Every band truly reflects the personality of the individual players. You can feel the honesty of Galloglas, the helter-skelter of the Rashers, and the more studied and laid-back style of Ten Penny Bit." To be sure, there is more to this type of music than bagpipes and kilts. Celtic hands like to employ the acoustic guitar, the banjo, the bouzouki, the flute. the button accordion, and what Whitty calls "the Holy Trinity": the tin whistle, the fiddle and the bodhran.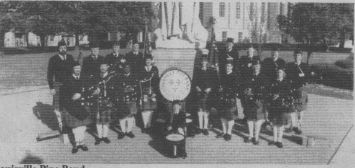 Louisville Pipe Band
Some of the foremost musicians in the area have made their mark not just in Kentucky but across the nation. For instance, Pat Kirtley, a finger-style guitarist who lives in Bardstown, went to a national competition in Winfield, Kansas, last September. and came home the national finger-picking champion in Kentucky and had to lull all the rest.
Kirtley, a computer consultant when he's not plucking a guitar, plays solo gigs and also teams up with fiddler Larry Green at times. Kirtley, who released a bluegrass/country/pop guitar album last February which met with local, national and international success, became interested in Irish music after hearing the world-renowned Duck Baker play in Louisville.
It was the first time I'd ever heard it and I thought it was such a new dimension on guitar that I just got hooked on it," Kirtley said.
Soon, Kirtley will release a 16-song album called "Irish Guitar," his first release of Irish music. When asked how he finds time to travel and complete such projects in addition to his business responsibilities, he replied, "Actually it's another full-time life in addition to my other life. Since the national title and since I've begun traveling nationally. it's been more a part of my life. That's fine with me."
Other top names include Kimble Howard, a fiddler who lived in Scotland for six years and fell in love with Celtic music during her stay, before moving back to Kentucky.
If we could only have one Celtic musician and had to all the rest, it might be Kimble," said Whitty.
Of course, it also might be Mark Cannon, who plays five different instruments and is entirely self-taught. Robin Loeffler calls him "the best Celtic flute player in Kentucky." There is also Liam Hart, a voice major at the University of Kentucky who sings with Fianna Rua (which, translated, means "red deer").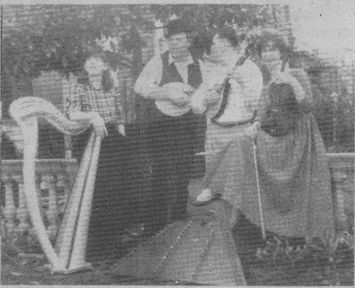 Ten Penny Bit
And, of course, this surge of popularity in Celtic music is not just happening in Kentucky. A conversation about traditional Irish music could not go by, for instance, without mentioning the Chieftains, who were to Celtic music what the Beatles were to pop-rock, influencing the style of most of today's Celtic bands.
They took the traditional dance music and turned it into a listening form," said Ford. "Irish dance music is very repetitious and they made it very listenable. They're just the best."
Whitty's favorite band is Altan, which Ford and the Loefflers agree is probably the strongest current band in Celtic music. "If the Chieftains are the Beatles," said Whitty, "then Alan is the Yardbirds."
Clannad is another established Celtic group which plays a more serene, almost New Age style of the music. This band yielded the solo vocalist Enya, who has made her mark recently by providing her dreamy chants as background music for the film "Harry's Game" and even a Volkswagen television commercial.
A lot of people like it," Ford said. "They just don't know what it is."
Up-and-coming artists worth a serious listen are Reeltime and The Corrs, according to Whitty and Ford.
Further evidence of the growing popularity of this centuries-old form of music is the establishment in August of last year of a magazine titled, appropriately, Irish Music.
The_publication printed a feature article on Celtic music festivals across the nation and listed Louisville's annual Irish Family Fest as one of the quality festivals in the country.
Last year's annual three~day fall festival, which is held each year at Bellarmine College, drew better than 10,000 people. There is always at least one major international act at the festival, with the Scottish band Tannahill Weavers playing last year.
People who come in from out of town, they just can't believe it's here," Ford said.
And, ironically, this traditional form of music has even gone high-tech. Kinder, who recently left his management job with a local firm, has been using his new-found spare time to surf the Internet, looking for new forms and fans of Celtic music.
He has found plenty.
You can come up with in the neighborhood of 300 web sites for Irish music." he said, noting that Stanford University has the biggest and best, featuring not only info and sites to chat with other fans but information that can be downloaded into your personal computer.
He also discovered a mailing list through the University College at Dublin. through which he gets 20 or so e-mails per day from people wanting to talk about Celtic music.
Of course, he IS one of the more marketable of the Irish Internet surfers; owning some 12,500 songs on sheet music and nearly 10.000 more in recordings. If nothing else, it gives him another way to enjoy the music and Irish culture before returning to the rat-race.
Fm having a ball with it," he said. "I'm going to hate to go back to work." While each of these musicians gets his or her share of gigs, the consensus is that it would be difficult to make a living playing Celtic music. Most haven't even recorded their music, although they are interested in releasing a compilation of music by local artists in the future.
It's not a question of money as much as it is time," said Whitty.
Actually, this is all a labor of love," Ford agreed.
To that, Whitty added. "This is my golf, and it's cheaper than golf." Only Ten Penny Bit has taken the plunge into full-time performance, About a year ago, the band members gave up their day jobs when their work as musicians began to increase. Now, Ten Penny Bit plays spots up and down the East Coast and as far north as Michigan. This summer, they will do a two week tour of Denmark.
We were getting where it was steady enough that our jobs were interfering with the music," explained Robin. She laughed, then added, "We couldn't have that."
Tags: