August 1989 Articles
Cover Story
Jean Metcalfe
Features
Karen Le Van
Paul Moffett
Columns
Paul Moffett
Earl Meyers
Performance Reviews
Dallas Embry
Jean Metcalfe
Dallas Embry
Calendar
Staff
News Item
Jean Metcalfe
Book Review
Paul Moffett
Errata
Staff
Photos
Jean Metcalfe
Staff
LASC
Diana Black
Staff
Diana Black
Jean Metcalfe
Staff
Diana Black
Letters
Staff
Industry Review
Paul Moffett
Paul Moffett
Music Business News
Staff
Staff
Staff
Rocky Adcock
Paul Moffett
Staff
Unpublished
KYANA Blues Society
Scott Mullins
Blogs
Got Shows?
Send Them To Us
Bookmark Louisville Music News.net with these handy
social bookmarking tools:
Available RSS Feeds
- Top Picks
- Today's Music
- Editor's Blog
- Articles
Add Louisville Music News' RSS Feed to Your Yahoo!

Issue`: August 1989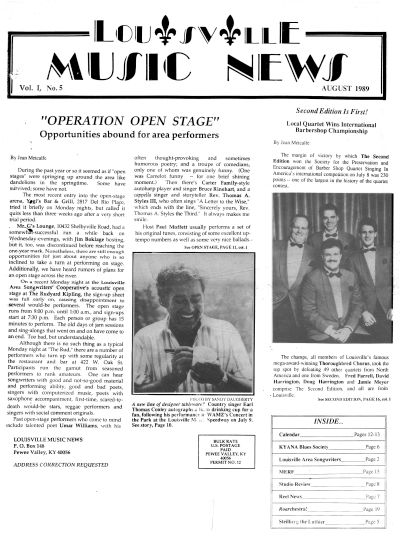 OPERATION OPEN STAGE
Opportunities abound for area performers
By Jean Metcalfe
During the past year or so it seemed as if "open stages" were springing up around the area like dandelions in the springtime. Some have survived; some have not.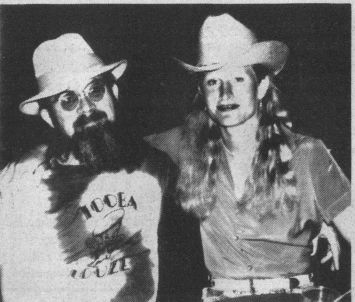 Dallas Embry, host of Uncle Pleasant's open stage, pauses for a moment from his duties to visit with performer Lisa Marie Murray.
The most recent entry into the open-stage arena, Yogi's Bar & Grill, 2817 Del Rio Place, tried it briefly on Monday nights, but called it quits less than three weeks ago after a very short trial period.
Mr. G's Lounge, 10432 Shelbyville Road, had a somewhat-successful run a while back on Wednesday evenings, with Jim Boklage hosting, but it, too, was discontinued before reaching the one-year mark. Nonetheless, there are still enough opportunities for just about anyone who is so inclined to take a turn at performing on stage. Additionally, we have heard rumors of plans for an open stage across the river.
The variety of talent and ability to be found on open stages is quite diverse. People who used to play years ago have dusted off their axes and their song lists for a chance in the spotlight. And, it's not just amateur night. The amateurs are there to be sure, but participants also include seasoned individuals and groups looking for publicity and a big break, songwriters trying out their original material, individual performers sitting in with other acts and forming new groups, and others using the stage to gain experience or audition for gigs.
On a recent Monday night at the Louisville Area Songwriters' Cooperative's acoustic open stage at The Rudyard Kipling, the sign-up sheet was full early on, causing disappointment to several would-be performers. The open stage runs from 9:00 p.m. until 1:00 a.m., and sign-ups start at 7:30 p.m. Each person or group has 15 minutes to perform. The old days of jam sessions and sing-alongs that went on and on have come to an end. Too bad, but understandable.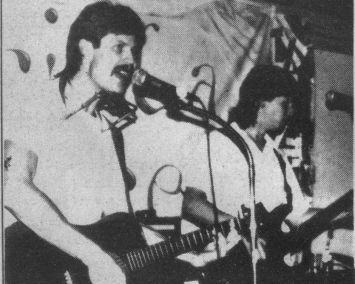 Three-Wheel Drive members Dave Evans and Tim Brothers at Uncle Pleasant's. Drummer Andy Brothers not shown. Photo by Jean Metcalfe
Although there is no such thing as a typical Monday night at "The Rud," there are a number of performers who turn up with some regularity at the restaurant and bar at 422 W. Oak St. Participants run the gamut from seasoned performers to rank amateurs. One can hear songwriters with good and not-so-good material and performing ability, good and bad poets, singers with computerized music, poets with saxophone accompaniment, first-time, scared-to-death would-be stars, reggae performers and singers with social comment originals.
Past open-stage performers who come to mind include talented poet Umar Williams, with his often thought-provoking and sometimes humorous poetry; and a troupe of comedians, only one of whom was genuinely funny. (One was Camelot funny -- for one brief shining moment.) Then there's Carter Family-style autoharp player and singer Bruce Rinehart, and a cappella singer and storyteller Rev. Thomas A. Styles III, who often sings "A Letter to the Wise," which ends with the line, "Sincerely yours, Rev. Thomas A. Styles the Third." It always makes me smile.
There are singers who do mostly old Beatles tunes and performers who do a lot of Elvis and Everly Brothers music. And, on one occasion a young lad got carried away and decided to "moon" his audience. Fortunately, the stage was very dark. (The duo now enjoys personae non gratae status.)
It is especially fun when members of the audience join in with vocal or instrumental harmonies -- assuming they can do it well -- and chief among these is talented Marie Augustine, a Rud regular, who often adds back-up harmony. (One performer did confess to me that he found the unexpected addition of instrumental harmony to one of his songs distracting, however.)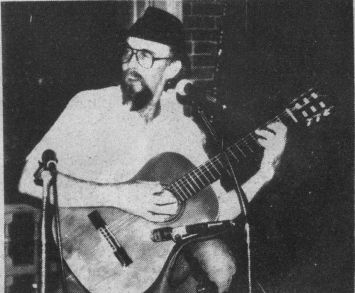 Paul Moffett, host and originator of L.A.S.C.'s open stage at The Rudyard Kipling, takes a turn on the city's longest-running open stage. Photo by Jean Metcalfe
Host Paul Moffett usually performs a set of his original tunes, consisting of some excellent up-tempo numbers as well as some very nice ballads. Crowd favorites are "C.J.'s Music" and "There Aren't Any Chains In These Hands," and it is not at all unusual to have audience members join in on his songs.
As I am an active member of the L.A.S.C., I am more familiar with this particular open stage than the others around town. L.A.S.C. President Paul Moffett has been hosting this Monday-night event at The Rud since September of 1985, having started it as a jam session in his home in 1977. It is probably the longest-running open stage in existence in the city, and it is a rare occurrence when the sign-up sheet is not full.
As is the case with most things, the passage of time brings about change -- sometimes good, sometimes not so good. Back when the Rud's open stage was a jam session, wonderful jams often took place, but not always. And when it worked, it worked beautifully. There's nothing quite like the pleasure that comes to an enjoyer of music as that provided by a really great jam session. Alas, you can't plan them -- they just have to happen.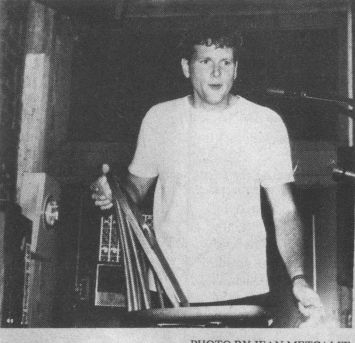 Layton Howerton, host of 'SongMarket' at Butchertown Pub. Photo by Jean Metcalfe
Negative aspects of a good jam session include staying out too late and, for some of us, bemoaning the lack of personal talent to join in. (Anyone, however, can join in on the sing-alongs.) For this former barbershop chorus bass who no longer has an opportunity to sing, a fond and heady memory is one of singing along and having back-up harmony provided by Prince Phillip Mitchell. I never sounded better!
Singing along with the "Country Cat" Hugh Hill on all the good old Haggard and Jones classics, thinking up and trying to remember all the words to oldies and goodies as well as obscure tunes, watching Bill Ede try to be serious as he does the recitation part of Neil Diamond's "I Am," and joining in on the chorus of "Oh, No, Don't Slay That Potato" and "Brother's Keeper," are all special memories of L.A.S.C. Open Stages past. And I miss helping southern-born Ken Hudson think up and sing ageless church hymns.
A special bonus for the hangers on is hearing Bill Ede perform wonderful extended sets when he is scheduled in the last slot, which he frequently is. Bill has a fantastic memory for obscure and not-so-obscure tunes, and entertains his fans with a wide variety of them. The listeners always request Ede originals such as "First Time I've Played In A While" (my absolute favorite) and "I've Seen Too Many Good Things Slip Away," and Bill nearly always obliges. Since the recent death of Roy Orbison, Bill has added several of the legendary performer's hit songs to his sets. Bill sings them very, very well -- not an easy task, given the late singer's incredible range. Although proprieter Ken Pyle is very accommodating, he sometimes has to shoo us out so that he can go home for some much-needed sleep.
At Uncle Pleasant's on July 5, host/emcee Dallas Embry did indeed start their 9:30 p.m. open stage on time as I had heard he was doing since taking charge of the evening. When I arrived at the establishment at 2126 S. Preston at about 9:31 p.m., he had already introduced the first act and they had started to play.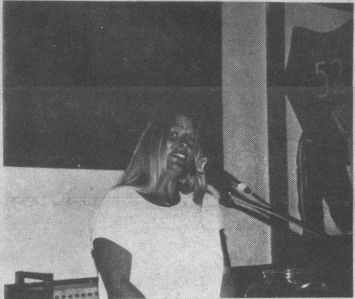 Londa Crenshaw at a recent Yogi's open stage. Photo by Jean Metcalfe
And that first act was a five-piece band called "Guerrilla Theatre" -- their brand-new backdrop left no doubt about it. The banner stayed in place the entire evening -- the group would be appearing at Uncle P's the following night -- prompting a friend to venture the opinion that it wasn't fair to the other acts to have to perform in front of "Guerrilla's" backdrop. However, the wife of the next performer, Pen Bogert, thought it would be fun to photograph Pen against the backdrop and send a copy to Pen's mother. We did and she probably will.
Guerrilla's 45-minute performance -- bands get longer sets than solo performers -- was difficult for this writer to enjoy because of their painful, mega-decibel sound level. Others in the audience didn't seem to mind, however, and I have decided to invest heavily in Beltone stock. The Guerillas are a talented and energetic group. When the lead singer flailed his head, as he often did, his hair would stand out as if a strong wind were blowing, bringing to mind Calvin & Hobbes' star Calvin when he is in one of his many predicaments.
Pen Bogert is a fine performer and songwriter, and even though the crowd loved Guerrilla, Pen ably followed them, providing a welcome relief for the ears. (Earplugs made from facial tissue do not feel comfortable after a short while, and must be removed.) When Pen began to sing his first number, his wife Jeanine smiled and said, This is the loudest number he's going to do." (And it was not at all loud.)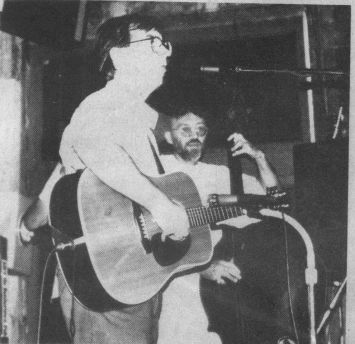 John Dowell and Bob Bush at Butchertown Pub's songwriters night, 'SongMarket.' Photo by Jean Metcalfe
Other performers on that evening were such familiar faces as Marie Augustine; Becky (Bennett) & Kelly (Wilkinson); Dave Evans with the Brothers brothers, who used the ad hoc name Three-Wheel Drive (when John Grammer joins them they're called Webster's Nightmare -- think about it); Rick Lucas; songwriter Paul McGee; newcomer to Louisville from D.C., Pete Covitz; Jak Son Renfro and Alex Kelly; and southern Indiana cowgirl Lisa Marie Murray. (Tom Styles had stopped by to perform, but departed upon discovering that the only time slot available was not compatible with his next-day work schedule.)
Host Embry, wearing a tie-dyed "Tooba Blooze" T-shirt and his summer straw dress hat, had to stand by while technical difficulties caused his well-planned line-up to get behind schedule, with Three-Wheel Drive (the next-to-last act) starting an hour and five minutes late. My husband, who had to be at work at 8:00 a.m. the following day, elected to stick around for Three-Wheel Drive's set, since we had promised our friend Dave Evans, who is the singer/guitarist for the group, that we would. Upon discovering that Edna, one of the acts we would be hearing before Dave came on, was a group and not a female solo performer, he said, "If they have drums, I'm leaving." They did, but we didn't. He doesn't have anything against drums or drummers -- it's just that at Uncle P's they're so LOUD!
The atmosphere at Uncle P's is quite different from that at the Rud. For the most part, the patrons at the Rud come there to listen, and they socialize quietly; at Uncle P's some listen and some don't, and the jukebox effect (the louder the music, the louder the conversation) is apparent. Everyone there seemed to be having a good time.
Over at Yogi's Bar & Grill, 2817 Del Rio Place, on Monday, July 9, talented singer/songwriter Londa Crenshaw was entertaining a sparse audience. She did cover tunes as well as a number of her excellent originals, accompanying herself on guitar or keyboards. After one such original, which contained the line "I ain't no porcupine, take off your kid gloves," Londa said, "That's not a real song -- I just made it up." A bit later she sang a lovely version of "The Rose" at the request of a young couple who wanted to dance.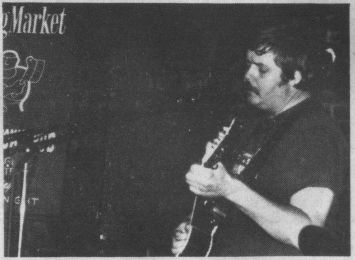 Singer-songwriter Bill Ede at Butchertown Pub's 'SongMarket.' Photo by Bill Ede
Although Londa invited participation in the open stage, saying she would be there until 12:30 a.m., there were no takers, and she was the evening's lone entertainer. Londa apparently does not schedule performers in advance. She said that several members of the L.A.S.C. have performed on past open stages or had dropped by to check it out, and names she mentioned were Mary Lou and Shane Dempler, Bill Ede, Ed Jackson, et al.
I suspected that the open stage at Yogi's would be short-lived unless immediate life-saving measures were taken. Unfortunately, my suspicions were confirmed. Londa Crenshaw is a busy performer, and her full schedule of gigs couldn't possibly allow her adequate time to devote to the development of a viable open stage at Yogi's. She was certainly a gracious hostess, however, and she followed us to the door when we left for the evening.
Butchertown Pub's open stage -- "SongMarket" -- continues on Tuesdays from 9:00 p.m. until midnight at 1335 Story Avenue, and is hosted by performer/songwriter Layton Howerton. Howerton accepts sign-ups by phone between 3:00 and 5:00 p.m. on Tuesdays, as well as in-person sign-ups one-half hour before starting time. I have heard that he sometimes calls up performers and invites them to participate. I have also heard that he even sends out thank you notes to the performers.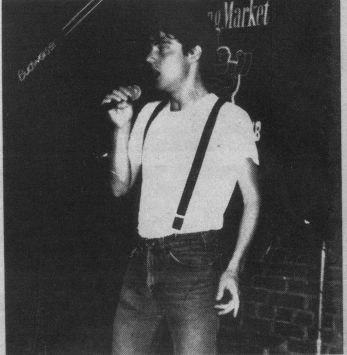 Chris Bartley peformed on Butchertown Pub's open stage with John Krauss, not pictured. Photo by Jean Metcalfe
"SongMarket" is intended as an "open stage for songwriters" to perform their original material, but Layton does allow the songwriters to do cover tunes.
I had been on hand for the debut of the Pub's open stage in March of this year, but had not found the time to return until July 11. A very positive change had taken place since my first visit -- the open stage had been moved from the large dance hall to the more intimate atmosphere of the Pub Bar. The bar area was not full to overflowing, but there was a good turnout of enthusiastic listeners.
Layton told me that the word best describing "SongMarket" "consistent." He said that they had not had any bad nights since they started, and that they had turned performers away on occasion because of lack of open slots. He estimates that an audience of 50-75 is a good norm and that they have had crowds numbering as high as 100 persons.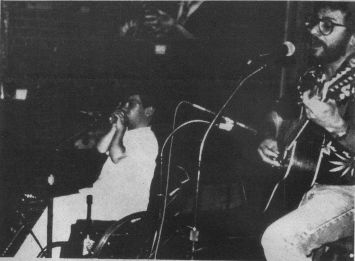 Fred Otto, on harmonica, and Dan Colon, guitar, at The Rudyard Kipling. Photo by Jean Metcalfe
I spent some time talking with host Howerton, who was quick to say that Butchertown Pub owner John Hagan stands behind the open stage 100%. "It's his way to contribute to the arts," he said.
On this second visit, I was entertained by Rev. Styles, who included on his song list covers of "Dock of the Bay," "Proud Mary," "Your Cheatin' Heart" and "You Are My Sunshine." As he left the stage to much applause, he said, "I'm signing autographs and accepting small change at the bar."
Byron Himmelheber was especially entertaining with his "Upper Middle Class, Totally Yuppie Blues," and Dave Evans was at his best singing a set of his originals -- "I Understand," "Shadow," "Ladder of Love" and "The Telephone Song" -- the latter three being selections from the Grammer Evans album Pseudolive.
Singer/songwriter Bill Ede followed the energetic duo of John Krauss and Chris Bartley with a wonderful set of five of his best original songs. Wearing an L.A.S.C. T-shirt, Bill sang "Say When," "It's the First Time I've Played In A While," "If This Is A Party, I Don't Feel I'm A Part," "I've Seen Too Many Good Things Slip Away" and "Messin' With the Spirits." Such talent! Bill was still cooling off when I passed him on my way out; even late-night music business reporters have to sleep sometime.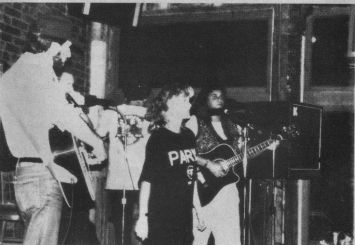 Kelly Wilkinson (center) and Becky Bennett (at right) with guitarist Ken Lucchese and harpist Joe Pinkerton at Butchertown Pub. Photo by Jean Metcalfe
A short return visit one week later to snap a few more photographs found several additional performers worthy of mention. John Dowell, a fine songwriter and performer, did only one original -- his popular "Nobody Dances Like Eugene" ("nobody takes up that much room on the floor," you see). The rest of his set consisted of covers of Lyle Lovett's "She's No Lady She's My Wife," Prine's "Hello In There" and "Let's Talk Dirty In Hawaiian" and a pleasant version of the classic "Blue Moon." John was accompanied by Bob Bush on acoustic bass.
Becky Bennett and Kelly Wilkinson, accompanied by Ken Lucchese and Joe Pinkerton, did a rousing set which kept me there longer than I had planned to stay. Ditto for Jak Son Renfro and Alex Kelly (in a very becoming outfit), who provided crowd-pleasing originals. At that point I took my delayed early leave, hoping for some good exposures in my new camera.
The open stage at Cafe Dog, 713 S. First Street, apparently switched from an open-stage to a booked-entertainment format some time ago, and is frequented mostly by teen-agers. An alleged over-crowding situation had the small cafe in the news recently, and a press-time update indicated that the cafe will be closed for renovation from August 2 until September 1.
We hope the parties involved will reach a quick, mutually-satisfactory agreement.
There are a number of jam sessions and talent contests that occur with some regularity around the Louisville area. At the risk of omitting some, I will name a few that I have heard of but have not had an opportunity to check out.
For about a year the Red Bird Inn, 8021 Preston Hwy., has had a jam session starting at about 9:30 or a little later on Sunday evenings. A one-song-per-contestant talent contest follows, with the winner receiving $25. Persons who want to participate just show up at the appropriate time. They have "mostly country and western music, with some variety," and the host is Blake Stamper.
Miss Kitty's, 7803 Dixie Hwy., advertises a jam session on Sunday evenings at 8:00 p.m., and the Cherokee Pub, 1384 Bardstown Road, presents a blues jam session on Wednesday evenings.
The jam session at Hank's Little Tavern, 8238 Dixie Hwy., is on Sunday evenings, as is the one at Hasting's Bar & Lounge at 2700-1/2 Rockford Lane.
A blues jam session takes place on Tuesday evenings at The Rudyard Kipling, and the host group changes from time to time.
Don't know with what regularity it's occurring, but have heard from a good source that jazz jams have been taking place at Tewligans, 1047 Bardstown Rd., on recent Wednesday evenings.
The Elks Thoroughbred Lodge 1598, located at 4944 Poplar Level Road, has a jazz jam session on Tuesdays from 7:00 until 11:00 p.m. Ramon Howard is the host.
I doubt if anyone has written a handbook for open stages, but if there are guidelines, I imagine one of them would say that potential performers should sign up on the spot rather than being booked in advance. I can see both good and bad points to advance bookings, and, of course, establishments are free to run their open stages as they see fit. The book-in-advance versions seems to be working very well, although we have recently heard that on one particular evening at one such open stage, there were three no-shows, causing some inconvenience.
There are differing opinions about the ethics of open stages. Some say that the establishments are taking advantage of the musicians to get free entertainment, which, of course, they are. But the other side of that coin is that many of the performers do not have the time nor the opportunity to play out on a regular basis, and the open stage provides them with an occasional opportunity. Others want the publicity and the stage experience that they would not otherwise receive.
Looks as if it's a question of supply-and-demand.
Tags: