September 1993 Articles
Cover Story
Bob Bahr
Features
Paul Turner
Paul Moffett
Columns
Henry C. Mayer
Berk Bryant
Jan Winders
Paul Moffett
Earl Meyers
Keith Clements
Todd Hildreth
Elaine Ford
Jimmy Raney
Bob Bahr
CD Reviews
Kory Wilcoxson
John Goodin
Mark Clark
Allen Howie
Staff
Kory Wilcoxson
John Goodin
Kory Wilcoxson
Michael Campbell
Bob Bahr
Performance Reviews
Deborah Joyce Williams
Paul Moffett
John J. Bochan
Paul Moffett
Berkley Harrington, Jr.
Calendar
Staff
Staff
News Item
Staff
Paul Moffett
Jean Metcalfe
Preview
Bob Bahr
Opinion
Deborah Joyce Williams
Photos
Jean Metcalfe
Eddie Davis
LASC
Jonathan Miller
Michael Layman
Ray Yates
Jean Metcalfe
Michael Layman
Blogs
Got Shows?
Send Them To Us
Bookmark Louisville Music News.net with these handy
social bookmarking tools:
Available RSS Feeds
- Top Picks
- Today's Music
- Editor's Blog
- Articles
Add Louisville Music News' RSS Feed to Your Yahoo!

Issue`: September 1993
O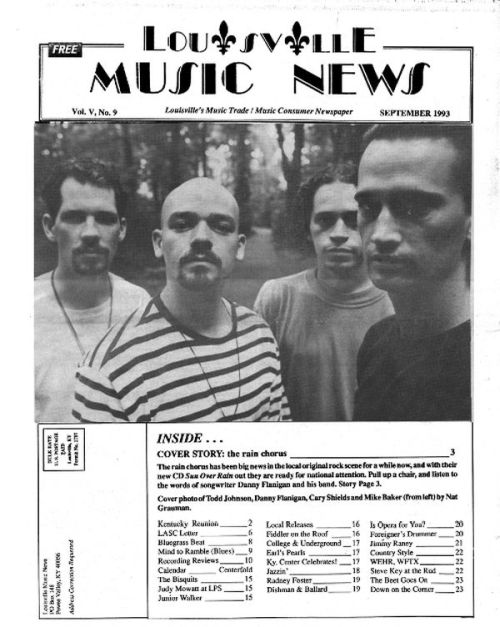 the rain chorus
By Bob Bahr
Photos by Nat Grauman
Danny Flanigan's thing is self-improvement. He loves discipline too, partly because discipline rewards him with self-improvement. And if he and his band the rain chorus aren't improving and progressing, Flanigan is not going to be a happy pup. The three musicians that have fallen under Flanigan's spell of hope, pretty music and self-improvement will seemingly follow him down any path, however rocky.
A couple of weeks back, the path took the rain chorus up to Indianapolis for a show at the Vogue, an entertainment club with a 650-person capacity. They were scheduled to open for the Why Store, a rock band sporting a Deadhead vibe. The pay was little, but that doesn't matter anyway; money made from gigs goes right back into the band. At this point, the rain chorus is clearly not about cash. "God bless the souls that are slaves to gold," Flanigan sings in "Money Country."
Liberated from greed, the rain chorus is living testament to the power of great songs. They are what have bound together singer/songwriter Flanigan with drummer Cary Shields, bassist Mike Baker and guitarist Todd Johnson.
Asked individually why they are in the rain chorus, each mentions his admiration for Flanigan's original material. They also happen to1ike each other'scompany, but if it stopped there, the four guys could simply go to King's Island together.
No, the glue holding this band together is "Hourglass" with its odd modulations and "Swallow You Whole" with its juggernaut energy. It's "Trust" with its terrific guitar riff with the bass following in unison and "Blue-Green Then" with its classic pop sound and mournful lyrics.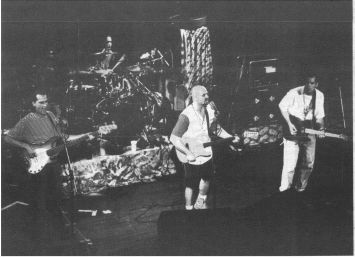 the rain chorus, I to r, Mike Baker, Cary Shields, Danny Flanigan and Todd Johnson
The show at the Vogue ended with encouraging applause, but the half-full hall was clearly there for the local favorites in the Why Store. Afterwards in the dressing room (which looks startlingly like a holding cell) the band members cooled out and discussed the show. It was a little scrappy, Johnson said, but Baker had a smile on his face. Flanigan went into his hyper mode, taking care of business, talking quick1y, greeting fans, wearing a dead-serious look on his bald, cherubic face.
The band piled into Flanigan's Nissan van for the trip back to Louisville. Flanigan stayed in Indy with manager Nat Grauman to give an interview to a reporter with the major daily in town. Well past midnight, the rest of the band headed home for some rest before a softball game at noon and a band meeting and photo shoot in the afternoon.
"This is an incredibly demanding group; all original groups are," Flanigan told me in an interview in his house in Germantown.
"Because what we ask of each member is that you not make any money from this, but that you dedicate practically every ounce of time to the group that you [aren't spending] making a buck to survive. That's why it's so difficult to make it, I'm convinced. It's so hard to find the right combination of people and then get them to dedicate all that time."
All the members of the rain chorus have day jobs. Flanigan teaches guitar lessons to over 40 students, Johnson runs sound at local bars and goes to school at U of L, Baker runs the studios at DSL Recording Studios and Shields is a full-time student at U of L. All of the jobs are sidelines to their careers in music. That kind of determination has produced a CD titled Sun Over Rain, headline shows at major Louisville clubs, an opening slot in front of Bob Dylan on his last major tour and, of course, a loyal following in Louisville, Indianapolis, Bloomington, Lexington and Toledo.
Toledo? "Sometimes we play a club and the people are expecting hard rock or something," Flanigan commented in the van on the way up to Indy. "Some people leave and that's cool, but some people come up to us afterward and say, 'I really like you guys. You're different.' We're not different We've got two guitars and bass and drums."
But they are different. The rain chorus makes music that is best enjoyed from your seat. The music yields the most when you pay close attention to the lyrics.
If you can imagine
I would hold my breath so you could breathe
Breathe me
And pull down the universe
So you could wear it like a diamond ring
And I'll be your umbrella
I'll be your goose-down
I'll be your shade in the summertime
'Til you wear me out —"The Umbrella Song"
Flanigan's lyrics constantly push and pull in two different directions. The extraordinarily happy songs are tempered by Flanigan's melancholy vocals and the sad songs crack under indomitable hope. "Beautiful Day," with its sunny chorus and accusatory verses ("The system gets me down/I feel like a number/What a stupid thing to feel/I catch myself hating/Until I realize/That love is what heals") demonstrates the dichotomy and contrast that power some rain chorus songs.
"It wouldn't be right for me to say that everything is great, go out there and have a great day," Flanigan said. "Because everything isn't great. But I still think that a real important thing in life is to go out there every day and think how can I make a difference. How can I do something to better myself and those around me. To go forward.
"My goal as a writer is to express myself —my thoughts and feelings and emotions—through music. Hopefully, that will be positive and uplifting. There area lot of sad songs, but even in the sad songs there is a message of hope," Flanigan said. "Hope is one of my favorite words. Hope is a word we should never stop using."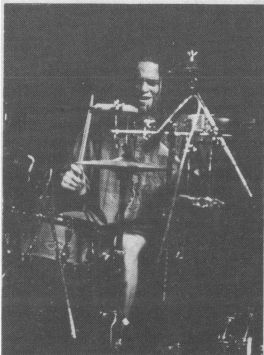 Cary Shields
The rain chorus is a band born of noble stock. Shields was a drummer in a dance band in Nashville before he came to Louisville. Here, he is one of the most admired drummers among his peers. His MTV-ready good looks and easygoing personality work well in this band of intense minds. Baker's bass work exhibits a professionalism absent in many players. People gush over his work on the five-string fretless bass, but he only picked it up within the last two years and that was at Flanigan's request.
Baker's role in the band seems the most passive. Tall and thin, with his black hair slicked back, Baker is a quiet, wry presence. At the band's dinner break, he was asked why he sticks with the rain chorus. Baker furtively glanced up from his Mix magazine, squeaked the straw in his Subway cup and said nothing. The question was repeated. After a long pause, Johnson broke into laughter at Baker's reticence. Baker grinned, but again said nothing, hiding again in the magazine. Later, on the way home, he talked a bit more freely of his passion for the band. His words echoed the other members: It's the songs and the people involved.
Making up a set list for a gig spurs a labored session gf democracy, but Baker mostly stays out of it. Shields and Flanigan toss song titles back and forth, with Johnson occasionally taking a strong position on an issue. Appropriately, Flanigan steps in at the end and finalizes the song choices. On major decisions, everyone has equal say, but Flanigan is the man with the vision.
The rain chorus is truly song-oriented, but sometimes the sound mix buries Flanigan's earnest vocals. That's when people's attention tends to shift to Todd Johnson.
Johnson was the eminently tasteful guitarist and lead vocalist of Domani, a spine-tingling band signed with MCA at one time. His addition to the rain chorus is best enjoyed live, where musical ideas get an immediate trial run. At the Vogue show, every harmonic decision seemed brilliant and his choice of effects illustrated good judgment beyond the reach of most national players.
"When Todd was with Domani he played a few gigs with us," Shields recollected. "Then when they bagged, we said, 'Anytime you want to make a decision, just come play with us full-time.' When he came in, it just really rounded it off perfectly. He has just tons of ideas. When we are on stage. . .I don't know where he gets his ideas. I don't know how he comes up with them."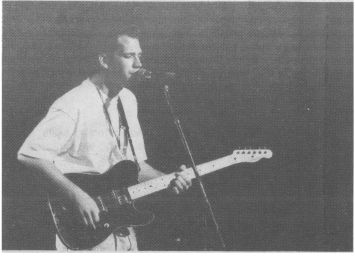 Todd Johnson
With Domani, Johnson's voice conveyed the band's messages with a sweet honesty. Flanigan said that the rain chorus will keep only one lead vocalist at the mic to make marketing easy, but one must wonder how long they'll keep this Porsche under wraps in the garage. A recent trip to Los Angeles for session work on guitar piqued Johnson's interests and fired up the Louisville music scene rumor mill. Johnson acknowledged the allure of L.A. session work, but reiterated his preference for life in a band.
"I'm with the rain chorus and I'm going to stick with them," he said. "I believe in what [Flanigan] is doing."
That is good news for Flanigan, a man used to playing with excellent musicians. When the rain chorus first formed in the fall' of 1990, it featured local saxophone name Reid Jahn and top-notch bassist Dony Irwin. Their schedules and musical visions didn't mesh with the band and they left after about six months. Luckily, Baker moved to Louisville from California at that time, expressly to join the rain chorus. The reason? Danny F1anigan's songs.
While all the musicians in the rain chorus have strong reputations in the region, Flanigan's is the strongest. In his teens, he started Hopscotch Army, one of the first and finest of the new breed of alternative rock groups. Two years into it, Flanigan was pulled away from the group by his songwriting muse.
"Right when Hopscotch started out, I started writing songs and by the end of it, I was writing songs more and more that just weren't what we had started out to be," he said. "A writer can change a lot in two years. It sounds silly, but it's true. There's a lot of talk about writing music, and it's on1y through doing it that you find out what you are, who you are and what you should be doing.
"'The Umbrella Song' was written when I was still in Hopscotch. That was a song Hopscotch would never do. Towards the end I was writing those types of songs, but it just wasn't us. It just wasn't Hopscotch. The more songs like that I wrote, the more I realized that maybe I'm not 'us,"' Flanigan said. .
Flanigan's split with Hopscotch Army in February of 1990 was amicable but necessary. He spent the next nine months working intensely on his skills as a songwriter, playing his songs in solo settings around Louisville. He heard in his mind how a band would play these songs, then he set out to form the group. The name came from a description of an alien species in the book "Sirens of Titan" by Kurt Vonnegut, Jr. Flanigan's audition of Shields was an auspicious beginning.
"I'd talked to other drummers, but I hadn't really auditioned anybody yet," Flanigan said. "There were people I was keen on getting together with, because they were great players. But Cary and I got together one day after he had listened to my tapes several times. All the drum parts that he had come up with were just perfect. I had played with drummers in the past who interpreted the songs pretty terribly, so that was great luck. He was the first drummer that I actually auditioned and we've been playing together ever since. That's a cool thing."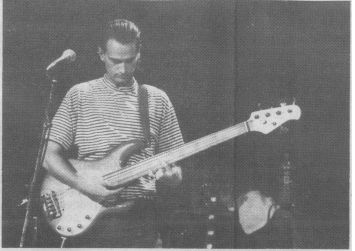 Mike Baker
The band that was emerging was quite different from the rock trends then and the rain chorus remains outside the mainstream. Their stints as an opener for Domani attracted the same kind of careful, open-minded listeners that they draw today. It's intense, thanks mostly to Flanigan's gripping stage presence, but very mellow.
"You go into an alternative club and everybody's playing half-distorted guitars, b---ing and screaming at a mic in the key of 'A minor," Flanigan said. "And I'm just sick of that Everybody sounds like a way-watered-down Cure or a way-watered-down Replacements and I'm just sick of that."
"I want to have the energy of rock music, but also have it harmonically interesting and for the lyrics to be uplifting. Yeah, that's all I want to do," he said with a grin, realizing the tall task he had lain in front of himself.
Flanigan is convinced that the key to success is discipline. Success is 90% perspiration and 10% inspiration, he quoted several times in our interview. Discipline is what makes his songs work.
"Discip1ine's everything to writing, I think. Now, I have some writer friends who don't do it that way. Patrick Fitzgerald writes great songs and he's got a lot of songs. And for him, it's inspiration only. He's driving down the road and suddenly it hits him and he just pulls over and writes it. And he pretty much writes it all on the spot. But it's not like that for me at all. It's like, I lay an egg — a germ of an idea — and I have to hatch it. It might take a day or two to hatch it, it might take three weeks. It's some sort of work. I know it's not like labor, digging a ditch or something. But it is work and I'm real happy that that's how I treat it. Like work. For sure it's different for everyone, but that's how it works for me," Flanigan said.
His regimen for two years was to write from 10 a.m. to 2 p.m. Monday through Friday. Up in the morning and out for a run, then a bowl of cereal, then right to work. His tools were simple.
"It's amazing how much work I got done, with just me, my guitar, the table and a notebook," he said. "I tried with a big four-track, (and with a) drum machine. I tried all those tools, but I found that I was always looking for an adapter, trying to figure out where to plug in something, (I) couldn't find an extension cord, (or I had to) read the manual, or (I had) ran the batteries down — there was always something. So I sold all that stuff. All I need is an acoustic guitar.
"I've had some of my musical friends scoff at that. 'How can you possibly tell yourself that you're going to write songs.' I'm not saying that every day something came out. A lot of days I just sat there and funned around with Pat Metheny licks or something."
Mctheny and Flanigan's other influences, especially Steely Dan and English popsters Prefab Sprout, shine through in his songwriting and in his guitar playing. Flanigan plays a baby blue acoustic guitar built to look like an electric and he plays it without effects. This clean sound, whether it's a solo line or a strummed chord, roots the band's sound in a folkiness amid the rain chorus' jazzy textures. Live, guitar pyrotechnics (subtle though they may be) are left to Johnson. Flanigan does not aspire to become a guitar hero. He has some pointed advice to folks with those high aspirations and no rigorous program to achieve it. This is the hardline according to Danny Flanigan:
"I just know that it's too easy to learn to play the guitar pretty well and get in a band that's pretty good and play around in a club circuit in your region, play three or four nights a week and make two or three hundred bucks a week. Then spend your off-nights hanging out at clubs and hanging out in music stores in the daytime, sleeping until the afternoon, rehearsing every once in a while and thinking that you are doing something about your music. Thinking that you are doing something about music because you are reading in the Bargain Mart about guitars and amps. Thinking that you are doing something about your music by hanging out with your musical buddies in a bar on one of your off-nights. I can see where that feels like you're involved in your music, but you're not doing anything there but wasting time."
"You have to be obsessed to a point and you have to really . . . suffer for it," he said.
Flanigan said he learned a lot about discipline from his roommate at Berklee College of Music, where he spent his first semester out of high school. His Japanese friend and his countrymen harbored stereotypical Japanese qualities such as a strong work ethic and incredible discipline, according to Flanigan.
"I couldn't believe how disciplined they were. I was going through this thing where I thought discipline was the coolest thing. I still pretty much do. I was really freaked out by them. They were incredibly bright and cordial and practiced all the time," Flanigan said. His affinity for the Japanese prompted a Japanese language class upon his return to the University of Louisville. Flanigan recently completed his course work at U of L for an undergraduate degree in political science.
With school out of the way, Flanigan looks forward to getting back to I work on...what else? Songwriting. All of the songs on the CD Sun Over Rain are more than a year old and the band has vowed to speed up the process for the next recording project. Along that path, "Swallow You Whole," a punchy song presently in their live repertoire, was put into rotation just six months after Flanigan began writing it.
Talk of record contracts and major tours exists only on the periphery of the rain chorus' conversations. They see work ahead of them and, armed with considerable talent, they are plugging on. On September 22 at Phoenix Hill, the rain chorus celebrates the release of the CD with a special performance/party. Flanigan said two songs in particular from Sun Over Rain illustrate the direction of the band.
"Lyrically I would have to say 'Trust,' which is just a positive tune, is where we're going," Flanigan said. "That's where I'm at.
And harmonically, 'Hourglass.' I'm real proud of 'Hourglass' and the potential that it might have. It's real interesting harmonically: it changes keys a couple of times and it has some neat harmonic passages. I'm just glad I got out of the way and let it write itself. I put in just the right amount of perspiration and then got out of the way."
Flanigan said he sees songwriting the same way Michelangelo saw sculpting. The sculpture is already in the rock and it's the artist's job to remove the pieces and reveal it. With one CD already chipped out, the rain chorus is working with a new hunk of rock. Rain chorus fans in Louisville and elsewhere are eager to see the next piece of art emerge.
Tags: