May 1993 Articles
Cover Story
Paul Moffett
Features
Paul Moffett
Amy Slaton
Columns
Henry C. Mayer
Berk Bryant
Jim Galipeau
Jan Winders
Paul Moffett
Keith Clements
Todd Hildreth
Duncan Barlow
Elaine Ford
CD Reviews
Cary Stemle
Steve Estes
Allen Howie
Bob Bahr
Kory Wilcoxson
Allen Howie
Kory Wilcoxson
John Goodin
Allen Howie
Mark Clark
Bob Bahr
Performance Reviews
Bill Ede
Jan Winders
Jean Metcalfe
Allen Howie
Pete Strojny
Jean Metcalfe
Calendar
Staff
Staff
News Item
Staff
Staff
Staff
Jean Metcalfe
Staff
Preview
Staff
Staff
Bob Bahr
Staff
Opinion
David Saline
Staff
LASC
Staff
Staff
Staff
Ray Yates
Ray Yates
Jean Metcalfe
Michael Layman
Michael Layman
Paul Moffett
Bookmark Louisville Music News.net with these handy
social bookmarking tools:
Available RSS Feeds
- Top Picks
- Today's Music
- Editor's Blog
- Articles
Add Louisville Music News' RSS Feed to Your Yahoo!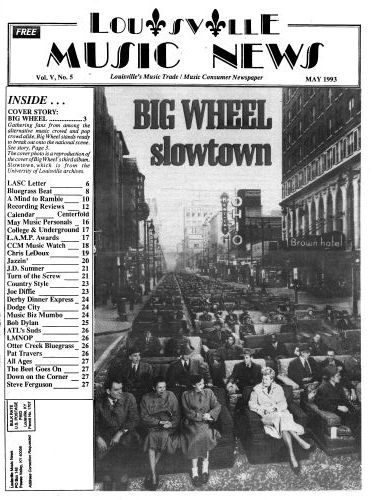 Big Wheel
By Paul Moffett
Big Wheel has rolled out their third album, Slowtown. The album cover shot, a photo from the University of Louisville archives, speaks volumes.
The band is gathering fans from among the alternative music crowd and pop crowd alike and stands ready to break out onto the national scene. However, no story about Big Wheel can be complete without mentioning singer Peter Searcy's previous bands, in particular Squirrel Bait.
Squirrel Bait was an internationally known, high-speed hardcore/punk group that recorded two critically acclaimed albums for Homestead Records before breaking up in late '86. Searcy went on to form Fancy Pants.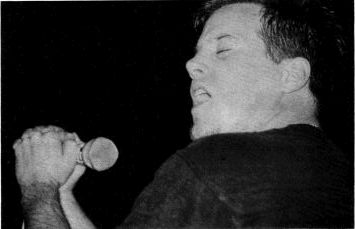 Peter Searcy at the Machine. Photo by Nicolas Bonura
Before Fancy Pants came unbuttoned, Searcy sat in on vocals a few times with the cover band The Ivy Beats. Their enthusiasm persuaded him to continue Singing with them occasionally.
After the Fancy Pants split, he got back together with The Ivy Beats. He told them that he had "done this thing where you get a record contract and it's not that difficult from what I can see and if you guys are interested. ... They were interested.
So The Ivy Beats became Big Wheel. Personnel at that time included Searcy on vocals, Mike Braden, bass, Glenn Taylor, guitar and Scott Langford on drums. Langford Iater moved on to take a steady gig with Nervous Melvin and the Mistakes. He was replaced by Tom Tompkins. Braden left in late 1992 for a day job and was replaced by David Ernst in January of '93.
The group spent six months writing and rehearsing. Searcy was as good as his word and the band landed a record contract with an independent label named Giant, a sister label to Homestead, Squirrel Bait's company. Big Wheel then recorded l989's East End.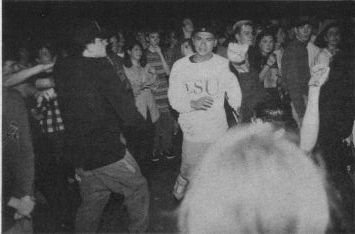 Big Wheel\'s crowd scene at the Machine. Photo by Nicolas Bonura
The new band was not Squirrel Bait: Some of Searcy's fans and critics had trouble dealing with that.
"Squirrel Bait was a new kind of music at the time, It was a real novelty but I'm really tired of it," he said. "People still expect me to be seventeen years old and screaming my head off and it's not there anymore."
Things began to go awry. The record company did not promote the album as well as the band would have liked. The company sold the Giant name to Irving Azoff, who was assembling the current Giant record company. Big Wheel found itself on the Rockville label.
They set about recording the tracks for their next album. Cut in ten days at Ardent Studios in Memphis, with Ross Humphrey as producer, the eleven-song project, Holiday Manor, slid to a halt as "artistic differences" appeared between the band and the label.
After extended legal maneuvering, the band escaped from their contract with Rockville, managing to hang on to the masters of Holiday Manor.
Earlier, the band had met the staff of Mammoth Records, an independent company in the Chapel Hill, N. C., area, with such acts as Julianna Hatfield, Dillon Fence and Vanilla Train Wreck on its roster. The label people liked Big Wheel's music, the band admired how Mammoth ran their label, so it was only natural that when Big Wheel finally got free of Rockville, they went straight to talk to Mammoth.
They signed with Mammoth in the middle of 1991. Plans were made to release Holiday Manor, using the Rockville masters.
Mammoth was eager to promote the project. The band was also willing, although Searcy felt at the time that the album was so far in Big Wheel's past that it wasn't representative of the group. Nevertheless, they toured in support of the album and kept on writing and refining material for the next one.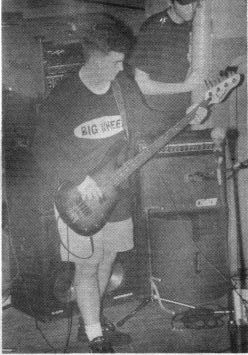 David Ernst, Big Wheel\'s bass player. Photo by Nicolas Bonura
In September and October of '92, they went back in the studio and recorded the tracks for Slowtown. The album was released on April 1, 1993.
On Friday, April 9, they played to eleven hundred paying fans at an all-ages show at the Machine in St. Matthews. On Saturday, they did a living-room show at ear X-tacy Records in Middletown. Among the fans in attendance was Peter Searcy's grandmother, Eloise Searcy. That night, they played to another packed house at Tewligans.
Louisville Music News caught up with them at Another Place Sandwich Shop in the Highlands. Peter Searcy, guitarist Glenn Taylor, drummer Tom Tompkins and bassist David Ernst ate a late dinner around a large, round, downstairs table and talked about their new CD release, about touring, about making records and about the Louisville music scene.
Glenn Taylor said he was pleased that the band had begun to draw really large crowds in Louisville. Searcy agreed and added, "It was great. It was very packed, a lot of people singing along, more like a rock concert than your basic [barj show."
"Most of the time in Tewligans, you can only see the first couple of rows," added Taylor. "But occasionally the lights would be such that you could look out and see that everything was moving in the whole place, clear to the back.
"That's great."
Searcy continued, "Also, to see the same people in the same general area the whole time and realize that they're not milling around. They're actually sitting there paying attention to you." He seemed amazed at this.
"After all this time, we're finally getting some respect," Taylor said. "Our music is being appreciated for what it is. It was a good -time."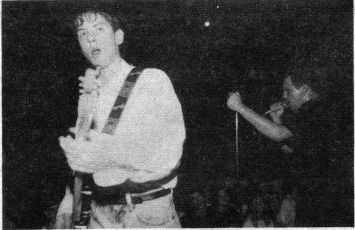 Glenn Taylor, left, and Peter Searcy. Photo by Nicolas Bonura
"Singing 'Down,' from the record, I could hear the crowd singing over me," Searcy interjected, taking a bite of a Rueben sandwich.
"Also, we've gotten better. That's why the ctowd is coming around—we're a better band, we write better songs."
"The time has definitely helped. We're a lot better than we were three or four years ago," laughed Taylor. He growled in his best imitation of Bob Seger. "Woikin' and practicin', woikin' and practicin'. Like Bob Seger said."
"A different eight days" is how Searcy described the week since the release of the album.
"Thisone's Mammoth's baby and our baby," Searcy said, adding that Holiday Manor had been somewhat of a foster child at Mammoth, after being shuffled from company to company. Now, "with the [newj album just coming out, I feel kind of like a parent. I've done everything I can do for the child and now it's time for it to go out on its own."
Recorded in twenty days during October and November, Slowtown was produced by Paul Mahern, a member of the Indianapolis band Zero Boys. Mahern also produced The Master Discs, a compilation of hardcore bands. In addition, he engineered Hammerheads Live, produced the Blake Babies and mixed some of the upcoming Iggy Pop album.
The album was mixed down at another Indianapolis studio, then mastered at Master Disk by Tony Dawsey.
"Slowtown was finished in November and it's out in April. That's quick," Taylor said, approvingly.
Searcy added, "We've been out through the month of March promoting the album, visiting Midwestern radio stations, Midwestern retail, playing South by Southwest Not really touring."
Touring is on the schedule. The band leaves on April 22 to kick off their tour at a show at Ball State. They'll share a bill with Antenna and Eleventh Dream Day.
The band recognizes the importance of traveling with a better-known group.
"We're trying to finagle some opening spots with some bands that are a couple of levels up from us," Searcy grinned.
Tompkins jumped in: "I don't think we're picky." After the laughter subsided, Searcy continued: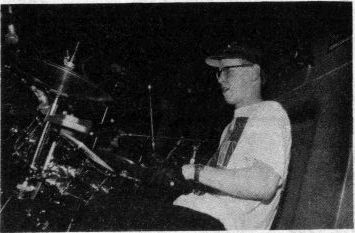 Tom Tompkins, drummer for Big Wheel. Photo by Nicolas Bonura
"Just somebody bigger than us so we don't have to worry about drawing a crowd. Your main thought is on performing. You show up and sell yourself to the audience.
In the past, we've played a lot of towns that might not have good radio and we ended up playing for twenty people."
"Serious Dave" Ernst nodded and added, "It's nice to play for 1500 people in two nights in the city of Louisville."
Louisville does not have a reputation as a "good radio town," at least not in the alternative market, so Searcy took some pleasure in announcing that WQMF has added "And You Shine" and "Down," the first two songs on the album.
"It's really odd that they did that,"he mused. "It's kind of a coup, really, considering the stance that radio has taken [in Louisvillej."
"All the bands that have done recordings in town and put out their own thing, have just been ignored by local radio, except for WFPL and 'Flipside,"' drummer Tompkins agreed. "That's the only time you'll hear local bands playing on the radio.
"It's almost comical how they got our album in the mail from Mammoth at 'QMF. . . ."
Glenn Taylor interrupted him: "They threw away the cassette when they got it. They said that they throw out all cassettes as a matter of policy.
"Frank Karaglanis, a consultant with 'QMF, went and grabbed it out of the trash. He knew our name and he got it out of the garbage. [The people at 'QMFj apparently didn't know we were from Louisville.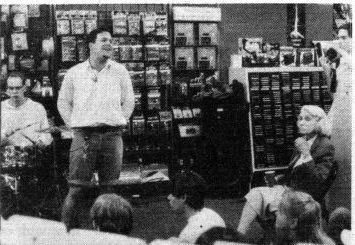 Peter Searcy and Big Wheel at ear X-tacy. At right is Eloise Searcy,Peter\'s grandmother. Photo by Paul Moffett
"So Frank went to ear X-tacy and was asking how many albums there were and who we were and he wound up talking to an ear-Xtacy clerk named Kristin, who is our biggest fan in Louisville. So she's like, 'sure, I know 'em, they're from here.'
"So we got picked up in spite of being from Louisville."
"I think that was our foot in the door," Tom Tompkins added. "If they had known we were from Louisville, everybody there would have dismissed it out of hand."
"Yeah, you know, 'Sounds kind of cheap, the cymbals sound kind of cheap, ' like that," Taylor said, imitating a vocal sneer.
Searcy went on: "As people who grew up listening to the same music that we grew up listening to come of age and start to take over these positions, it'll get a lot easier for us. I'm sure that we'll frustrate somebody else who's doing something and they'll think, 'Oh, my gosh, they've got it so easy, look, the radio'll play them."
"We did a 'Cafe Rock' on 'QMF and they seem to be behind us."
"That Cafe Rock stuff," Glenn said, "that's all right for two or three hours a day, but local stuff isn't in rotation."
He went on, warming to his subject:
"Look at the big picture. What Louisville needs to do is break one band and have one great recording studio. If 'QMF can get behind the band, great, that would help do that and [helpj create the scene.
"That's all it needs. I mean, expenses are so cheap in this city, that people could afford to come here. I think people would like to come here and record.
"It's a great atmosphere to live in and make music. This could be the next big national whatever. We're just waiting for some very simple things to happen, it seems to me.
Marvin Maxwell wants to do that with a studio. It seems to be a very commonsensical sort of thing to do. It could easily be done, with a little less hardheaded thinking."
David Ernst laughed. "Preach on, preach on, brother."
Taylor climbed off his soapbox and went back to his sandwich. His sermon led back to the question of where Slowtown was recorded.
Searcy answered.
"Studio Five Twelve, up in Indianapolis. It was a brand new studio that Paul [Mahern] had helped design and he felt really comfortable there," he explained. "We just recorded there, we didn't mix down. It was great for tracking, it was really great. It was in the middle of a nice old suburban neighborhood. We could go out and throw a football in the street between takes."
Glenn Taylor focused on Big Wheel's chances at national success, "One thing about us is that we have a healthy attitude," he stated. "I think that if we did get successful, we wouldn't be like some bands and say we were from California, [orj that we were from New York."
He added, impishly, "We're still from Louisville. The Hammerheads came from Nashville the last time I heard. Shaking Family, where did they come from?" Tompkins jumped in: "We're not leaving, Peter," he laughed.
Searcy was a little more serious. "I love my bandmates and I love Louisville, but I have no family living here in town anymore. My dad's here but my mom lives in Florida now. I'd like to live down in Florida. But I wouldn't want to give this up."
Glenn disagreed: dad lives here. His grandmother is here. She was at the ear X-tacy show."
Searcy had acknowledged his grandmother at the ear X-tacy show and mentioned her encouragement. He picked that theme back up and said, "If there is anybody responsible [forj the music and me wanting to perform, it's her.
"She used to play for silent movies when she was younger. A couple of people have asked her to come speak on it and talk about what it was like.
"When my roommate owned the Kentucky, I wanted her to come down and give some special performances down there "
She used to drive me to Suzuki violin lessons. I didn't care too much for 'em but I'd be in the back seat, lying down, just singing, making up things. I always just made up these little songs and she'd encourage me to do it
"Or to write notes. I'd take a staff and Write notes on it. I didn't know what they meant I'd ask her to play it and she'd play them. I thouglit they sounded great."
He smiled at the memory "They were just random notes all over the paper."
Searcy's efforts to make Big Wheel more than just "Peter Searcy's band" include sharing the songwriting duties.
"I write all all the lyrics," said Peter, "and Glenn and I write all the music and [thenj it comes to the band. The songs can go in so many directions. I mean, for Glenn and me to take all the credit would be wrong.
"I write the words and we split the music, but to say that is the end of it, that those are all written by us would be wrong.
"Tom has a hand in where the songs are going to go by the way he plays drums, Mike had a hand in the past by the way he played bass parts Glenn picked up the story Mike was into helping compose songs. Everybody does that 'Should we have another verse here? Should we do that over there?' Those kind of things.
"We don't have a set formula. Songs develop in very different ways I think it s good not to be so hardheaded and say, This is the way we have to write a song Songs just kind of come naturally.
"'Lazy Days, ' the last song on Slowtown emerged just a day before we recorded it l think it's the best song on the record. It was a jazz piece that never worked. It was real slow, real mellow. The words just came right in the studio.
"We've been accused of crafting three-minute pop songs,"Glenn noted.
"That song is five minutes long."
Peter nodded, saying, "We got a little more adventurous. Just having the time to work in the studio, we thought, 'Let's do something here at the end. Let's do something really crazy, so we put the ending there,
"So people have said it sounds like Led Zeppelin. I think it sounds more like an Aerosmith rock piece, catching on to a groove riding it out.
"Our past two albums have had very odd endings. Our first album, East End, had a real hard, hard ending. Holiday Manor had a song called 'Sleep' which was a real quiet song. This one has a jam-like fade out
"I like to write songs that you can take in lot of different directions Some people might think they're really happy songs, some people might think they're really sad Take "Birthday," for instance:
The gift I give to you is you
All the weight of heritage and history runs through you.
"[It's about] Dad. And addictions" A lot of people think it is a [real] gift. It could be a talent. It could be Bach passing something down to one of his millions of sons."
"Your parents pass a lot down to you,"Peter went on. "More than just a name and manners. I think that you're born with a lot of your actions and reactions."
Glenn agreed. "It kills me to see kids having all those kids thoughtlessly. [They say] 'If I pregnant, I'll just have the baby and take care of it.'
"That's what 'Daddy's at the Wheel' is about," Peter said.
They 're just flesh and blood
Dust to dust
Clay slapped on the wheel and forgotten.
Glenn followed up. "Paul [Mahern said that should be the second single. If we don't do that, we'll be screwing up royally."
Tom put down the remnants of his dinner and said, "Our producer thinks that's going to be the breakthrough hit. We made a video just like 'Cat's in the Cradle." ' "We got a rough edit of [the video of 'Down'] yesterday," Peter Searcy said. "It's looking really good. Blackball films out of Chicago shot it. David Augusta directed.
Their biggest video right now is Soul Asylum's 'Black Gold.'
"Working on a video is one of the oddest experiences in a band I've ever had. It's [about] self-awareness.
"In a lot of music, it's okay if you want to practice in front of a mirror and have your moves down. In music that's played from the heart, I'm not going to sit at home and figure out exactly what I look like on stage. I just generally do what I feel."
Everyone abruptly pointed at Glenn.Taylor just grimaced, then grinned. Peter interrupted himself to explain, speaking solemnly into the tape recorder: "They're pointing at Glenn, saying he practices in front of a mirror." Glenn grinned on as Peter continued.
"I've sung in front of a mirror, but I never practiced in front of a mirror."
Taylor snorted at that.
Returning to his earlier comments, Searcy went on: "[In a video,] you're immediately aware that you do a certain thing and then they (the video makers) say 'Act natural.'
"How do I act natural with a camera, lights, ten people standing around and everybody and their brother going 'Relax! Relax!' It was very interesting.
"We were watching a rough cut of the video and David [Ernst] was looking at himself and he's unhappy with it. I thought, David's been in this band three months and before that he was playing Uncle Pleasant's and all of a sudden, here he is, bitchin'..."
Glenn added to the anecdote: "They said he was directing the video."
Searcy nodded. "Yeah and he's bitchin', about the way he looks in the video. After Glenn and I have worked five years to be on video."
Taylor hooted and said, "I'd be damned happy if I walked into a band and it was, like, hey, we're on MTV!" There was more laughter all around.
Ernst started to defend himself: "It wasn't like that at all. Well, it was kind of like that."
Glenn was relentless: "The video has a lot of cuts. When they get to the part where he's in it, it's like two minutes of 'here's the bass player, 'a very boring, Bill Wyman pose."
Searcy shook his head. "I told 'em to do something with that. I just thought that was kind of funny."
Drawing on the difference between being in a video and being onstage, Searcy said: "I love being on stage. I'm a starbilly. I love being up in front of people and performing.
Tompkins joined in: "I love it. Live g playing is different. Shooting the video was different. Even though you're performing, we're really doing it for just one thing: the camera. It's going to be watched over a hundred million times by us and other people."
Glenn had a different reaction.
"I personally like being in the studio, watching things happen on the spot.
"In 'Lazy Days, ' I did a solo on the spot and there was that rush. It's like, you have to do a solo right now and it's one, two, three, four and you do it and it comes out really good and you feel like you could really scream.
"It's that rush." He seemed to be reliving that moment as he talked on.
"You know the CD will I last forever and it's not even perfect It's just that this very second of your existence will be there, forever."
He chuckled.
"Although I did get really anal about a few things. There was this one note that I just couldn't stand.
"Usually a few mistakes don't bother me, as long as it's capturing a live performance. That's what a record is supposed to be."
Searcy agreed with Glenn. "'Lazy Days" is a perfect example. There's a part where I pulled the cello in at the very end and I screwed up. I did it one time and it was just perfect on the cello part.
"It was an accident. There was no way I could fit that in again. I even tried to. There are two cello lines and one's not quite as good as the other one.".
"Tom was great," Glenn said. "He was 'Mr. One-Take Tompkins' in the sessions.
"Our producer was more into feel and if the song felt good, that was more important than if it was perfect. So Tom did his tracks quickly."
Tompkins elaborated: "We only used a click track on one song and that one felt a little restrained."
Searcy agreed. "That one didn't have a very good feel compared to the rest of them.
"We did one song at a time. We didn't have " to go do all the drum parts, all the guitar parts. Instead, we did a song at a time."
Glenn jumped in: "It let us focus on the song instead of having to go in and, like, do six songs. It keeps you from repeating the same thing."
Searcy continued, commenting: "Paul [Mahern] helped me feel secure in that I didn't have to carry the band vocally. Lt allowed me to restrain myself and pull back. I didn't feel like I had to overshadow anybody or pull things along.
"I felt like the songs were there, the band was there. People were telling me, 'You're a good enough singer that you don't have to go a hundred percent all the time and you'll be a better singer and people will notice more if you hold back.'
"That has something do with maturing."
More laughter ran around the table. Taylor gave a wry grin and said:
"Yeah, maturing."
Peter ignored him and went on.
"We've matured. We still play table-top tennis in record company offices."
Searcy's recording history stretches out over five albums, including Slowtown.
"There could be some others out there, but it's my fifth album," he said, "but as far as the time I've put into it, it probably doesn't add up to another person's one album on a major.
"The first album we did in, like, three days. [On] a major album, they'd take that much time to get a guitar sound.
"l still don't feel that I'm that knowledgeable about the recording process, but we took major steps."
Tom Tompkins had been restrained throughout the interview, making only occasional comments. Finally, he was asked what he thought about being the drummer for Big Wheel and having to sit in the back. Before he could answer, Glenn Taylor jumped in.
"That's why they're all such freaks! They have to sit back there, except for him. I saw him doing some tricks with his sticks."
Tompkins ignored the outburst: "Of all the drummers I've met, I'm definitely the most sedate. I have the least amount of energy of the drummers I meet are really high-strung and jumpy and have lots of energy.
"There's this weird bond among drummers, because we're underappreciated. They (the band members) give me a lot of grief on the road because when I meet the drummer of the band we're playing with, we sit and talk shop. A lot."
Searcy had a thought. "When two drummers meet, it's like when two dogs meet and start sniffing each other up. They come up and it's like 'What kind of snare do you use?'" "Singers don't do that at all," said Glenn.
"They won't even say hi to each other."
"Drummers are the hottest commodity among bands," Peter noted.
Tom agreed. "I rarely find a band with a good drummer that I don't like."
The flickering television "screens in the sandwich shop were tuned to MTV. Did the band think the video would get airplay on the cable music channel? Searcy was confident that they would get play on 120 Minutes, a program that features videos by non-major-label acts. Taylor was more pessimistic: "I think we'll get played once or twice."
David Ernst was willing to examine more possibilities: "Alternative Nation at midnight is kind of like the top ten. 120 Minutes is like the testing ground. If it does well commercially there, then they put it on Alternative Nation and play it every night."
"The thing that's frustrating about that is that the whole alternative scene is still dominated by PolyGram and Atlantic and Capitol," said Searcy.
Glenn agreed and added, "It's like a TripleA franchise, to see how well you do. It's getting you some practice, getting you ready for the majors. All those bands will sell a million records and all you sell is two hundred thousand. It's not like an alternative show."
"Let's just hope we're not the Bull Durham character," Peter joked. He thought some more.
"What I hope is that some day Big Wheel gets so big that I can be on Rockin' Jock's Sports Weekend on MTV."
"I wanna be in the basketball game. I think I can take Markey Mark in the Low Goal Dunking contest."
"You look better in your underwear, too," said Ernst.
Glenn Taylor was concerned with how to avoid getting dumped from the label. "As long as we show some promise. I don't want them (Mammoth) to spend so much that if we don't sell enough records, they'll say, 'Well, you're too expensive, you didn't sell enough records.' Once we sell enough records, then it's not a problem."
Asked how well Holiday Manor sold, he went on: "Mmmm, ballpark, about five thousand, which was respectable. This record should double that easy.
"We're looking to sell fifteen or twenty thousand. If we do enough numbers, Atlantic will take us under their wing. We'll still be with Mammoth but we'll be distributed by Atlantic. They'ved done that before."
The rest of the band followed up on the topic of record sales. Unlike many bands, Big Wheel pays close attention to sales.
David Ernst remarked that "this is the first time that major retail chains have begun to have alternative sections and do things to sell alternative records."
Searcy agreed with Ernst.
"I've noticed in the last couple of years that, before, we could only be sold in mom-and-pop record stores, but it seems like we've had a better response from the chains. When we did this retail visit in the Midwest record stores, those people were just excited that anyone was willing to pay attention to them.
"One guy put it to me this way: 'The reason we work in record stores is because we're music fans.' We also had a better response from those people when we went to visit them.
"Some of the mom-and-pops we went to visit were okay. Some of them seemed to think they were doing us a favor by selling our album."
Glenn nodded and said, "Mammoth can't believe we're willing to do all this, because other bands are too hardheaded to do it. I'm like, 'We want to sell this record.' I'd like to spend every minute in a record store.
"Disc Jockey Records in Lexington is going to play our video on the television monitors in their store."
Searcy followed up. "They're opening a new store in Florence, Kentucky and they want us to come and play an outdoor show. It's being sponsored by a radio station.
"That's one of the things I've noticed. People are coming to us with things like that.
That's a nice feeling." He smiled.
Glenn nodded. "We push it whenever we can, call the radio stations, 'cause we've got nothing better to do."
"Idle time is the worst thing on tour," said Searcy. "It's great to feel as if you're working towards something. I feel like we have to work on it.
"I don 't feel like anybody has made it lately on sheer talent. It's taken money behind them. And a work ethic."
Taylor remained complimentary about Mammoth.
"The record company is working for us.
They've grown with us a lot in the last year.
Until two years ago, they'd never had a record that sold over fifty thousand copies and now it's an everyday thing."
The group is not completely dependent on the music business for their future, however.
David Ernst, a graduate of Eastern High, studied marketing and finance at Georgetown University. Tom Tompkins also graduated from Eastern High and studied German at the University of Louisville. Peter Searcy studied cello at the Brown School and attended U of L before moving on to the music business.
Glenn Taylor went to Atherton and has a master's degree from U of L in Early American history. He studied early circuit court records for his thesis. At the nudging of his bandmates, he related a tidbit.
"I was studying whether there was actual justice in the early years of the state. I've seen court records nobody had ever looked at. Daniel Boone, Squire Boone, they're all there."
"The original plot of land that Lincoln's father bought, he had to go to court over. If he hadn't won that case, he wouldn't have come to Kentucky.
"I never told anybody that. I guess some people might like to know that."
The music scene was never far from their thoughts, however and they returned to it.
"A lot more people should pay more attention to the bands in this town," Searcy said. "I'm not into every band in this town but there are lots of good ones. Endpoint is good, Hula Hoop is going to go somewhere. Crain, Love Jones, they'll do something."
A query about any last comments evoked a range of responses. Taylor was particularly concerned about journalistic accuracy: "Please don't misquote us."
Searcy offered his suggestion for how to ensure regular and, presumably, accurate print coverage for musicians.
"I think the power place to be in music is on the Douglass Community Center basketball court. I met [music writers] Jeff Puckett, Cary Stemle and Kory Wilcoxson there.
"Anybody trying to get someplace in music should play basketball there."
Tompkins said he was working on a drum endorsement, then added, "I want to play stadiums and take baths in baked beans."
Ernst got serious and said, "I'm just happy to play with these guys. I bought one of the first tapes they made and just wore it out. It's great to be in a band where I like the people and I like the music."
The interview ended with a discussion about the quality of local music papers. At last, each went his way, in separate cars.
Glenn Taylor paused by his car for a moment as an ambulance screamed past on Bardstown Road and said: "I think we'll do all right. I think we'll be a big regional band, at least." At least.
Tags: