March 1993 Articles
Cover Story
Bob Bahr
Features
Paul Moffett
Paul Moffett
Columns
Duncan Barlow
Berk Bryant
Paul Moffett
Keith Clements
Alan Rhody
Elaine Ford
CD Reviews
Paul Moffett
Steve Estes
John Goodin
Mark Clark
Mark Clark
Allen Howie
Performance Reviews
Todd Hildreth
Jean Metcalfe
Paul Moffett
Jean Metcalfe
Calendar
Staff
News Item
Staff
Preview
Bob Bahr
Paul Carney
Photos
Staff
LASC
Staff
Staff
Ray Yates
Michael Layman
Jean Metcalfe
Michael Layman
Paul Moffett
Staff
Blogs
Got Shows?
Send Them To Us
Bookmark Louisville Music News.net with these handy
social bookmarking tools:
Available RSS Feeds
- Top Picks
- Today's Music
- Editor's Blog
- Articles
Add Louisville Music News' RSS Feed to Your Yahoo!

Issue`: March 1993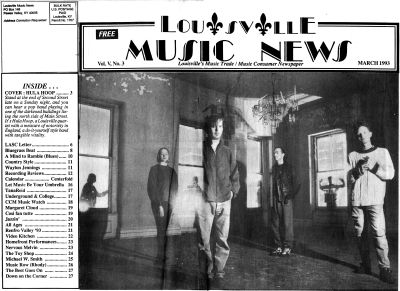 Hula Hoop Cover, which was printed horizontally on the cover of the print edition.
Hula Hoop By Bob Bahr Photos By Nicolas Bonura
Stand at the end of Second Street late on a Sunday night, and you can hear a pop band playing in one of the darkened buildings lining the north side of Main Street. It's Hula Hoop, a Louisville quartet with a measure of notoriety in England, a do-it-yourself style band with tangible vitality. From outside that building at 131 West Main, Hula Hoop sounds like a good pop band. If you were to walk inside the 19th Century structure, which incidentally was the first home of the Galt House and now houses the restaurant/bar Anthony's By the Bridge, the sound of Hula Hoop would become clearer. And cloudier.
The closer one gets to Hula Hoop, the more complicated the music gets. Standing inside their wonderfully litter-strewn practice room on the third floor, the music is loud, swirling with distortion, and mysterious. The pop band you heard outside on the street has become a '90s update of punk, with heavily distorted guitars fuzzing and roaring over a solid rhythm section, a wailing voice fighting to come through the noise.
"It's kind of big, chunky chords, with some interesting, off-kilter leads on top of it," said co-lead vocalist and co-lead guitarist Eric Stoess, 28.
"The music is a lot more haphazard, just kind of thrown together," adds his co-conspirator Chuck Geisler, 30. "That, I think is the sort of punk ethic or do-it -yourself thing that we have."
"I feel like it has many characteristics that might appear to be more mainstream than they are," said bassist and backing vocalist Rachel Grimes, the youngster of the group at 23. "I think that it demands a lot more attention from the listener than most mainstream music. Upon a first listening, you want to come hear it again. You want to hear it two or three times to really process it. I would consider it near the cutting edge, but I don't think we do anything drastically avant garde. I think we combine a lot of qualities from the mainstream and the eccentric."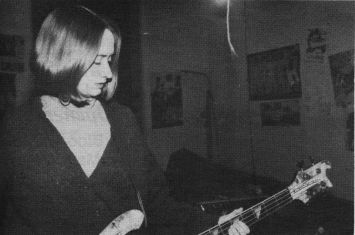 Rachel Grimes, bassist for Hula Hoop
Drummer Stephen Jones analyzed the different parts of Hula Hoop for LMN.
"Everybody in this band has a lot of different influences," Jones said. "Eric is great guitar wise at adding colors. Eric brings a lot of different things like slide and wah-wah. Chuck brings the chunky Fender and Marshall kind of setup. And Rachel is the one. Rachel is just an amazing musician all around."
And Hula Hoop's drummer?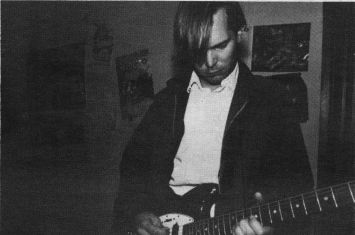 Guitarist/vocalist Chuck Geisler, half of Hula Hoop's songwriting team
"Meat and potatoes. All my favorite drummers are the real heavy hitters. I appreciate a lot of jazz stuff and jazz players, but I'm much more a hard driving and basic kind of player. I try to bring a real aggressive kind of playing to it," said the 30-year-old Jones.
Their collective musical personalities produce an unpretentious alternative rock sound that has found its first foothold with the listening public in England, thanks to the BBC and a bushel of luck.
Hula Hoop put out a seven-inch single on the Louisville label Automatic Wreckords last summer, and thanks to diligent distribution, 30 copies made their way to England. One copy was plucked from a London record store by John Peel, he of the prestigious Peel Sessions radio show. He liked it. He played it on his BBC show, and word got back to the band via a friend in Leeds. Stoess called the BBC to try to get a copy of the airing. The operator at the BBC said that they really didn't release that sort of things, but she would patch him through to the studio.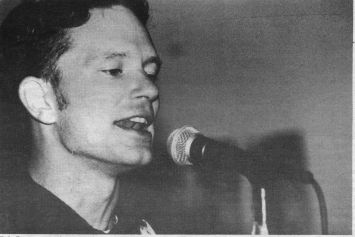 Eric Stoess, vocalist and guitarist, is the other half of the Hula Hoop songwriting team.
"They said it was going to be an engineer on the show, and it was him," Stoess said with a still-shocked grin.
Stoess asked Peel out of curiosity how the Peel Sessions worked. Suddenly, Stoess found himself invited to do a session, the launching pad for dozens of big artists. Stoess said Peel doesn't like bands to plan a special trip to England for the show, but when Peel asked him if Hula Hoop had plans to come over to England, Stoess didn't hesitate to say yes.
"We had tossed the idea around before that," Stoess said somewhat unconvincingly.
Stoess asked him what it took to get a Peel Session.
"The only criteria is if I like the band enough, and I want to hear more," Stoess reports Peel saying. "That's the only criteria."
"I had to sell a lot of my stuff to get over there," Stoess said. "But there's was no question, there was no question. Whatever it takes."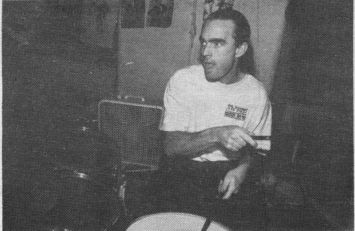 Stephen Jones aggressive drumming adds to Hula Hoop's edginess
Luckily, the band members work at places that are sympathetic to the needs of the band, and they were encouraged to jump at the opportunity. Grimes was faced with the hardest difficulties due to her studies at the UofL School of Music. She juggled some test dates, a couple of other members scraped for the last bit of cash, and the band was off to Great Britain.
The complete band was there only for the first two weeks of November, in which Hula Hoop did a half-dozen gigs, recorded the Peel Session, ducked into a Bristol recording studio to lay down one side of a split single with a band called Boyracer, and saw some sights when they weren't buzzing around rounding up gear. The Peel Sessions paid the band for laying down the session, and the gigs did pay money, but Hula Hoop just broke even on the trip.
Strike that. The experience of doing a Peel Session made the transatlantic trip a net gain. But not everyone in the band immediately realized the magnitude of the situation when it first cam up.
"It was from someone else's reaction that I realized what a big deal it was," said Grimes. "I think it will be something to catch the attention of people at labels and clubs. Being on a Peel Session gathers attention that you might not otherwise get. They may listen to our music rather than just throw it on the pile somewhere. When a band does a Peel Session, it's usually like a first step for a band that's going somewhere."
Peel has an estimable reputation in the music world, and he has four big fans in Hula Hoop.
"He's been doing this stuff since the late '60s. He toured with T. Rex and played bongos," said an amused Stoess. "He recorded people like Led Zeppelin, then in the '70s he started getting into Siouxsie and the Banshees, and stuff like that. He plays a lot of stuff that is kinda out there. He has a great ear. He has a such great track record and he's so respected."
"There's no real American equivalent for this guy," added Chuck.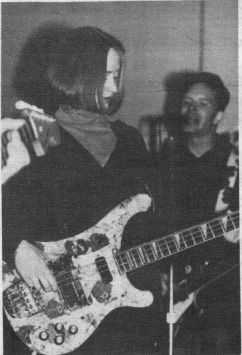 Rachel Grimes, foreground, and Eric Stoes, rear.
The session itself went off without a hitch -- once the tapes started rolling, that is. The band planned on knocking out the eight-hour session at once, but the producer, Mike Robinson, was two hours late. Then a welding job in one of the studios set the fire alarms off, sending everyone outside the building for over an hour. Robinson took the band down to a pub on the corner for a few pints while they waited.
"He was really cool about it," said Stoess. "He was early on saying we should split it up into two days, which we weren't really into. Everybody was very punchy by the time that we came down to mixing it. People were falling asleep in the studios. But that's when he came to life and just got it done."
"We did "Leave, Time to Go," and on the first take, and we were pretty happy with it. He was like, 'No, you should take it again. It lacks something.' Which is interesting, that on the first time he noticed that it lacked something," said Stoess. "It's amazing how professional those guys were. They've all been with him for years. They know exactly what he wants," Stoess said.
While it is unusual for Peel to comment on any band on his program, he had kind words to say about Hula Hoop during his show: "Some of our lesser known Yank visitors maybe, but turning in a good job, I think." Then later in the program, Peel referred to them as "spunky bunch of kids. That's Hula Hoop in their first session for the program, and not, I hope, the last," he said. For Peel, that's a ringing endorsement.
The band has a devoted following within the Louisville punk rock scene and within the alternative scene, but with only one seven-inch single out in the market, "Motorkerekpar," the band is largely unknown to many. What did Peel see within the grooves of those two songs, "Sweetest September" and "Winter Farming" that American music moguls have yet to recognize?
Some might come away from their first taste of Hula Hoop dismissing them as a punk band; they may not catch the pop heart at the base of their songs.
"There's a lot going on in our music," Stoess offered. "It's kind of hard to catch it all live on the first listen. I'm sure a lot of people come away thinking that it's kind of boring. There's nothing really much to latch onto and immediately pick out."
"I think it's on the aggressive side of the pop spectrum," said Geisler. "But it's still pretty melodic, melody-oriented alternative."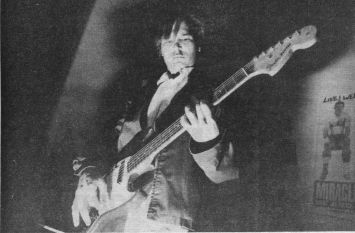 "I've always called it loud pop," said Grimes. "Thick loud sound from two guitars. It's not very lighthearted pop. There's a lot of quirky guitar melodies. The basis from that comes from a highly improvised style of writing music. You just sit around and play until you like something. The end result of that is you get really interesting things."
Stoess visibly squirmed when asked to nail down the Hula Hoop style, but every band member acknowledges the do-it-yourself approach to the band. It's their link to punk rock and other bands that have thrived under this liberating philosophy.
"We are not a punk band," Geisler stated with finality.
"Oh, I disagree!" answered Stoess to combined laughter. "We're not traditional hardcore, but I would like to think of us as punk rock. It's not over thought. There are certain things that we pay attention to and certain things that we don't worry about. This is really pretentious, but I think there is a certain punk ethic that really appeals to me and always has. And I think this band has it to a certain extent."
The band also has a British feel, perhaps owing to the swirling guitar effect associated with the Manchester sound, and perhaps due to Stoess and Geisler's fondness for British bands such as The Fall. The Hoopsters deflected that characterization as well.
"I don't know about the British and American thing," Stoess said. "To me, I just think that a lot of [British] stuff sounds very American."
"We have a lot of stuff that rivals BTO [Bachman Turner Overdrive] for sounding American," Geisler added.
"The only criteria for me is if it sounds good and it sounds interesting. I want it to sound melodic and sound interesting," Stoess continued.
"And knowing our limits," he said. "For me, personally, that's kind of key, knowing that I could not sit down and think, 'I want to do this song and I want to achieve the same kind of results as Sonic Youth or The Fall or anybody.' That's really contrived and dishonest. There's a lot of bands that I really like that stick with me and hopefully a key influence will come out in what we do at some point without obviously stealing or ripping off. I think it makes a pretty interesting mixture."
Jones' drumming brings a relentless, solid hard rock foundation to the band, and Grimes is a tasteful bass player cognizant of the groove and sensible enough to stay on the bottom of the mix below the twin guitar melee. Geisler and Stoess both use the distortion effect -- Rat pedals. But the settings are completely different, and Eric plays a Gibson while Chuck plays a Fender. "It would be silly to have the same-sounding guitar set-up," explained Stoess. "His is a lot more...should I use the "G" word?...grungy and bottom-endy, chunky. Mine's kind of whiny," he said to laughter.
Usually, one guitarist plays a lead melody while the other lays down a nice, fat guitar texture, heavily distorted. The guitarists also dive off into dissonant passages to spike the sound, although the addition of these oddly atonal passages is not a conscious decision. Geisler talked about one particular solo of Stoess' near the end of "Sometimes I Feel Just All Right," perhaps Hula Hoop's strongest cut.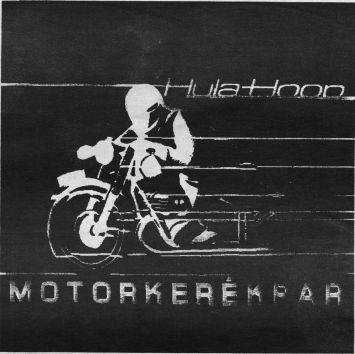 "That was really strange the way that specific thing happened. We were recording in the studio and we recorded it live -- that's how the Peel Sessions are done. Then you go back and lay down the vocals. It's actually got another part that I'm playing underneath it, like two solos at once. When our producer for the session was mixing it he made the decision to put mine in the background and move Eric's up. He had a great ear for it, and it was something that we weren't hearing. That wasn't as deliberate as it sounds, but now, when we go back and record it again, that's the way it will be because it really works well," Geisler said.
"It's just like certain things strike me," Stoess said. "A lot of times Chuck and I just sit around and play through a riff of a song over and over again and I just fool around. It's not like I sit around and think 'What could I do here.' It's just like, play, and play at different parts of the neck and play different notes and play what sounds good to me and what sounds good to Chuck. That's the okay sign. I'm pretty ignorant musically. I don't know enough about dissonance or what's correct to sit down and think 'I want to make this dissonant.'"
"I can't really remember the solo," Stoess said, proving his point.
Another thing the producer at the Peel Session did was bring up the vocals. Live, the lyrics are sometimes nearly indecipherable above the music. The music by itself is reason enough to listen to the band, but the songwriting does not disappoint the sharp-eared listener. Geisler and Stoess split the songwriting duties nearly down the middle, both musically and lyrically. One player would bring in the lyrics and parts, and the rest of the band arranges and adds as they see fit.
"Usually when it comes down to a finished product, it's more of a democratic thing than some sort of authoritative, single-minded, one person kind of thing," said Geisler.
"It makes it a lot more interesting for me personally that when we write songs, it's almost never written around a riff. I've got the rhythm and foundation, but I'd much rather prefer to hear what Chuck's going to do with it. We allow each other the freedom to put down whatever we want on top of what the other person brings in," Stoess said.
The songs are usually built around chord progressions as opposed to riffs, allowing the other guitarist the flexibility to add whatever he wishes. The lyrics go down in the song largely as they were originally written. Phrasing is not an issue for Stoess; Geisler keeps his ear open for how a phrase will sound. But it has to have some meaning, "not just sticking words into it so you can get some big booming Robert Plant vocal over the top of it," said Geisler.
"I think that works to our advantage and our disadvantage," Stoess commented. "Sometimes I don't think enough about how things sound; I just want to get the meaning across. I never try to rhyme words or anything. A lot of times I just write the words out, then I try to shape it to where I can sing it within the parts."
The lyrics themselves are as cryptic as the music initially seems to be. Stoess' tend toward the personal and narrative, while Geisler occasionally ventures past that to make metaphysical and political statements.
"There's a lot of lyrics about death and suicide for some reason," Stoess said. "It's not contrived. When I was writing out the lyrics for you, it surprised me how often those subjects came up. And there's a lot of sexual references sort of intermingled in that."
"Mine usually come from personal experience, and they are mostly boy-girl, love-hate songs," chimed in Geisler. "Every once in a while, another topic will come in. "Winter Farming" is an open letter to Mayor Abramson about the garbage-to-steam incinerator that got killed. Other songs...there's a song about a childhood friend that died."
"It is pretty much taking experiences that you've had and going into a hole and thinking it through and bringing it back out," concluded Stoess.
Hula Hoop is like no other band in that the members genuinely seem to be friends with each other. The opinion of their peers in the group means everything.
"It's always fun when certain friends show up that are really energetic," said Stoess. "It's easy to feed off that. That's always nice, to see people jumping around, and being silly, and just having fun. But it's not something that I'm consciously...you know, 'Oh, it's a drag. Nobody moved.' It's nice to see an obvious display, but I'm not going to say 'This is not a good song, nobody moved to it.'"
The band is largely self-taught, with the exception of Grimes, who is an accomplished classical pianist studying composition at UofL. The band wears this badge proudly.
"We're not virtuoso guitar players. So we try to do what we can with what we have," said Geisler, who is nonetheless a formidable guitarist.
"Some of the best music in the world -- you know, like the Pixies -- is fairly simple music," Stoess said. "It doesn't have to be that jazz-fusion-type, playing-all-over-the-board kind of stuff. I have a completely unfounded fear that if I took guitar lessons or if I actually learned how to play correctly that it would take away whatever that interesting thing is that comes from ignorance...
"...or innocence," Geisler offered with a laugh.
"That's something that I am aware of and that I want to hold on to," Geisler continued. "Just from playing together, we get tighter. And the more we play together, the more we know what suits and what to do with songs, and how to work with it and maintain sort of a focus. I really like that style of looseness and haphazardness of bringing songs together. I think two years down, the road is still gonna be there. I think what will change is our ability to relate to each other and the songs, how tight we are, and things like that. Not that I would ever want to, but I don't think I'll ever be able to walk into Guitar Emporium and pick up a guitar and wank off these incredible blues or heavy metal leads to test out a guitar. I have to go in and kind of be quiet, and pluck around on the guitar. But that's fine with me . . ."
"I'll scare him every once in a while and threaten to go take guitar lessons. It's frightening," Geisler said.
Grimes replied to these comments by expressing her admiration for Stoess' and Geisler's playing. "I'm of the opinion that you can be a brilliant music whether your trained or not. Having the training just gives you more options. It's not that I disagree with them, it's just that I see it differently," she said.
It was Jones' turn to heap praise.
"There's something just really cool about having a girl in a band," he said about Grimes. "It's just fun to have a girl in the band, especially because she knows so much about music. It's hard to put my finger on it. She's one of the guys in every sense of the word. It's not like we walk around on pins and needles all the time. But Rachel picks up on a lot of subtleties lost among us Cro-Mags."
Hula Hoop seems almost giddy with their prospects for the future. They are happy with the music they are making, the songwriting process is marching along nicely, and the bandmates have a regular, two-practice-a-week regimen. The next step?
"We've been so lucky," began Stoess. "Things have happened...they've been laid right before us. We really haven't had time to think of the next step. We have some goals...we need to get a product out. Especially here in the States. Unfortunately, it's going to be an album. It's going to be vinyl."
The album, tentatively titled "My Sweet Amputee," will be out sometime before summer on the Fluff label. The band has joined forces with Billy Hardison, one of the booking agents responsible for Tewligans Tavern's schedule, to manage them and become an equal partner within the band. Another trip to Europe is planned for the summer, with another Peel Session and a European tour to fill their month-plus visit. Hula Hoop would co-headline a tour through Belgium, Germany and France with Boyracer, an English pop band.
The group would welcome interest from both major and indie labels, with some reservations.
"I'd rather be on an indie label. I'd rather be a bigger fish in a smaller pond than to be on Geffen and be thrown against the wall to see what sticks with a hundred other bands that month," said Geisler. But there aren't too many real indie labels left. They're all being purchased. It's like a farm system for the big guys now.
Jones, trotting out a down-to-earth perspective, said he continues to keep the lure of rock success from dazzling his eyes.
From the beginning, what I had more than anything else is more reasonable expectations," Jones said. "The whole way it's always been that none of us has any kind of giant, big game plan in mind. It's more like, 'Let's just get together and practice.' A nice, humble kind of attitude."
Tags: