January 1993 Articles
Cover Story
Allen Howie
Features
Paul Turner
Don Watson
Paul Moffett
Paul Moffett
Paul Moffett
Columns
Berk Bryant
Jim Galipeau
Paul Moffett
Earl Meyers
Keith Clements
Todd Hildreth
CD Reviews
Bob Bahr
Dave Regneri
Bob Bahr
Kory Wilcoxson
Allen Howie
Bob Bahr
Bob Bahr
John Goodin
Steve Estes
Michael Campbell
Allen Howie
Cary Stemle
Kory Wilcoxson
Performance Reviews
Bob Bahr
Allen Howie
Paul Turner
Rob Frayser
Jean Metcalfe
Pete Strojny
Interviews
Paul Turner
Calendar
Staff
News Item
Staff
Preview
Staff
Book Review
Jean Metcalfe
Opinion
Paul Turner
Staci Core
Jean Metcalfe
Photos
Staff
LASC
Staff
Staff
Staff
Ray Yates
Jean Metcalfe
Staff
Paul Moffett
Staff
Staff
Paul Moffett
Blogs
Got Shows?
Send Them To Us
Bookmark Louisville Music News.net with these handy
social bookmarking tools:
Available RSS Feeds
- Top Picks
- Today's Music
- Editor's Blog
- Articles
Add Louisville Music News' RSS Feed to Your Yahoo!

Issue`: January 1993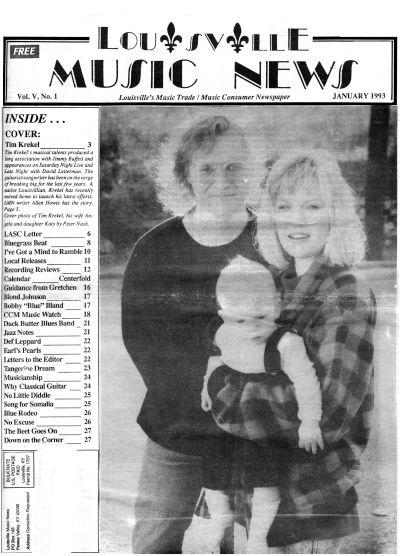 Tim Krekel
By Allen Howie
If patience is a virtue, then Tim Krekel must surely be one of the most virtuous guys in the music business. The Louisville native who's played with the likes of Billy Swan and Jimmy Buffett has signed with record labels only to watch them go broke, cut albums only to have changes at the label erode any support and seen his songs race up the charts for other performers. Through it all, he remains cheerful, grateful for the wealth of experiences he's built up and looking optimistically to the future.
Krekel cut his teeth on fifties and sixties rock and roll. He'd come home from school and pretend to be a DJ, spinning 45 s by Little Richard and Jimmy Reed. By age ten or eleven, he was able to pester his parents into buying him a guitar, a little Gibson ES 125 and took lessons for a few years from Ray Shipp, who still runs the Music Warehouse on Bardstown Road.
His first band was drawn from kids in the neighborhood. "I think the drummer was probably bangin' on a garbage can and I had a guitar and one guy had a clarinet. Whatever instruments were around was what we had, you know." His first paying gig – thirty cents worth, as he recalls — was in a group called the Octaves, who played on the roof above the swimming pool at Fontaine Ferry Park and in someone's backyard. Then came the Dimensions, the Lynchmen and, at thirteen, the Kinetics. "We'd go out and play proms and stuff over in eastern Kentucky. I remember singing 'Stormy Monday Blues, ' and Bill Fowler, who was sort of the manager and head of the Explorer (Boy Scout) group, saying something about a thirteen-year-old kid singin' the blues and how ludicrous that was. And it was!" (laughter)
Krekel attended Jefferson Community College for a year and had a band called Rane, a "hippie band" that played Byrds material and songs from the Rolling Stones' Beggar's Banquet. He was trying to write songs, but was too embarrassed to show them to anybody. Then Louisville native Steve Ferguson, whom Tim had known for some time, hooked up with Terry Adams to form the Merseybeats USA, who would soon become NRBQ. It marked a turning point for Krekel, who remembers it as the event that made him take music seriously as a profession. "They got their record contract, made an album and came back to Louisville and to me, it was the coolest thing in the world. They were writing their own songs, they were a great band, they had a record deal and I thought 'These guys have made it! ' And I thought I could do the same thing –which I had always wanted to do. But it kind of gave credence to the whole thing."
Rane opened for NRBQ the first time they played Louisville and Joey Spampinato, the bass player, turned Krekel on to a piano player from New York who was in Louisville for a couple of months. The two of them, plus the bass player from Rane, moved to New York, living in the same house in the Bronx that some of the members of NRBQ had moved out of. They named their new band Dusty and played their first gig at The Barge on Long Island, where the Young Rascals had played. They then became the house band in a club called Ungano's, opening for Mountain and for one of Sha Na Na's first dates.
Tim began writing and the band started playing some of his songs, but the jobs kept getting worse, until they ended up playing a bar called The Turtle Inn in the Bronx on Thursday, Friday and Saturday nights. After getting lost on the subway and taking six hours to get back, the homesick young Louisvillian had had enough of the Big Apple and headed back for Kentucky.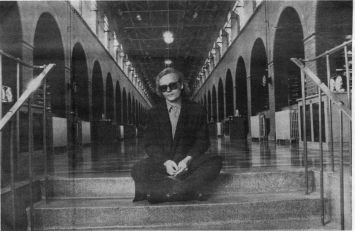 The cover for Tim Kreke's new album, Out of the Corner , was shot at a Nashville water treatment facility. Photo by Beth Gwinn
Upon his return, he joined what became the house band at the Pussy Cat A-Go-Go, which the new owner was trying to turn into a music club. The drummer was David Marasco, who now plays with Steve Ferguson and who had played in Rane. The band, which did mostly covers of Memphis R&B with some Stones thrown in for good measure, opened for the likes of the Buddy Rich Orchestra, NRBQ and the Shadows of Knight and backed up Herb Reed and the original Platters. This was 1970 and the job lasted until the club shut down for financial reasons six months later.
The still underage Krekel played with Len Wade's band for the next couple of months with bass player John Owen and drummer Bobby Jones, after which he bowed to pressure and decided to try a "straight" job, working where his father worked at Commercial Lithographing, printing checks. His flirtation with conventional work was short-lived, however and after three weeks he accepted a six-night-a-week gig at Harold's Club, near Fort Knox on Dixie Highway, playing six hours a night for ninety dollars a week. A few weeks later, he, Owen and Jones reunited to form JOK, which was the first band to perform Krekel's own songs in Louisville. Jones left after a time, replaced by Don Symanski, the drummer from the Merseybeats USA who had just gotten out of the Army, and the band's name was changed to Dusty.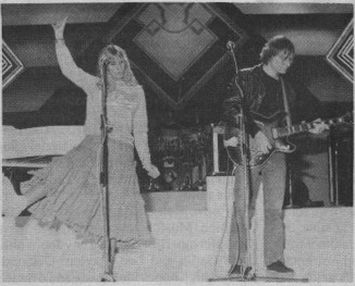 Skeeter Davis and Tim Krekel at the Wembley Country Music Festival in London, England, circa 1983. Photo by Graham Barker
A job at Dutch's Tavern led to a chance meeting with a Nashville songwriter named Lee Clayton, who would later write "Ladies Love Outlaws" and a batch of other hits. Clayton urged Tim to send a tape of his original songs to Rob Galbraith in Nashville, who was in A&R and a producer at Epic. A telegram arrived inviting the young songwriter to meet with Galbraith, who was leaving his position but knew that Jack Clement, who had been the engineer at Sun Records, was putting a label together called JMI. The head of the label was Allen Reynolds, who as a member of The Vogues had written "Five O'C1ock World, " and who has now produced Garth Brooks and Hal Ketchum, among others. As a result of their meeting, Dusty went to Nashville and recorded twenty or twenty-five songs, but only one single, a Krekel original called "Daylight, " was ever released, to little effect.
Dusty returned to Louisville and began playing at The Storefront Congregation, a bluegrass club on Bardstown Road where the Skyline Chili now stands, owned by Kenny Pyle, who currently runs the Rudyard Kipling. Dusty started playing there on Sunday nights, doing original material plus covers of songs by the Band and Dylan. The group enjoyed some popularity and began to build a following.
By now, Rob Galbraith was writing for Combine Music, which published Kris Kristofferson, Billy Swan, Tony Joe White, Larry Gatlin and Lee Clayton. Galbraith still had high hopes for Krekel and over the course of the next three or four years would bring him down to Nashville to cut demos of his material. Then, in 1976, he called to say that Billy Swan was interested in putting together a band. Swan had been a charter member of Kris Kristofferson's band — the story is that he gave Kristofferson his job sweeping the floors at Columbia when the latter first came to town — but in 1974, he had a number one hit of his own with 'I Can Help.' About a year later he decided to put his own band together. He was getting a lot of critical acclaim and was preparing to do a second album. Meanwhile, he was looking for a guitarist for his touring band and Galbraith suggested Krekel.
"I went down to Nashville and met Billy and we just hit it off. He took me under his wing, so to speak — I became part of his band and he tried to take care of me. And I went out on the road for the first time, which was really wild. His band was guys he had known from Missouri. They were not like Nashville guys who'd been out working a lot themselves. I guess they maybe played in club bands and traveled around like that, but they were pretty green to the whole music business, just like I was."
Their first gig was the Southeast Music Hall in Atlanta, where Swan bought the whole house drinks. A three-week tour of the northeast followed, with dates at the Cellar Door in Washington and The Other End in New York. "While we were at The Other End, the press started showing up. Roger McGuinn came in to see us and Mick Ronson. John Rockwell did a review in the New York Times that mentioned my name. I was 26 at the time, thinking I'd made it — I'm there! I became friends with some of the writers up there, like Nick Tosches and Michael Bain. Somebody wrote this thing about us in the Village Voice that went something like, 'Imagine seeing' —and I'm not sure who they compared Billy to— 'with Junior Walker on one side and Scotty Moore on the other.' Next came a tour of Europe — Germany, Austria, Switzerland, the Netherlands and England. The reception from European audiences was overwhelming. Swan had had a couple of other hits there besides 'I Can Help, ' and crowds were screaming, wanting autographs and occasionally even chasing the band members. Their last date in Europe was opening for Willie Nelson at the Old Victoria Theatre.
By all accounts, it was a great band. But no more hits were forthcoming for Swan and after a two-week stint in Vegas, the tour came to an end. a year after it had begun. Krekel, who by now had had a taste of the music business, began making trips to Nashville and staying at Swan's house. At night, he'd hit the clubs, trying to meet people and sit in. He got a job playing a CBS showcase for Patti Leatherwood's first album, an event which also included Marshall Chapman. Chet Atkins was there and Don Light, who was Jimmy Buffett's manager. "Chet Atkins came over and asked me if I was from Louisiana, 'cause of the way I played. Don told me that Jimmy was gonna be needing a guitar player and asked if I'd be interested. I'd heard Buffett a little, but never really listened a lot, so I got some of his records and realized he was a really fine writer." In early 1977, a call came from "Fingers" Taylor, Buffett's harmonica player, saying that they were going to be in Louisville playing at Bellarmine College on a Sunday night and inviting Krekel to meet them. Krekel was struck by Buffett's level of professionalism — touring on buses, carrying his own sound and production — things he hadn't experienced with Swan. That meeting was brief and anticlimactic, but about three weeks later, Krekel was asked to fly to Florida to meet with Buffett, who was headlining the Sunsplash Festival in Lakewood. "They flew me down with a woman from his publishing company and told me to meet them on the bus at one o'clock. So I show up and there's this skinny 'Fingers' character, sitting there about half out of it, listening to this blues stuff. And the first thing he said when I got on the bus was 'So you're the guitar player, huh? Well, who's this?' and jabs a finger at the stereo. I said it was Freddie King, which surprised him — made him open his eyes and look like maybe I was okay. 'Cause he was a real blues nut, especially back then. He'd just wear everybody out with it."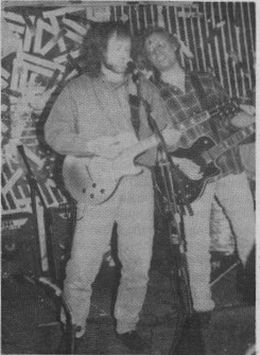 Henry Gross, founding member of Sha Na Na, joined Tim Krekel onstage at a recent performance at Uncle Pleasant's. Photo by Allen Howie
The meeting with Buffett came shortly before midnight and must have gone well, because a few weeks later, Tim got the call to join Buffett's Coral Reefer Band. After rehearsals in Sarasota, they began playing gigs in florida, then around the country, traveling by jet. A five or six-week bus tour of the west followed, which was the first time Krekel had seen Los Angeles and the west coast.
From that tour, they traveled everywhere by plane, opening at football stadiums for the Eagles, who, like Buffett, were managed by Irving Azoff. "I remember a couple of softball games. Glenn Frey was a very serious softball player and Buffett was pretty serious about it, too. So there was quite a rivalry goin' on. But Jimmy always drew well. Back then and I guess still today, it was kind of a cult thing. But it was a huge cult."
During that year, they recorded Son of a Son of a Sailor at Bay Shores Studio, owned by Eagles' producer Bill Szymczyk. A lot of the songs, like "Cheeseburger in Paradise" and "Livingston Saturday Night, " had already been done on tour, so the basic tracks took only two weeks. Between recording those initial sessions and returning a week or so later to finish the overdubs, Krekel returned to Louisville, packed his things and moved to Nashville.
Also during that period came the movie FM, which had a scene in which Buffett and me band were supposed to be playing at a "Save the Whales" benefit. filming was done in the Coconut Grove at the Ambassador Hotel, where Robert Kennedy was shot. The band performed "Margaritaville" and "Livingston Saturday Night" in the film.
"I've got a solo in 'Livingston Saturday Night.' You see it in the movie — Jimmy says, 'Take it, Timmy!' and right then, as fate would have it, they cut to these two guys talking, one guy giving the other a tour jacket or something — but in the background you can still hear my solo."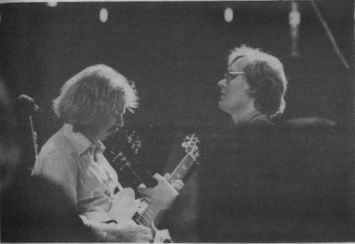 Jimmy Buffett and Tim Krekel at the Arie Crown Theater, Chicago, circa 1978.
"Back then, Jimmy was on the road pretty much year round. Now it's a summer gig – he 'summers' now! (laughter) So we went back out. In fact, I'm on the live album, You Had to be There, playing on 'He Went to Paris.' I think Jimmy introduces me. And there's a song on there that he and I co-wrote, called 'Morris' Nightmare.' I had started the song, which to me was just a little ditty, almost like a kid's song. We were on the road and I was showing him some songs, including a couple that I thought he'd like better, but he liked this one. So he helped me finish writing it and recorded it for the live album."
Back when Krekel was with Billy Swan on the northeast tour, he had met Bob Beckham, the president of Combine Music. Beckham was known as a maverick in Nashville, the man who had signed Kris Kristofferson, Tony Joe White and others. The meeting left an impression on Beckham and while Krekel was still with Buffett, he was signed to Combine as a writer, his first publishing job. Tim had a song called 'Juliet and Romeo' the demo of which Bob had loved. Combine was associated with Monument Records, so they put out a single of Krekel performing the song. It was his first real Nashville record, recorded with the people who would eventually become the Sluggers.
"They put this single out and I was out on tour with Buffett, so while we were in, say, Kansas City, I'd take a copy and go over to talk to the station there, tryin' to promote it. So even thoug hnothing happened with the single, I was working on my recording career even then. My idea was still not to be a sideman forever, but to eventually do my own records. When I wasn't playing with Jimmy, I was writing and doing demos at Combine. I played some stuff for Don Light and he said he thought he could get me a record deal and wanted to manage me. It looked like the record deal was gonna happen, so that's when I decided to leave Buffett. Which was probably not the wisest thing in the world to do at the time. I was making good money and I could've stayed with him and done the record. But I was kind of hard-headed. I wanted to go out and have my own thing."
The last time Krekel played with Jimmy Buffett in the seventies was in New York, on Saturday Night Live. They had played a concert in New York a few weeks before, for which Krekel's in-laws were supposed to be on the guest list. Somehow, they were left off and accompanied by "Fingers" Taylor and piano player Jay Spell, he went down to the Lone Star Cafe and sat in with Delbert McClinton to burn off his frustration. Taking his anger out on his guitar, he was playing like a madman. John Belushi joined them onstage and went wild over what he heard.
When the Saturday Night Live show was over, two or three weeks later, Krekel and "Fingers" ended up staying out with Belushi into the wee hours. He called a few weeks later to say they were going to put together the Blues Brothers, which they had already done as a skit on the show and wanted Krekel to play on it "He wanted to know if I was interested, so I told him I was. He and Ackroyd, but especially him, he always had these tapes of the blues and that's all he wanted to listen to. They just loved it and wanted to have a band. And hell, they were successful, so they could do whatever they wanted to do! (laughter) But he called back a month or so later and told me that the musical director, who I think was Howard Shore, wanted to go with someone they knew about who had a little bit of a name, so they ended up getting Matt Murphy to play. And I don't feel bad about that at all — he was a legitimate blues player from Chicago. But it would've been nice to have been involved in that."
Krekel left Buffett and put together the Sluggers: Dave Marasco on drums, John Owen on bass and Jay Spell, whenever he wasn't playing for Buffett, on piano. They played the southeast — Nashville, Atlanta, North Carolina -— and soon Don Light got them a record deal on Capricorn. They went to Los Angeles and recorded Crazy Me with a mobile studio at producer Brian Ahern's house. Tony Brown, who had played piano with Elvis and has worked with Lyle Lovett, Steve Earle and Reba McEntire, produced the record, his first. Albert Lee, who was working with Emmylou Harris, Ahern's wife at the time, played a solo on one of the songs and Hank De Vito also played on the album. It came out in January of 1979. Capricom went bankrupt around February.
The Sluggers kept playing and got good reviews on their album, but another record deal was not quickly forthcoming and the band, which wasn't making a lot of money, broke up. On the advice of Don Light, Krekel decided just to write for awhile. Around 1980, he started playing with "Fingers" and drummer Butch McDade and Jeff Davis from the Amazing Rhythm Aces, calling them selves the Rhythm Reefers. But it was a casual band with a lot of different interests and never really found a focus.
Krekel put together a revamped version of the Sluggers, with Willis Bailey on drums, Tom Comet on bass (both of whom had played on Marshall Chapman's Jaded Virgin album) and piano player Andy McMann, who had played with Buffett and Tracy Nelson. They got together with Chip Young, a great guitar player and producer who had produced 'I Can Help' and some of Larry Gatlin's records and recorded with him in hopes of a record deal. Young took the tapes to Monument, who wanted to put out a six-song EP. The band did the photos and everything was set. Then Monument went out of business just before the record came out.
The record was never released, but a song on it called 'Turnin' Away' found its way into Crystal Gayle's hands. She recorded it, released it as a single and had a number one country hit with it. It was also covered by English rockabilly singer Shakin' Stevens, in a version produced by Dave Edmunds.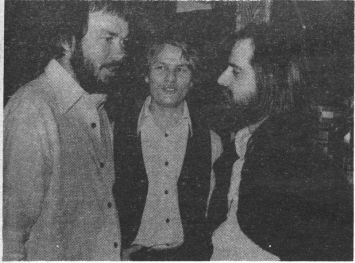 Garry Tallent, Tim Krekel and Billy Swan at the Other End in New York.
Krekel had become friends with Jason Ringenberg of Jason and the Scorchers, who recorded a song of his called "I Can't Help Myself" on their first album. Later, they recorded "Greetings from Nashville," another Krekel tune and their management, Praxis Management, began managing the Sluggers. A deal with Arista Records followed and an album came out in 1986. According to Krekel, it was a good record undermined by well-intentioned but misguided production.
"We started the album over at Ardent Studios in Memphis with Terry Manning, who was the producer. The basic tracks, which were just guitar, bass, drums and my voice, were really kickin' — they sounded really good. Then he transferred the tapes over and took 'em to his house. He had a studio up in his attic and it was very hard to go over and hang out — he didn't really encourage us to come around. finally we got to go over and hear what he was doing. And I love Phil Spector, but that was not the idea of what this record was supposed to be. But that's what it sort of sounded like— bells and glockenspiels and strings and stuff."
The main problem, though, was that the representative who had signed them to Arista had some differences with Arista president Clive Davis and was fired. The record was released, but without studio support and three months later, the Sluggers once again had no label.
In the summer of 1986, Krekel went out to see Buffett at Starwood, an outdoor theater in Nashville and ended up sitting in with him. A few weeks later, a call came from his road manager, saying that guitar player Josh Leo was leaving. (Leo is now a Nashville producer who's worked with the Nitty Gritty Dirt Band and other artists.) Krekel was asked to do a two or three-week tour in Florida, then went back out with Buffett the next summer and soon was a regular member of the Coral Reefer Band once again. The touring schedule included two tours of Australia and New Zealand – "the only time I've ever played with him where the houses weren't full — they didn't really know who he was at the time." Well-known session drummer Russ Kunkel played on one Australian tour, then left for England to play on Combine artist Mark Germino's second album. (Krekel would play on Germino's third, having co-written acouple of songs with him for the Sluggers' Arista record).
When he wasn't touring with Buffett, the Sluggers were recording and they put out a four-song cassette called Latest Greatest Grooves, recorded in Nashville. Then Krekel and Buffett's bass player and drummer got the news that Jimmy would be touring with the PM Band from St. Louis, a self-contained band who'd done a couple of records on their own and who had worked with the singer on his most recent album. As if this weren't enough, Krekel's publishing deal, which had been paying a nice annual advance, ended at the same time, leaving him with no income.
The next two years were rough. He was writing songs with Mark Germino, who had recorded two albums in England for RCA with Paul Samwell-Smith producing. But with the exception of Russ Kunkel, the session players on those records had all been from the British folk scene. For Germino's third album, he wanted a band and Krekel suggested the Sluggers. The demos turned out well, so Germino presented his idea to the rep at RCA, who gave him approval to keep writing and funded more demos. He and Krekel wrote some songs together over the next year, then got the approval to do the record. They went out to California and recorded Mark Germino and the Sluggers' Radartown album, released a year later on Zoo/BMG. A solid record, it got good reviews in Rolling Stone and other magazines. The band did a couple of videos with the same people who now do Nirvana's, but got no support and no money to tour. "Mark and I went on David Letterman — Letterman loved the record. But with no support from the record company, the album just withered on the vine."
Krekel let Germino continue to use the name Sluggers and started playing around Nashville with Louisville native and bassist Doug Cook, who had worked in the Kentucky Headhunters' road crew. Bobby Keys came down and played a few times when he was living in Nashville. But finances being a little thin, Tim started making calls to see if anybody needed a guitar player and got a gig with Dennis Robbins, the first country artist signed to Giant Records. In the seventies, Robbins had been in The Rockets, who had a minor hit in 1979 with a version of Fleetwood Mac's "Oh Well," and opened for bands like Kiss and The Who. He left the Rockets and ended up in Nashville as a songwriter, where he wrote the Garth Brooks hit "Two of a Kind," and was also part of a band called Billy Hill on Warner Brothers with Bob DiPiero, now Pam Tillis' husband and John Scott Sherrill. Robbins had a single of his own, "Home Sweet Home," that did pretty well during the first part of the summer. Krekel joined the band, which played nearly non-stop from June until December, doing almost eighty dates in that period, including opening for Wynomta Judd and Billy Ray Cyrus.
Prior to the tour with Robbins, though, Krekel had been talking with Fred James, a Nashville player with a blues band called Freddie and the Screamers, who had gotten involved with Appaloosa Records, based in Milan, Italy. Appaloosa puts out roots rock and blues records and distributes them throughout Europe. Fred had done a couple of records for them and produced a couple for his wife, who is also a singer, then went to Italy and did a tour. The head of the label told James he'd be interested in hearing any other bands that he wanted to produce. James approached Krekel about doing his own record and they went into the studio the summer before last, recording Out of the Corner in just four days with the bass player and the drummer from the Sluggers. Even though it's an import and not yet widely available in the U.S., the record is getting good reviews, including a rave in CD Review. Krekel heads to Italy in late January for about four weeks to tour. Between now and then, he'll be playing Air Devil's Inn on New Year's Eve and a solo acoustic gig at the Rudyard Kipling on January 15. If his recent show at Uncle Pleasant's is any indication, both should be well worth attending.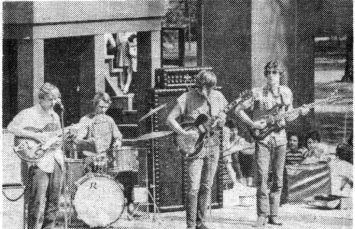 Rane in Louisville's Central Park, circa 1969. L to R, Krekel, David Marasco, Charlie Faught and Richard Thomas.
But the artist always seems to be juggling a few things at once and has also gone into the studio with bassist Garry Tallent from Bruce Springsteen's E Street Band and former Henry Lee Summer drummer Mike Organ to cut tracks on six songs he's written, which he's going to try to finish up in the next few months. The three started getting together last April. Krekel met Tallent through Steve Forbert (who had a pop hit in 1980 with "Romeo's Tune"). Forbert lives in Nashville and had heard Krekel play with Mark Germino. He called later and invited him over. Tallent was there and Forbert said he wanted to put together a small band to do nothing but covers. All three men have huge record collections and share a love for the same old songs. "We started gettin' together out at Garry's house and we'd sit down, Steve would put on a song and we'd work it out, just like back in high school. We had a ball and we were gonna go out and just play some bar some where, but before we got the chance, Steve's newest record came out, so he ended up goin' on the road. Then Garry had some album projects, so we never got to play out anywhere."
But Tallent lives in Nashville now, so he and Krekel ran into each other once in awhile. Tim had met Mike Organ while was playing with Doug Cook and, taken with Mike's drumming, asked if he'd like to get together with him and Tallent some time and play. Everyone agreed and they started getting together at the drummer's house last spring. Krekel was inspired to the point where he began writing songs specifically for them. He wrote ten songs during this period and they would get together once a week and work up one or two.
Everybody's schedules loosened up in December, so they booked a couple of gigs, one in Nashville and another in Louisville. They got studio time, went down and recorded six songs, which Krekel will finish and then see what develops.
But whichever way things go, Krekel has proven over the years to be the ultimate utility player: a gifted songwriter, a solid singer and an electrifying guitarist. With his brand of solid songcraft and roots-rock enthusiasm coming back into vogue, it can only be a matter of time before the talented sees his own star rise as high as those he's propelled for others. (Krekel's new album, Out of the Corner, is available at ear X-tacy.)
Tags: