September 1992 Articles
Cover Story
Mary Washburn
Paul Moffett
Features
Paul Turner
Columns
Berk Bryant
Jim Galipeau
Paul Moffett
Earl Meyers
CD Reviews
William Brents
Bob Bahr
Michael Campbell
Bob Bahr
Kory Wilcoxson
Kory Wilcoxson
Steve Estes
Hilary Braun
Kelvin Bailey
Allen Howie
Earl Meyers
Performance Reviews
Jean Metcalfe
Jean Metcalfe
Jean Metcalfe
Steve Butler
Bill VanHook
Cary Stemle
Allen Howie
Paul Turner
Marlene Chaffin
Calendar
News Item
Jean Metcalfe
Jean Metcalfe
Staff
Staff
Staff
Staff
Preview
Bob Bahr
Opinion
Staff
Don Watson
Errata
Staff
Photos
Staff
Staff
LASC
Staff
Ray Yates
Jean Metcalfe
Blogs
Got Shows?
Send Them To Us
Bookmark Louisville Music News.net with these handy
social bookmarking tools:
Available RSS Feeds
- Top Picks
- Today's Music
- Editor's Blog
- Articles
Add Louisville Music News' RSS Feed to Your Yahoo!

Issue`: September 1992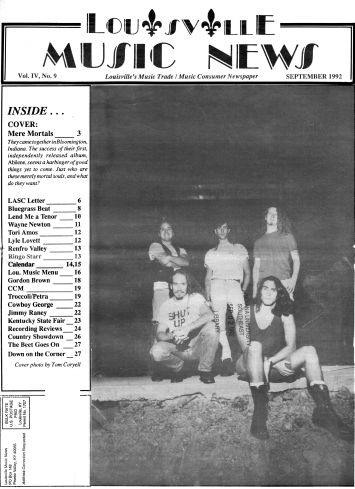 Mere Mortals
By Mary Washburn
With an assist from Kim Washburn
They came together in Bloomington, Indiana. The success of their first, independently released album, Abilene, seems a harbinger of good things yet to come. Just who are these merely mortal souls, and what do they want?
I got stones in my back pocket
Rolling down the highway
This old crate she's a rocket
Straight white line through the
morning haze.
Todd Smith, Troy Trinkle and John Byrne, "Big Joe," from Abilene
The Bloomington, Indiana, band, Mere Mortals, won the finals of the WQMF/Club Caddy's Battle of the Bands in Louisville in April. But how much do Louisvillians really know about this talented group with a heartland roots rock sound similar to John Mellencamp? I present the following multiple choice question:
Mere Mortals are:
a) a cover band
b) an original band
c) a band that knows what it wants and
plans to get it
d) a band that keeps a close eye on its business, or
e) all of the above.
The answer is "e." Mere Mortals, with its combination of musical and songwriting talent, business acumen, and a lead singer with a soulful voice and a powerful onstage charisma, seem to be poised for a great future. And, they are making steady progress toward their longtime plan to switch from a cover band to an original band.
As winners of the 1991 Indiana State Music Awards Contest in the rock and roll category, and coming off the success of their first album, Abilene, they are quickly gathering steam. Abilene, produced on their own label, Rosebud Records, has garnered consistently good reviews. So just who are these guys anyway?
Troy Trinkle on lead vocals, John Byrne on guitar, and Todd Smith on bass, have been the solid core behind this band. Recently joining Mere Mortals are Billy Burke on guitar and Jeffrey Stone on drums. Both Trinkle and Burke hail from Jeffersonville, Indiana, giving the band a decidedly local flavor. I had a chance to talk to them recently during their gig at the Butchertown Pub. I asked each of them what their biggest thrill has been so far.
Byrne: I'd have to say the biggest success, the biggest thrill, was "Bye Bye Blackbird," the single from Abilene.
LMN: I heard that was a hit in Indianapolis.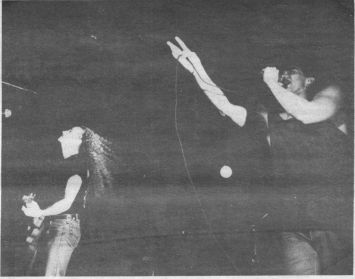 Byrne: Yes. I grew up in Indianapolis, and the radio station there, Q 95, is a very big station. It's the nation's most successful station of its size. To have a hit on that station, which is very conservative in its format, for them to add our record to their playlist, and to keep playing it because people really liked it, was a surprise to us. "Bye Bye Blackbird" lasted 15 weeks and made it up to No. 12 on their playlist.
LMN: How did you get them to start playing it?
Byrne: We just sent it to them and asked them to play it. I asked the program director why he played our record. And he said, "Well, because you asked me to. Most people, if they send me a record, don't even ask me to play it, they just send it. You asked me to play it, and I happened to like it, thought it would do well, and it did." That, to me, has been the single greatest success. Also, doing a lot of original shows, and getting the same fervent response from people to the originals as to the cover music that we do, that is also incredibly fulfilling.
Smith: For me, it's when we're playing one of our original songs, and I look down and see that the crowd is singing along, or when people hear one of our songs, recognize it, and get up and run to the dance floor. That, for me, is a thrill.
Trinkle: The times when you've got people up dancing, and you realize that you've played three or four of your songs and the people are still up dancing. You look7 down, and you see a few people singing along, that's really crazy. Or, driving through Indianapolis, and all of a sudden your song comes on the radio. That's happened to me a couple of times and it's like . . ."Wow!"
LMN: Was that "Bye Bye Blackbird"?
Trinkle: Yes. Rock 92 in Bloomington has played most of the album, but "Bye Bye Blackbird" is the only song that Q 95 in Indianapolis has played. But that's crazy, just to be driving along, and . . . "Hey, that's me on the radio!" But it is a real big thrill when people come out and dance to your songs and sing along, because before, we had throw cards. We'd throw out this R.E.M. song and everyone would want to dance. And then we'd play one of our songs right after it; we'd trick people. But now, it seems like we don't have to do that, now we can really get into the show, and we don't doubt the music like we used to. We have fifteen songs that we play out. We have a lot more, but we have fifteen songs that we really feel are strong.
Another big thrill is those nights that we'll have a jam session, and, on some nights, we've had some with celebrity status in the audience. Like James McMurtry, and the BoDeans, have both gotten up and played with us. Also, David Grissom, Kenny Aronoff, and Toby Myers from Mellencamp's band have gotten up and played with us. And Henry Lee (Summer) comes out a lot and plays drums, and then gets up and sings. Henry knows so many d--- songs, he'll do old blues songs, and people will just go, "Wow, he can sing!" But that's really an odd situation and a rare occasion when a bar is turned into that sort of atmosphere. Because usually everyone's out drinking, and the band's background music, especially in the yuppie clubs. But it's a real thrill, to be a part of that, in front of witnesses.
Stone: It's been my all-time life's dream to play with Todd Smith.
LMN: What has been the biggest disappointment, for each of you? Maybe not getting a recording contract?
Byrne: Well, no, perhaps the ongoing realization of what the real relationship between bands and record companies is. It's very complicated, it's not a piece of cake, you know? If we really had worked at it, this band could have gotten some kind of record deal, I'm certain. But instead, we decided we wanted to put out a record under our own auspices, and we pursued it that way. So finding out the reality of it, I think, has probably been a pretty big disappointment. And, there were some big shows that we were in the running to open for, that didn't happen.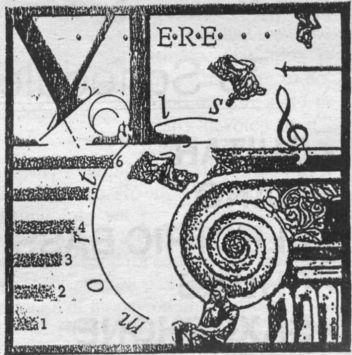 We were, however, invited to play at the South by Southwest Music Conference and that was incredible. Just to be there, to be invited, was very flattering. The conference attracts the highest concentration of record company executives at any one time during the year.
LMN: Did you get noticed by any of the record company executives, any nibbles?
Byrne: Sure, we got a call from PolyGram, and they said they had seen our show there, and had heard very good things about us, and were very interested. They ran us up to the very highest level of their A&R Department. And they said they liked us a lot, but they determined that we sounded too much like John Mellencamp for them to be interested. PolyGram is John's label, and they didn't want anyone with a similar sound that would compete with Mellencamp.
Smith: A big disappointment has been all the personnel changes we have gone through. Since we established the core of the band, being me, John, and Troy, that has stayed the same. I think we have experienced setbacks because of all the drummers and guitar players we have gone through. So all of the time we had to spend auditioning new players, and rearranging and rehearsing was time that could have been spent writing original songs.
Trinkle: I don't think there's one particular event, but there's been a lot of setbacks, the day-to-day disappointments. There are the constant reminders, in this part of the country especially, that to be a bar band, you have to play other people's music. It's fun to play other people's music when you can play the kind of music you really like. But when demands are made on you by club owners and audiences to play a certain type of music, to play the popular music, that's a disappointment.
LMN: What is the major difference between Bloomington crowds and Louisville crowds?
Byrne: Bloomington is a much more student-specific area, and Louisville is a real hodgepodge. Like here at Butchertown, where there is such a high concentration of professionals. To be able to play to that kind of crowd, which typically does not have a lot of attentiveness toward the music, to get their attention speaks very highly for the musical aptitude of this city.
LMN: Have you ever contacted any of the program directors at Louisville radio stations and asked them to play your music?
Byrne and Smith: Yes. And the answer has been no.
LMN: In 1991, Mere Mortals won the rock and roll category at the Indiana State Music Awards Contest. Didn't you win an audition with that?
Byrne: Yeah, we won a showcase. Showcases that you win with record companies are exactly what you probably think they are. You don't get one based on your own merits, you get one because the people who put on the contest were able to call in a favor with a record company.
Smith: Any time a band is able to ascend any ladder of success, record companies want to take a look at you. There are a lot of record companies who are aware of us that we're not even aware of. Any time there's an independent release that does well on the radio charts, they go "Aha!" And, you know, they're letting us test market ourselves for them. But the CBS showcase that we won, they basically said, "Tell you what, you give us some more of those funky songs, and we'll talk, but until then, heartland roots rock, we've got no use for."
LMN: Those funky songs?
Byrne and Smith: "Hammer Your Head"!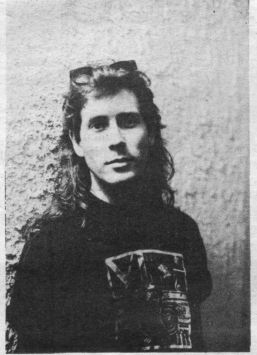 Jeff Stone
LMN: Let's talk about "Hammer Your Head." Was it written about the Hammerheads?
Smith: Yes, I was inspired by their perseverance and saw how good they were. "Hammer Your Head" is about focusing yourself, and trying not to let the daily, weekly, or monthly setbacks get you down. And keeping yourself focused, that's what it's about.
Byrne: There are all sorts of other points to that song. It's about some of the problems, some of the mentality that's causing problems as far as creativity is concerned.
LMN: Troy, on your album you give special thanks to Elvis. What does that mean and how has he influenced your life?
Trinkle: Well, Elvis shaped two generations, he's the rock-and-roll force, everyone has to thank Elvis because he's responsible for a lot of things. When I was growing up, Mom was a big Elvis fan, and it was just Top 40 to me. I mean, it was just background, I didn't really pay attention to the music that much. But when I got older, I learned a little bit about Elvis and his story, and it set me on my ear, that this one person had the whole world in his grip. And I really wasn't a big fan until the last few years and I finally heard the Sun Sessions disc. He was 21 when he did that, and it was just amazing.
LMN: Those were unreleased for some time, right?
Trinkle: Some of them were released, but it had "That's All Right," and all the early 50s hits, but his early stuff was really cool, and every movement during rock and roll was trying to be like Elvis. So that's why we gave special thanks to Elvis.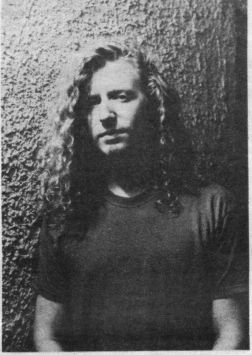 Billy Burke
LMN: In the song "Big Joe," the words "Riding all night with the king, whispering in my ear," is that a reference to Elvis?
Trinkle: Yeah, Todd makes reference to driving to Texas, and in taking trips, you're going to hear a couple of Elvis songs on the radio. All the lines of "Big Joe," the first verse in particular, they're all reference to . . . "I've got stones in my back pocket," is referring to the Rolling Stones, and two lines later, "this old crate she's a rocket," is a Little Feat reference. So the whole first verse is reference to great bands, the Rolling Stones, Little Feat, and Elvis. It's about David Grissom driving to play with Joe Ely, and he has all these influences.
LMN: And the meaning of the line, "from my Daddy's shoulders, I was ten years old"?
Trinkle: I wrote that part, that's the bridge. It's all fabricated, I tried to create an early scene for this person in the song, as if he went to see this person, Joe Ely, play in concert. The whole song's about Joe Ely.
LMN: Todd, how did you come up with the inspiration for "Big Joe"?
Smith: Well, I never would have heard of David Grissom or Joe Ely if it weren't for the guys in the band. I didn't know who Joe Ely was until I met John. Big Joe is just about a guitar player following his dreams.
LMN: Troy, when did you first know that you wanted to be a singer?
Trinkle: Well, my grandmother made me sing in the church choir, when I was about ten, and I've sung in school and barbershop choirs, and I did theater in high school. When I was going to college in New Albany (Ind.), I was bored, and somebody told somebody that I used to sing. And they asked me to be in a band, and I was twenty years old then.
LMN: Was that band Plain People?
Trinkle: Well, it was called something else then. They were still in high school, and I was a freshman in college. After dealing with that for about six months, I decided I really liked it and I quit their band because they were hung up on other things. So I spent a year putting together my own band, which was Plain People. We played together for two years, and though we weren't very good, we did a lot of writing. So that was a definite positive experience, a learning experience. But it reached its limit, everyone's schedules conflicted. So I had a chance to join a band in Bloomington after auditioning, so I said, "H---, I'll go for it. I'll get paid the same, what a great idea!"
LMN: So, until you were about twenty-one, you didn't even think about being a singer in a rock band?
Trinkle: Nope, and I've only been doing this seriously for three years. But my attitude's been the whole way, that this isn't the sort of career that you can just put your time in. You can't punch in at nine and leave at five and go home and watch television all night. With Plain People, everyone was real serious, but they couldn't quit their jobs to devote to a band. I needed to get into a situation where everyone had the same attitude, that "this is what I'm going to do, this is my job, and I'm totally devoted to it." And I found those people in Bloomington, and that's the way it is with this band. No one's allowed to take a part-time job, we pay ourselves twelve thousand dollars a year, and the rest goes back into the band for equipment, recording projects, promotion pieces, and so on. We spend a lot of money on that stuff.

From top, Troy Trinkle, John Byrne and T. V. Smith
LMN: How many nights do you play per week?
Trinkle: We play three or four nights a week, and when we're not rehearsing, Todd and I get together, and we just beat the songs out, one right after another. With this next album, that we want to have out by the first of the year -- but we'll have to find some big pot of gold -- we want to write the songs as a band, because on the last album, a lot of the songs were done.
LMN: What do you mean?
Trinkle: Todd had written a song, wrote all the music, wrote the riffs, and we had versions of him doing the song by himself. And on the songs I did, I gave Todd the melody and the lyrics, and he would take them home and four-track them. But in this next project, we want to take the songs in their most elemental state, and that's melody, and go from there, and everyone writes their part, and we arrange it.
LMN: So you want this next album to be a true collaboration by all the members of the band?
Trinkle: Yes, exactly. In a lot of young bands, it's real obvious when you have more than one writer in the band. We're a prime example. The songs that I write are different than the songs that Todd writes. On Abilene we did write together, but some of the songs were solely his and some were solely mine. Like "Hammer Your Head," Todd basically wrote. And a song I wrote was "Jesus Let Me In," and they're two different songs, from one extreme to the other.
LMN: A lot of people like that kind of variety, though.
Trinkle: Yeah, but we think we can get the same sort of variety, and still have a stronger bond between the songs.
LMN: Your "sound," in other words.
Trinkle: Yes. And that's what we're trying to do with the next album. We want the songs to grow, to evolve through the band. It's hard to do, but that's our goal. Because we feel that if we do it this way, the next album will be more widely accepted, maybe the industry people will say, "Hey, here's a band that's been together four years, they put out an album a year ago that sounded pretty good, and some radio stations played it, and in listening to the two albums you can tell that this one is much more mature, and they've really developed." We don't plan on spending as much money on this album, it's not going to be as slick. We're going to put the album out for the music. We want an album that can stand solely because of the songs.
Tags: