June 1992 Articles
Cover Story
Jean Metcalfe
Features
Jim Hesselman
Henry C. Mayer
Quentin K. Sharpenstein
Bob Bahr
Paul Turner
Jeff Hutchins
Bob Bahr
Bob Bahr
Columns
Henry C. Mayer
Berk Bryant
Jim Galipeau
Paul Moffett
Earl Meyers
CD Reviews
Rob Frayser
Berk Bryant
Kelvin Bailey
Bob Bahr
John Goodin
Performance Reviews
Paul Turner
William Brents
Bob Bahr
Joe De Cicco
Paul Turner
Dallas Embry
Wally Stewart
Ray Yates
Interviews
Paul Turner
Calendar
Staff
News Item
Earl Meyers
Staff
Staff
Staff
Preview
Bob Bahr
Photos
Staff
Staff
Staff
LASC
Staff
Earl Meyers
Ray Yates
Ray Yates
Jean Metcalfe
Staff
Staff
Blogs
Got Shows?
Send Them To Us
Bookmark Louisville Music News.net with these handy
social bookmarking tools:
Available RSS Feeds
- Top Picks
- Today's Music
- Editor's Blog
- Articles
Add Louisville Music News' RSS Feed to Your Yahoo!

Issue`: June 1992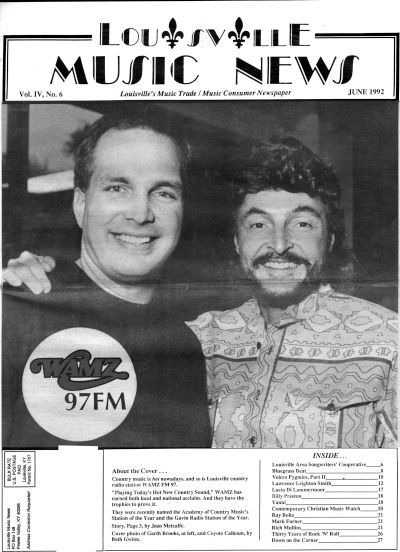 Coyote and the Amazing WAMZ Radio Station
By Jean Metcalfe
Garth Brooks is hot.
Country music is hot.
So is Louisville radio station WAMZ.
And when that combination came together on a September Sunday in 1990 at one of 'AMZ's popular free summer concerts at Louisville Motor Speedway, the result was a gigantic traffic jam created by some 25,000 fans.
l
On April 29 WAMZ's colorful program director and deejay Coyote Calhoun appeared at the Academy of Country Music's awards ceremony in Los Angeles to pick up a trophy declaring WAMZ "Radio Station of the Year."
As Coyote neared the end of his four-hour shift on May 20, Mayor Jerry Abramson joined him on the air to present a plaque that proclaimed May 20, 1992, to be "WAMZ -- Academy of Country Music Station of the Year Day."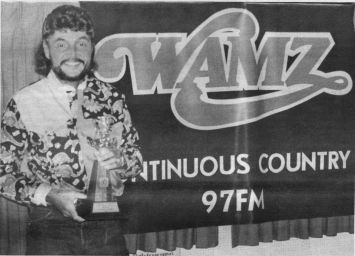 Coyote Calhoun shows off the trophy won by WAMZ as the Academy of Country Music Station of the Year
Soon, a reception in honor of the award was in full swing in the station's lobby. The mayor's proclamation, a recently acquired Gavin award, and the brand-new ACM trophy were on display. Sales Manager George Demaree was all smiles.
And there is good reason to smile. WAMZ FM 97, owned by Clear Channel Communications, Inc., of San Antonio Texas, is clearly on a roll. In its short existence (15 years this past April), the station and Coyote have collected an enviable assortment of awards:
l ACM Air Personality of the Year, 1985.
l ACM Radio Station of the Year, 1986.
l CMA Medium Market Air Personality of the Year, 1986.
l Gavin Air Personality of the Year, 1986.
l Billboard Music Director and Air Personality of the Year, 1987.
l Billboard Air Personality and Program Director of the Year, 1989.
l Billboard Music Director, Air Personality and Program Director of the Year, 1990.
l Billboard Air Personality of the Year, 1991.
l Gavin Radio Station of the Year, 1992.
l ACM Station of the Year, 1992.
"We're happy with it," Coyote said proudly when I congratulated him on his station's newest trophy.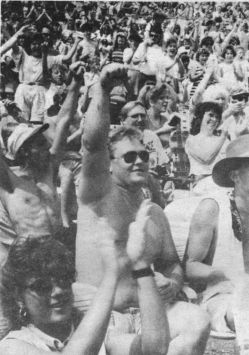 20,000 country music fans showed up at the Louisville Motor Speedway for WAMZ's first free concert of the summer.
I asked why WAMZ is not only the top-rated station locally, but also -- by the ACM's reckoning -- the country station of the year.
"One thing, you know, country is really hot right now, but we were successful in this market a long time ago. But we're pretty well researched, as far as musically and analytically, and also we happen to be in a pretty good city where's there's always been a real strong country base. And when you're in a city that has a real strong country base, if you have all your ducks in a row and your station is pretty well researched, then your chances for success are a lot better than if you're flying by the seat of your pants."
In his capacity as program director, Coyote works with Music Director Ron "Road" Hazard and with Lee Bailey, a consultant in Dallas, on music and formatics.
But, he says, "I really like . . . my audience . . . giving me feedback and telling me what their favorite songs are. And the songs that the majority say are their favorites get played more. That's just the way it works. . . . We also look at trends in the country."
After listening to new releases (they listen to most of the ones they receive, Coyote said), they collaborate on "what we think is hot and what we think is not." They look at the rest of the country, and they use their own "gut feeling" before adding a song. They look at other markets that parallel the local market and whose research they respect, and they also check with a couple of key stations whose judgment they trust, on songs they're not sure about.
"There's a lot of good product out right now. But you know, the only bad thing about it is there's so much good product out, but we only have so many slots to play it. . . . if you add more slots, your real hit records won't get played that much. . . . Our hot records, the biggest hits, still only come up like every four hours and fifteen minutes. So, if you're talking about a big hit record, it may come up about four or five times a day, and that's it. . . . And we're playing more 'currents' now than we ever have. It used to be a long time ago that we were about 70% oldies and 30% current. Well, now it's about 70% current and 30% oldies."
A lot of people are burned out on the oldies even though they are good songs, Coyote told me. And the '70s oldies, for instance, just don't hold up to the production on the new material, he said. "It's like apples and oranges."
We spoke of Coyote's entry into the radio business.
"I got in radio right out of high school. I worked in -- now this is like 1969 till 1973 -- this is like four years. I worked in Sallisaw, Oklahoma -- the home of Pretty Boy Floyd, by the way -- then Muskogee, Oklahoma, then I went to Topeka, Kansas, then I went back to Muskogee, then I went to Wichita, then I went to Chattanooga, then went back to Wichita, then I went to Knoxville. So in four years I had eight different jobs.
"If you think I had trouble, you should see my homing pigeon. He didn't know where the h-ll to go to." Coyote laughed heartily and it was a laugh that WAMZ listeners would have instantly recognized.
"I hung around radio stations, really, my entire adolescent life," Coyote said of his years in Texas, Kansas and Oklahoma. His father, who had been a deejay early in his career, eventually bought a radio station in Oklahoma. After retiring and selling the station, he found he didn't enjoy retirement and returned to the station as its manager.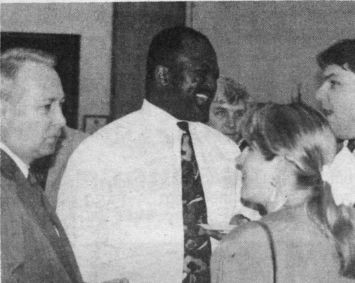 WHAS/WAMZ Station Manager Bob Scherer, at left, and WAMZ Sales Manager George Demaree, center, greet guests at a recent awards reception.
Did you ever work for your dad? I asked.
"Yeah, he fired me. . . . back in 1970."
"Why?"
"Well," he sighed, "it all started with a bottle of tequila . . . and I was just having so much fun I forgot to go to work."
It was in 1973 that Coyote Calhoun acquired his now famous name. He had come to Louisville from Knoxville to work at WAKY, and he was known as Jack Diamond. WAKY's Johnny Randolph and Gary Burbank didn't like the name.
"I was pretty wild back in those days . . . at a rock 'n' roll station. I was doing nights. . . . I was a screamin', rockin' mother, man. And they said, 'We need to give you a weird name because that way you'll get a lot of attention.' They said, 'We'll name you Coyote McCloud.' "
In the meantime a man in Nashville had heard the name and liked it so well that he gave it to his new deejay. McCloud was then changed to Calhoun and, to invoke an old cliche, the rest is history.
"As a matter of fact, I just got my name legally changed to Coyote Calhoun in November. I've had the name now for almost twenty years, and no one ever calls me by my real name (which he declined to reveal) except my parents and (his eyes started to twinkle) I just don't feel like my old self anymore," he laughed.
But didn't a trademark howl he used on the air have something to do with the name? I asked.
"No, I had this big, long note I'd hold. Like at 6:00 o'clock, I'd go 'WAKY Louisville at six oooooooooo'clock' . . . I'd scream it . . . the kids loved it. The adults hated it."
Coyote started howling while working in Wichita, and continued to howl in Knoxville and in Louisville.
Although country music is certainly his favorite, Coyote's taste in music is eclectic.
"I can take just about anything, except I hate rap. I mean, I disdain rap. And I'm not very big on opera either. Opera -- I never could figure it out. Opera is where when somebody gets stabbed, instead of bleeding they sing," he laughed. "But everything else I like pretty well. Yeah, country is my first choice," he said, "Country is my first choice."
Coyote feels that despite working as a deejay on rock stations, he acquired a love for country music because it was so prevalent in the Southwest where he grew up.
"I went to high school in a little place called Coffeyville, Kansas -- where the Dalton gang got killed. And there were all of these little border towns. . . . I mean, geez, this was a pretty rough little town, you know. Matter of fact, they never shot people back there. Instead they'd just insert the bullets manually."
The Coyote's sense of humor was surfacing again.
"You'd walk for three blocks and never leave the scene of the crime," he chuckled.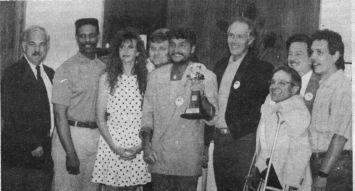 Program Director Coyote Calhoun is surrounded by several reasons why WAMZ earned the trophy that he holds. From left to right, the air personalities are: Don 'The Traffic Doctor' Dunlap, Ralph Dix, Sunny Stevens, Bobby Jack Murphy, Calhoun, Dan Robinson, Dick Braun, Scott Douglass and Dave Lee.
Although he enjoyed rock when he was a kid ("The Beatles and all that -- who couldn't like rock back then," he declared), "there were always a few country songs I did like. . . . When I really, really started getting into country a lot was in the summer of 1975 when I heard the Willie Nelson Red Headed Stranger album. And, man, I heard that . . . it was like 'Wow!' Then after that I got into Waylon Jennings a lot, and then something happened to me, man. By the time I got into Merle Haggard I thought, 'Hey, man, I'm past the point of rescue now.' By the time I left [Louisville] and went to Houston, which was my last rock job, by that time country was my first choice out of all of it."
His boss in Houston had admonished him not to play "all those country things" on the air.
"OK, I won't," he promised.
Coyote spoke in a sneaky-little-boy voice to describe to me that promise, then exuberantly demonstrated how well he had kept that promise:
"Not!"
Before Coyote returned to Louisville from Houston, the radio station that he worked for was negotiating to carry the Houston Astros games, and Coyote was slated to be the mascot -- "The KULF Coyote." Although he could already ride a horse, Coyote was scheduled to take lessons so that he could get "reeeal good" at it. Plans called for the KULF Coyote to be at the ballpark for home games and to work at the station when the team was on the road.
I suggested that if things had gone as planned, he might have become more famous than The Chicken who appears on television. "I don't think so," he chuckled. "Who knows, though. Who knows."
When asked about his own popularity, evidenced by the numerous awards and accolades he has received, Coyote said, "I think everybody here could be classified as a top deejay."
"We work here as a team pretty well. Dickie Braun is doing incredibly well. In the last [Arbitron] book, [in the age group] 25-54, he was No. 1. Bobby Jack Murphy, midday, he's got great numbers. And Dan Robinson at night. . . . I think . . . we all have been pretty successful because, number one, we all believe in the product, and number two, we've been here for a long period of time. We've all been at this station for a number of years. The turnover I've had at 'AMZ has been very minimal. . . . I would rather say that it's a team effort than just me being the top. I've been real fortunate, I'll say that. I've been very fortunate. I don't think there are very many people out there, career-wise, that have been as lucky as I have . . . been as fortunate. Again, I just feel like I'm really blessed. . . . I've worked hard, but . . . sometimes even though you work hard, some of the things that have happened to me don't happen to most people."
We discussed the proliferation of new country artists, and Coyote said:
"I've got a list right here. OK, Colin Ray, Brooks & Dunn, Travis Tritt, Mark Chestnutt, Billy Ray Cyrus, Hal Ketchum, Doug Stone, McBride and the Ride -- I'm just reading you the top ten -- Trisha Yearwood. These are people who weren't even around two years ago. . . . It's just amazing how these new artists have just exploded."
Was Coyote surprised at the success of Brooks & Dunn, the ACM award-winning country duo who headlined WAMZ's first free country concert of the year at the Speedway on May 17?
"No, not really. Boy I heard them out of the box. . . . about six months before the first record came back. I was in Tim DuBois' office at Arista. He said, 'I've got some new stuff I want to play you. What do you think?' I heard 'Brand New Man' and it was like, 'Brrrother.' Then I heard the rest of the album and I said, 'Man you've got a home run on your hands right there. A home run.' . . . I knew they were gonna be a large act. I knew they were gonna be big."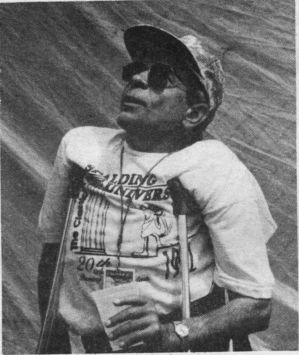 Dick Braun checks the sky for signs of rain at the WAMZ free concert at the Louisville Motor Speedway.
Has Coyote ever made any bad guesses on the popularity of a song?
"Oh yeah. You're bound to if you've been doing it this long . . . the law of averages . . . is gonna catch up with you."
Although he readily admitted that he had made some erroneous predictions -- he couldn't think of a specific example at the moment -- he recalled that he had predicted the success of Rockin' Sidney's "(Don't Mess With) My Toot-Toot." Although a short-lived hit (it was really hot for about three weeks, he said), "it just stood out from everything else we played. . . . It was one of those novelty type of quick burn -- quick in, quick out."
"I put it on and people said, 'You're crazy' . . . and I said 'This song is gonna be No. 1 in the Top 10 [locally] within a week.' "
His prediction came true.
"It did pretty well nationwide, too," he added.
(Our research indicates it was on Billboard's Top Country Charts for 20 weeks, peaking at No. 19. Not bad, Coyote!)
Had Coyote foreseen Garth Brooks' phenomenal popularity?
"Well, yeah, I thought he was gonna do well. But, hey, none of us -- not even Garth himself -- none of us thought he was gonna explode like that, because what do you have right here? You have a slightly overweight, balding, kind of . . . when you look at him, he's not really the biggest sex symbol in the world. But once he gets on stage, though, and he starts putting a show on, boy he is a showman. I think the showmanship and the energy that he portrays on stage is probably one of the reasons for his success. Let's face it, he just literally exploded, literally exploded. I don't think any of us can say that we could foresee that kind of success. It's kinda like he was the messiah. . . . When country . . . was on the edge of just really going big, he was the one that just made it explode."
"Clint Black was the guy that we really thought . . . had the inside track. And Garth just blew right by Clint and left him in the dust."
Coyote said that other than Alabama, who has been around quite a while, no one was really exhibiting a lot of showmanship until Garth Brooks came on the scene.
"It had to take somebody that was new, brand new, to come along to really take country over that edge. And what happened was he came out and had some great songs. And by the time 'Friends in Low Places' hit, when he was on tour, his shows were just knockin' people dead. Knockin' people dead. So that's what happened."
Coyote, a youthful 41 years old, is single.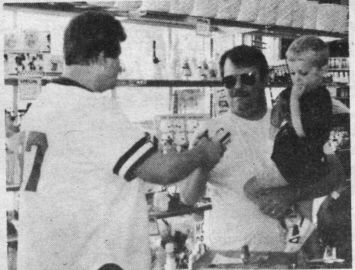 Bobby Jack Murphy signs up Mike Lewis and his son, Sam, at Cox's Colonial Drugs
"Any close calls? I asked.
"Oh yeah. Oh yeah. Oh yeah."
Speaking of age 41, Coyote said: "I might camp out there for a while."
I asked if he ever tries to go out in public incognito.
"No, I don't try to do that. No, I just go out. I guess, really, the best time to go incognito . . . you know, I run a lot, I usually run around 40 miles a week. This week I'll probably run around 50. I just do it because it makes me feel good. If anybody wants to see me incognito, then [they should] see me after I get through running. My hair's wet, I've got a ball cap on and I've got a sweaty shirt, and they may not know who the heck I am then," he chuckled. "Not that I'm trying to hide . . . of course, maybe it's a good idea, because I'm not looking my best after I get through running."
The tanned, trim deejay took up running eight years ago when he quit smoking, and, unless he is ill, he runs "every day. Every day."
"I'm just addicted to it," he confessed.
Coyote also plays golf, having taken up the game just last year.
"Are you a good golfer?" I asked.
"Oh yeah, I'm doin' great. I'm already starting to shoot in the lower four-letter words," he said, laughing in his infectious, inimitable way.
Besides playing on WAMZ's softball team, "The Country Hams," Coyote enjoys reading and traveling.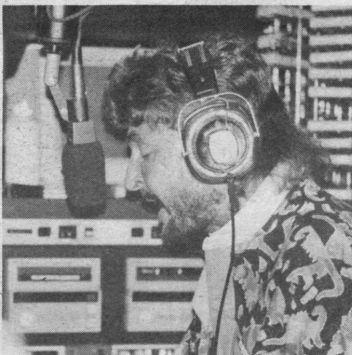 Coyote on the air
"And I date a lot," he said.
What is the best part of being Coyote Calhoun? I asked.
"The best part . . . this is what I like doing. I think the show biz aspect of radio is, really, is me. It's what I like. Gee, I think that the accomplishment that I'm proudest of is being able to bring all the free concerts we've brought every single year. To me, it's like, how can you have any more fun than that? Here I am lining up the talent . . . to come and play for an audience and . . . there's no charge for anyone to go see all these great people.
"And I think being able to hobnob with the artists . . . I like that an awful lot."
Summing up he added, "I've always liked a lot of attention. I'm not gonna lie to you. I like attention. So what better way to get attention than being in a place like this, especially when you're kinda flamboyant. Yeah, I'm kinda flamboyant. (This day he was wearing one of his great-looking "Mo' Betta" shirts from Oklahoma -- where Garth shops -- and I understand that he owns at least one very expensive Manuel jacket.) I just enjoy the show biz aspect of this. I think it's great."
And he never tires of meeting all the artists, he said.
"To me it's like Hillbilly Hollywood. It is. In my opinion I have the best job . . . of anyone. . . . I'm doing exactly what I want to do. There's nothing I'd rather do than what I'm doing right now," he said emphatically -- and convincingly.
What is the worst part of being Coyote Calhoun?
"That's kinda hard. . . . I don't know. I like it for the most part. I really can't say that there's any part, really, that I don't like."
Although he was hard pressed to come up with an example, he did say that sometimes when he goes into a public place alone, he feels a bit uncomfortable when people start to whisper and point him out. Having a companion along eliminates the problem.
"I like being around people. I really do. . . . I'm not the kind of person who can stay in the house a lot. I gotta be out doing something. If my house was a girlfriend, we'd have been divorced years ago, because I never spend any time there," he chuckled.
Answering my inquiry about his contacts with the public, Coyote said that "for the most part, people are real nice."
"One thing that does bother me though is . . . when somebody will come up and when you say 'Hi' to them, they say 'Well, you know, I always thought you were the biggest snob in the world.' And I say 'Why?' and they say 'Well, I've seen you . . .' and I say, 'Wait a minute, you don't even know me. How could I be a snob?' [and they will say] 'Well you'd walk in and you wouldn't talk.' I say, 'Well, it's like you walking into a place. . . . If you don't know somebody, you keep walking.' "
"If somebody stops and says 'Hi' to me, I'll sit around and I'll talk to them."
I asked Coyote if he would trade places with anyone, if that were possible. As I suspected, he said he wouldn't. After giving it some thought, however, he said that if he had to trade places with someone it would be Nolan Ryan, "when he was coming up."
"He's a good guy and he's a great pitcher and he's a baseball player."
How about someone he'd like to spend some time talking with?
"I'll tell you what. There's somebody in town right here I'd like to do that with. That's John Ed Pearce. Man, I think he's one of the most incredible writers. . . . I've read a couple of his books and I really enjoy his column a lot. And I just think the way that man writes, I'd just like to sit down and have dinner with him some night and just hear him talk. I think he is really one of the most incredible writers, and just the way he can paint a picture with words. . . ."
Coyote suggested that although one might expect him to choose a country artist to talk with, he said that he can always do that.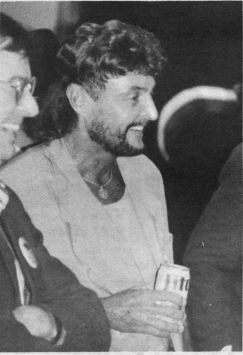 Coyote smiles as he watches videotaped messages [of] congratulations from record companies
Another person Coyote would like to talk with is Ted Williams, "the last guy to hit 400. You know, really an opinionated guy, but since I am a big baseball fan. . . . He is not, I guess, the most open of all people in the world. But he's the kind of guy if you were to sit down and talk with him, he'd tell you exactly what he thinks. . . ."
Coyote once had the opportunity to sit down and talk with Mickey Mantle and Billy Martin.
"That was great," he said. "Billy Martin, he was a neat guy. You could tell he was always right on the edge . . . he could explode at any time."
"I was talking to Billy Martin a lot. A lot. And Mickey Mantle. It's really kinda funny. Mickey Mantle . . . we were all like little kids sitting around talking to Mickey Mantle. And he knew I was in radio. And I'll never forget this. . . . You talk about one of the weirdest things that ever happened to me in my business? It was [when] Mickey Mantle turned to me and he goes 'You're a disc jockey here, right?' and I said 'Yeah.' [then Mantle asked] 'Country station?' I said 'Yeah.' And he goes, 'Hey, man, you ever met George Strait before? What kind of a guy is he anyway? Is he a pretty good guy?'
"Now here's Mickey Mantle asking me about George Strait and I'm saying, 'Look, man, you're Mickey Mantle. If you walked up to George Strait he'd probably die. He'd probably think "Uhh, uhh, uhh, you're Mickey . . ." Here you're Mickey Mantle and you're asking about George Strait. If George Strait knew that he would probably explode.' "
Although collecting baseball cards is very popular these days, Coyote doesn't collect them.
"To me ball cards were for . . . I don't know. I hate to see everybody take it so serious now. . . . it's not like for fun anymore where you put 'em in your [bicycle] spokes with clothespins," which Coyote did when he was a kid. He does enjoy looking at old baseball cards, however.
Would Coyote go back and change anything in his life if he had a chance?
"Wellll, yeahhh," there's a couple of things . . . probably relationships with people you've had in the past. There are a couple of them that have come by that . . . you kinda wish had worked, and they didn't." Coyote had become very serious at this point, but then quickly said that he doesn't spend much time brooding about the past. Anytime he starts to feel sorry for himself, he reminds himself:
"You have a great job, you've just won radio station of the year and they pay you a decent salary, people know who you are. There's people who would kill to be in your kind of shoes."
"You (he referred to himself) have your days. But I never get down, down, down, down, because I always kick myself in the butt . . . so I can kinda get myself out of that."
"I've got an old saying right here. It's called 'Ain't it amazing how much better your old baby looks when she's with somebody else?' "
"She didn't look that good with me," he laughed heartily.
How would Coyote Calhoun like for people to think of him?
"Well, I would like for people to think I'm a lot of fun. . . . I would like for people to think I really love the business I'm in, 'cause my business is really my life. I really like to live this business as my life. I'm real serious about it. I love it. I have a real passion for my work. My work to me is fun. I'm one of these kind of people, I actually love Monday morning. I mean, I can't wait to get back to work again. Shoot, get back to work on Monday morning, it's great. I've got a whole week ahead of me that I can have fun. So I would like people to think that I'm kinda gregarious, fun-loving, but I'd like for people also to think that I care about them, too. I don't want them to think that I don't care about the people in the community . . . because I really do, an awful lot. I think that's one of the things that you get a lot more gratification out of than anything else, is when you can help people. . . ."
He summed up: "Fun-loving, gregarious, and someone who cares about people, and someone who really likes his job a lot, and somebody who really wants to stay in Louisville for as long as he can to give something back to the community, because the community has given me a whole lot. They've given me a great lot. And without the people in this community I wouldn't have the kind of life I have now."
What does the future hold for Coyote, I wanted to know.
"I want to stay in the industry," he replied without hesitation. "I'll tell you what: I'd make a real lousy civilian. . . . I can't envision me doing anything else then what I'm doing now. . . . I've been in the market almost twenty years now. That's a long time -- for radio."
"Did you ever want to be a performer yourself?" I asked.
He gave a quick reply: "No. Oh, Lord. Oh, man. I've heard me sing before. No, I think I'll leave that to the professionals . . . to the entertainers."
He does wish that when he was a kid he had learned to play a guitar ("I think it would have been fun," he said.) but he has no plans to do it now.
I suggested that his life is probably full enough without playing the guitar.
"Yeah, it's pretty full."
l
From 5:00-9:00 a.m., the pleasant voice of Dick Braun wakes up WAMZ listeners and keeps them company on their way to work. He serves up top country music and he awards concert tickets and cash to listeners who have met the requirements: "When you hear your name, be caller No. 97 . . ." or "If you hear your name and call us [on the contest line] in nine minutes and 75 seconds. . . ."
Sometimes the lucky caller wins $100, sometimes it's the coveted "front row seats and backstage passes," and every now and then it's the switchboard-crippling biggie -- $1,000.
WAMZ is big on promotions that, combined with the top country music they play, keep the radio listener's ear glued to 97.5 on the dial. The distinctive WAMZ "Winners Van," which supplies prize-registration slips of paper, can be spotted at advertised locations around the listening area. And, of course, there is the post-card method of getting a listener's name in the hat.
Dick is a very friendly, likeable gentleman, with a great smile and a wonderful sense of humor. He is fun to talk with, and he frequently peppers his conversation with foreign phrases.
When did he join WAMZ, I asked.
"In 1982, mein sweets," he replied.
Braun will soon celebrate 40 years in the radio business.
Nowadays on the air he refers to his wife as "friendly wife." But there was a time when he referred to her as "300 pounds of love."
Describing Genny Braun, Bobby Jack told me: "Soaking wet, she may weigh 100 pounds."
Once when Dick was appearing at a dance to sign up potential prize winners on behalf of WAMZ, at the break a member of the band asked "friendly wife" if she would like to sing during the next break. Although she was flattered, Dick said, he was only "sorta flattered" (his tongue was in his cheek as he spoke), because he is the one who knows the words.
To back up his claim, he warbled into the phone for me: "Waltz across . . . ."
But it wasn't in Texas that he grew up. It was in Pittsburgh, Pa. He recalls that there probably were no country stations there, so it must have been a Cincinnati station that he and his friends tuned to so that they could ride around in their car and sing along with Red Foley and Roy Acuff.
"I grew up on polkas and Lefty Frizzell's music," he told me. And he learned to sing "Mom and Dad's Waltz."
"We weren't good but we had fun."
When I spotted Dick at the May 17 concert I asked him why WAMZ is the No. 1 radio station in the area.
"I don't know," he chuckled.
But in a later phone conversation he was more serious about his station's success:
"Because we listen to our listeners, mainly," he said.
And they also socialize with the listeners at concerts and other events.
"We're not off in our own enclave. We're right in there with our popcorn and soda."
Dick provided an update on the success of the May 17 concert with the local group Brothers By Choice, Sammy Kershaw, and Brooks & Dunn: An estimated 20,000 people showed up, and that number was surpassed only by the 1990 concert when Garth Brooks attracted 25,000 country fans.
l
"Why is WAMZ such a popular station? Why is it getting awards? I asked Bobby Jack Murphy.
"To me, the reason, as far as the national attention, is the fact that it's so popular here. . . . The station itself has its own personality. . . . The station itself has a friendly, to me it sounds friendly. . . . This is our station, if that makes sense. And I think you need that if you're in this business. . . . You gotta take pride in what you make. I think everybody here has that pride. They want to be the best radio station in town, not just the best country station. . . . And we have a good rapport with the audience . . . I think they know that we're just like them -- the guy next door situation. . . . The station feels like this area."
Bobby Jack was born in Louisville, but moved with his family to Marion County, Ky.
As a high-school student, he would hang around a radio station in Lebanon, Ky. He later accepted a job announcing for a small station in Paris, Ky., where he was paid 25 cents more per hour than he earned at Burger Queen.
"I thought I was gonna be rich," he told me.
He ate lemons all the way to the Paris in an effort to make his young voice sound deeper.
"Not everybody talks like Gary Owens," he said.
He was asked if he had a demo tape. He didn't.
"I didn't even know what a demo tape was," he said, but nevertheless he was hired that same night. After three months, the homesick young man returned to his parents' home in Lebanon and worked in a factory.
"I'd probably still be there if they hadn't laid me off," he said.
He returned to the radio station in Lebanon for a while, then moved to a full-time position with a station in Campbellsville, Ky.
He feels fortunate that he was well thought of at all the jobs he worked, which was probably due in large measure to his philosophy: "If you see something that needs to be done, you do it. . . . That's the way my parents brought me up."
Bobby Jack is very happy working at WAMZ, where he doesn't have to punch a time clock.
"As long as I get my job done, they don't care . . . I like that trust factor," he said.
In August Bobby Jack will have been with the company for 11 years [he started out at WAMZ's sister station, WHAS] and currently works the 9-to-2 deejay shift at WAMZ.
l
Dan Robinson, the 6:00-11:00 p.m. deejay, has been with WAMZ for about ten years.
Married less than a year, the polite, gentle-voiced radio personality who grew up in South Louisville now makes his home in Southern Indiana.
It is Dan who compiles and plays WAMZ's popular "Top 10 at 10," which is determined by the audience requests he receives throughout his shift. At the end of each year, he compiles a list of the Top 97 songs for that year, which is also determined by listener requests.
Dan, as well as other deejays, does remotes from various locations in the listening area. He also takes his turn as the WAMZ Spotter, on the lookout for persons wearing WAMZ buttons or for cars displaying 'AMZ bumper stickers. Prizes follow.
l
Perky Sunny Stevens, a very pleasant and attractive young woman, holds down the 11:00 p.m.-5:00 a.m. slot weekdays at the "hot new country station."
She has recently become a full-time employee at WAMZ, having spent some five years at the station.
I was amused at her reaction to my photographing her at the Brooks & Dunn concert.
"You make me feel like I'm . . . somebody," she said in an imposter-syndrome voice. It was apparent that she was anxious to get out of the camera's eye; one of the snapshots captured that anxiety.
Sunny is a very appropriate name for this graveyard-shift deejay.
l
Music Director Ron "Road" Hazard, a part-time deejay, acquired his nickname because he races cars at Louisville Motor Speedway. He lives in Bullitt County, and can be seen around the WAMZ listening area greeting customers and handing out WAMZ buttons, as well as handling other promotional appearances on behalf of his station.
I enjoyed meeting "Road Hazard" a couple of months ago at the local Camelot Super Store when I stopped in to meet and photograph country hunk Joe Diffie. Ron deserves high marks as one of WAMZ's good-will ambassadors.
His great radio voice notwithstanding, newscaster Ralph Dix is probably best known for his hearty laugh, which is usually triggered by Coyote's on-the-air jokes. It would be difficult to say which of the two WAMZ personalities has the better laugh.
Don Dunlap handles the traffic reports for 'AMZ and has been aptly dubbed "The Traffic Doctor." When I spotted him at the May 17 concert at the Speedway The Doctor told me that WAMZ is the only station in town that tells its audience where to be on the lookout for radar detectors.
L.G. Dupree fills the overnight deejay spot on Friday-Saturday, and also does production work for WAMZ.
Youthful "Nite Train" Lane faithfully works on his radio voice and enjoys attending WAMZ events, if the May 17 concert was an indication. Wearing cool shades and clamping a long, unlit cigarette in his teeth, he was filling a plastic cup with a beverage when I spotted him and attempted to preserve the moment with my camera. I missed, but he assured me I would have at least one more opportunity to photograph him at the keg before the concert was over.
According to Dick Braun, WAMZ production director Dave Lee "delivers powerful and imaginative" contest information and commercials for the station.
"He tells our listeners in such a way that they know big things are happening at WAMZ," Dick told me.
Although I'm not sure that I've heard it from Dave Lee, I have known for some time that big things are happening at WAMZ.
l
It was great fun meeting and talking with the friendly people who work for WAMZ Radio. My one regret is that deadline pressures and the enormity of the task didn't allow me to do the station and each employee justice. I am sure that some people and some important facts have been left out.
My special thanks to Coyote Calhoun, Bobby Jack Murphy and Dick Braun for their time and cooperation.
Thanks, also, to Letha Hall for filling in some of the blanks.
Congratulations, WAMZ!
Tags: