March 1992 Articles
Cover Story
Bob Bahr
Features
Jean Metcalfe
Paul Moffett
Staff
Columns
Berk Bryant
Henry C. Mayer
Jim Galipeau
Paul Moffett
Earl Meyers
CD Reviews
David DewBerry
Ronnie Dee
Keith Clements
Keith Clements
Paul Moffett
Performance Reviews
Paul Turner
William Brents
Leslie Turner
Rob Frayser
Calendar
Staff
News Item
Staff
Jean Metcalfe
Staff
Staff
Staff
Preview
Bob Bahr
Book Review
Ronnie Dee
Lee Bash
Opinion
Jean Metcalfe
Staff
Errata
Staff
Staff
Photos
Staff
LASC
Staff
Wally Stewart
Staff
Diana Black
Staff
Jean Metcalfe
Staff
Staff
Staff
Staff
Blogs
Got Shows?
Send Them To Us
Bookmark Louisville Music News.net with these handy
social bookmarking tools:
Available RSS Feeds
- Top Picks
- Today's Music
- Editor's Blog
- Articles
Add Louisville Music News' RSS Feed to Your Yahoo!

Issue`: March 1992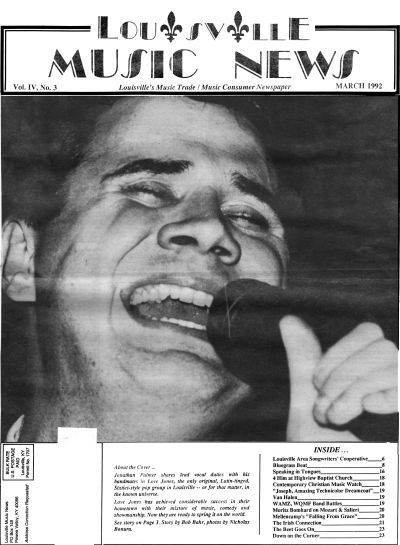 A Conversation with Love Jones
By Bob Bahr
Even with drummer Stuart Johnson's unique perspective as an auxiliary member of Love Jones, he still has a hard time fully explaining the old-style Latin pop, crooner stage-show group. His insider's view only allows him to more expertly grapple with the unique concept that Ben Daughtrey, Chris Hawpe, Jonathan Palmer and Barry Thomas have followed through to completion. Love Jones is a concept that depends equally on looks, audience participation, and songwriting.
"To see a picture of the band, you kind of don't get it," Johnson said. "To see them live, you get it."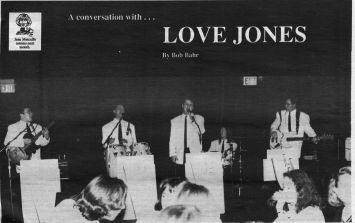 Undeniably, Love Jones makes for an arresting visual. Decked out in Ricky Richardo-meets-David Byrne slick white jackets, and crooning behind white, monogrammed, big-band style music stands lined up four-wide across the stage, a newcomer to the Love Jones show may laugh and shake their head all the way through the first song. The eyes say Las Vegas, the ears say rock 'n' roll, albeit strange rock 'n' roll.
Maybe by the second song, the visual element would be absorbed. The audience member would then tune into the songs, noting their careful structure, breezy Sixties pop feel, and soothing vocal harmonies. The music backs up the joke.
But as good as the songs are, a recording of Love Jones doesn't cut it either. Added Johnson, "You get a tape of the band, you kind of get it. You say, 'Who are these guys singing about young girls, the whiskey and the moon?' There's so much serious music out there now. You kind of go, 'If these guys are trying to be serious, then they are coming off being goofy.' But then they are not totally goofy, because the songs are good. I don't know. It's kind of hard to peg. I have this penchant for finding hard to peg projects to be a part of it," Johnson laughed, alluding to his last band, the late Domani.
Our hapless show-goer (a Love Jones gig is too much of a show to call it anything else) may settle in now, noting the irony and twisted humor in the lyrics that offsets the sincere tribute to samba-soaked pop. The novice thinks he or she has it all figured out.
Then comes the last zinger: the banter between songs, often called their "shtick" by the group. Daughtery may ask for "one" from the band a la James Brown, and the band gives him one loud beat. "Hit me zero times!" he yells out. A beat of silence. Then he asks for -4. He gets four beats of silence. The crows eats it up. After Jonathan introduces the next song in an oily, lounge-lizardish delivery, Ben quickly inserts, "I scrape the inside of your mother's skull with Jeffrey Dahmer's thumbnail." The crowd is stunned.
Love Jones is dangerous. "Nobody is above getting totally dogged," said percussionist and vocalist Ben Daughtrey. "I mean, gays, straights, anybody. Woman, man, child. Human, alien, animal. It's not a bashing."
So Love Jones is also part acerbic comedy routine. Completely spontaneous, like a stand-up act. The musicians, especially Daughtrey, strike out at the audience to provoke response and laughter. When there's no fodder for Daughtrey's quick brain in the crowd of faces, he turns on his bandmates. Zing!
Before the laughter subsides, the music has begun again. A satire of political satire songs targeting Manuel Noriega kicks in. "Manuel, you're really swell / Manuel, your stuff don't smell / Manuel, you're really swell / Manuel, you look like hell."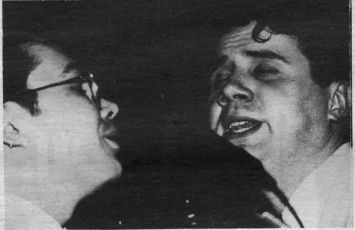 Hawpe, left and Palmer harmonize
The band may follow that up with "Chicken Ranch," a light funk tune with over-the-top falsetto vocals (courtesy of expert mimic Chris Hawpe). they are having fun with this music. It's funny, yet it's good in its own right.
Johnson tries again, "If you were to cross Bacharach and David with sort of a Sergio Mendes Latin thing, and maybe put a little Burns and Allen in there, or Bob and Ray, or any comedy team ... they are really hilarious."
"One time I almost fell off the drum stand," he continued. "I think it was New Year's Eve. It was insane. Usually it's something that Ben says, and usually it's something that Ben doesn't remember saying. It's usually something so off the wall that you would never expect someone to say it in a public place, much less get out of there without someone trying to come punch you in the stomach or something."
A dangerous band indeed. In a recent interview at the Bristol Bar & Grill, the band talked about Love Jones in between quips, sips, salads, and one-liners.
LMN: Valentine's Day must be a big day for you guys, it being the holiday of love and all. Do you have special plans for Valentine's Day?
BEN: As a band? Or as human beings?
LMN: As a band of human beings.
JONATHAN: We'll be playing in Chicago at a Valentine's Day party, at a bar called Lucky's.
Interrupted BEN: Valentine's Day, or February 14, is an insignificant date for the group, because when we play, every day is Valentine's Day, Bob.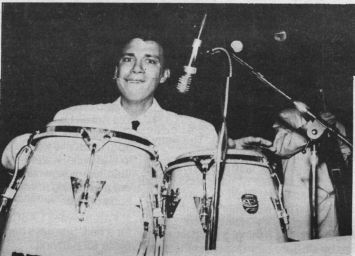 Ben Daughtrey, co-founder of Love Jones
JONATHAN: That's the saddest thing I've ever heard in my life.
Getting serious, Palmer dove into a brief explanation of Love Jones, the first of many attempts to nail down the simultaneously silly and serious Love Jones thang.
"We want to imbue our kind of music with a sense of tradition, which I think it has musically, but we also want to couch it in that as far as presentation," Palmer said. "I've always 舒 and I think Ben would agree with this 舒 been drawn to people who make strong music, lyrically and musically, and also take time to present it in a form that is appealing visually or stylistically. It draws you into a world where you can appreciate what they're doing more."
The Love Jones world is certainly alien to anything that is currently making the rounds in Louisville, and the band is rewarded for this attendance records and full houses at local gigs. A planned trip to Los Angeles would let more people in on the joke 舒 and the music.
LMN: I was wondering how it would go off in L.A. because your shows 舒 one way to describe them is exotic .. . .
BEN: Another way to describe them is pathetic.
LMN: ... both of those are new to the Midwest, whereas in L.A. you would be just another exotic and pathetic ...

BEN: Nobody is doing this type of music ...
JONATHAN: In this combination.
BEN: In the entertainment industry today 舒 we're doing just the opposite. They take people with no talent and turn them into stars.
JONATHAN: We're stars and we're trying to act like people with no talent.
BEN: But we'll stand out like a sore thumb. Nobody does what we do. We're coming out of several different genres ... we're coming out of the old school of good songwriting, entertainment 舒 like personalities on stage. Most people are like, "Okay, this next song is called 'Why I Cry Myself to Sleep at Night.'ÿ" And then they stand up there on the stage like this for five minutes staring at the floor, playing. We're trying to be entertaining and engaging. We're trying to get the audience involved. Now the rock and roll element of it is, we are writing our own music. Before you'd have somebody like Frank Sinatra, your Oscar Brown Jr., and your Captain Kangaroo. These people were very engaging and entertaining, but they didn't write their own material, with the possible exception of Mr. Kangaroo.
JONATHAN: That's "The Captain" to you, pal.
BEN: But that's where we stand out like a sore thumb anywhere we play, because nobody is doing this type of melodic music, this type of old school entertainment. And plus, the jokes can be made regional anywhere. So you just look at the audience, pick out their weak spots, and tear them to shreds.
JONATHAN: And you say, 'Hello Cleveland.'
The last time Love Jones said hello to L.A., it was a smash. Love Jones is confident about their chances in Los Angeles partly due to the success of a short visit last fall.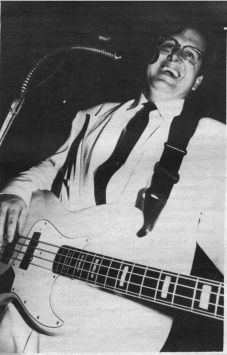 Love Jones' bassist Barry Thomas
"We got out there and we played this little club," said Johnson, "and people were flipping. The club owner was like, 'Come be the house band. I'll give you the house band gig.' They were like, 'Well, we live in Louisville.' Three or four hours later on that night, they were like, 'Man, we'd be stupid not to take these guys up on it.'
"Then a guy who was there that night who apparently was an A&R person at a small record company said, 'Will you come over and play in my backyard?' The band, being of the nature that it is 舒 low volume, very few instruments, harmonizing, and being as funny as they are and as friendly as they are, it's not that big of a deal for us to pile our stuff in the car and go play in somebody's backyard and it be really successful. I hadn't played backyards since I was about 12 or 13 years old, and had forgotten about how fun they were.
Johnson continued, "So we went and played in this due's backyard, and there were like, heavy metal dues galore. There were a couple members from the band Dumpster out there. And they were freaking. They hadn't heard the group before, they were cracking up at the humor, and they were just kicking back and having a good time. and t wasn't any sort of musical competition between us and whoever was standing there, because I guarantee there wasn't anybody out there doing what we do, so there wasn't anybody to say, 'Well we do what you do better.' It wasn't any of that."
Echoed Daughtrey, "Everybody went nuts; everybody liked it. Then it was kind of a bummer when we left because we were just getting rolling. So we've got to go back out."
Daughtrey, for one, doesn't want to live in Los Angeles. He has already gotten a taste of the big time with Squirrel Bait, a seminal Louisville punk band, in which he was the drummer.
"I don't know how I ever got into Squirrel Bait, but I'm glad I did," said Daughtrey. "It opened up whole new things for me that I didn't even know were around. I didn't know that you could get in a band, put out a record, go on tour and be in magazines and things. That just seemed totally out of reach. My idea of rock and roll mecca would have been the Toy Tiger. That would be as far as a normal human being could go. Then like a god would play in Louisville Gardens. Now I'm back to the same thing. If we could play at the Toy Tiger, I'd probably hold up the old .38 and take my head clear off.
"This is the band I've always wanted to be in. They all led up to this."
While the band makes a conscious effort to keep everything equal, doling out band-related tasks with a fair hand and assigning songwriting credits to the entire group, Daughtrey's influence is great. Jonathan Palmer may take the lion's share of lead vocal duties, but Daughtrey's slightly nasal, soulful voice fattens the sound considerably. His work on the congas is integral to the band's Latin feel. And his comedic mind is always on overdrive.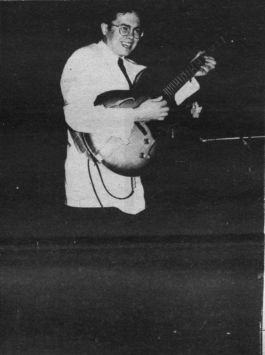 Chris Hawpe on guitar and falsetto
Last year, Daughtrey took a leave of absence to play percussion on tour with the Lemonheads, an underground success story from Boston. Love Jones continued in Louisville, sans Daughtrey, as a garage surf band called the Soda Jerks. Not much later, a throat operation to remove his tonsils, adenoids, and nodes on his vocal chords slowed Daughtrey down a little bit, but just a little.
"It was bad," he said. "A lot of people called me froggy, and I don't think it was because of the way I looked. We did a bunch of shows anyway. I developed a sort of Louis Armstrong style."
The band held together through these storms, and some others caused by the inevitable tensions inherent in any musical group, always buoyed by the quartet's natural chemistry.
It's really weird, man," Johnson said. "Every now and then, a magical combination comes along with people where the sum of the parts is greater than the individual pieces. With this band, [they are] writing beyond their knowledge and playing a groove that is much more mature than what I think any of the individuals are capable of producing. They realize that. I've seen them stop and say to each other, 'What we have is really a great thing, and to let it go to waste would be just that.' So as far as I know, they're in for the long haul. They're there."
Daughtrey is what drew them together Bassist and co-founder Barry Thomas was a fan of Daughtrey's old band Fanci Pantz, and the two struck up a friendship. After Fanci Pantz dissolved, the first Love Jones was born. Daughtrey envisioned it as an R&B revue with a big sound. By most accounts, it was more of a big mess.
"I saw Love Jones. I thought it sucked," said Palmer. "I mean, I liked what everybody was doing individually, but I didn't really think it was all together. I didn't gel, and it was so disparate. I was pretty honest about it.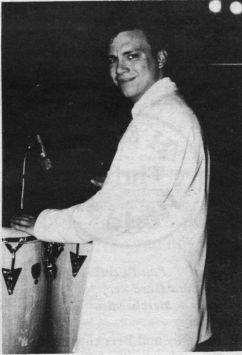 Ben Daughtrey: 'Beat it!;
Palmer's criticism turned into participation.
"The one time I saw then, it was their last show," Palmer said. "We had a series of conversations with he and Barry and me about what they should do. Then we kind of came up with the idea 舒 it was Ben's idea and we just sort of fleshed it out 舒 of taking the band and making it into a vocal group. Originally, it was just, 'Well hell, we don't need a drummer. We'll just bang on a garbage can or something.'ÿ"
Ben picked it up, "I had an idea for the band. I decided it would be the total opposite of everything we had done before. No volume. Total vocal harmonies. Total beauty of melody."
Palmer recruited high school friend and guitarist Hawpe, and the new Love Jones was born, a vocal group intent on undoing what all the other bands were doing. In the interview, Daughtrey, Palmer and Thomas discussed the new concept.
JONATHAN: The music structurally is a hybrid of '60s and '70s soul and a Latin-pop thing.
BARRY: It's a lot of elements, really. You could say that we are really into sambas and stuff, but somebody from Brazil is going to listen to us and laugh. Or you could say we have sort of a jazz influence; some jazzhead is going to listen to us and just laugh. Or say it's soul. Edwin Starr would just laugh at us.
LMN: Everybody laughs anyway.
BARRY: Yeah, but for the wrong reasons.
JONATHAN: You can't laugh for the wrong reasons.
BEN: It's funny music.
JONATHAN: And we're funny looking.
BEN: It's not meant to be taken seriously.
LMN: Could you ever take yourself seriously, and make a serious album? Is that conceivable?
BEN: Yeah! We take the music seriously. We want to write the best, catchiest songs possible. That is the most serious part. And now we're also starting to take ourselves more seriously as far as sounding really good. We're trying to rehearse more. When we play out professionally, we want to look good, we want to sound good, we want to give a professional performance. I've even cut back on my drinking a little bit. Not much, but enough where I'm not a blithering idiot.
JONATHAN: And I'm drinking more, so it evens out.
BEN: I get a contact buzz from when he breathes on me.
BARRY: It's a case where now we look different from everybody [in the audience]. We're not up there in jeans ...
BEN: And sound different.
JONATHAN: And I'm more jowly than most.
BEN: Yeah, you definitely have more of a jowl than most of the audience.
JONATHAN: Because they're kids.
BEN: Kids and punks. They don't understand anything that we're doing anyway, so screw 'em.
Love Jones provides just enough guidance for the manic Daughtrey to keep him running at maximum creativity without self-destructing. The framework comes from Thomas, the quiet, strong organizer, and Palmer, the angst-tinged intellectual. Palmer's sense of humor helps ground the sentiment and silliness, clearing the air with wry lyrics that are shockingly simple. "I like that dress / I'd like to see it on the floor / I'd like to see you close the door close your eyes and come to me," Palmer sings in "I Like Young Girls," and the smarminess can't cover the punch.
Daughtrey's charisma demands attention, but Palmer's Vegas act croon is the bread and butter of the Love Jones sound. At times, Palmer is clearly hamming it up for laughs, soaring to the high note, lounging in the low registers. His image and demeanor is reminiscent of Bill Murray's Saturday Night Live skit with the lounge crooner, and yet his soulfulness brings you back to the present. If he is as cheesy as he seems to try to be, why are you dancing? Why are you emotionally connecting to the music?
Palmer has the air of someone injured by knowledge, wounded by sensitivity. It has pushed him to find humor in the outrageous, to poke fun at sentiment, to be as dangerous as Daughtrey.
And as spontaneous. At the Bristol, Love Jones discussed their songwriting process.
BEN: When we write lyrics ... it would usually take between 5 and 20 minutes to write an entire song.
JONATHAN: And if somebody comes in with lyrics that are thought out, they are going to be changed substantially in the space of 5 to 10 minutes, and that will be the final take.
BEN: This will be an example of how we write a song. Barry came in one night complaining that he had learned how to sing. So we listened to his shriek, and we just all busted out laughing. I thought it was the dumbest thing I'd ever heard. And then we all started singing it ...
JONATHAN: So then we built this very simple kind of blues thing around it ...
BEN: In about ten minutes.
JONATHAN: We were really happy with it.
BEN: That happens with every song. If somebody has something written prior ... and usually they do, the lyrics just get cut to pieces when they come in. When I wrote "Whiskey, the Moon, and Me," Jonathan was like 'What, are you kidding me? That is cheesy.' The big trick that Jonathan taught me is if you write something that is too cheesy, throw the whammy in it, which is to ...
BOTH: Make it cheesier.
BEN: Like, he's from outer space. He's got three heads.
JONATHAN: Originally that song was just about being depressed and sitting in your room.
BEN: It was dumb.
JONATHAN: And I said, what if we put a Major Tom kind of a twist to it, and make him instead of this philosophical astronaut, make him this lonely drunk.
BEN: Drunken astronaut. Lonely drunken astronaut.
JONATHAN: So the drunken astronaut philosophy is kind of one of the basic tenets of our whole raison d'etre.
BEN: Never take yourself too seriously.
One of Love Jones' oldest songs, "Ohio River," seems the closest thing to sentimentality and earnestness in their song list. Was this a momentary lapse of reason? Were they treating the subject seriously on "Ohio River?"
BEN: It's just fun. It's just a happy song. We had had so much fun hangin' out and water skiing on the river that we decided to write a song to celebrate it.
JONATHAN: There's a couple swipes in it, like the fact that they're drinking in a boat, which is clearly illegal.
BEN: Clearly illegal. That's why we counteract that by saying you should put your life vest on.
JONATHAN: Or the thing about saying the Ohio River is deep and brown.
BEN: Which it is. Both deep and also brown.
JONATHAN: Which goes back to the ...
BOTH: Drunken astronaut theory.
LMN: It just seems more sincere.
JONATHAN: Well, yeah, it is sincere. We're sincere about ...
BOTH: Having a good time.
JONATHAN: The songs where we are not sincere, and I think there are a handful of them . ..
LMN: I guess I was saying sincere as opposed to intentionally cheesy.
BEN: Or smarmy would be a better word.
JONATHAN: There are certain songs where we push the cheese ...
BEN: There are other songs where we cut it.
JONATHAN: And those are either my favorites or are songs that I just can't get too excited about. There's a song we do called "Me." It's just so ... it's really smarmy. We kind of purposely made it that way, and consequently we don't play it very often. Hardly ever. Then there's another song that we really put the foot to the floor on the cheesy accelerator called "Custom Van." We took a scenario and we kind of lampooned the storytelling songs of the '70s. I have some respect for Harry Chapin.
BEN: I don't.
The two argued a lot over chronologies and details, with Daughtrey always opting for the most colorful version. The discussion invariably wandered back to the band's new image, and its implications. The biggest change was the addition of the big-band style music stands and the white jackets.
Said Ben, "We had the good songs, we had everything, but we didn't have the image. So we thought it would be good to refine what we do, go ahead and give ourselves an image, and it kind of all just fell into place. We always wanted to have matching suits. We kept talking about it, so then we finally decided to go ahead and do it. It's the whole thing that I keep talking about, it's just like old-time entertainment. It's new-time music, it's got things from the old, but it has new elements as well. Plus [the music stands] are practical; we can hang our set lists on them. We're thinking of building coasters into the tops of those to hold our drinks in."
The band thinks visual, although they are far from MTV poster boys.
BEN: I can see doing like a TV variety show kind of thing with a big band. But now, it's really, really cool on a low budget. We can set up really fast, put the suits on and do the show. That's part of the reason why we did this band in the first place, and why it's going to stay this way.
JONATHAN: But I think ...
BEN: If I could say something and butt in once again, I would like to see us moving toward orchestration and big band stuff. Now we can afford to be this small, but I think everybody in the band would agree that if we got big and made money, the totally hot thing would be to have a 30-piece orchestra behind us, and a TV show kind of set with dancers and everything, and do like a huge show .. .
JONATHAN: But even if we can't get to that, I mean that's a money situation, and the bottom line is we've been together two years. March 13 is our two-year anniversary (BEN: Aaaww!) or March 11. Looking at that, and looking at where we are now, it's just such a progression. I'm just as happy now as I was then, and I'm having just as much fun. The songwriting has progressed and I still think the songwriting can go a lot farther. In the same vein, but maybe dealing with some heavier issues, or becoming more complex lyrically or musically. Even as different as it is, we're still pretty much a simple operation.
BEN: We've got to learn how to play our instruments. If we learn how to play our instruments, who KNOWS where we can be ... in the stratosphere.
Truthfully, Love Jones doesn't dazzle with instrumental flash. Chris Hawpe's guitar work is exactly what is needed, no more, no less. Thomas' bass lines are rock solid, but again, more workmanlike than spectacular. The dazzle is in the vocal harmonies, with Daughtrey singing the melody, Palmer taking the lead then jumping into the harmony, and Hawpe hitting the ceiling with his falsetto voice. Palmer and Hawpe have good ears for harmony; they rarely miss and are sometimes downright celestial. Hawpe's guitar chord choices always fit, and his music writing has a classic feel while being innovative.
Love Jones with its original four members had a strong following in Louisville. but with the addition of Johnson on drums, the band exploded. Johnson more than doubled Love Jones' dynamic range, and in the process made the group more comparable to other bands on the circuit. Suddenly, more people were dancing to the Love Jones music.
"I think that the show has become more energetic and I think the show has become more accessible," Johnson said. "Whereas the show before, with the congas driving it, it could only get so wild. And now, what I'm doing frees Ben up a little bit to go off, and what I'm doing sort of rounds out the sound, rounds out the bottom of it a little bit, so that somebody walking into the show wouldn't think it's some kind of easy listening thing. It's more of like a concert. Before you kind of had to be patient and look for it. Once you saw it, it was cool. Now I think it's a little more obvious," he said.
The Love Jones members expressed a lot of gratitude for Johnson's contributions. Thomas went so far as to call him the missing link, the thing giving Love Jones that final push. On his part, Johnson said he had no problem easing into the band's groove.
"As a matter of fact, their songs are written really well, and the grooves are really strong," said Johnson. "I always joke about just sitting in the back seat of the bus while Ben drives, and it's really true. The pulse and everything like that is there, and what I play just seems to me to be the obvious thing to play to go along with it."
"I started out with them playing shakers and cowbells and stuff like that, and eventually the groove felt good enough that Ben was like, 'Well, why don't you bring out your drums and we'll see how it sounds.' He was really kind of gun shy about that, because they had tried out a couple of guys and they were sort of overpowering. With me, I usually try to stay pretty conscious of what they are doing so I don't step on it. What they have I think is really special, and I'd hate to goof it up by trying to steal the show or trying ... you know how it is. It's really easy for a drummer to be overpowering," Johnson said.
The Bristol three discussed Johnson's role in Love Jones.
BEN: Stuart ... adds a whole new dimension to the sound of the group.
LMN: In what way?
JONATHAN: It gives it a spine.
BEN: Yeah. It was kind of one-dimensional ...
JONATHAN: It was very low-key and simple ...
BEN: Now it's like if we want to play over the top and get people dancing and get people crazy, or we can bring it down with brushes. It adds another color to the palette.
LMN: What's the latest on that?
BEN: He's a member.
BARRY: As much as he wants to be, as much as he's comfortable with.
BEN: He likes it because he's just gone through hell with Domani, and now he likes his position in the group. He plays drums, and if he wants to throw something in, fine. He's kind of made the commitment that he's going to go to California with us. He's the drummer in the band. When he gets a haircut, then we'll talk contracts.
BARRY: That's the only problem we have with him.
LMN: But he doesn't have a music stand.
BEN: We said you're not going to get a music stand until you get a haircut.
JONATHAN: We're actually going to customize his drum set for him 舒 once he gets a haircut.
I asked Johnson if he considered himself a full-fledged member of Love Jones. His reply: "Well, we're just taking it a day at a time. In the wake of all the other stuff that was going on, I'm just going to take things slow at first," Johnson said quietly.
* * *
LMN: So what would you say to somebody who sat in the audience, didn't buy your self-deprecation, and said, "These are talented people and they are not using it to the fullest?"
BEN: Screw you if you can't take a joke.
* * *
So what's the joke and what's serious? The thought of Love Jones without humor is horrible, yet the group is completely serious about the music it makes. How can this contradiction exist, without one thing being false, either the humor or the serious musicianship? The answer is in the songwriting. What Daughtrey and Palmer said about their songwriting is no lie; it truly is unpremeditated and unforced.
From the very first instant of its existence, each Love Jones song is funny, sincere, and spontaneous. The result is freshness and complexity. A layer of irony, a layer of homage to things Latino. A layer of funkiness, a layer of simple pop. A layer of squeaky-clean pop, a layer of violent, sexist comedy. A layer of nerdiness, an overall sheen of hipness. "Our music is based in ignorance," Thomas said. Yet it is more sophisticated than a lot of music.
"It's really weird," began Johnson. "It's not like they try really hard, although they work hard at it, it's not really a labored process. They are great creators with found objects. They really take advantage of the things around them. If someone were to come in with something that they were singing in the shower, and it was catchy, they wouldn't down it and say, "Well that's silly. That's not something we could do on stage because it's something you sing in the shower.' Just kind of taking something and going with the flow.
"They don't get together structurally and write on a regular basis. It's just every now and then something will hit them and they'll say, 'We haven't written anything in a while. Let's get together.' Then they'll get together at somebody's house, get relaxed, and before you know it, they'll crank out another song. And the weird thing is, the songs they're writing are like beyond their years, as far as experience goes," Johnson said.
"These guys have really good ears on them. They pick out chords and sing harmonies and sing melodies against these chords that are like somebody who's had a great deal of education. They have the gift of just having really good ears. I've noticed that they were playing beyond their years in that they didn't know the names of the chords at all. Chris will doodle around on the chord, and he'll like alter his fingering a little bit so that it sounds a little bit different, and it's crazy. To listen to some of these song, literally I think Bacharach and David could have written some of this stuff," he said.
But you can't spend more than 10 minutes with the band and not see that they'll never be satisfied. I asked them:
LMN: You all have GOT to have some twist in mind that you are dying to spring on this band.
JONATHAN: Oh yeah.
BEN: Totally.
JONATHAN: But I don't know what it's going to be. We don't know. That's why it keeps us interested, because something weird is GOING to happen. We're going to be adding some new member, or doing something differently, or ...
BEN: An all-nude revue.
JONATHAN: It could be presentation-oriented or it could be songwriting-oriented. But something is going to change.
BARRY: We were batting ideas around for a musical at one point, where we had a script and dialogue in between. It was almost like "Oklahoma!" or something.
BEN: Like each song would be like a number in a musical, which is still not totally out of the picture.
JONATHAN: I think actually we are a lot closer to being capable of doing something like that and pulling it off. We're just comfortable on stage now. We always were, but it was more chaotic before. We're starting to experiment now with what we can do on stage.
LMN: Where do you see yourself in a year?
BEN: International pop superstar. Possibly with a film career.
BARRY: And he's being completely honest. And I hope we're really successful at that. [All laugh.]
BARRY: Seriously, my only goal ever is to tour Europe. To do that, we just have to get a record out on any label. If we get a record out, I think we could go out and be able to survive on the money we make. That may sound really corny ...
BEN: That's all right. The only one that's going to be unhappy is Chris Hawpe. He's used to a little more cushioned lifestyle than us.
BEN: I don't really know how far we can go with what we're doing. To me, the music is kind of universal. If somebody was willing to take a chance, I think it would be really popular. And we're total hams. Any chance for us to get into a video, interviews, or any kind of junk like that, we're going to jump all over it.
* * *
For now, the world is safe. The most dangerous band in Louisville remains there, sweeping young ladies off their feet with simple pop hooks, moving men's heart with soulful harmonies, stoking the ire of humorless bar owners.
BEN: We're banned from Phoenix Hill.
LMN: Why?
BEN: Because I called it Penis Hill on stage innumerable times. We can't play there anymore.
JONATHAN: I can PLAY wherever I want, man. I could walk in there tonight and play. You know, pinball, blackjack ...
BEN: Pick Up the Middle-Aged Woman in the Tube Top. There's a lot of games you could play there.
JONATHAN: Russian Roulette with a broken condom. [Groans all around.]
That decidedly lewd comment ended the interview. Daughtrey ran over and started talking with a beautiful female acquaintance of his. Thomas discussed a few lingering details with me. And Palmer was out the door within 15 seconds.
The way their different personalities interact is almost laughably stereotypical. The straight man, the comic, the impetuous youth, the wry thinker, the hard-core musician. It comes off like a bad sit-com. But the chemistry that comes from these guys produces something else: old-style entertainment with new-style attitudes, delivered via samba beats and crooned pop lyrics. If there are other bands like Love Jones in the world, they are well hidden.
Tags: