This page was generated in 0.04 seconds.
July 2012 Articles
Cover Story
Kevin Gibson
Features
Eddy Metal
Columns
Berk Bryant
Mike Stout
Djinn Shockley
Gary Sampson
Martin Z. Kasdan Jr.
Eddy Metal
Alexander Campbell
Performance Reviews
Kurt Reynolds
Bookmark Louisville Music News.net with these handy
social bookmarking tools:
Available RSS Feeds
- Top Picks
- Today's Music
- Editor's Blog
- Articles
Add Louisville Music News' RSS Feed to Your Yahoo!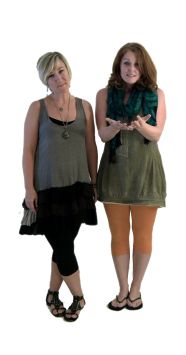 kRi & Hettie
kRi and hettie: They can't make this stuff up
kRi and hettie are a Louisville-based acoustic duo that isn't like most acoustic duos. It's a bit hard to explain, really.
For one, they don't just play songs – they also give motivational speeches. They spread positivity and align themselves with causes they believe in. They named their tour van.
They also recently released a new EP titled tRee and betty, and will appear in a film that premieres this month in Columbus, Ohio. Oh, and they travel. A LOT.
Which means that when you ask them for an interview, you'll likely get answers to your questions via mobile device, and likely all in lower case. But they also are more than willing to share plenty of inside info.
"Our favorite road snacks are peanut butter tacos, banana chips, lemon water and blue chewing gum," either kRi or hettie (or maybe both) typed while driving through the Southeast recently.
kRi (we can maybe assume) also noted, "I'm typing these answers out on my Blackberry from the passenger seat on I-40, so please forgive the typos and grammar issues."
Forgiven. Hopefully hettie was driving when that one came through. Meanwhile, buckle up and enjoy kRi and hettie's musings from the road, as they discuss the film, their latest EP, touring, and their various causes.
Louisville Music News: Are kRi and hettie your real names, or just clever stage names?
kRi and Hettie: A little bit of both. Heather Mays has always been called hettie by her family in Ashland KY. kRi, born Kristy Martin, was nicknamed "Kri" by her little sister Hannah Bug.
LMN: You've been traveling a lot in support of your latest EP. Where have you toured, and what has the experience been like?
K&H: LOL. Yeah, we do travel a lot. Thank you, sweet angel [and local singer-songwriter] Katy Rene for loving our dog Early Morning so much. We are actually answering these questions on our way to the Teen Institute at Mars Hill College in North Carolina to give a motivational speech and concert.
The record has gone over very well; we actually need to order more soon! All traveling musicians can concur that having merchandise keeps gas in the tank. We are blessed with three other CDs: Sirens; Chasin' the Sun (produced with the help of a Kentucky foundation for women grant), and kRi and hettie LIVE (mastered tracks from our WFPK live lunch).
Recently we returned from our "girls gone west" tour through Texas, Colorado and California. The experience was breathtaking. We played seventeen gigs; everything from bars, churches, living rooms, AA meetings, and radio on-airs. We were received warmly everywhere and that validated our time away from home.
LMN: Your tour van was named "Joy"; what's the story behind that? Is it because the name The Mystery Machine had already been taken?
K&H: Ahhhhh, Joy. We really loved her. She came to us as an answered prayer. We had already booked our 2009 tour to California before we had a legit travel vehicle. We are huge believers in intention and had made a vision board the year before – it had a map of the U.S. and color printouts of Honda Elements. Joy was gifted to us from Hettie's dad who said something like, "I have no idea why I'm giving this to you."
We named her "Joy" because we spent so much time traveling [that] we always wanted to "be in our Joy." She was this cute soccer van that got us safely across the country twice, and made it up to Wisconsin and over to the Carolinas. Things we miss most about her: her comfortable plush seats, her modest appetite for gas and her tape deck!
We now drive a Honda Element: same one from our old vision board, same color and everything. It's like we had to be in our joy before we could be in our element ... We can't even make this stuff up. :)
LMN: How did you become associated with MCB Records, and how did that change your success and approach to your music?
K&H: We met Nick Stevens , owner of Downtown Recording, at the Vernon Club a few years ago while playing Doulapalooza. He gave us his card and said he'd like to produce us. Enter Tedd Stevens, CEO of MCB Records. MCB is a local music label that focuses on creating singles. We liked the idea of taking ourselves more seriously and these two fellas gave us fresh ears to bounce our ideas off of. We signed with the label and recorded five original songs and one Bret Dennon cover. That EP tRee and betty is getting air play all over the US; we are very proud of it.
We have since reclaimed our independence and remain friends with the guys there. MCB's biggest asset is the ability to create amazing sound recordings. The experience revealed to us that what we do in our live experience is what makes us unique. Our goal with our current recording project is to capture the centergy that happens between us.
LMN: When I first saw a photo of you, I made the quick assumption that you were a folk acoustic duo, when in fact your music is anything but that – it incorporates beats and elements of rap and hip hop. How did you create your sound and how has it evolved?
K&H: Our music is so lyrically based and with the spoken word it was an easy decision to try and add in hip hop and rap. We experimented with our sound and style on our spring EP, tRee and betty. The experience was exciting. The album is exciting. It makes you want to rollerskate. With the project we are creating now independently, we are relaxing back into our authentic sound – which is simply two girls and one guitar.
LMN: Talk a bit about tRee and betty. What are your favorite tracks?
K&H: The record is an experiment with sound and style. Its a very polished version of kRi and hettie. The production process was really educational and our musicianship is better because of the studio experience. Our favorite track off that EP is "Silver Lining."
LMN: I heard that you were cast in a movie, and that one of your songs will appear on the soundtrack. That sounds really exciting – what can you share about that project?
K&H: The movie is "Homecoming," and the premiere is July 12 in Columbus, Ohio. Our involvement is one of those right place, right time kinda things. Our friend and hair artist Dan Frey, from Ohio, does professional hair, make-up and costume design, and he was booked for the movie. He invited us up to observe the cast read-through because he is just cool like that.
Well, as it happened, they needed a female to read and kRi got to sit in. By the end of the afternoon, kRi had a minor speaking part. We slipped the director our CD on his way out to his car. He called back in 15 minutes, saying "Heal Me" was perfect for the montage. We can't even make this stuff up!
LMN: You are proudly involved in the charity group Cenpatico's Peaceful Warrior program, and were even commissioned to write a theme song ("Change it Up"). Tell me about that organization and its purpose. How did you get involved?
K&H: we are so proud of this program and so thankful to be affiliated with such a giving organization. Cenpatico is based out of Austin, Texas, and they have developed the amazing program, "Peaceful Warrior." The curriculum focuses on girls aged 9-17 and in the foster care system. They incorporate art and yoga and teach the girls that where they come from doesn't determine where they are going. The girls in the pilot program are thriving. They are gaining confidence, trust and inner and outer strength. "Change it Up," the theme song, was very fun to create. The assignment to write a song that appeals to that age group specifically has always been a dream of ours. It was a wonderful challenge.
LMN: This kind of involvement seems to echo in the positive content of your songs. Everything I've heard from you guys is very infectious and feel-good. Is that intentional, or are you just generally happy people?
K&H: Our positivity comes from our own need for hope. We sing from our hearts. We know music is medicine and positive thoughts are healing, contagious, and vital. Our personal challenges and experiences have been necessary for us to uncover who we are becoming. And yes, we have always been generally happy people.
LMN: What is next for kRi and hettie? More touring? Another EP?
K&H: We are on tour half of our lives. We are traveling back through the Southeast in July and going up to the New England states in September. We are incorporating talks and workshops into our booking. We are currently creating our new recorded sound to "feel" like us – taking an artistic approach, by blending poetry with folk instrumentation and earth tones.
With our time at home, we are very focused on our education programs. We teach music workshops emphasizing originality, empowerment, self esteem, true voice. Our participants are creating, writing, and performing their original songs.
LMN: One last question: Is it true that kRI and hettie rhymes with "tRee and betty"?
K&H: Oooooh yeah!
Tags: