January 1991 Articles
Cover Story
Jean Metcalfe
Columns
Henry C. Mayer
Berk Bryant
Perry W. Aberli
Paul Moffett
CD Reviews
Patrick Fitzgerald
Michael Campbell
Performance Reviews
William Brents
Paul Moffett
Paul Moffett
Jean Metcalfe
Patrick Fitzgerald
Calendar
Staff
News Item
Staff
Preview
Staff
Errata
Staff
Photos
Staff
LASC
Wally Stewart
Diana Black
Diana Black
Diana Black
Jean Metcalfe
Staff
Music Business News
Staff
Paul Moffett
Blogs
Got Shows?
Send Them To Us
Bookmark Louisville Music News.net with these handy
social bookmarking tools:
Available RSS Feeds
- Top Picks
- Today's Music
- Editor's Blog
- Articles
Add Louisville Music News' RSS Feed to Your Yahoo!

Issue`: January 1991
Let Me Tell You About …
The Kentucky Headhunters
By Jean Metcalfe
This is the second half of a two-port look at The Kentucky Headhunters, the award-winning band whose debut album, "Pickin' On Nashville" recently became, in a one-year span, a million seller, making it the fastest-selling debut in the history of country music.
On a winter day early in 1978, while Mitchell Fox was working in New York at Swan Song, Led Zeppelin's record company, he answered a ringing telephone. That was out of character for Mitchell Fox. The caller was Richard Young a member of the Itchy Brother band of Metcalfe County, Ky. and it he wanted to tell someone at Swan Song about his band. Fox listened, became intrigued and subsequently flew into Louisville to catch the group at Sound Stage.
"He came in for the weekend, heard the band and he loved us … we hit it off at the beginning," Greg Martin, the HeadHunters' lead guitarist, told me in a recent interview.
Fox went back to New York and began trying to work something out for Itchy Brother.
Greg and his cousins Richard and Fred Young and Anthony Kenney continued to rehearse at the now-famous "practice house" on the farm of the Youngs' grandmother, "Ma Effie" Young, who believed in the group's music and who Richard and Fred's father once said was the group's biggest fan.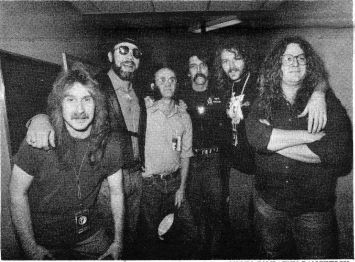 h Hank And THe Headhunters: L to r, Greg Martin, Hank Williams Jr., Fred Young, Ricky Phelps, Doug Phelps and Richard Young on tour in Kansas City earlier this year. Photo by Kathy Gangwisc
Itchy Brother would record cassette tapes in the practice house – they couldn't afford studio time – and send them to Fox.
(The only time Greg remembers going into the studio with Itchy Brother was at Gary Falk's studio years ago. "I love Gary Falk," Greg said. "We never finished our tape. I don't remember what ever happened. We weren't very good in the studio; we had no idea what we were doing)'. When I said that I knew Falk and that his studio was near may home, Greg said, "Tell Gary if we owe him any money we'll pay him back.")
In 1981, with Richard singing and fronting the three-piece group, they decided they needed to add a singer and "put Richard back on guitar."
(Kenney would come and go, Greg said, and at one time Bobby Richie was their lead singer.)
In about July or August of 1981 they went to New York City and played their first big showcase, put together by Mitchell Fox. Frank Gadler, former singer with NRBQ ... he was on their first three albums – was singing with Itchy Brother at the time.
("The hillbillies are getting ready to go to New York," Greg narrated.)
They played the Lone Star with Kinky Friedman, the Mad Hatter on Long Island and a club in Manhattan. "We thought we were big English rockers, like Led Zeppelin," Greg said with a grin. But they were told, "You guys are almost southern rock or you're almost country or something. You're just not quite happening yet. Y'all's time will come back around."
After the showcase in New York they were feeling really discouraged. Gadler, from the Bronx, wasn't quite working out; their personalities "didn't quite jell."
"We could never find a front man," Greg said, so that same year – 1981 – the band broke up. "Disco was going on real big at the time and the urban cowboy stuff was starting to come in and it just wasn't our time. We were really discouraged by then."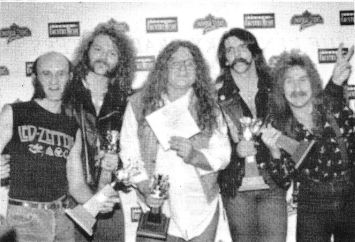 The Kentucky HeadHunters show off their awards for "Best New Group" from the Academy of Country Music. Photo By Chris Braden
It was while playing with Itchy Brother that Greg met his wife Ruth in Glasgow, Ky., her hometown. They were married in 1980.
Greg was supplementing his income playing club dates with another band when Ronnie McDowell heard him at Town Towers in Bowling Green, Ky. McDowell liked what he heard and on October24, 1981 Greg auditioned for McDowell's band.
"I remember just going in there and playing with the band and Ronnie never telling me I'm. hired or or nothing, you know. He was real nice. The only thing I remember was him walking up to me after playing with the guys and saying, 'can you do Hee Haw tomorrow?' So the next day I done Hee Haw and that night somehow we played a radio seminar, sharing the bill with Merle Haggard at the Grand Ole Opry House, so that was my introduction to country music Nashville," he laughed.
"That was my first time to" be on tour buses, doing tours … getting in the studio pretty regularly. In the very early days with Ronnie I would get to play demos with him and stuff we weren't playing records with him. 'It's Only Make Believe' (McDowell's No. 8 hit) … was the first Top 10 record I got to play on."
Richard Young had taken a job at Acuff-Rose in Nashville, writing songs and was commuting between Nashville and his home in Wisdom, Ky.
About a year later, when Sylvia (who had just had a big hit with the song "Nobody") was looking for a tour band, Richard and Greg encouraged Fred to try out for the drummer spot. Although Fred didn't think he was good enough, he nonetheless went up against about 80 other drummers and "whipped everybody's butt and got the job," Greg said. He elaborated on the story with gusto, saying that the others drummer hopefuls had been "kinda messing with" Fred, apparently because of his – "real country accent." Fred would ask them 'what to do at an audition and they would tell him all the wrong stuff,' but when his turn came "he got up there and whipped them and they were all sittin' there with their mouths open."
Even though going in different directions, the guys would still get together now and again for Itchy Brother reunions and jams.
In 1986 Greg started coming to Louisville during the week and playing in Jimmy Brown's blues band, The Bluebirds. Other band members were John Burgard, Dickie Durlauf, Doug Wright and, part time, Ricky Mason. "Me and Jimmy have been close friends for forever," Greg said. "I've traded guitars with him forever. It went beyond a business relationship … just friends."
Greg had been "itching" 'to do something else besides play in McDowell's band. It was one night while playing blues at Lentini's on Bardstown Road in Louisville, that it hit Greg that playing with McDowell was not quite what he really wanted to do.
At about that same time, Greg and Richard and Fred were talking about how they weren't doing what they wanted to do. Greg and Doug Phelps were also talking about wanting to play some different music.
Doug had joined McDowell's band after auditioning the same day that Greg had auditioned. "See, that's … how the Lord kinda works," Greg said.
So in April of 1986, Greg, Richard, Fred and Doug got together in Greg's basement (it was too cool at the practice house) and just jammed – a "little blues and a little rockabilly and stuff." After about three or four rehearsals in Greg's basement, the weather warmed up and they moved out to the practice house.
They had at first decided they wanted to put the old band back together with Anthony Kenney, but Anthony didn't quite trust the music business and he had just gotten married.
The next week when everybody was off the road they decided they had "a little something happening," and agreed to start a band. They called it The Head Hunters, a name they "borrowed" from Muddy Waters' band.
The first place The Head Hunters ever played was at "a little place in Edmonton called The Hangout, in a little game room, for about 60 people," Greg recalled.
Doug's brother Ricky Phelps, who had moved to Nashville a few years earlier and was getting discouraged, got curious about The Head Hunters. He drove up to Wisdom, Ky. and sat in with the guys.
He sang "Little Sister" and "99.9 Won't Do," and, as Greg describes it, "we all turn around and "Whoa!" They clicked immediately.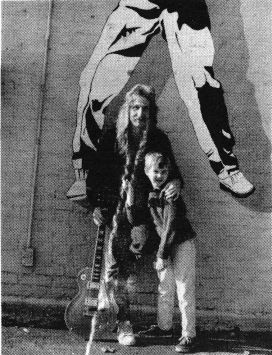 Standing In The Shadow Of Ersel Hickey? Greg Martin poses outside Guitar Emporium with his eight-year-old son Eric. Photo by Jean Metcalfe
Although Ricky didn't join the band right away, the other four eventually talked him into becoming a member of The Head Hunters. Brothers Doug and Ricky Phelps, sons of an Arkansas minister, had never played in a band together. They had always wanted to, but Ricky was older and often away from home.
In May of '87 The Head Hunters started hosting "The Chitlin' Show" on WLOC (l02.3) in Munfordville, Ky. Greg, Richard and Fred had been "regular fans" of the 3,000-watt FM mono station because "they would play Hank Sr., B.B. King, Bill Monroe, any kind Of music, with no boundaries." Greg had stopped in and lent them a bunch of records and told them about a brainstorm he had had on McDowell's bus one night while reading about a show called "King Biscuit Hour." Greg asked Program Director Joey Berry about the possibility of them doing a live radio show at WLOC. About a month later, Greg and Richard set up in one of the rooms at the radio station and played some blues and taped it on a reel-to-reel and decided it would work. They brought in the other guys and they did their first show "mistakes and all." They continued to do the show for about a year and a half, every two weeks, until late in 1989 when their schedule picked up considerably. Greg was still playing with McDowell at the time.
In about 1987 they went down to Nashville one afternoon and cut five or so songs at Acuff-Rose. (It was "stuff" that never came out, Greg said.) They did, however, put out a 45 of "Walk Softly On This Heart of Mine" and "Oh Lonesome Me" on their own label, Gum Island Records. WLOC was about the only station that played it, unless it was played a bit in Glasgow, Greg said.
I suggested that the 45 is probably quite a collector's item.
"That is a real collector's item. It's even more so than the tape," Greg said, referring to the famous 500-copy, pink insert, eight-song cassette album that was to become, with very little work and the addition of two songs, the current Kentucky HeadHunters album Pickin' On Nashville. (Imagine my amazement when one of the rare 45 records was included in an envelope of items Greg mailed to me to enjoy while writing the story about KHH.)
Jonathan Lyle, from Richmond, gave The Head Hunters $5000 in the Fall of 1988 and they went in and cut eight songs at the Soundshop in Nashville, Tenn.
"We didn't know we was making an album. We didn't know we was making Album of the Year. We had no idea. We was just cuttin' songs and goin' out to Fred's car and listenin' to 'em," Greg declared.
"It was weird," Greg said, when I asked about Jonathan Lyle and how he happened to give them the $5,000.
"We (Greg and Doug) were playing with Ronnie McDowell ... playing a little club in Richmond, Va. … At the end of Ronnie McDowell's set, the band – Ronnie was offstage – we kick into "Hideaway" by Freddie King, which is a blues song. Here comes this guy ... looks like Dennis the Menace's dad walks up to Richard Lane, the rhythm guitar player, and starts talking about blues and Richard Lane introduces me to Jon. So me and Jon hit it right off ... I said 'Man, I'm into blues real heavy,' and started talking about The Head Hunters back home." (Doug and Greg had gotten Richard Young a job "selling T-shirts" for McDowell on the road so they could connive, Greg related.) They took Jon on McDowell's bus and played him some 'Chitlin' Show' stuff and they "started talking."
"He come to Nashville to a gig at Douglas Corner one time and saw the band. Right after that he agreed to put up the money for us to go in the studio."
When they went into the studio that fateful Fall of '88, they cut everything on the original eight-song cassette tape in three days, Greg said proudly. They cut all the rhythm tracks in one day and about a week later they worked two additional days to finish up.
Their plan was to put out "a little tape to sell at the radio show and maybe shop around to some labels. …"
The 500 copies of the eight-song tape came back with pink inserts, not the macho black ones they had expected The tapes were sold in Glasgow at the Record Rack and at Ear-X-tacy in Louisville. The Record Bar in Bowling Green also sold the tape.
"Of course," Greg said, "the tapes barely sold. Nobody wanted 'em. They didn't know who we were." But the tapes started finding their way to Nashville.
Greg made a point of crediting Tom Long, now with ASCAP in Nashville and BMI-Nashville rep Kurt Denny with spreading The Head Hunters' pink tape around in that city. Long was one of the people who had once tried to work out a deal in Atlanta for the group that would evolve into the KHH, Greg said, "So Tom had believed in the boys all those years."
I asked Greg at what point" they realized "deep down" that they had something that was really good.
"Well, really, the first time I knew there was something there, I swear, it was like … it's really weird … I just don't think any of us in the band had anything ... I think it was just meant to happen, you know. You go for years and nothing ever really works ..." Greg was mentally scratching his head.
"Me and Doug was out on the road with Ronnie (McDowell). About the time we were talking about putting The Head Hunters together, Doug got a shot at going out (on the road) with Marie Osmond. Man, something hit me, I said 'Hey. You can't do that.' 'Cause something supposed to happen here. I mean, I didn't know that but, somehow I got Doug talked out of going out with Marie.
"The same thing happened when Ricky came up there," Greg added, referring to the occasion when Ricky Phelps came from Nashville to Wisdom to check out the Head Hunters and ended up" as their lead vocalist.
In December of '88 ("I never will forget," Greg, said) Mitchell Fox set up a showcase, at Douglas Corner in Nashville for The Head Hunters, and invited every record label.
"The only guy we did not invite, was (PolyGram Records') Harold Shedd. (We are both laughing at the ironic oversight, knowing the ultimate outcome.) But Harold showed up. He was the first one there and the last one to leave."
"He (Shedd) walked up to Ricky after the show and said, 'Ricky, do you guys play out much?' At that time we weren't and he said, 'No, we never play out' and (Shedd) looked at him like 'What?'"
(Greg later said they had felt that "if all else failed," they still had a chance with CBS, since Fox had received word that the label loved the band. But, Greg also said that apparently CBS was looking for a slick rock 'n' roll band and was "a little' bit disappointed" in The Head Hunters for that reason.)
For about a week after the showcase, The Head Hunters were feeling frustrated, "But out of the blue Harold Shedd called Mitchell Fox."
"I'll tell you a neat story," Greg said at this point in the interview. "Tony Brown (an executive at MCA) said that one of the biggest regrets he had was 'not seeing you guys play that night."' (He had had a prior appointment and left the Douglas Comer showcase immediately after hearing the group that preceded The Head Hunters.)
They had given MCA one of their early tapes, but MCA doesn't remember getting it.
"It wasn't time, yet. Harold Shedd was supposed to happen. It wouldn't have happened any other way without Harold Shedd," Greg stated emphatically.
Negotiations began between Shedd and Fox. Shedd came to hear the band again in January of '89, this time at Picasso's in Bowling Green, Ky. (Greg mentioned that the band had "cut its teeth" at Mr. C's in Bowling Green, the first place they had played in that town.) Shedd brought along some people from PolyGram. The band had just released their pink tape at a sort of record release party. About two weeks later "we started negotiating."
Were all the five guys excited or were there doubts? I asked.
"We were all scared to death."
I asked about Ricky's reaction, since he had at times been reluctant because of prior bad experiences on the road with bands. Greg said that, although Ricky occasionally had doubts, they always managed to bring him back into the band, sorta like using a hook on a performer when he has overstayed his time onstage, Greg said.
"Ricky's a very spiritual person. He prays about everything ... but the deal started happening."
The group signed a recording contract with PolyGram in May of 1989. "I was still playing with Ronnie McDowell. I was so scared when all of this started happening with PolyGram, I was scared to tell him," Greg said. He did manage to give McDowell his notice on May 22, 1989. At the time of the contract signing, the group had to come up with another name since The Head Hunters was already taken."
Harold Shedd kept mentioning Kentucky – although Greg hastened to add that Shedd "is not the kind of guy who will push anything on you" – but the group didn't want to use Kentucky in the beginning because Ricky and Doug Phelps were from Arkansas.
"But finally Richard said, 'Let's get it on, boys. Let's call it Kentucky. And it happened. Harold Shedd was responsible for adding Kentucky."
"The Kentucky HeadHunters" went back into the studio in June of 1989 and cut two additional songs to add to the eight songs on the pink tape. Although they added an organ to "Rock 'N' Angel," Greg said "basically everything on that pink tape is still the same."
The ten-song version of Pickin' on Nashville sports a new insert. It depicts the band members in, on top of and gathered around a pick-up truck, The words "The Kentucky" give the appearance of having been written on a piece of masking tape and stuck in front of the word "HeadHunters." No more pink insert.
"Originally we thought if we were lucky we'd sell 20,000 or 30,000 records, work once or twice a week and make a living. We never expected much more ... We wanted to be big, but we never expected…" (More head scratching.)
The Kentucky HeadHunters cut their first video, "Walk Softly On This Heart Of Mine," in the summer of 1989 and it came out in late August. "When it hit TV, CMT got flooded with calls," Greg said. (Their new home video, which came out in late November, "shipped gold," Greg told me in a later conversation.)
The single of "Walk Softly,"which was shipped to the radio stations in September, didn't get a lot of airplay, peaking at No. 25 on Billboard's country charts.
"In the beginning, the radio stations were scared of us … they didn't know how to take us," Greg said.
"Here you are, a Program Director at a country radio station. Here comes a record by The Kentucky HeadHunters (we were both laughing at the mental image). Even one Program Director called PolyGram and said, 'What kinda job are y'all playin' on us?' "It's hard … we still have problems with radio. But the way we look at it, if the guys don't want to play us, that's okay, we're not mad at 'em.
"We didn't get no airplay in Louisville ... Coyote (Coyote Calhoun, Program Director at Louisville's WAMZ), couldn't figure us out in the very beginning. He's one of our biggest supporters now."
The Kentucky HeadHunters unconditionally credit their success to their video.
Kevin and Betty Kingery gave Greg a part-time job at the Record Rack in Glasgow, Ky. to make a few extra dollars while the band was getting off the ground, Greg said. The day the video previewed on CMT, Greg was watching it on television at the Record Rack when a small boy wandered into the store, apparently from the laundromat next door.
"He would look at the TV, then he'd look at me and then he'd look back at the TV. He said 'Mister, is that you?' and I said, 'I'm afraid so."' Soon after the video hit, Greg had to stop working at the record store because of the numbers of people who came in – not to buy records, but to look Greg over.
I suggested that the experience is one that the little guy from the laundromat would probably never forget. "For both of us," Greg acknowledged. "I'd never experienced it was the very first time the video had ever showed."
The video came out about a month and a half before the album. It had been their plan to get a visual picture in the people's minds. They accomplished exactly that.
"The album started selling … Good God," Greg said.
Prior to the video's release, The Kentucky HeadHunters were playing Picasso's in Bowling Green pretty regularly and they were also playing at Exit Inn and Douglas Corner in Nashville. The very last time they played Picasso's was right around the time the video came out and Picasso's had to turn people away. "So we knew we were doing something right," Greg said.
The Kentucky HeadHunters played a "hat club" – I believe it was the Alabama Show Palace, whose location is unavailable in my notes – with about 60 college kids in the audience. "We had the best time of my life. That was pretty much our first tour out, " Greg said.
"Our Louisville debut was at Mark Smalley's Uncle Pleasant's in late '87 or early '88." (A newspaper clipping that Greg had lent me indicated they were scheduled to' play there on March 2, 1988.)
From the summer of 1989, with just a week off at Christmas and a few free days here and there, they had been on tour, winding it up on October 28 of this year.
During the Christmas break in '89 they played a big homecoming in Glasgow, Ky. "We picked the coldest day of the year," but they had a good turnout, considering it was so cold, Greg said. '"Walk Softly' was out, kinda making it up the charts. The hometown was there..."
The band members were enjoying a couple of weeks off at the time of my interview with Greg on November 10 at Guitar Emporium. Other items on his list of things to do during the hiatus, besides taking it easy, were to work on his guitars and attempt to locate a couple amps. He collects old Marshall amps from the '60s and early '70s. (The KHH like vintage instruments.)
After driving to Nashville on November 13 to pick up a guitar he was having refinished, Greg returned to Glasgow. He phoned late that evening and we talked into the wee hours. I later learned that he had gotten only one hour of sleep before he and his wife flew to Los Angeles to tape the Dick Clark New Year's Eve Show.
During our several conversations, it was apparent that Greg wanted to mention and express appreciation to all the people who had figured in his successful music career.
I spoke with Greg after his return from California and he said "It was a blast meeting Dick Clark."
Besides The Kentucky HeadHunters, the Dick Clark New Year's Eve Show will include the Beach Boys, the O'Jays, Nelson (Matthew and Gunnar, the twin sons of the late Ricky Nelson) Sweet Sensation, Kool G Rap & D. J. Polo and New Edition.
During that conversation, Greg also spoke of several area musicians. He said he puts and Steve Ferguson on the same pedestal. Greg had heard Bugbee playing with the group Elysian Field at the Jewish Community Center back in 1968. Bugbee's guitar work was "magic" and Greg "just freaked out," deciding then and there that he'd have to have an electric guitar.
Greg was aware of Ferguson from the Mersey Beats. But the first time he heard Ferguson play was in 1969 when Greg's cousin gave him the first NRBQ album. "I put it on that little old turntable at home and here comes "Get Down Those Rock 'N' Roll Shoes," I think. "Steve Ferguson is a hot guitar player."
Later, in 1987, Ferguson would be a guest on The Headhunters "Chitlin' Show." Scott Mullins (local blues purveyor and host of WFPL Radio's Saturday Night Blues Party) and others came along. The Headhunters backed Ferguson up, Greg related. "Man, he blew us away."
We spoke of Bowling Green, Ky., native Sam Bush. Greg recalled that the original New Grass Revival was based around the Martin County, Ky., area back in the mid- or late Seventies. Greg would see Bush, Courtney Johnson, Curtis Burch and John Cowan in a music store and they would jam a lot. "I've even sat in with New Grass Revival and me and Sam would trade licks back and forth. I admire Sam Bush a great deal because he really loves music and he's very gifted."
A high point for The Kentucky HeadHunters: When their current album Pickin' On Nashville came out. "When it hit the stores we were so proud of it It was a really special moment."
Greg's description of their group: "We are known to be rowdy, but we're not really, I don't guess, you know. Our show is real high-energy, but we don't cuss on and we don't drink on stage..."
All ages of people come to their shows, kids and their parents and grandparents. Greg confessed that some women do throw their undergarments on the stage at HeadHunters concerts.
"I swear to God, we've got a trunk full of bras."
Greg allowed as how he handles those kinds of situations differently now that he is older, 37, than he probably would have if he were younger.
"I think somebody had a plan for every one of us. I think it was a divine plan, you might say."
I asked Greg for his views on the high volume that so many groups play at and whether he is concerned about hearing loss. He acknowledged that the HeadHunters are loud for a country band.
"We're not Garth Brooks, but he rocks pretty hard, too," he said.
Greg explained that they don't play their music loud just for the sake of being loud. He gets some nice sounds from his guitar at the higher levels that just can't be achieved at the lower levels. He always arranges to have his cabinets set to one side so he doesn't get that chest-thumping sound. He feels that when one is young, loss of hearing is not a concern to a concert-goer. It's only after they reach thirty or so that they think about the consequences of listening, to too-loud music.
At my request, Greg recounted other highlights in their career:
• Performing on Willie Nelson's FarmAid IV in Indianapolis, Ind. earlier in the year.
• Opening for Hank Williams Jr. on his recent tour. Hank would bring the KHH onstage with him and during the set he would pick one of them up, lift him over his head and spin him around. The country superstar would spread the honors among the band's members, with the exception of Richard. Hank's not dumb.
• Hank Jr. lending Greg his Les Paul 58 to play – and "he hasn't asked for it back, yet."
• Performing at the Everly Brothers Homecoming in Central City, Ky., this past summer. The audience yelled for the KHH to come onstage with the famous brothers. Greg and Richard were close by and were able to grant the audience their wish.
• Billy Gibbons of ZZ Top writing the KHH "a really encouraging letter about how much he liked the band and how much he liked the album. Sent us all ZZ Top hats and an album." It was "one of the things that really, really meant a whole lot."
Greg was quick to add: "The only thing l really ever wanted out of my career was a house, some success … and a Les Paul 58 guitar."
How about appearing on the Johnny Carson show? I asked. "Not yet ... but there are negotiations on that and Arsenio."
The HeadHunters haven't made it to the Grand Ole Opry yet, but Greg has appeared there with Ronnie McDowell.
ls there a possibility that KHH might play at the White House, since President George Bush is a country music fan? "We've played the outhouse, I guess the White House will be next."
A van was the vehicle of necessity for The Kentucky HeadHunters early on, but now they have a tour bus. Once owned by Elvis Presley, the bus is called "TCB." It came to the HeadHunters via. J.D. Sumner (once a back-up singer for "The King"), who had it after Elvis died. Presley fans know that "TCB" stands for "Taking Care of Business," an Elvis trademark.
If all goes as planned, the Kentucky HeadHunters will have completed their second album when this article appears. The album, whose working title is an interesting one, but also one that we can't leak, will be "an extension of Pickin' On Nashville (but) a little more mature," Greg said. With the exception of two songs, the album will be comprised of HeadHunters originals.
How long would it take to record the album? I asked. "Oh, I would like to say five days, but we're gonna allow two weeks."
How did Bill Monroe react to their version of "Walk Softly On This Heart of Mine" (which Monroe co-wrote with Jake Landers) on their first album: "He loved it"
Greg said that they didn't hear anything from Monroe in the beginning, but one day he called Ricky "out of the blue," complimenting the group for the good job he thought they had done.
(At Monroe's December 7 appearance at the Shepherdsville [Ky.] Country Music Place, I asked the legendary Father of Bluegrass what he thought about the KHH's version of his song. He replied, "They've got good voices. They've done some wonderful singing there. They have really sold that record.")
"He's really been nice to us... He came to our gold (record) party. Ricky Skaggs brought him."
"Dumas, Walker," undoubtedly The Kentucky HeadHunters' most famous song, was actually written about two different places. Dumas Walker's is a package store "just over the state line" in Moss, Tenn., but the celebrated "slaw burger" referred to in the song is from the menu of "the greasy spoon" in Greensburg, Ky.
"If any of your readers want to try the real thing, tell them to go to Ennis' Cafe in Greensburg, Ky., Greg suggested."
Dumas Walker is, however, as portrayed in the song, quite a marble shooter.
I inquired about the accuracy of reports that the band had written "Dumas Walker" in 15 minutes. "It didn't take no time," Greg said, "It come out of the blue. We were laughin' 'cause it was so silly."
"Everywhere we play that song, you would not believe the reaction," Greg said. "One of the biggest thrills of this whole thing ... I thought it would be cool to hear your record on the jukebox, but to hear the bands play 'Walk Softly,' 'Oh Lonesome Me' and 'Dumas Walker'... it is so neat."
The HeadHunters will be the Grand Marshals in the Glasgow, Ky., Christmas parade. Greg said, "I think its Grand targets – they'll probably have eggs and stuff," he joked.
At one point during the interview, I asked Greg if he had ever moved to Nashville during the years he played with McDowell: "No, I never did. Probably never will." They are buying a home in Glasgow and Greg said he loves it there – "right in between Nashville and Louisville."
In February 1991 The Kentucky HeadHunters will hit the road again in TCB. Dates and places are being worked out, but Greg does know that they will be doing the Everly Brothers Homecoming again in 1991. And ... the KHH have had an offer to go to England in the summer of '91 to open for Dire Straits.
Does Greg Martin still describe their music as "Bill Monroe Meets Cream" or "psychebilly blues," as has been so widely reported?
"It's matured a little bit," he said, then went on to describe how five guys and their various influences come together to create the sound that is distinctively The Kentucky HeadHunters.
The best thing about their success for Greg? "Just the house, being able to get Ruth and (their eight-year-old son) Eric a house." Greg looks forward to enjoying the eight-track studio that will be installed in the house, "but the best thing is just the house."
The worst thing about their current success? "Being on the road, away from the family and getting yourself (physically) run down."
Why are The Kentucky HeadHunters so popular?
"I don't know … I don't really know. Maybe when people see us onstage, we're not big stars, we're just normal, everyday people. They could be up there just as well as we are ... We're not a real pretty band we don't look like Elvis."
Greg's mother passed away in 1982. He is happy that she lived long enough to see him playing country music (which she thought he should play, instead of rock 'n' roll) with Ronnie McDowell's band. He regrets that she did not live to see him and Richard and Fred playing together and to see the success of the HeadHunters.
That success will allow Greg to buy his father a Martin guitar – something he really wants to do.
Greg spoke fondly of his mother and father and how they had raised four children. He also paid compliments to the parents of the other band members and to the late Ma Effie Young, Richard and Fred Young's grandmother.
What would Greg like to say to our readers? For struggling songwriters, musicians, bands: "The main thing is be true to yourself, you know and play from your heart. I realize sometimes you have to veer off from that … – "I've had to play disco" ... – but don't ever lose sight of your dream. Whatever you got into music for in the beginning, whatever got you into it, don't ever forget it. 'Cause if you hang in there long enough, if you put enough into it and take care of yourself just really take care of yourself I believe everything will come around, you know.
"As far as the HeadHunters, I believe if we done it, anybody can do it. Hang in there. It took us about 20-22 years "Your dream can come true. Gosh, I think we're living proof of it. We got to the point where we never thought nothin' would happen, but we kinda kept pushin' and pushin' I didn't know why we kept pushin' back then, but I know now."
In April of 1990 the Kentucky HeadHunters were named Best New Group by the Academy of Country Music; Country Music Association in October honored them with the Album of the Year, Best Vocal Group and Producer of the Year Awards. (Although they had produced their own album, they hadn't – given a thought to the possibility of winning that award.) They will be producing their upcoming second album.
In October of this year the KHH were given the Rising Star Award by the Juke Box Association (which covers all genres of music). In early November, Billboard magazine held their video awards, naming the KHH Best Group and Best New Act.
When I last spoke with Greg Martin on the phone on December 4, he told me he had been watching news about the predicted New Madrid fault earthquake. An earthquake party was in progress. The meriymakers were singing:
"Let's all go . . . down to Dumas Walker's. . . ."
The Kentucky HeadHunters will be live in concert at Louisville Gardens on New Year's Eve, sharing the bill with Carlene Carter and Delbert McClinton.'
Tags: