April 2007 Articles
Cover Story
Eddy Metal
Features
Eddy Metal
Jason Ashcraft
Columns
Berk Bryant
Mike Stout
Paul Moffett
Chris Crain
Keith Clements
Martin Z. Kasdan Jr.
Eddy Metal
CD Reviews
Bob Mitchell
Bob Mitchell
Bob Mitchell
Kory Wilcoxson
Tim Roberts
Tim Roberts
Kory Wilcoxson
Kevin Gibson
Performance Reviews
Brandy Lee Dixon
Blogs
Got Shows?
Send Them To Us
Bookmark Louisville Music News.net with these handy
social bookmarking tools:
Available RSS Feeds
- Top Picks
- Today's Music
- Editor's Blog
- Articles
Add Louisville Music News' RSS Feed to Your Yahoo!

Issue`: April 2007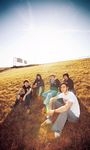 Photo By Laura Roberts
Subrosa is "Under The Rose"
By Eddy "Metal" Burke
Subrosa: pronounced (suhb-roh-zuh) - noun: confidentially; secretly; privately. Origin: 1920-25 (L sub rosā lit., under the rose, from the ancient use of the rose at meetings as a symbol of the sworn confidence of the participants.)
"In the Middle Ages, a rose was suspended from the ceiling of a council chamber and or Roman dining rooms/feasts/orgies to indicate that what was said or seen there under the influence of wine was "under the rose," privileged and not to be made public. This practice originates in Greek mythology, where Aphroditegave a rose to her son, Eros and he, in turn, gave it to Harpocrates, the god of silence, to ensure that his mother's indiscretions-or those of the gods in general, in other accounts-were kept under wraps."
Hardcoremelodicfunkrockgroovemetal is a good way to describe the music that Subrosa writes, or as singer Richard Hudgins calls it, "Diet Metal: All the ass-kicking with only half the caloriesWe write what can get the crowd going, that's what is our inspiration is." And the band certainly succeeds in what they've set out to do in Louisville, quickly building up one of the nicest followings in town, in a very short time. With the youngest members being only eighteen, this band sets a new mark for how good a band can be at such a young age.
Subrosa Rising
The members are Richard Hudgins, 21, on the melodic overdrive vocals; Sean Shelton, 21 and Jordan Haynes, 18, on hook-laden guitars; Eugene Barker, 18, on bass and the charismatic Evan Redmon, 18, on the skins. Hudgins first met Shelton when he was 18, who didn't like him at first because he thought Richard was giving Sean's girlfriend beef injections, but the two eventually became friends, started to jam and went on to form Renault, which opened for Tantric, Shinedown and Silvertide at Jillian's.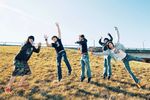 Photo By Laura Roberts
The Subrosa guys came together in November of 2005, out of the ashes of that 'up and coming' southern rock band Renault. Despite doing pretty well for themselves, Renault came to an end because of 'internal differences' within the band.
Richard called his old friend and drummer Evan Redmon, a huge Renault fan, and guitarist Jordan Haynes to see if they wanted to jam. Within a week from getting together in Richard's basement, the newly formed band named themselves Touching Tomorrow and had a gig at VFW Post off Poplar Level Rd, with more than 150 people in attendance.
The band had some kind of spark that people liked and a lot of friends to boot, so word got around very fast and a buzz about the band started spreading at speed. A bit later, they renamed themselves Subrosa.
Dissecting Diet Metal
Subrosa is much more complex and technical than, say, Nirvana, but they, too, have that 'hookiness' and feeling that will sell albums and bring people to their shows. Their music shifts and changes along the way, demonstrating their many influences. Hard-rocking but melodic and hook-laden, the guitar parts are energetic and radio-friendly. Both guitarists handle lead parts equally well; it's sometimes heavy, but not too overbearing on the metal. Some of the guitar rhythms are fairly simple, but the vocals blend with them, making it all the much better: it isn't how hard the riffs are to play, it's the feeling behind the music that counts.
The songs have clear sections that have actual singing and good melodies. Vocalist Richard Hudgins has a versatile voice, with a powerful range plus an ability to sustain a note. He comes across in the music very well, showing exceptional stamina and sometimes issuing forth a fast, rap/scat, as in the song "Scars."
The songwriting is a band contribution in very sense of the word. Most bands have only one or two of the members writing the music and lyrics, but Subrosa is always coming together in a group effort to make the song the best possible. Still, if there was one member who contributed most, it would have to be Eugene Barker. The other members say "He goes into his room and does things? [laughing] And when he finally comes out, he has good riffs."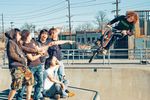 Photo By Laura Roberts
As far as the lyrics of Subrosa go, Richard writes about half the lyrics and the band writes the other half as an equal.
I asked Richard what song had the most meaning lyrically to him and about how he picks his topics.
"These songs can be interpreted in many ways. I think about different things, such as a family member lost, a relationship gone bad, or a friend that was murdered over drugs," he answered
A friend of Richards who was murdered over drugs and his body found near McNeely Lake was part of the inspiration for these lyrics from "McNeely":
"How dare you try to tell me/that you were unhappy/you think that life revolves around you/but let me be the first to tell you/I feel no pity in what you do.
I remember when before it happened/you said I could count on you to the end/but I knew you different/I knew your intentions/I guess I was just not a good enough friend."
Accomplishments
The band recorded their first CD in early 2006, a nine-song project that did much to help the band gain a following. It included the well-received song "My Apology."
They gained a substantial following after that first recording and started to get a lot of high-profile gigs with some of the area's top bands, including playing some super-fat shows at Headliners, Phoenix Hill, LRSfest to 10,000 people, Rocktoberfest, Santageddon '06 and the Intheclear CD release show, which was sold out! In little over a year, the band had played over a 100 shows and opened for national acts Three Days Grace, Seven Mary Three, Kittie, Saliva and FiveBoltMain. They also picked up LEO's "Best Band in Louisville" Awards of 2006. Subrosa has also gotten a lot of radio exposure, with airplay on both the 93.1 the Fox and 105.1 the Walrus.
Then in January of 2007 they headed into Canyon Studios to record another CD, a four-song teaser that included the popular "Scars," "Regret" and "McNeely."
These days the band has a large crowd wherever they play, and their merchandise seems to go faster than it can be replaced. Playing so many shows, the band decided to start up their own promotions company, called Undertherose Productions. They generally draw to 500 people or so whenever a Undertherose production at Headliner's happens.
Under The Rose
Richard Hudgins came from a non musical family, but that didn't stop him from becoming a fine singer. "I never felt I would be in a rock band"he confessed.
He began singing in church and was heavily influenced by old R&B tunes; Marvin Gaye; Al Green; The Temptations; Brandon Boyd of Incubus and even Steve Perry of Journey. (The band gave him a hard time over the Steve Perry). At eight, he walked into his older brother's KC's room and find him doing jumping jacks to Journey. It was then that Richard became hooked on with singing and wanted to become a singer.
Richard's interests, not necessarily in order, include martial arts; his girlfriend of three months, Dawn Neeley; messing around on the internet/computer; playing with Photoshop; video games and basketball. He recalls being at the banquet when the band got the LEO Awards for the "Best Louisville Rock Band" in 2006; the band sneaked alcoholic beverages from their hosts, which led to a memorably drunken, rowdy and raucous time
"Then there's the time when we were trying to get into Sevendust at Jillian's when we decided to try to sneak in, but were caught red-handed by a Neanderthal-looking, big and mean Sevendust drum tech who almost beat us up. We were terrified and almost soiled our undergarments. We didn't get to see the show and almost got pummeled by Cro-Magnon man, but we did leave a CD on Sevendust's tour bus' windshield wiper!"
Richard lives in Hillview in what could be called Subrosa's version of the BatCave, a practice place/Subrosa hangout of the highest order. It's actually Richard folks Tony and Debbie Hudgins' house. They are very supportive of the band's dreams. Three or four times, a week everyone converges at Richard's, jamming, writing, goofing off and always going in on some junk food like pizza or whatnot. Richard "we try not to be too loud and obnoxious, but the neighbors still hate us!"
Sean "Shaggy" Shelton is a curly-haired - hence the nick - nice guy, having come from a mostly non-musical family. His step-dad played rock and roll drums and tried to teach young Sean the drums, but the defiant Sean liked guitar, which he began learning at eleven, much better.
He would sit in his room and jam out on favorites like Slash, Randy Rhodes Stevie Ray Vaughan, Van Halen and some Jimi Hendrix. Blues, metal; he liked it all. So he bought a $75 'pawn shop' guitar called a Santa Rosa that he describes as "a hideous red piece of doo-doo with one single coil pickup. It sucked!"
These days Sean has a pro setup that includes Ernie Ball and Parker guitars, a Marshall JCM2000 and Engl cabinets.
Sean is single and into bowling, baseball, fishing, drinking whiskey, camping, showing his genitals to the fans, fighting off fat girls, watching porno and trying not to pass out in Halfway Hollow's Avi Dey's bathtub again. He lives in Fairdale.
Jordan "Half-strap" Haynes' mother plays Eighties rock guitar; his father is a jazz/fusion drummer. Jordan picked up an Aria Pro 2 guitar at twelve and began learning - fast.
"I was spoiled, I got a tube half-stack immediately" the Okolona residentrecalls. Influenced by Dream Theater, Kansas, Sevendust, Killswitch Engage, Protest The Hero and Evergrey, Jordan now plays Ernie Ball and Godin guitars, Engl amps and cabinets and a TC electronics effects unit.
Jordan confessesthat"I'm the most boring member of the band."His girlfriend is Tiffany Kaufman, vocalist for Serene; he loves BMX, laying pipe and admits to eating more Tabasco sauce and Cheesits than any two average men should."We go to BW3's every Tuesday night and inhale food."
Haynes recalls the Hard Rock Café show that earned him his nickname: he was doing a 360-degree guitar spin. The strap broke in mid swing, sending the guitar ceiling-ward. It came down hard. "I was soooo pissed," he said, "so I did a ill-attempted backflip and ended up pelting Richard with my shoe, which came off during the acrobatics! After that the show was over. At least it was the last song."
Bassist Eugene "Charred Pinky" Barker used to watch his father and uncle jam, so that's where he got the idea to jam. "They were a big influence to me"Eugene says. Both played rock, so it was beyond cool for him.
He got a Fender Dual Sonic guitar at eight. His dad showed him some rock basics. In 2003, he got an Ernie Ball bass guitar and picked it up quickly with help from his dad and uncle. He now plays an Ernie Ball Musicman bass and a Fender jazz bass, with Ampeg cabinets and an SVT head. Eugene likes reading, partying, drawing and listening to music a lot. He is a hard-worker who spends his free time
Eugene's nickname came about at an outdoor party. He was putting logs onto a bonfire and was slow to pull his hands out of the fire. The result? A charred end of his pinky finger.
Drummer Evan "Bottle Rocket" Redmon, a tall thin dude who reminiscent of a very young Tommy Lee, is a drumming powerhouse with explosive energy. His father played rock guitar and his grandfather played blues/gospel guitar, Family reunions were music-filled
Evan cites his 'Pappy' for giving him the metal roots; dad was always cranking on Megadeth and Van Halen tunes. They psyched Evan up, so he decided he wanted to play, too.
He begged his family for drums beginning at three, there was no place a child could practice drums without driving neighbors insane, so he had to wait. He got a Percussion Plus drum set in 2002 and quickly learned the art of wailing, despite taking only one month of lessons. He cites a influences Morgan Rose of Sevendust, Josh Wills of Story Of The Year, and Alex Rodriguez of Sayoson. Evan now plays a set of RMV drums, a six-piece kit made of Brazilian maple.
Evan is all about starting a drum company; hanging with his girlfriend of two years Andrea Brown; listening to music; playing around with Photoshop and video games and collecting belt buckles.
He tells the story of his nickname:
"We were at a party and everyone was drunk, dancing around a bonfire like wild Indians on peyote, when all of a sudden, I felt a sting on the side of my nugget."
"Richard's stepbrother had shot a bottle rocket off out of his butt (a la "Jackass" style!) and it ricocheted off the side of my head. It hurt like hell and left a big bruise."
Future Tidings
Subrosa has a plan:
"First things first, we gotta get out there and make money - $15,000 is a good estimate - to finance this twelve-song, full-length CD that we are dying to do this year, hopefully late summer-early fall. We have some really cool brand new hoodies that rock and also some new tee shirts out there, buttons, CDs, stickers. We have to move this stuff in order to get this CD done, so come on out to the shows, or visit us online at myspace.com/Subrosarocks for some cool band merch.
"We are definitely wanting to take the Subrosa circus on the road this summer, in the same way our friends in Intheclear did.
"We are willing to suffer in cramped quarters, eat cheese sandwiches and take any of the risks sacrifices involved!
"We want to win and we are willing to risk everything, to sleep in a crowded van in summertime, JUST to be able to get our music out there!"
So to all you Subrosa fans, if you like the band's music, then attend all the shows and pick up a shirt or two, because all that money is going towards the new CD fund.
You can see Subrosa on May 11 at Phoenix Hall Tavern with The Nova Red, Broken Vault and Serene.
On May 12 at Headliners, it's an Undertherose production, entitled "Heaven or Hell," featuring Subrosa, Fall For Nothing and Inner Blue on the 'Heaven' side and False, Antikythera and Anagnorisis on the 'Hell' side.
Get more info at http://www.myspace.com/subrosarocks.
Tags: