September 2006 Articles
Cover Story
Tim Roberts
Features
Eddy Metal
Columns
Berk Bryant
Mike Stout
Paul Moffett
Chris Crain
Keith Clements
Martin Z. Kasdan Jr.
Eddy Metal
CD Reviews
Bob Mitchell
Kory Wilcoxson
Bob Mitchell
Bob Mitchell
Tim Roberts
Cricket Bidwell
Tim Roberts
Cricket Bidwell
Blogs
Got Shows?
Send Them To Us
Bookmark Louisville Music News.net with these handy
social bookmarking tools:
Available RSS Feeds
- Top Picks
- Today's Music
- Editor's Blog
- Articles
Add Louisville Music News' RSS Feed to Your Yahoo!

Issue`: September 2006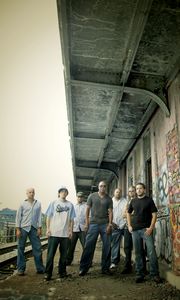 Photo By By Laura Roberts
The Big Diggity
Diggin' Deeper:
His name was Kevin, the shorter, skinnier half of a set of twin brothers. His hair was light brown and worn in long bangs that drooped past his eyebrows. His eyes were blue. His brother was stout with black hair and dark eyes. Both were artists in sarcasm. You hung around them because they were funny. And because they each had a mini-bike. If you were lucky and laughed enough at their acidic humor, you got to ride one.
One day in the fifth grade, sometime in the spring of 1972, Kevin brought to school the two-album soundtrack to Shaft. He'd claimed his dad took him to see the movie and had bought him the album after they left the theater. He'd hoped the teacher would let him play some of it before the bell would ring to dismiss the bus riders. The rest of us who walked home would get to hear more.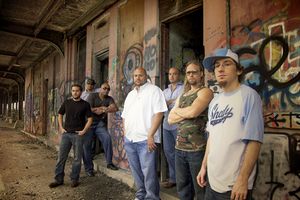 Photo By By Laura Roberts
After bugging her the entire afternoon, the teacher gave her permission and Kevin carefully slid the first album onto the turntable of the classroom record player, the bulky kind with the thick plastic casing and tone arm with a heavy needle-cartridge. It hit the lead-in groove with a pop and thump. The theme from Shaft had been all over radio the year before: the high-hat and wah-wah guitar intro, depicting an urgency, of someone walking with determination down a busy sidewalk, the narrative vocal in the middle of the song containing the words "sex machine" and "damn right" and "bad mutha, shut yo' mouth," risqué for early Seventies AM radio, guaranteeing a gasp and an angry "Turn that crap off" from mom or dad if they ever heard it. No telling the fury that would descend on this teacher if word ever got out to a parent that she allowed it to be played in the classroom.
After the bus riders scrambled out the door, Kevin lifted the tone arm from the album and said, "Check this out." He pulled out the second record and put it the tone arm on another track. There was a slow groove of bass and guitar matching each other's notes, a strong blast of horns broken by flutes and organ and a lengthy saxophone solo. The track, Kevin said, was "No Name Bar." We didn't get to hear the rest of it. The dismissal bell rang for those of us who walked home.
Photo By By Laura Roberts
Turns out Kevin had fibbed about having seen Shaft. The album belonged to his sister who had bought it after hearing the theme song on the radio. Still, the "No Name Bar" song he'd played wasn't anything like what we were hearing on WAKY or WKLO, the two Top 40 stations on the AM dial where our radios were set. We would sometimes hear the crossover soul or rhythm-and-blues songs from War, the Temptations, the Chi-Lites, Marvin Gaye and Donny Hathaway, but nothing like "No Name Bar." That was the heavy-duty groove you would catch down the dial at WLOU, the all-soul station. We'd hear more edgy funk over the next few years with the Ohio Players, early Kool & the Gang and some wild-ass outfit called Parliament-Funkadelic.
But now R&B is pitch-corrected vocals from warbling divas and recycled grooves, all enwrapped in a thug-and-ho persona. And Shaft's composer Isaac Hayes has gone from Oscar-winning self-proclaimed Black Moses to over-sensitive shill for a tinhorn cult.
"That's one of the biggest problems I'm having with what I'm hearing on the radio today," vocalist Lamont Connor said. "People are really getting away from songs with a meaning. The artists of old told a story. The story that these young cats are telling has no meaning."
"It's all fun and games [to them]," guitarist Nate Buschmeyer added. "Most of life is not all fun and games."
"The people making the hits don't understand that," rapper Mr. Theo said.
A thorough understanding that songs should tell stories, combined with a return to an old-school R&B vibe that makes a firm handshake with hip-hop and lyrics that mostly tackle adult issues (but still leave lots of room for shake-your-ass fun) is the mark of the music from Louisville's The Big Diggity. Together with saxophonist and vocalist Mauriece Hamilton, bassist Sherman Buschmeyer, percussionist Jake Englert and the one-named keyboardist Woody, this seven-member ensemble (eight-members on stage for a live performance when they add from their rotating pool of drummers) is as purposeful and determined as Shaft's stride down a busy New York street with high-hat and wah-wah guitar background music.
What drives their determination? Obvious, really, like many other bands: to get a record deal.
"We love our crowds around here," Woody said, "and as great as the responses have been, this band was pretty much designed for a higher level. As the band's been developed and in its present form, tightening this up and developing the show, we've come to the realization that we're almost too big for something like a local music scene."
"That doesn't mean," Mauriece quickly added, "we're too big for our [own good]. The band has always been geared toward getting a deal and not just playing around town. In fact, we can't afford to do that."
Their main selling tool for getting that deal is their second release Dig In (several tracks appeared on an earlier EP called Ride). On its cover, in front of a warm mocha brown background, a busty woman with short black hair, head hanging down so that the ends of her hair brush against her collarbone, has her long fingers poised to unzip her black leather bustier. Her other hand is poised on her hip, resting against a viny tattoo. The Ohio Players used similar erotic imagery in the mid-19Seventies with their LPs Fire (featuring a nude woman wrapped in a sheer fire hose, her body covered in a sheen of sweat) and Honey (another nude woman covered in a thin glaze of, well, honey, that she's ladling into her mouth from an overflowing jar she's holding).
The CD's title for The Big Diggity acts clearly as a sexual invitation. Inside, there are a number of laid-back grooves made for sharing warm massage oils in candlelight with someone special. The opening track, for instance, "Love Has Gone Away" starts off with a jazz piano riff before two notes from an organ fade in from underneath and the rest of the song breaks into slow-burn funk. But like the image on the CD cover, the opening song acts as a lure, an invitation to really dig in to the band's message. Indeed, there are other party songs on it, both downtempo and uptempo, but it also includes songs about life: a man who had abandoned his family years ago and longs for them, another involved in a vile custody dispute over his daughter, a rap about a young man wasting his life on weed and liquor and dispassionate sex, a tribute to two men now dead who helped shape their lives.
"We try to speak and write about the truth," Lamont said. "A lot of people try to classify us as an R&B band or a neo-soul band. I classify us as soul band because we bring music for the soul. We try to speak the truth."
"Speak on how you feel and keep it real," Mr. Theo added. "That's how I come up with my lyrics. It's about the life I live."
"It's not about preaching or anything like that," Woody said. "It's about relating to people."
"The [CD] cover was to get your attention," Mauriece said. "And we've had more people comment on the look of the cover. But it's just to get your attention enough to dig a little deeper."
"At the same time," Lamont said, "we implement those club grooves because as a band we try to be well-rounded. Not only touching on the heavy issues, but giving people something they can move their feet to."
"We're a very fun band," said Mauriece. "You come to a Big Diggity show, you're there to have a good time."
A band that uses erotic album artwork and sensuous grooves to beckon its audiences' ears to hear life stories set to music has its origins in something a bit brasher: 19Seventies Car Chase Music, according to Nate Buschmeyer, who was living in New Orleans when he began to hook into the Starsky and Hutch/Baretta music vibe.
"I was listening to a lot of jazz fusion and stuff when I was about 20," he said. "My friends in New Orleans got me into it. I wanted to start a funk band, adding horns and all that stuff, maybe like that Seventies car chase music, that fun and upbeat stuff. I eventually moved back to Louisville in the fall of 2000 and it started with my brother [bassist Sherman] and a sax player and a drummer. We eventually got Woody, then Mauriece came over to practice. Then we got Lamont and Theo. And over the years it just evolved."
"When I joined it was a jam band," Mauriece said. "We'd have 20 or 30-minute solos from each person on stage. You'd start at 10:30 and end at 2. There were lots of songs that were instrumental that had poems in them and you just soloed over them. Then we started working on some songs with vocals in them."
With the addition of Lamont's vocals and Mr. Theo's rap and more songs written for what the two brought to the band, the members of The Big Diggity had to make a decision.
"At some point we decided either we're going to be a jam band or continue with what we're doing now," said Mauriece. "We tossed the ball forward with this and it's really been good for us. People have been really receptive."
It isn't just audiences in Louisville that have been receptive. Thanks to the band members' pages on MySpace, Dig In is being played on radio stations in Connecticut, Mississippi, in western Kentucky, in Cookeville, Tennessee and the track "Breeve" is featured as the theme song for a show on the Internet radio station aiiratio.net (where Louisville's Johnny Berry and the Outliers also appear). And last year, the band won second place with the song "Keep Livin'" in the R&B/Hip-Hop category of the Unisong International Songwriting Contest.
To make sure the band stays grounded in the euphoria of its small successes and stays true to its direction, they have formed a Limited Liability Corporation (Big Diggity, LLC), with Mauriece and Woody as managing partners.
Nate explains. "We did it on purpose to have the organization filter any outside contacts coming in."
"You gotta have somebody at the helm," said Mauriece. "That doesn't mean that you run everything. But it does mean you have a central focus, that when things come in, they come, like a snake, into the mouth then go to the rest of the body."
"Years ago," Nate said, "we had a few different people booking shows. We double-booked and there were a couple of clubs that got mad because we had to cancel on them."
"Imaging seven, eight people all out trying to do the same thing," Mauriece added.
"At the same time," Woody said, "creatively and musically, new songs get contributed from all sides. We all get together to work on them. It comes to one unified front."
Would the band eventually trade off its business portion to focus completely on music with the same kind of determination as John Shaft walking down the street Percussionist Jake Englert hopes so.
"If we could pass the business onto a bigger and better entity," he said, "then the day we'd get to focus just on the music would be a great day. Because of where we are now, money is an issue and it's one of the barriers that keeps us from really doing what we can do and showing people what we can actually do. Not only can we bring a lot to the radio world, but our live show can be a tour-de-force for festivals and the live show circuit.
"With our diversity and everyone's input, we haven't even begun to scratch the surface."
It's one thing for a band to have aspirations: a deal with a major label, thousands of adoring fans, a wall filled with gold and platinum albums, a pile of women's underwear thrown on stage during a show. It is quite another for a band to believe it can achieve them. Women's underwear and all.
"I don't want to come off as being that serious," Mauriece said. "But there is a lot of work to be done. We believe we've got a good thing happening, even when we're at the point of hating each other. We step on stage and we're one unit. It's the chemistry on stage that keeps us together. We've set the bar pretty high for ourselves, at least so we can shoot for it."
The bar they've set themselves to reach includes playing more shows in the region rather than just within the city, selling more Big Diggity merchandise from their web site (including t-shirts and thongs; bobbleheads, action figures, lunchboxes and which-way adventure books to come later) and getting their music played on more radio stations, over both the air and the Internet.
"We want to walk on some waters that are uncharted," said Mauriece.
"I anticipate this band being a force to be reckoned with a year from now," Lamont said. "If we don't speak with that confidence, we'll still be here."
"If not," Woody said, "you can come down to the Big Diggity car wash."
You'll have three chances this month to catch The Big Diggity stage show (without a car wash):
Saturday, September 2 at 8:30 p.m. at the Rock the Water Tower festival (admission $6, or $9 after 6 p.m.)
Saturday, September 9 at the Highlands Festival
Saturday, September 16 at Wick's Pizza on Baxter Avenue at 10:30 p.m. (admission is free).
Get down and dig in for more at www.bigdiggity.com.
Tags: