August 2005 Articles
Cover Story
Eddy Metal
Features
Bob Mitchell
Paul Moffett
Sean Hoban
Columns
Berk Bryant
Mike Stout
Paul Moffett
Chris Crain
Keith Clements
Martin Z. Kasdan Jr.
Eddy Metal
CD Reviews
Bob Mitchell
John Bohannon
David Lilly
Sean Hoban
Bob Mitchell
Kory Wilcoxson
Sean Hoban
David Lilly
David Lilly
Bob Mitchell
Performance Reviews
Mike Stout
Blogs
Got Shows?
Send Them To Us
Bookmark Louisville Music News.net with these handy
social bookmarking tools:
Available RSS Feeds
- Top Picks
- Today's Music
- Editor's Blog
- Articles
Add Louisville Music News' RSS Feed to Your Yahoo!

Issue`: August 2005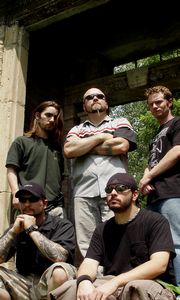 Photo By Laura Roberts
FIVE.BOLT.MAIN
Venting For Dummies
By Eddy Burke
What is a "Five Bolt Main"? Actually it's part of an automobile transmission.
However, former Flaw vocalist Chris Volz defines his new band's name as a piece of machinery that requires five very important components to achieve maximum potential: him and his new musical compadres in FiveBolt Main. Now, with every bolt and screw in place, oiled and ready, these Kentucky boys are set to show the world how much horsepower they've really got...
A Kaleidoscope of Experience...
These are not your regular, everyday run of the mill Louisville metal musicians. Two of the guys have done some extraordinary things indeed. Ivan and Chris are "non-blood" brothers, because they were both adopted and ended up here because of biological connections to family here. Kentucky is home.
Drummer Ivan Arnold has been in several bands that have done well, including Louisville metal icons My Own Victim, (whose European tour was a smash); a small stint with Flaw, Silent Q and now his sights are on the big time with the Fivebolt guys.
The rest of the band (minus Volz) are experienced musicians, but they have not had the opportunity to really show what they are fully capable of as yet. They're eagerly awaiting that opportunity.
Vocalist Chris Volz has achieved what most singers could only dream of: playing big arenas in big cities and other large, well-known venues, including Castle Donnington, where Flaw opened for Tool; opening for Mushroomhead in Dublin, Ireland and Amsterdam; putting out two full-length releases on a major label with Flaw; being featured in a few big movie soundtracks; headlining Waterfront Park here in their hometown in front of thousands and last, but not least, touring with Ozzfest a few years back.
After getting a big gulp of what success can be like, it seems as though Volz is on a single-minded mission to get it again. He's hitched a ride on bullet to get there: a bullet called Five.Bolt.Main.
The Demise of Flaw...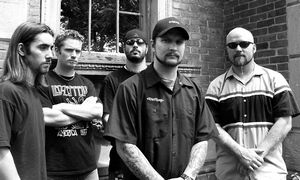 Photo By Laura Roberts
It was a mess that you just knew was going to end in a bad way: laptops thrown through tour bus windows; fistfights every other day; broken noses, blood flying; egos over-inflated. Sure, they were real good musicians, but some things were going on behind the lines that ran a bit deeper ... they didn't get along.
Somehow, the guys in Flaw weren't the nice Louisville guys they used to be. They had some really great moments in that band, times that a musician who plays original music can only dream of. They had a taste of the rock star thing and it got to them in a bad way. But playing to huge crowds in other countries would - probably - change anyone. Any one of us would probably morph into a pumpkinhead, courtesy of a hyper-inflated ego.
It would be fair to say that drugs, booze, egos and bad tempers were the root cause of the demise of Flaw. Nowadays, however, Chris Volz is a much more laid-back and friendly individual who recognizes the changes in his life here of late.
"I'm mellower now, more focused" Chris explained "It really hurt a lot to see all my dreams end up a failure and so quick. Hopefully, I've learned my lessons and can benefit from the mistakes we made with Flaw. The guys in Five.Bolt.Main get along wonderfully, no issues ..."
Enter Silent Q
Tracing Five.Bolt.Main's heritage begins in 2001, when vocalist Scott Dougdale, Aaron Welenken, Ben Patrick and Jason Chandler started the band Silent Q.
Ben Patrick left the band for a bit and was replaced by Ivan Arnold, who usually is on drums. He decided he could use a change on instruments, so he took up the bass duties. After a while, Patrick returned and Arnold went back to the drums. The band's thick, catchy guitar riffs mixed well with the high-pitched vocals of Dougdale.
The band's local debut, Everyday Circus, did well and had them hopping, playing shows and promoting the record. After a good run, however, the rest of the band decided that their vocalist just wasn't right for their sound and opted to look for a replacement. They looked for a replacement for a long time, growing impatient and discouraged in the process.
About that time, the infamous Flaw circus was coming to a destructive end ...
From Zero to Sixty in Zero Flat...
With the end of Flaw, the feeling of failure was too much: Volz was going crazy in record time. When his old friend Ivan gave him a Silent Q CD shortly after Flaw's breakup, Chris was instantly hooked. Within a month he was recording a demo with the Silent Q guys. Stoked, the band re-formed in late October 2004, dubbed itself Vent and went to work.
The Silent Q guys were impressed with the way Volz didn't change hardly a thing with the music - if at all - which is rare.
Silent Q: "Usually a singer asks to prolong or shorten sections according to his lyrical ideas, but with Chris that wasn't the case. He just went in and it worked it out perfectly."
Along with the fast introduction and writing period, there was also a fast-growing buzz in the rock community about the project, so that when the band finally played out, they already had a fan base and good crowd at every show. Unfortunately, another band already owned the Vent name, so the band's name was changed to Five.Bolt.Main.
With Chris Volz's record company contacts, good things were in the works in record time, including a deal with Rock Ridge Records, which allows them to handle the way the CD comes out
"We have so much creative control in every aspect that it makes signing with a major seem stupid," he said. "I should have been on this roster a long time ago.".
With total control over the producing and engineering and with a studio expert like Ivan Arnold in the band, plus help from Chris Cassetta of Canyon Studios, a good friend of the band and to the scene in general, t took five or six weeks to record Venting. The band was quite happy with the results.
And the Five.Bolt.Main website, a popular entity, FiveBoltMain.com is off and running with more than 7,000 visitors each month! Ivan Arnold admits "It's been really amazing the support we have received since we've gotten together."
Ringtone Omens
A certain sign of success? The band has a song, "Pathetic," off the new CD that has just been released as a ringtone for all major cell phone company phones.
On September 13, it will be "go-time": Venting will be released, the band will be touring as much as they can and all fingers will be crossed in the luck that these Kentucky natives will take the path to greatness.
Venting...
Twelve songs of passion, aggression and emotion. That's the word concerning the upcoming, self-produced debut CD Venting from Five.Bolt.Main. I asked the guys how they felt about their new project.
Aaron Weleken: "It's a total collaboration between the band. Period."
Jason Chandler: "The guitar tones were perfect, everything went perfect."
Ivan Arnold: "It's my baby. It's just us. I couldn't be happier, I didn't leave for six weeks. I spent a lot of time editing, mixing, engineering and I'm more than happy with the result.
"We never set out to make radio hits. We want to make music for everybody, heavy, melodic, aggressive...and I think we've done that."
Chris Volz: "It's all over the place, fresh. I'm just doing what I know how to do. Everything is going great and extremely fast. Business is good and it's good to know that people and venues want to book you, even venues thousands of miles away."
Ben Patrick: "It's perfect."
A blend of everything is a good description of Venting.
With the September release date fast approaching and a slew of tour dates coming, these guys can't help but be excited about the future. I asked the band about their favorite songs on the CD and they all agreed that "Pathetic," "The Gift" and "Breathing" were potential singles.
An advance copy was made available. The songs are well-written, layered, with very hooky back-and-forth lyrics and switchovers from vocal style to style. The guitars are a bit more raw than with Flaw, whose guitar sounds tended to be overly enhanced with effects.
The band is scheduled to play a few dates in New York, Charlotte and Cleveland before leaving on a month-and-a-half long stint to Florida, Alabama, Texas, Oklahoma, Louisiana and West Virginia.
The guys are very happy to be doing things on their own terms and, more importantly, seem to get along really well together. They will release a song every week on their website at www.FiveBoltMain.com. until September 13.
Checking Under the Hood...
What makes a machine work? What makes it tick?
We will take a look under the hood of one mean machine and hopefully find out.
Ivan Arnold, 31
Raised by a religious family who pushed Jesus down his throat, Arnold has now reverted to being a rocker who wears a Goatf***er t-shirt in public. Drummer Arnold admits to being a happily married to his wife of 11 years, Lisa, whom he met in his old hometown of Horseheads, New York. Ivan and Lisa moved to Louisville in 1992 and has called Kentucky home ever since. He has been a very active and respected musician in this music scene and can play some serious drums. Ivan's musical influences were Eighties thrash metal, Danny Karey from Tool and some Jon Bonham. Arnold is also an educated man, currently in his senior year in Physics at U of L. He was been in several bands, including Invictus, Crawlspace, My Own Victim, Flaw and Silent Q before Five.Bolt.Main formed.
Jason Chandler, 27
Five.Bolt.Main guitarist Chandler has a very musical family that was heavily into bluegrass. His mother was a singer and his father could play any bluegrass instrument. However, Chandler grew up listening to Metallica, Helmet and Sepultura. "I hate everything else," states Chandler, who is also a well educated and successful guy who even has a law degree. Jason has a girlfriend of three years and is very happy with her. His axes of choice are Gibson Les Paul guitars; he uses Mesa Boogie amps.
Aaron Welenken, 25
Playing a Paul Reed Smith guitar and sometimes a Les Paul, Welenken, the guy who pretty much started the band, grew up listening to Jimi Hendrix, Eddy Van Halen, Ozzy and Randy, as well as Sevendust, Pantera and Metallica. Aaron says that his wonderful family has supported him from the start and that his brother Andrew and his father Art also play guitar. Aaron has a girlfriend as well and also an Accounting Degree from U of L. Aaron also plays Mesa Boogie amps.
Ben "the Procrastinator" Patrick, 26
Influenced by Tool, Helmet, Kings X and Faith No More, bassist Ben Patrick admits to being a computer `genius' and freelance crime fighter "the Procrastinator" in his spare time. His dad played guitar and piano, so little Ben was always around the music in his childhood. He picked up the guitar at ten, drums at twelve, bass at fifteen and finally got into his first band, Heroin T, before ending up with Silent Q and Five.Bolt.Main.
Chris Volz, 31
Volz been with the same woman for over a year now and has seemed to calm down somewhat as he enters his thirties. Says Ivan: "The man is a workaholic when it comes to his music, doing whatever is necessary to get the needed exposure, or help to get the big ball rolling at breakneck speed, including interviews, radio plugs, appearances."
He's a dude on a mission. Success to Five.Bolt.Main!
Road Tales: Ivan's Funky Laundry and the Secret of the Twist Ties.
The band admits that they don't have many road tales of yet, because of the short life of the band, but there are a few that are interesting ...
The Twist Ties from Hell.
Ivan and Chris were in Hollywood as guests of a record company, in a hotel where there was a full mini-bar fully stocked. There was only one problem: the doors were locked with a `chicken band' type hard plastic lock.
Wanting a drink, but not wanting to be charged, or to get in trouble with the hotel for breaking the seals, Arnold declared he could take the doors off the hinges and retrieve the goodies without disturbing the security band. After a time, Ivan succeeded and the alcohol was soon flowing freely in every sense of the word. No word on whether or not hotel figured it out.
The Horror of Ivan's Laundry
Ben Patrick: "Ivan sweats a lot, so when we are on the road, his laundry bag is always put farthest away from us.:
Hooking Up The Fans
At one show in North Carolina where the band acquired some new, then realized that they didn't have enough room for the older stuff on the way home, so they gave a 4X4 guitar cabinet to a young fan, who was a budding guitarist himself. The kid about had a heart attack and was much appreciative to the guys for taking pictures with all the fans and for the huge gift. The guys really enjoyed the moment and the feeling of helping out a young fan.
Hairy German Girls.
The band mentioned an incident where they ran into some German girls, who had more body hair than Sasquatch, lounging in a hottub. They were furry, but nice ...
Tags: