October 2001 Articles
Cover Story
Jason Koerner
Features
Keith Clements
Paul Moffett
Keith Wicker
Columns
Berk Bryant
Decimus Rock
Mike Stout
Paul Moffett
Chris Crain
Keith Clements
Rick Forest
Jason Koerner
Muffy Junes
Eddy Metal
Henry C. Mayer
Henry C. Mayer
Henry C. Mayer
Jimmy Brown
CD Reviews
Bob Mitchell
Tim Roberts
Rob Greenwell
David Lilly
Dewey Kincade
Rob Greenwell
Tristan Palmer
Eddy Metal
Kevin Gibson
David Lilly
Performance Reviews
Rob Greenwell
Blogs
Got Shows?
Send Them To Us
Bookmark Louisville Music News.net with these handy
social bookmarking tools:
Available RSS Feeds
- Top Picks
- Today's Music
- Editor's Blog
- Articles
Add Louisville Music News' RSS Feed to Your Yahoo!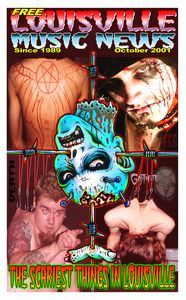 Photo By By Jeff Gaither
Scariest Things in Louisville
Some people collect stamps.
Some play baseball.
Some like to shop.
Others choose to...
HANG THEMSELVES FROM MEAT HOOKS FOR FUN.
I will never be the same after witnessing the anomalous events I have seen this month. In a matter of a week, I saw the Urban Rituals Human Suspension Group perform things I never would have imagined possible, the Human Puppetry of Tool's onstage performers, and the complete annihilation of the twin towers of the World Trade Center and the disfiguration of the Pentagon.
There is much terror to be found in the world today, but what kind of scary sites can be found right here in Louisville that do not involve terrorists, death, and destruction?
Scariest Rituals that are legal (I think):
Well, for starters, we should just get into the deep stuff. Human Suspension. Ever heard of it? If you are about 0-2,500 years old, you may have. Human Suspension is a ritual that has been around for quite some time now, performed by North American Indians well as numerous tribes of other countries for the purpose of demonstrating spirituality, exhibitionism, complete control of one's body and mind, etc. It survives here in Louisville, and I bet you never knew it existed anywhere in this century, let alone in this country or in your own backyard.
Brent Hedgespeth of the U. R. suspension group and Body Rites piercing shop in New Albany, IN (310 Bank Street, 812-944-1250) has been doing suspension shows in the public eye now for about four years. He was on hand for a killer show at Extreme Scene September 7, featuring Nemesis (my band), Forever Ether, Absence of Faith, and the Urban Rituals Suspension Group. Brent performed some high flying activities on the good ol' meat hooks and is featured in the cover photo. Some of the antics displayed included pendulum-like swinging, hanging upside-down by his feet, as well as taking his girlfriend (I think) for a nice swing - just like at the park on a sunny day, only the swing is attached to his skin.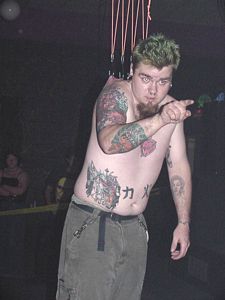 Photo By By Jason Koerner
Skewering is a practice in which the participant shoves a rod of some sort, either metal, wood, plastic, etc. through a portion of the cheeks or any part of the body. It is most accurately and vividly described as a "gateway" to more extreme acts. You know, like a warm-up act at a show.
Lip and eye sewing are also practiced by people to express themselves politically, religiously or just for the shock of it all. You can witness lip sewing first hand on October 26 at Tek World at a show featuring Nemesis, One With Misery, My Own Victim, and Absence of Faith. I have been told by Jerry Barksdale of AoF that he will be playing bass with his eyes sewn shut that night.
Though these rites may sound barbaric and rudimentary, modern science and technology has taken us to new plateaus when it comes to pushing mankind to its limits. The professionalism, cleanliness and preparedness of the folks from Body Rites really left a lasting impression with me. It shows just how serious they are about their arts, and how conscientious they are of its possible consequences. They must have been doing something right at Extreme Scene September 7, since there were Louisville police officers on hand who merely watched and did not intervene.
If you are suddenly interested in getting into the netherworld regions of piercing and body modification, this is an overview of what you can get done at Body Rites: full body modification, implants (i.e. - genital beads, silicon implants elsewhere) scarification, branding... all in the most sterile, professional facility around.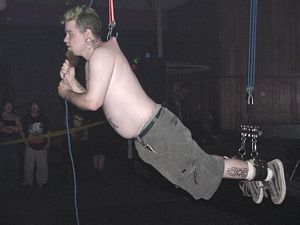 Photo By By Jason Koerner
Scariest Body Piercings:
Hedgespeth has also played Frankenstein with a fellow suspension veteran, Jerry Barksdale.
Barksdale is the proud owner of a highly "modified" body. Here is a brief rundown of some of his expressions. (Forgive me if I do not go into great detail about them all.)
For starters, Jerry has his lip triple-pierced. Two of them are vertical piercings, one horizontal. He also has the nape of his neck pierced with a 2 inch barbell. The rest of his piercing expeditions are less comfortable to talk about. (Note: If you do not have a strong stomach, quit reading now...) Jerry has a few additions below the belt, so to speak. (You ever hear of one Prince Albert?) Though Barksdale does not have a Prince Albert, he does have six genital beads in the form of large (¼ inch) bumps on his penis. (Note: By the time this story is in print, Jerry will have taken the next step in his piercing parade. His newest addition will be a double 10 gauge hafadas. Hafadas are scrotal piercings specifically placed on the upper-sides of the scrotum. Piercing lore tells us that they are of middle-eastern coming-of-age origin. Info gathered from http://www.bmezine.com.)
Scariest Tattoos:
Tattoo-wise, ink can be found on his right rib cage in the form of the Evil One, dressed up as the Pope. You can also find Jesus with horns and hooves on a cross, impaled at the head on his right thigh. Another design, the Sigil of Baphomet, is seen on his body, symbolizing man's carnal desires. (The Goat is a relating symbol, representative of fertility and vitality and symbolic of Man's carnal desire.) The Sigil of Baphomet is a direct representation of the individual above mass man. Satanism puts man above all things, and many of his designs are of a Satanic influence. Satanists do not believe in God or the Devil. The Satanist considers himself his own God.
Barksdale had this to say about the misconception of Satanists and Devil-worshippers...
"Devil worrsipping (sic) is a bunch of idiotic, deranged kids worrsipping a guy in red pajamas. Satanism is a humanistic philosphy whereas man is the highest embodyment of existence. The term "satan" is hebrew for `adversary' or `opponent.' we, as satanists, are the advesary of `herd conformity.' only fools follow the herd, letting an impersonal entity dictate to them their rights and wrongs."
Much of Jerry's ink comes from Asgard Ink in New Albany, IN. Some other shops for quality tattooing of the scariest sorts is Body Art Emporium (Highlands) and Derma FX (Fern Creek). I have had work done at each shop (Travis at B.A.E. and Tina at D.F.X.) and been treated very well and received great work.
Scariest Body Modification:
There is much psychological evidence to support the notion that it is natural for us to seek to change our bodies. It leads to the impact that our environment has on us as humans, and the conditioning, traditions and social control that we are susceptible to. Body Modifiers try to break that mold and take back the control they feel is necessary over their own flesh and mind.
Barksdale is no exception to the above statements. There are other features to his "new and improved" body, such as the trans-dermal spikes found in his right arm. He flew to the state of Arizona to get some `cutting edge' arm implants. A total of five spikes that can screw in and out of their bases serve as a trophy for his efforts. (Think about the guy Joe who got the "Metal Mohawk" No matter what you do, it`s never enough.) So, $650 later, Jerry had spikes sticking out of his arm. There is a rumor that he was featured on TV's 20/20 with his eyes sewn shut at a performance in Columbus, OH, but Barksdale himself has never seen it. (Maybe he had his eyes sewn shut that day...)
A lesser-practiced act of branding has found its way to his back. This effort, more commonly used in marking cattle on ranches, comes now in the shape of an Inverted Pentagram. It is a diagrammatic representation of a goat - the points making its horns, ears and beard. (Again, Jerry insists he is a Satanist, not a Devil-worshipper.) The design was completed with a branding of attaching "angel" wings. This insignia covers the entirety of Jerry's back, and has been redone several times to "improve" the scarring.
Body modification can take any number of forms; and if you can think of it, it has probably been done already. True thrill seekers are always looking for the newest boundary to push and to see what is happening in the community of fellow "visionaries." Maybe you have heard of the Lizard Man, Eric Sprague, the guy who spliced his tongue in the middle, has four sub-dermal "lizard bumps" above each eyebrow made of silicon implants, has all of his teeth filed to points, and about 90% of his body covered in lizard scale tattoos, a process which is still in progress. This self-proclaimed professional "freak" is on tour with The Jim Rose Circus and also has a degree in philosophy.
On the subject of modification, he states this:
"The modifications I make to my body can mean many things but most importantly, and at the most basic level, they demonstrate the ongoing realization of my living according to a basic principle which I have consciously chosen: Know Thyself. Should there be a final accounting of the positive and negative consequences of these physical changes, regardless of the balance, it could only pale in comparison with the sense of well being that comes from seeking, recognizing, and following one's desires."
Barksdale often jests that he wants to get his nipples relocated to his stomach area. But is he only kidding? Tune in next week to find out, same Bat Time, same Bat channel!
Scariest Bands in Louisville:
It would be blasphemy to discuss all this without pointing out the obvious tie to music. Metal is a huge part of the Louisville music scene, and so many local groups are full of talent here in town. However, a few come to mind when thinking of the over-the-edge contemporary Alice Coopers and the like. To reflect on topics discussed earlier with the Jerry Barksdale saga, his former band Assisting Sorrow is a good example of the razor sharp edge of metal that is just plain scary to watch.
"Tonight we raise the Goat!" chanted repeatedly by the group's lead singer Mike Barnes, currently of the band Abominant, was enough to make the weak at heart leave the area immediately at a show. (Abominant is just as scary, if not worse for similar reasons.)
Assisting Sorrow drew much of its influence from European black metal and technical speed metal. The riffs were fast and furious; they were enough to make any metal guitarist ready to kill themselves due to the depressive notion that they could not play that well. The Satanic influences intensified the band's presence to an uncomfortable level for some audience members.
But wait... this just in! For all you A.S. fans, the band has announced recently that they are back together, regrouped with all new musicians, excluding guitar guru and main songwriter, Chris Lessler.
Be sure to check out Absence of Faith, Barksdale's new group. Their industrial metal edge will leave you impressed and a little anxious. They have a great light show, and a really full sound for just a three-piece. If you are lucky, you will catch Jerry doing some sort of "bonus" performance as well. See them first at www.absenceoffaith.net, then check out the live show Friday, October 26 at Tek World with my band Nemesis.
The Revenants are heavy hitters in this scene, and without a doubt is one of the scariest bands in Louisville. I've heard a rumor that they threw maggots out in the crowd at one (or more) of their shows. They have the look of walking dead with their face paint and a great reputation in the punk/ hardcore scene. Their mainstay in the Louisville scene is widely known as a frightening one.
Metal does not have to be Satanic in nature to frighten we "consumers" of it. Just take a look at Halloween, adorned, in the spirit of commercialism, in candy, haunted houses and costumes. But when Halloween is done right onstage, it leaves its mark. MSD has mastered this art, and they reiterate this notion every time they perform. (To learn more about MSD, see my cover story on this band in the July issue of Louisville Music News, or visit www.louisvillemusicnews.com and search in past issues for photos and the full text article.) They take their art to the extreme and do it right.
MSD follows the path paved by KISS, Alice Cooper, Marilyn Manson, etc. with their stage show. The emphasis is put on the "look" and getting into character when stepping on stage. The music they play provides a soundtrack to the show that they perform visually. This is the softer side to scary, where you know (or hope) the blood is fake.
As I mentioned earlier in the article, I saw Tool last weekend. (Tool comes to Louisville October 18.) I witnessed a contortion/ trapeze act that is extremely difficult to put into words. It was disturbing enough to talk about in this story, but artistically beautiful all at the same time. Two individuals, a man and a woman, went up on a pulley system and hung upside down for a period of approximately 30-45 minutes. They swayed to the music, - buck naked and freshly shaven, I might add - performed acrobatic movements while hanging, and even did a spooky rendition of the robot. This kind of entertainment is rivaled by bands like Rob Zombie, whose theatrics are uncanny.
Groups have to find their own niche and that is a difficult thing to do if you dare to choose the shock-rock path; so much has been overdone, it is often too difficult to pull it off and be taken seriously, and with a highly involved stage show, it can get pricey fast.
Scariest Art:
And the winner is...Jeff Gaither.
This man does scary artwork better than anyone around. Check out my column, Louisville Rock Lowdown last month for the scoop and Gaither and his famous designs. Or, visit www.gaithergraphix.com to see some art for yourself.
Jeff has provided artwork for Guns and Roses, Sevendust, Drowning Pool, Insane Clown Posse, Van Halen, and tons upon tons of other well known (and lesser known) bands. He also created the cover this issue of Louisville Music News.
Scariest Venues in Louisville:
This would definitely have to be the Waverly Hills Tuberculosis Sanitarium, otherwise known as the old TB hospital with the body chutes. Yes, body chutes. The hospital/ asylum was in use earlier this century and has been the source of infinite ghost stories and local folklore. It now rests at the top of a hill on Dixie Highway, still unable to get a good night's sleep due to vandalism and break-ins. A music showcase was put on there around this time of year a while back, and though I am fuzzy on the details of it, I think it did rather well. I believe a guided tour of the facility was also given by a parapsychologist, probably for the last time, since rumor has it that some kids got themselves stuck in the body chutes. Whether or not "Waverly Mansion" will be the next Headliner's or Phoenix Hill or not, I cannot say. But this is definitely, the scariest place to play.
If Waverly does not fit your style, you can check out a good Halloween show around town. Hallopalooza 2001 will be held at Extreme Scene on October 27. This year's bands include Nemesis, Filth Porn, Ded End, and Fall With Me. Admission is $6. Prizes will be given away for best costumes, so be sure to dress up. You can find much of the same attributes of this annual event at Tek World the night before, where Nemesis, My Own Victim, One With Misery, and Absence of Faith will be performing their tribute to Halloween.
Scariest Web Site Links:
You can visit these web sites to gain a better understanding of the things I wrote about this month. I suggest you prepare yourself for a shock for some of these.
Check out www.absenceoffaith.net for Absence of Faith. Another good one is www.revenants.com for the Revenants. While you are at it, go to www.rotten.com for just plain nasty stuff. To see the Lizard Man with your own eyes, go to www.thelizardman.com. For art, see Jeff Gaither's www.gaithergraphix.com. For Body Modification, see www.bmezine.com, www.templeofpain.da.ru, or www.churchofbodymodification.com. These are all great sites to see what we learned about today in class.
Scariest Final Thought:
I want everyone who reads these words today to leave this article a little more educated, tolerant and curious. I take no stand on what is right or wrong when it comes to religion, fashion, sexuality, tastes in music or otherwise. I just hope that maybe you have at the very least been entertained and intrigued by all this. A big thanks to Jerry Barksdale, Jeff Gaither, and all those who also helped in the compilation of this "scariest" piece.
My deepest sympathies go out to those who lost their life or a loved one in the recent tragedies. I hope that the only damage that is done to Americans is the damage we do to ourselves with meat hooks and piercing needles!
Tags: