January 2000 Articles
Cover Story
Tim Roberts
Features
Paul Moffett
Vicky Moon
Columns
Berk Bryant
Decimus Rock
Mike Stout
Paul Moffett
Vicky Moon
Keith Clements
Tim Roberts
Jason Koerner
Muffy Junes
Laura Roberts
Jimmy Brown
CD Reviews
Robert Gruber
Jeff Kallman
Paul Moffett
Jim Conway
Tim Roberts
Robert Gruber
Robert Gruber
Robert Gruber
Tim Roberts
Adriaan Sturm
Performance Reviews
Michael Campbell
Jason Koerner
Henry C. Mayer
Henry C. Mayer
Laura Spalding
Interviews
Laura Spalding
Blogs
Got Shows?
Send Them To Us
Bookmark Louisville Music News.net with these handy
social bookmarking tools:
Available RSS Feeds
- Top Picks
- Today's Music
- Editor's Blog
- Articles
Add Louisville Music News' RSS Feed to Your Yahoo!

Issue`: January 2000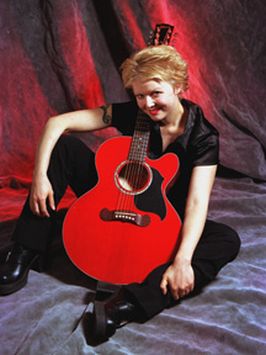 Heidi Howe
Heidi Howe's Red Guitar Diaries
Her gaze is long and soft at a row of guitars hanging from the wall, the broad curves of their bodies flat against it like chorus girls in a police lineup. She steps back from the window and walks into the store. Inside, the choices surround her. She knows, though. The instrument she desires – the one she needs – has been swaddled within her heart. All it will take is one look. One touch of the strings. The fit of its back against her slim body. The way the bottom curve snuggles against her leg.
She knows what her choice will be when she sees it.
Among the blonde, black, and natural finishes, she sees a Gibson acoustic colored in a deep cherry red. She lifts it from its hook on the wall and lowers it to her. With a few long strums she gently pries sounds from it, feeling the strings buzz under her fingers on the fretboard with tiny sparkles of energy that flow down into her.
The desire she has held is awakened. It unravels into the real. She has made her choice.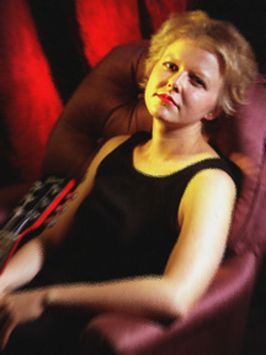 Heidi Howe
Since then she has used it as an unmistakably visible and audible tool – a trademark of sorts – to bring humorous, bittersweet songs of heartbreak and broken people to her audiences. Songs of disillusionment shot through with light irony, just enough to bring a good chuckle and keep the atmosphere from getting too sour. In one of them she's gladly gathering the detritus belonging to an evicted lover (Batman bookends, a naked lady beer mug, a Soloflex) while also damming back her tears. In another (where she cleverly rhymes "libido" with "Speedo") she wishes her studly, upscale boyfriend had the wise soul of Lyle Lovett, her personal idol. In one more she gets sentimental about an old record shop in Downtown Louisville, now gone and replaced by a wall, but not without a drizzle of anger aimed at the chain-store monoliths that helped to board up its doors and windows.
People stuck with each other but not in love, cheating boyfriends, failed dreams – she plays things exactly as they are. All this from the woman who plays upon the red guitar.
"I want to write a really pretty love song," she said, "and I can't do it." She pounded the table once. "I am trying, man." She pounded it again.
The crowd noise at the Come Back Inn had increased during the dinner hour, so her pounding got lost in loud chatter. A birthday party had taken up the row of tables next to us. Other patrons shifted around close to the entrance, awaiting the next available seats. Our dinner dishes had been cleared away. The Come Back often fills up quickly. It's a pub located on the edge of the Highlands and Germantown neighborhoods, known for its luscious Italian food and long, worthwhile waits for a table. Heidi and I were in a booth that could have easily fit six people. We hadn't finished talking when the crowd started flowing in.
Heidi was describing a song she was writing which she hoped to perform as a duet with Butch Rice (cover story subject in the August, 1999 LMN), another Louisville singer-songwriter whose works, though extremely tender, are also rooted in heartbreak. The song she was writing headed toward one of her favorite subjects: a crippled relationship.
"I just don't have it in me," she said. "But I can't think of any pretty love songs that I really like. I can't identify with them."
From listening to her lyrics, it might seem that Heidi Howe is sick with experiences of failed romance, that bitterness drips from her songwriting pen, that the red of her guitar is a metaphor for the blood that's been spilled from having dozens of heartbreaks. Even her label's name, Cop a Feeling Records, is an edgy double entendre. Actually, the five-foot-even, 24-year-old blonde with ocean-blue eyes is lively, humorous, chatty. When she makes one of her a sharp cackling laughs, her entire face scrunches into a soft, baby-like plumpness. She looks like a grown-up version of Bubbles, one of The Powerpuff Girls. She's a vegan, doesn't smoke, drinks only water and works in a child-care center during the day. Still, her music is barbed with a witty, sarcastic view of the hurts people give each other. Plus it is full of enough country twang to make the toughest dude in the dingiest hole-in-the-wall shed tears into his beer.
She hadn't intended to skew her music toward a country sound, even though she did listen to a lot of country 45s with her father when she was younger. The influence is clear and strong. Yet the style that carries her work seems to be less of a direct influence from country music and more of a reflection of honesty in songwriting.
"A good song should be honest," she explained, "and I think that's why I have a problem with so much stuff [being played] on the radio. I don't know if I really want to hear myself on commercial radio because 90 percent of it is crap. I try to listen to it . . . and I hate it. I can't listen to it for more than 10 minutes. I can't write a song about somebody dying in a plane crash, or with every other line as 'together and forever' and 'love' and 'above.' It's, like, ugghhhh!
"I want to be better than that."
She's apparently succeeding. Late last year she was voted "Best Original Music Act" and "Best Country Band" in the LEO 1999 Readers' Choice Awards. She and her band The Backseat Drivers pack the small venues where they play with dedicated fans and always a few new converts. Her debut CD, Nature of My Wrongs, released in February of last year, pulled in glowing praise from several local music critics. Co-produced by Heidi and Groovebilly/Lolligagger Peter Rhee (who also plays a number of acoustic string instruments and provides backing vocals on it), Nature is one of the local do-it-yourself miracles. Heidi wrote all the songs, the liner note pictures were taken by her sister Amy Mudd, the layout was created by Amy Helper, and the entire package was pressed and printed by Ben Jones of Better Days Records. She also has many of the city's A-list musicians backing her: Jim Baugher on bass, Cary Shields (of danny flanigan and the rain chorus) on drums, Bryan Hurst on guitar and special guest Tim Krekel (for whom her father and stepmother edit the "Star Krekker" fan club newsletter). All but one of the songs follows Heidi's theme of crash-and-burn love. The single exception is the head-bobbing "I Wanna Be a Punk Rocker." Its driving rhythm snags your ear and drags you back to the late 1970s. For three minutes, it makes you want to wear a black leather dog collar and replace your nose rings with safety pins.
Ay! (dah-dah-dah-dah-dah) Oh! (dah-dah-dah-dah-dah) Ay! (dah-dah-dah-dah-dah) Oh!
Several of Nature's nine tracks received regular airplay on WFPK. Her response in kind was to perform "Buckets of Rain" (backed by Bryan Hurst and the Lolligaggers) at the station's "Dylan for Dollars" marathon fundraising concert in August. While she was only one of more than 50 performers at that show, it may have been the performance that introduced the city's music fans to her cherry-red guitar and her megawatt singing voice. Put another way, the show was the cotillion where Heidi the Witty Debutante of Twang had her hometown coming out.
She's grateful to the city where she was born, raised and currently lives after spending five months in Seattle, where she was involved romantically with a bass player. "I can't complain about anything," she said. "Louisville's been really awesome to me. I just feel really blessed. And I don't feel like I've worked super hard for my success. I just try to follow directions and do the next right thing, and stuff . . . happens. I don't know how to explain that."
"King of the Vinyl," a selection from Nature, may best explain the genesis of the talents that have led to her success. The song is a tribute to Gene King, proprietor of the defunct King's Records on West Jefferson Street in Downtown Louisville, where, as Heidi sings, "the music was magic." Brother of country music legend Pee Wee King, the walls of his store were covered with autographed pictures of performers he knew personally. He was a muscle-and-blood encyclopedia of music with connections that hooked him to people around the globe. The front of his store was used on the cover of a Roseanne Cash recording. On the back cover of Nature, however, Heidi stands in its doorway, the façade covered with boards and prepped for demolition. But when she was a child, as she describes in the song, her father would buy singles at the shop using beer as a barter ("Some things in life are just understood," she sings). The deep love of music that started with those visits to King's carried her through her years at the Youth Performing Arts School, which she attended with guitarist Matt Frederick, Dewey Kincade (when he was known as Andrew) and the singers of Southern Komfort.
Filling an unexplored niche is another aspect of Heidi's success. "I think one of the reasons I've been successful – why people have been really supportive – is because there aren't a lot of other women doing much in Louisville music. Especially country. Nobody's doing what we're doing and I think that's the reason why we're filling a hole.
"And the band's been super, too."
Her current band is called The Backseat Drivers. Together since August, their sound is a virtual note-for-note match with the one on Nature. The lineup features Dan Canon (of Zero Cycle and an instructor at Mom's Musicians General Store) on guitar and mandolin, Dave Cross on bass and Phil Gatton on drums (both of Muffy Panics).
She outlined how the band came together. "David played bass with me at 'Dylan for Dollars.' I'd borrowed all of Bryan [Hurst's] Lolligaggers. And he made the mistake of telling me, 'Oh, if you ever need another bass player to fill in, you can call me.' The guy I was involved with in Seattle also plays bass and was supposed to be coming here to join my band. But when I told him not to come, I asked Dave if he wanted to play with me. He said he'd love to."
Dave then introduced Heidi to Phil. "This was just too easy," she said. "I put an ad in LEO for a guitarist and Dan was the first person to call me and join up."
Since then Heidi Howe and The Backseat Drivers have made regular appearances in venues around town: a Halloween show at the Rudyard Kipling, where they were costumed as Goldilocks and the Three Bears, with Heidi dressed in a long curly blonde wig, checkered skirt, white tights and black shoes, while Phil and Dan wore Chicago Bears jerseys and Dave dressed in a white shirt with Byzantine designs on it and a black Cossack hat (obliquely costumed as a Russian bear); an appearance at the Comedy Caravan for a taping of the "Mid-City Mix" television program; a show where they crammed onto the narrow, porch-like stage of the Hideaway Saloon; a holiday party at the Twice-Told Coffeehouse.
They plan to begin work on Heidi's second CD early this year. "They're just super folks," she said of her bandmates. "There are no egos. . .except for mine."
No matter what venue they play, or how full of hurt her songs may be, there's always some fun at a show with Heidi Howe and The Backseat Drivers. It keeps the heartbreak in perspective. "I think I have to be able to laugh at myself," she said. "It's harder for me to find the humor in being happy. Writing songs is like therapy for me. It helps me get through. I mean, what is there to get through about being happy in love?
"A friend of mine came out to hear me play and he heard 'Lyle Lovett Inside.' He said that was the saddest song he'd ever heard it his life. I try to make people think that there are certain things you can take in different ways that are going to be funny to somebody and not funny to somebody else. There's stuff I did not write to be funny, like 'Another Other Woman,' where I sing 'the last one wasn't even prettier than me.' That, to me, is serious. That's sad stuff. And people laugh every time we do [that song]."
Yet a goal of hers is to try to write a good love song. "Something new I've been working on is trying to put myself in other peoples' places and write songs from other points of view besides my own."
She perked up for a few seconds. "I did write a love song for my sister. Does that count?"
Despite all her brazen humor toward the harm people do to each other's hearts, Heidi is still modest, and a little overwhelmed, about the success she's had since last year. "I have to remember that I do not deserve this stuff. People are being really generous. When I think that I'm the one who has had much to do with any of this, that's when I'm going to be in trouble. I will be the one that will bring it all down onto my head.
"But I'm doing what I love to do. I'm just doing it in public instead of my living room."
It's easy to keep up with where Heidi Howe and The Backseat Drivers are performing around town. Pay a visit to www.heidihowe.com.
Tags: