August 1999 Articles
Cover Story
Tim Roberts
Features
Bob Baker
Columns
Berk Bryant
Paul Whitty
Mike Stout
Paul Moffett
Vicky Moon
Keith Clements
Tim Roberts
Jason Koerner
Muffy Junes
Laura Spalding
Henry C. Mayer
Jimmy Brown
CD Reviews
Tim Roberts
Bob Mitchell
Jim Conway
Bob Mitchell
Jean Metcalfe
Robert Gruber
Jamie Bamforth
Robert Gruber
Performance Reviews
Cheryl Chastine
Jason Koerner
Jason Koerner
Bob Mitchell
Blogs
Got Shows?
Send Them To Us
Bookmark Louisville Music News.net with these handy
social bookmarking tools:
Available RSS Feeds
- Top Picks
- Today's Music
- Editor's Blog
- Articles
Add Louisville Music News' RSS Feed to Your Yahoo!

Issue`: August 1999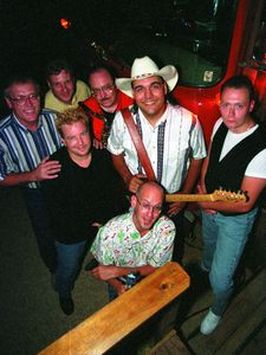 The Allen Layman Band -
Allen Layman: Country singer Allen Layman is a man with a plan
By Kevin Gibson
Photos By R. Hunt Sidway
When you meet Allen Layman, the first thing you notice is his size. He's six feet, four inches tall, weighs about 250 pounds, and his dark complexion and long, black hair make him a prime candidate to be a professional wrestler.
Frankly, he looks like he could pick up a car.
But all Allen Layman wants to pick up is a guitar - and not just on weekends. There are plenty of country bands in Louisville, but perhaps none are so driven to be more than just a weekend attraction. It's not that the Allen Layman Band won't play your wedding; it's just that Layman thinks of gigs as preparation for when he climbs to the top of the country charts.
"It's been three years, a thousand bands and a lot of time and effort to get this off the ground," Layman said before a recent gig at the Olde Depot in Shepherdsville, Ky.
Layman talks very much like an artist on the rise. It isn't just the pocket money and weekend fun he's looking for, as is the case with many bands, country or otherwise. In fact, Layman doesn't even hold a full-time "regular" job. He does work part time - three or four days a week - for the West Point (Ky.) Board of Education. Other than that, it's playing live, writing songs and perfecting his craft.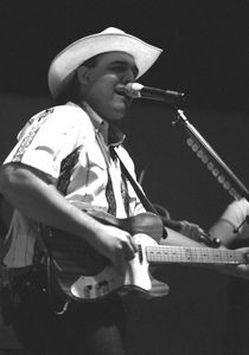 Allen Layman - Photo by R. Hunt Sidway
Perhaps the most striking thing about Layman, however, is not his songwriting skills, his radio-ready vocal or instrumental abilities, but his plan. Whereas some artists merely play and expect to be "discovered" and some spend more time mailing demos to major labels than actually working on their music, Layman has his strategy all planned out.
When the Allen Layman band came together, "my plan was to get us playing close to see if we were all going to get along, to see if everything was going to go well."
That happened, so Layman started the process of expanding the band's reach, but slowly. "Hopefully, we'll become a regional band, and the next step will be to expand to Ohio, St. Louis. Hopefully, by then we can turn the heads of some of the labels."
Make Your Breaks
The 25-year-old has some help in his strategy, that being his manager, Laurinda Drake.
Drake believes in him, and that's all the motivation she needs to promote him. Layman was living in El Dorado, Ark., about three years ago where some friends had hooked him up with a group called the Rebel Springs Band. While he was there, his father, who also has played a lot of country music in his time, talked him into playing a show in his hometown at the West Point Country Opry (now called Musicland USA).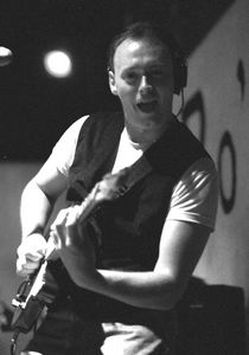 Richard "Wichita" Douthit - Photo by R. Hunt Sidway
It was at that gig that he met Drake.
"I was over there for a totally different purpose," Drake said, "and in the monitor I was hearing this voice. I was like, `Who is that?.'
"After he got through singing he went out the back door and around the side and he ended up out in the parking lot where I was. I asked him, -What are you doing here with that voice? I told him I know just enough about the music business to be really dangerous, but if you're not doing anything, why don't we see what we can do?"
"I didn't feel like (the Rebel Springs Band) was taking me in the direction I wanted to go," Layman said, "so I decided to give her a chance."
That was December, 1996. The next two years would turn out to be like, for lack of a better analogy, a roller coaster ride. Layman's band had numerous ups and downs, and the position of drummer was such a revolving door that it nearly matched the legend of the fictitious band Spinal Tap.
But through it all, Allen Layman was able to build a following and, most of all, get some stage experience. That was Drake's plan all along. She started off by entering him in every talent competition she could find. He won many and placed high in all of them, so she and the singer figured, by the summer of 1997, it was time to hire a band and start playing gigs.
The roller coaster ride began, and it nearly came crashing down in December of last year, because of the troubled waters within the band.
"The band just blew up," Drake said. "None of us could stand it any longer. The first part of December, if you had talked to me, I would have said, `I'm finished with this.'"
But Drake had contracted a gig for the Colonial Gardens in Louisville, and had about half a band left. She called a guitarist named Richard "Wichita" Douthitt, a longtime professional who played with another popular country band here called the Misfits. He wasn't doing anything at the time and agreed to play. That's when everything started coming together.
"The main reason I'm here," said Douthitt, "is (Layman) plays my kind of music."
But he certainly is in for the long haul. "I hope for a record deal. I can see Allen going a long way. He's definitely got the material."
On Easter Sunday, 1999, the final piece to the puzzle fell in place when Mike Tucker came on board to play drums. Drake got Tucker, who lives in Nashville, to play one gig with the band at Jim Porter's Good Time Emporium, and it was on. Not only did the revolving door finally stop, but everyone seems to agree that Tucker is a perfect fit for the band.
"That was the icing on the cake," Drake said. "It made them, as far as I'm concerned, the perfect band."
"The players are great," Tucker said, "the personality of the band is great. Everybody has fun. If you make a mistake, they're more likely to make fun of you rather than say, `If you do that again, you're fired.'"
Layman deadpanned: "There's no drama."
Everyone laughed, and it became apparent the talk of good fellowship in the band is not just talk.
"When we got this lineup, it all pretty much came together," said Tony Nevitt, who plays steel guitar, mandolin and a host of other instruments in Layman's band. "I think this group is good enough to do whatever we want to do. You have to go back to the Mike Lunsford Band back in the '80s to find as good a lineup."
And here's why the Allen Layman Band will make it to the top, according to fiddle player Billy Nett: "It's a combination of things - Allen's songwriting; the talent of the band; the camaraderie of the band. That is sometimes unusual in this business. Laurinda is very persistent. Allen is, too. You have to set goals and do it. Wichita's talent speaks for itself, and Mike Tucker is the best drummer I've ever played with."
Bassist Danny Forbis, who has been in the music business "ever since I was old enough to hold a guitar," agrees that the camaraderie of the band is a key, as does saxophonist Gary Mattingly.
Ah, but the plan must work, and Drake is a car crash of ideas. For instance, when Layman's 10-song album, "In Layman's Terms," was released in 1997, it included a cover of "My Old Kentucky Home." The purpose was to use it to get some press around Kentucky Derby time. Drake even sent a copy of the CD to Jay Leno with the idea to bring the Derby to his studio.
"Something like that," Drake said. She was shocked when someone from Leno's office called her and said the band would be put on standby in case one of the already-booked acts for that week fell through.
"I'm not afraid to call anybody," Drake said. "The Tonight Show" notwithstanding, Drake praises Louisville radio station WXKW for the airplay it has given Layman. "They've been good to us," she said.
Also, Courier-Journal columnist Bob Hill wrote a column about Layman that brought him a lot of attention, and all of the local news programs have featured the band at one time or another.
But even though she is fearless with a phone, she understands that overnight success isn't the goal. "To this day Allen has not showcased in Nashville," she said. "When we go, I want him to be ready."
Layman understands as well that breaks must be made through hard work and contacts.
"I've found the best way to get to a label is not by mail," he said, which is why he doesn't spend too much time sending blind demos and resumes. "They've got a thousand people banging on their front door. The ones who get signed are the ones who get let in the back door. They aren't listening to the machine guns out front."
Starting Young.
Layman first started singing at age nine when his father, Joe Layman, let his son perform occasionally with his band, Broomsage and Honey. At age 14, Layman got his first guitar - from his dad, who bought it at a yard sale for $1. Joe taught Allen three chords, and the younger Layman hasn't stopped picking and singing since.
Allen didn't share his musical talents during high school. He insists he was a teen "who didn't want to be like the popular kids. I wanted to be on the fringe." So he ignored Nirvana and the grunge craze and stuck to what he grew up on: country music, a la Merle Haggard.
He also gets to enjoy the looks on his former classmates' faces when he sees them. He smiled just thinking of it. "None of them really knew I sang," he said.
But after school, he didn't really consider going into the music business. His father is a retired firefighter, so Allen considered that.
"I always knew I wanted to be in a band, but I never really knew how to get started," he said.
Then in 1992, his life changed. He was in an automobile accident that hurt him so badly, he almost didn't survive. He was flown to University Hospital, and it took several hours of surgery to fix the damage the wreck had done.
"I realized when I came out of that it all could have ended right there, so I had better do what I want to do," he said. "This is where I am now."
Of course, his dad, a longtime country musician, was pleased when he found out his son wanted to play country music for a living. Not that he let on. "He said, .`I don't care what you do, as long as you're the best at it.' He was pretty happy, really. I've got kind of a lucky streak, so he said, if anybody can make it ..."
The Road Ahead
Allen Layman said he has written more than 300 songs, but only 25 or so are what he would consider "keepers." He hopes that, in the very near future, his original songs will become a bigger part of the band's stage act.
At this point, he throws in only two or three originals a night, which are surrounded by classic and contemporary country favorites, some blues, and even some southern and classic rock. You might hear a George Jones tune, followed by Van Morrison or Lynard Skynard. You might even hear "Mustang Sally" or "Brick House."
"If someone comes in and they're a real traditional country fan, we're going to play something they like," Layman said. "If they are a newer country fan, we're going to play something they like. And if they're a classic rock fan, we're going to play something they like."
Frankly, the Allen Layman band has the means. A seven-piece bands means a lot of backgrounds and a plenty of diversity.
"As far as I know, we're the only country band in town carrying a saxophone player," Layman said. Not to mention a steel guitar and a mandolin.
Of course, that can create problems. There is a finite number of country venues in the Louisville area, and there are more bands than stages. Many of these bands are four-piece outfits, which means they can play for less money than Layman's band.
Also, the competition can be grueling. So many of the country bands around Louisville are weekend warriors, musicians who enjoy playing but who don't necessarily want to launch a career. Fans come to expect cover bands and are less enthusiastic when a band tosses out an original song.
Layman admits he sometimes gets discouraged, but he also understands this is all part of the business.
"The country scene is getting better here," he said. "I think there are people who are trying really hard to get things going. They just have to fight for a few spots with bands who are not."
Layman said he tries to just concentrate on entertaining, rather than competing with other bands. "I just want to do good music. I want people to come out and see a good show. I feel like we are a top quality act. We try to make sure people are responding, and I think it's helping us to build a following."
Layman continues to write, but there isn't a definite plan for another CD soon. The first one sold well early - he's moved about 3,000 of them so far - and he said he is still experimenting with styles. But that's Layman. He doesn't want to sound like another Garth Brooks and, despite his physique, he doesn't want to be another Billy Ray Cyrus.
"God, I hope not," he said.
The next CD probably will be recorded in Nashville, possibly by the end of 1999. In the meantime, he wants to be seen by as many people as possible. He'll play the Kentucky State Fair this year, on the bill with Joe Diffie and Andy Griggs. Layman has opened for John Anderson, Michael Peterson, Colin Ray and Jason Sellers, as well, and is a regular at Strassenfest, where national country acts always can be found.
But what he ultimately wants - the key to his plan - is to get a recording deal.
"That's always been the goal," he said.
"There's not a doubt in my mind that Allen Layman has the talent to be a national recording artist," Drake said. "It's just a matter of getting the record companies to see it the same way I do. ... There's not a rock that I will leave unturned."
In the meantime, Layman just wants to keep his band working - "some of these guys are putting food on the table with this," he said.
"The plan is to continue playing, and I hope to keep the same lineup. I want to continue carrying seven pieces. I'd like to have a deal in three years - if I do that, I will consider myself to have accomplished everything I set out to do."
Tags: