February 1999 Articles
Cover Story
Kevin Gibson
Features
Paul Moffett
Vicky Moon
Paul Moffett
Bob Baker
Columns
Berk Bryant
Decimus Rock
Mike Stout
Paul Moffett
Vicky Moon
Keith Clements
Tim Roberts
Muffy Junes
Laura Spalding
Henry C. Mayer
Jimmy Brown
CD Reviews
Cheryl Chastine
Tim Roberts
Brent Starkey
Tim Roberts
Robert Gruber
Tracy Connell
Jeff Kallman
Jim Conway
News Item
Paul Moffett
Blogs
Got Shows?
Send Them To Us
Bookmark Louisville Music News.net with these handy
social bookmarking tools:
Available RSS Feeds
- Top Picks
- Today's Music
- Editor's Blog
- Articles
Add Louisville Music News' RSS Feed to Your Yahoo!

Issue`: February 1999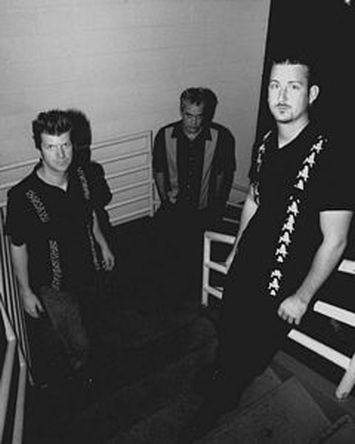 Supafuzz. From Left: Dave Angstrom, Dean Smith, Chris Leathers.
Have you heard the buzz? It's Supafuzz
By Kevin Gibson
Photos by R. Hunt Sidway
Pack the cooler. Gas up the van. Dave Angstrom, Dean Smith and Chris Leathers have a room for two nights in Newark and a 15-hour drive ahead. Once settled, they'll skip over to New York, set up their equipment and play seven, maybe eight songs under the name Supafuzz.
Then they'll go back home.
At $800 a trip, the hassle of scheduling around job and family responsibilities and the uncertainty of whether it's even worth the trouble, one might wonder if the three members of this Lexington modern rock band are a little nuts.
Then again, how many record-label reps come out to Lynagh's on a Wednesday night? Knowing that, it was in early 1997 that the band's representative, Bob Rutherford, started contacting labels and anyone else who would listen in the Big Apple to let them know Supafuzz was coming.
"These people liked the band, I think, but they're not going to come down here," Leathers, the band's drummer, said. "They don't need to come down here. We decided to try and make it up there about every eight weeks and try to start a following just like we did back here."
Skip ahead to Oct. 6, 1998. Supafuzz, the little Lexington band, releases an album titled Supafuzz, its first nationally distributed product with Gotham Records of New York. A modern fairy tale? Not really. Just more proof that persistence pays.
"They were brought to us by a mutual friend," said John Cross, director of marketing and retail for Gotham. "The music was just amazing; we were blown away by the CD, and as soon as we saw their live show, we knew they were going to take off."
Cross said the album is getting radio play across the country and stores are ordering the CD non-stop. In fact, Supafuzz is now in its fourth pressing, with still more in the offing. The first single, "Push," is getting its props on numerous rock stations with others continuing to jump on board. Reviews and interviews have popped up in e-zines and print magazines, and the response has been positive. There's even a fan club filled with self-described "Supafreaks" and a bi-weekly newsletter.
"It's been incredible," Cross said. "This thing has taken off so fast."
We Meant To Do That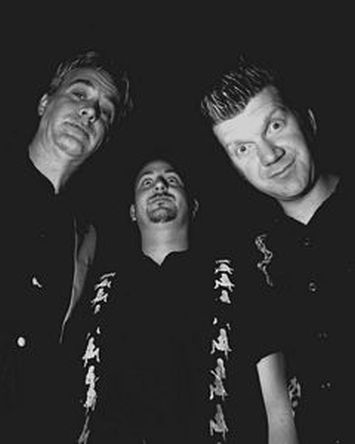 Supafuzz
Not so fast. There's more here than a label rep walking into a music showcase, hearing a sound that changes his or her life and signing the band as soon as the members walk off the stage. Supafuzz didn't go into this on the seat of their collective pants. This band knew what it wanted from the start and wasn't about to settle for anything less; the band also knew it might all be for naught. But staying home to watch "Ally McBeal" sure wasn't going to get them signed either.
"What we were looking for," guitarist and vocalist Angstrom said, "was a small label with major-label support behind it. We didn't feel we were ready to jump to a major label. We wanted to be somebody's project."
At the same time, they didn't want to stress out over it.
"Up there, the average Joe could be somebody from Sony or who knows what," Leathers said. "The first time we got back to the hotel we were like, 'Well, what do you think?' We didn't know who was there. We just decided to forget about it and have a good time."
Rutherford sent faxes and left messages for every label he could find in New York. Some showed up to the gigs, some didn't. Soon, Gotham, a 5-year-old company with five employees and four or five acts in its current stable, got wind of the band. No, on its own Gotham doesn't carry the clout of a major, but then again all it takes is one phone call to get in touch with the top dog. Try doing that with Warner Bros. You'll jump through more hoops than a circus chimp.
But the band decided to take it slow. There was plenty of interest, and that interest increased with each trip back. There was a buzz about Supafuzz.
"I spent a lot of time on the phone trying to get some A&R interest," Rutherford said. "The whole key was relentlessly going back every 6-8 weeks.
"We thought we could get more attention out of Gotham. They wanted the band and we were looking for someone who would be willing to put lot of people on the phone 24-7 to get something done."
"Bob talked to Gotham a lot," Angstrom said. After getting an offer from the label, "we talked on the way home and decided to wait and see what else was available. Every time we went back, Gotham was more interested, and finally they offered a deal that made sense to us."
There was a period of several months during which the band negotiated with Gotham, and several return trips to New York left the band more and more impressed with the label. Finally, the representatives of both sides ironed out a deal, and it has been a match made in heaven ever since.
"Pretty much from day one when we started the band," Smith, who plays bass in the band, said, "we wanted to go with an indie label and kind of build, if you will, a strong foundation, then hopefully grow with the label."
Gotham has "actually done more than what we ever expected, as far as with the radio. We pretty much expected to do that type of thing ourselves," Smith added.
Patrick Arn, who runs the label, gets rave reviews from Angstrom. "He's a straightforward hard worker. He believes in the band and is real honest about everything. Everything he said in our initial meeting with him, he's done tenfold for us already."
"I feel the same way about them," Arn said, told of Angstrom's praise. "They're amazing. To their credit, I have never worked with a more professional, more detail-oriented band."
Likewise, Cross describes Supafuzz as "by far the most professional band I've ever seen in my life. We love these guys. They're just a pleasure to work with."
Lightly Dark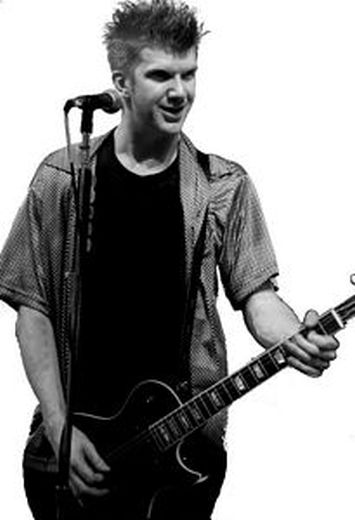 Dave Angstrom
So who are these guys anyway? Well, anyone who has caught their live act can say this for sure: lots of full-tilt energy, nothing held back, no pretensions.
Angstrom is quite serious when discussing his musical influences, giving nods to Kiss, Generation X, Sex Pistols, Circle Jerks, Stevie Ray Vaughn, Rush and even Elvis Costello. "I like anything that's extremely heavy to extremely poppy," he said. "We're all real eclectic. We grew up on a common thread."
Smith, who helped Angstrom form the band in 1994, said in a recent interview that a King's X album was the current occupant of his CD player. He admits a thirst for power trios and said his key bass influences were Tim Bogert and Mars Cowling. He also gave nods to the bands Helmet and Tool.
Leathers, who joined Supafuzz a couple of years ago, grew up in Danville, Ky., listening to Rush, Led Zeppelin and Yes, but he didn't get a chance to play much. "Where I was living, there were not many people into what I wanted to do."
So he spent time playing along with records and learned his craft in his school band. "You cannot get that kind of instruction for nothing anywhere else," he said. "If you can learn that stuff, you can teach yourself anything else you want to learn."
What brought these three together is their history. Leathers and Angstrom were roommates a few years ago, and Angstrom grew up in Glasgow, which is where he met Smith. Leathers said he had recently moved back to Lexington when he heard Supafuzz was looking for another drummer.
There was an informal audition and Leathers joined up that very evening. "I had seen the band play several times," he said. "I used to live with Dave back in the early '90s, so I knew what kind of stuff he was into writing. I was looking for a band that was like Supafuzz, and I was familiar with all their material."
Familiar enough that learning the songs wasn't a problem: "They said 'Here's a tape,' and I said, 'I don't think I'll need a tape.'"
The familiarity was contagious and more than musical, as it turned out. The three band members are close friends who, according to Angstrom, haven't even had a fight yet -- at least not a serious one.
"I work with these guys because I totally respect their musicianship and because we're best friends," he said. This chemistry flows into all aspects of the band's existence, from composing songs to recording to touring. But not practicing.
"We don't practice," said Angstrom. "I basically put stuff on a four-track and get it to the guys. We play out so much that trying to find extra days to practice is a joke."
This does, however, turn songwriting into something of an impromptu exercise. Angstrom comes up with the riffs then the trio blends it all together when the occasion arises. Often, there are no lyrics until the band gets into the studio. The process is fun for them, Angstrom said, which perhaps is the band's top goal in the first place.
"We've all got jobs and some of us have families," he said. "I always said if I can't enjoy this, I'm just going to stay home." (Angstrom's wife, Aleah, is in the band Candy Says, so she probably understands.)
When the band asked Rutherford to manage them in early 1997, he wasn't doing any managing at the time.
"I talked to the band and I liked them," he said. "They had a good work ethic. Then I went out to see the band and it was one of the first if not the only band that literally blew me away in the last 10 years. It seemed to me it was viable commercial material; it just needed to be taken somewhere."
Rutherford likes Supafuzz's music because "it's heavy and it's real. I dig it because it's modern. It's one of the only heavy, modern rock bands that isn't dark."
Asked what the band's collective philosophy is, Angstrom answered, with perfect mock seriousness, "Not to do more than four or five shots a night. That gets ugly." OK, so they're not that dark.
Finally, he relented and offered this piece of simple wisdom: "To be who we are and do what's us."
Example? "When the van breaks down we laugh about it instead of getting p****d off."
But even the band's name is appropriate, given its serious-but-not-somber approach. A Supafuzz was a distortion pedal made by Marshall in the early 1970s.
"The whole rock 'n' roll scene was so down when we created this band. We wanted something that was sort of fun," Angstrom said. "We have people come up to us and say, 'Hey, I had a Supafuzz.'"
Still, a close listen to the CD reveals a dark side. For instance, "Superstar" is a song about heroin addiction, while "Mr. Policeman," which is a local favorite, is about a bigot. Bottom line, each song is honest, often brutally so. It doesn't get more brutal than "Welcome to Another Day in the Life of a Fool," as the title so bluntly suggests. The heavy nature of the music accentuates the occasionally dark lyrics.
The album originally was released on the Violently Hip label as Pretty Blank Page. When the band was picked up by Gotham, the band added three tracks and re-released it. Recorded by Steve Brown at Ultrasuede Studios and Suretone Recording in Cincinnati, it was mixed in Lexington by Rick Marks at Toys in the Attic Studios.
While the album already has sold more than 5,000 copies (and that's a conservative estimate, Rutherford said), Angstrom wouldn't guess what might be the final tally, nor does he have any set expectations.
"I don't even think about numbers like that, really. I think the band's overall hope is to crawl in our van and go on the road for a while, then have people dig it when we show up. It's nice to make records, but really we just want to get out and play and do our thing."
All the Way?
Maybe Angstrom doesn't want to talk about what may lie in the band's future, but Arn had no problem taking a few minutes on a recent afternoon -- even though he was fighting off a flu and preparing for a trip to France for a music convention -- to talk about the 'Fuzz.
His immediate response when asked how far Supafuzz will go was, "They're going all the way."
Asked if it was the cheerleader inside him who made him say that, he replied, "That's the honesty of a person who is putting in the money and who believes in this band 100 percent."
His reasoning? "There is no live show I've seen that comes close to these guys."
That seems to be the re-emerging theme. The band has its best fun onstage, the band's manager was convinced by the live show and now the band's label can't say enough about what happens when Supafuzz plugs in. But does that necessarily translate to fame, fortune and album sales?
"We hope it does," Arn said. "It's a tough thing to do, because basically for people to really understand what Supafuzz is all about, they have to go out and see the live show. We're breaking them on national radio in hopes of sparking the interest of a few listeners to go out and see a show."
Arn said the stations currently playing "Push" are KUPD in Phoenix, KZRK in Amarillo, Texas, WCCC in Hartford, Conn., and KZZK in Quincy, Ill., along with several Lexington and Louisville stations. More major stations are about to start spinning Supafuzz as well, he said.
It is Gotham's top-selling CD at the moment, Arn said, and it's about to get bigger. He couldn't discuss the specifics, but a major label is interested in hopping the Supafuzz bandwagon. That would fulfill the dream for this band that has logged more than its share of miles between Lexington and New York.
"It will happen in the next few weeks," Arn said. He did say it would, to some extent at least, be a joint venture between Gotham and the unnamed major. Arn said Angstrom made it clear he wants Gotham to be a part of the process no matter what, "which says lot about Dave as well as about the way we work."
What all this means is that the next time Supafuzz goes to New York, it might have time to stop and enjoy the sights a bit more. Maybe they can stop by and see Dave Letterman, perhaps have lunch at the Hello Deli. (Supafuzz started taking coolers of food after overdoing it on McDonald's the first time around. "After a while you start feeling like a big french fry," Leathers said.)
The band usually tried to see a few sights while in town creating its buzz, but unless you count CBGB, where the Ramones, Blondie and a million other bands got their starts, the best celebrity they ever encountered was comedian Al Franken. "That was pretty cool," said Smith.
Even if they don't ride the ferry to the Statue of Liberty, they know their trips were worth the time, money and effort, because waiting around to be discovered is the worst way to make it in the music business.
"You could sit around and write and play gigs and practice every night of the week, but it doesn't get you what you think it's going to get you," Leathers said.
Smith concurs. He knows the overnight success story is only a fairy tale.
"That just doesn't happen. You have to go where the industry is. You've got to let them know and make the buzz yourself. I think people are realizing that you can't sit back. You've got to put the effort in and drive the distance."
The payoff in this particular case was hooking up with Gotham. Said Angstrom, "Gotham has strong distribution and is being courted by major labels. Its a really solid young label."
But in the end, Leathers isn't all that surprised by the band's success.
"To be honest, I knew from the past that we all had the same goal in mind and the same aspirations of what we want to do. Everybody was into it 100 percent and worked hard, and we all got along. I didn't know how big it was going to be or what it would be, but I knew we wouldn't stop until we got something going."
Or until the gas tank and the cooler were empty.
(On Feb. 19, Supafuzz will play an in-store show at Disc Jockey on Shelbyville Road at 7:30 p.m. They will play the Toy Tiger later that night.)
Tags: