August 1998 Articles
Cover Story
Tim Roberts
Features
Todd Smith
Bob Baker
Columns
Berk Bryant
Decimus Rock
Mike Stout
Paul Moffett
Vicky Moon
Vicky Moon
Keith Clements
Tim Roberts
Laura Spalding
Henry C. Mayer
Jimmy Brown
Alan Rhody
CD Reviews
Vicky Moon
Tim Roberts
Mike Stout
Paul Moffett
Tim Roberts
Paul Moffett
Robert Gruber
Performance Reviews
Tim Roberts
Laura Spalding
Tim Roberts
Calendar
Paul Moffett
Book Review
Paul Moffett
Blogs
Got Shows?
Send Them To Us
Bookmark Louisville Music News.net with these handy
social bookmarking tools:
Available RSS Feeds
- Top Picks
- Today's Music
- Editor's Blog
- Articles
Add Louisville Music News' RSS Feed to Your Yahoo!

Issue`: August 1998
Sandy Neumann
Sandy Neumann:
The Plum Juicy Jam Lady
By Tim Roberts
Photos By Ralph Sidway
It started with four of Louisville's jazz musicians on stage at the Rudyard Kipling on a Wednesday night in July - a normal occurrence. The only difference was the musicians performing: Ron Hayden on guitar, Scott Thomas on piano, a ponytailed Kyle Kegerris on bass and Rob Edwards on drums. Different, because they weren't the normal Wednesday night band at that venue. About a mile south and one block east, a majority of the city's jazz stars and fans - including several of the Wednesday night Rudyard regulars - were soaking up the Jamey Aebersold Summer Jazz Workshop Faculty Concert at Masterson's Food and Drink. Besides the musicians, I was the only one in a room that has a capacity to seat more than eighty.
The show would go on, though. The performers talked among themselves, deciding on a song to use for their warm-up to get a fix on each other's playing. They played the jazz standard "No Greater Love." It was a touch loose at first, but they gradually pulled the playing together.
A short-statured woman stood off at a table to the left of the stage, sorting through sheaves of paper she had pulled from a folder. She wore a clingy long black dress with encrusted silver accents that complimented her bangles and the silver earrings shaped like hollow-centered teardrops. Her short blonde hair was in tight waves, a strand of it trailing down her right cheekbone. She moved to a table in front of the band and dropped off a stack of the papers she was organizing: charts of the songs she wanted to perform that night. Charts are sheets of music that show chord changes for a certain song. The joke is that jazz instrumentalists use them for the same reason that hummingbirds hum - they don't know the words.
She walked back to sit with me, bringing with her the sharp citrus-and-leather scent of her Cerruti perfume. After listening to the band for several bars, she leaned over. "My job is to keep this going," she said over the music. "Singing is the easy part because the band makes it easy for me."
She's Sandy Neumann: jazz vocalist, lifelong performer, mother, grandmother of two girls named Jamie and Samantha, actor, medical transcriptionist and host of the Sandy Neumann Jazz Jam every Wednesday night at the Rudyard Kipling.
The Aebersold clinic faculty concert down the street had pulled away some of the audience that night. With only a thimbleful of venues where it is performed regularly, jazz in Louisville needs all the audience it can get. Some Wednesday nights at the Rudyard are slow and empty, Sandy admitted. Other nights the room is almost packed to the brick walls. It took more than eleven years for Sandy to convince Ken Pyle, the Rudyard's owner and manager, to have a regular jazz show once a week. Now in its fifth year, the jam has become one of the standard gigs jazz lovers - and some performers - can count on.
Sandy's regular rhythm section consists of Greg Walker on guitar, Chris Fitzgerald on piano, Sonny Stephens on bass and Jason Tieman (pronounced TEE-man) on drums. Sometimes drummer Darryel Cotten stops by to drive a song or two. Duke Marsh usually arrives later to add his tenor saxophone to the mix. Even vocalists from Derby Dinner Playhouse and performers from Actors Theater and the Kentucky Shakespeare Festival sometimes add their talents. The sound and style changes gradually throughout the show as each performer joins the stage or steps aside for another. Plus, if you stick around long enough, there's no telling who will show up. One night pianist Harry Pickens joined in. Another night, the jam had a memorable guest: trumpeter Wynton Marsallis.
But unless you're Wynton, Branford or several of the well-known jazz performers in Louisville, don't expect to slide in any Wednesday night, slam your horn case on a table and claim you're ready to play. You need to talk with Sandy first.
"There have been a couple of times when some guy's come in and he'll be talking to someone on the bandstand and I'll have to say, 'Excuse me, but do I know you?'" Sandy is clearly the person in charge. She does want to hear you play, and she says she is easy to get along with. But there is a context in which the performance occurs. There's an approach to the music, an ambience she wants you to absorb. There's a mutual respect that must develop so that there's no presumption of what each of you will expect from the other. It is a jam that occurs among performers who have that respect for each other, the music, and performing.
And anyone wanting to be on stage with Sandy might want to listen to her recently released debut solo CD, Plum Juicy, a collection of jazz standards, all of which she performs during the Rudyard's jam sessions. The musicians backing her on it include not only the Rudyard regulars, but from many more of Louisville's jazz notables: Todd Hildreth on piano. Darryel Cotton, Terry O'Mahoney and Ray Rizzo on drums, Gary Falk (in whose studio Juicy was recorded) on tenor sax and Jon Tropy on trombone. Bassist Stephens was the only musician to appear on all the tracks. She calls the recording a snapshot of what she's about, the kind of music she sings.
Her vocal stylings are like that of many cabaret singers - tight and sharp one moment, full and mellow the next. Her world of music is intimate and inviting. Performers and audience are embraced within the atmosphere. She creates this as a performer who has respect for her craft and those who practice it - something which that Sandy herself has cultivated throughout her whole life.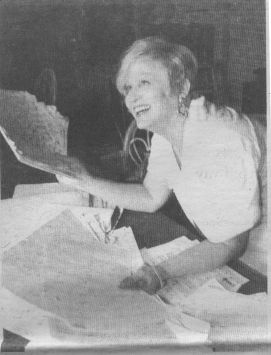 Born and raised in Louisville, Sandra Lee Neuman (she adds the second "n" to form her professional name) has always been a performer, from her appearance at age three on the Ted Mack Original Amateur Hour to her years as a cheerleader, majorette and choir member in high school, a dancer with the Louisville Ballet, a performer with Actors Theatre and in small roles in a few movies, including Raintree County, shot on location in Kentucky. You will also be able to see her in the forthcoming Capriccio, an independent film, where she appears as a character's mother in a dream sequence. She's also worked as a club singer in Louisville and New York City and is now the leader of the weekly jam session at the Rudyard.
Along the way she did the normal life things: got married, gave birth to a daughter named Autumn and a son named Jody, got divorced and later found work as a secretary in a photographer's studio. It was this job that turned her toward a career as a jazz singer.
"I got a job at Jim Jeunesse's photography studio on Bardstown Road," Sandy said. (Jeunesse took the picture that appears on Plum Juicy's cover.) "Next door was the Bizianes Music Mart. Larry Bizianes had a big-band dance orchestra whose singer just didn't want to perform with them anymore. I had always sung. I knew standards and would, like everybody else, sing along with the radio. [One day] Larry says, 'Why don't you come over, and we'll go over a couple of songs. I really need someone to fill in one night.' It worked out."
The performances were mostly at the Beef and Boards supper club in Simpsonville, east of Louisville, along with several corporate gigs.
"This was in the days before disco," she said, "when clubs needed live music." She augmented her performance with lessons from the Louisville School of Music, where, to her surprise, she learned she had been using her voice correctly when singing.
"So as I was singing with Larry and his group, I came upon this thing called jazz, this mysterious way of bending or changing chord changes in a standard tune. It was interesting, very intellectual. I then started hanging out at jazz clubs and met some jazz musicians who eventually went to New York."
The ones Sandy met and worked with included Dave Leonhardt, John Goldsby, Scott Henderson, and a few others who migrated from Louisville to New York. One more, Chuck Moronick, whom Bellarmine College hired as Assistant Jazz Director, was the one who took serious interest in Sandy. "We worked as a duo in clubs. He also introduced me to jazz recordings and styles. At this time, I was hooked."
In between her stints with Bizianes and Moronick, Sandy performed with George Dawson at the Marriott Hotel in Clarksville, Indiana. "I had the Marriott signature on me for four years. You know, it was 'she doesn't sing jazz, she sings at the Marriott,'" she said, dropping her voice and growling the last word. "But it was good money to help me support my children."
"After Chuck left Louisville, I went to New York to be with those musicians I'd just mentioned [Leonhardt, Henderson, and Goldsby]." Her two children lived with their father for the three years she lived in New York. "I got absorbed in the real life of jazz," she said slowly. "I survived and came back."
The experience apparently wasn't harrowing. So why'd she return to Louisville? "Very few jazz singers, pure jazz singers, ever stay anywhere. They've got to do other things. So [in 1982] I came back to Louisville and decided that this was still a jazz Mecca, and I would bring back what I knew and keep on going. The first thing I did was contact Jimmy Raney."
The late guitarist Jimmy Raney was another jazz musician from Louisville who had made a nationwide name for himself. They started doing gigs together at Charlie's, a restaurant at Sixth and Main, and at the bar in the Normandy Inn, a former restaurant and lounge on north Seventh Street, since been converted into an office building. They worked together on and off for six months.
All of this work with jazz professionals, in both Louisville and New York, enhanced Sandy's education as a vocalist. She was ready to share spread her talents to more people. Another call she made following her return in 1982 was to Ken Pyle at the Rudyard Kipling.
"I told him [the Rudyard] would be a great place to do jazz. He wasn't very receptive to it at the time. But I still frequented the Rudyard and never pressured Ken any more about it. I'd also get calls to fill in for other musicians who couldn't make a gig. Then I had to get a day job, so I ended up as a medical transcriptionist," a job she still has.
Why not a job as a voice teacher or something else where she could use her extensive background in music? "You have to have a paycheck," she says crisply.
* * *
If getting the job at Jim Jeunesse's photo studio was one point that altered her life as a performer, a different one altered her life as a mother and a person.
"When I came back from New York, my son, Jody, became ill. I had received a nine-month contract at the Seelbach Hotel after Rick Bartlett had left. During that time, I watched my son die. He was diagnosed with cancer in July, 1986. He had surgery for it. By that Christmas he was gone. He was 21 years old."
Jody and his father never got along very well with each other. But to help heal the relationship, Jody's father took him in. Sandy felt was good for her because it was a time exclusively for father and son to, in her words, "match it up."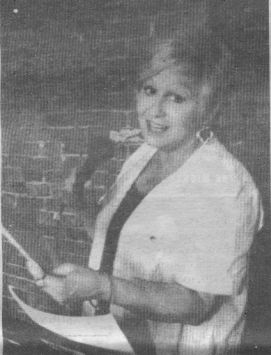 She swallowed hard and was silent for a second. "That got me thinking about how important life is, how important people are. Things don't go how you think they're supposed to. A lot of people don't understand that until they're faced with it. It makes you go through doors you don't want to. I don't know if that's what made me start to give and care more. I had come this far in life and I knew many things, so I wondered, how can I give it back?"
She kept singing when and where she could for several years, eventually returning to Ken Pyle in 1993 and asking him to consider having a jazz night. It won't work, was his reply.
"Let's just try it," was hers. The result: the ongoing Sandy Neumann's Jazz Jam.
"Ken has always allowed us to be there as long as we want to. The money doesn't matter. We make a regular stipend, plus pass the pitcher for tips from the audience. There are some nights when I know it's hard for him to pay us, then there are other nights when I know he makes thee times the [stipend] amount. But I never have asked him for any more, and everybody who's there knows that. We're there cause we need to do it."
Need to do it? As performers or for personal reasons?
"Both. I get a lot of joy when I sing. It's a therapy, a tonic, even if I don't get to sing that much some night because there are others who want to sit in. I think we're all doing something for the community."
The five years of jamming every Wednesday night ultimately resulted in Plum Juicy. "I'd been thinking about recording a CD for a few years. I know one day I won't be doing this anymore, and I want a nice, pleasant remembrance of all this work."
She began by keeping mental lists of all the tunes she'd like on her CD, as well as the local musicians to play them. The musicians she used are the ones who wanted to do it, but it took her a year to work out the scheduling logistics of which musician would play during a session.
"We made it in three sessions [at the Falk Recording Studio]," she announced proudly. "We were prepared when we went in. I'd assemble my charts at home, decide what I wanted to sing, then a couple of musicians would help in changing the arrangements a little bit outside the studio. Almost every cut you hear on the CD was made on the first take because we were prepared. That saved money, studio time and musicians' time. That's something to be proud of."
Plus, almost each cut was performed live, without overdubbing or extensive mixing, except for the cuts featuring Gary Falk's sax and Jon Tropy's trombone.
The liner notes state "Produced and Directed by Sandy Neumann." The only other performer who has had that title on jazz recordings is Charlie Haden on his trio of 1940s noir-jazz recordings with Quartet West: Haunted Heart, Always Say Goodbye, and Now Is the Hour. So is Plum Juicy more than a snapshot? A movie-like tribute to the music she loves and the musicians who've played with her?
Nope. "There was a five-hour editing session I did with the technicians. I invited the musicians. They just couldn't make it. So that's why it says produced and directedBy me. Still, we all loved it."
Completing and releasing a CD is a satisfying accomplishment in itself. For Sandy the satisfaction still comes, often in unexpected ways. "I'll be having a bad day at work, then I'll get in my car and go for lunch. On the radio, I hear [WFPK afternoon jazz host] Phil Bailey say, 'Let's hear something from Sandy Neumann's CD.'" Her face crinkles into a smile.
With a solo CD finished and available and a successful weekly jam at a popular venue in Louisville, doesn't Sandy feel ready for more?
"I wouldn't mind if somebody calls me for a gig once in a while, which they do. I'm sure I could get a Sunday or Monday night gig. But do you how much of a hassle that is? Get the money from the club manager who's never there 'cause he's left early, then you have to go in the next day and get the check, then you have to pay your band. I have done that for so many years. I go into the Rudyard every week and I know how much money we're getting. The sound system's there. I have a good communication line with the manager. When you're finished you put the microphones away, you get your stipend, pay the band and you're outta there! It's a middle-of-the week lift-up. Just because I'm not at the Seelbach Hotel or any other venue like that does not mean I'm not performing. That I'm not any good. Lots of fine musicians come into the Rudyard [to play in the jam] and really give of themselves. This is all about giving and sharing. Why make money off of it?"
Sandy Neumann invites you to see what the giving is all about every Wednesday at the Rudyard Kipling on Oak Street. The jam starts at 9:00.
Tags: