January 1990 Articles
Cover Story
Jean Metcalfe
Features
Staff
Cathy Koester
Columns
Paul Moffett
Earl Meyers
CD Reviews
Paul Moffett
Berk Bryant
Performance Reviews
Bill Ede
Dallas Embry
Dallas Embry
Interviews
Paul Moffett
Calendar
Staff
Preview
Staff
Staff
Book Review
Steve Eng
Opinion
Umar Williams
Errata
Staff
Photos
Staff
Mark Sickles
LASC
Diana Black
Jean Metcalfe
Jean Metcalfe
Diana Black
Jean Metcalfe
Jean Metcalfe
Letters
Staff
Industry Review
Paul Moffett
Music Business News
Paul Moffett
Staff
KYANA Blues Society
Jeffrey Crowder
Blogs
Got Shows?
Send Them To Us
Bookmark Louisville Music News.net with these handy
social bookmarking tools:
Available RSS Feeds
- Top Picks
- Today's Music
- Editor's Blog
- Articles
Add Louisville Music News' RSS Feed to Your Yahoo!

Issue`: January 1990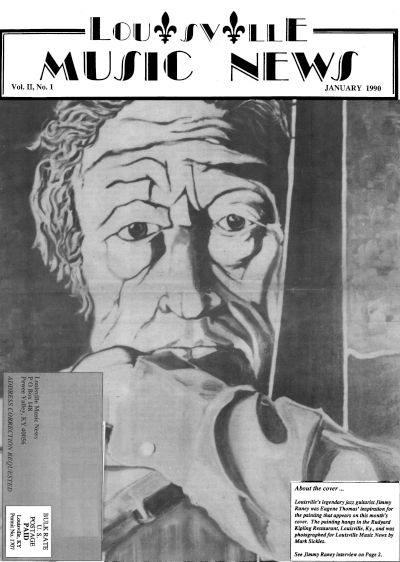 Jimmy Raney
Louisville's Legendary Jazz Guitarist
By Jean Metcalfe
Photos by Tom Metcalfe
One of the nicest gifts I received for Christmas was a visit with Jimmy Raney.
The legendary jazz guitarist was booked for a solo performance at the Swiss Restaurant on a cold Thursday evening and he graciously agreed to arrive early for an interview.
Raney – a native son – seemed the obvious "opening act" for a new column in a publication called Louisville Music News.
After we had agreed to meet on that Thursday, Raney told me that Thursday was Italian night at the restaurant. "Is that all right?" he asked. I assured him that it was. "How very considerate," I thought. Good music and a visit with a mega-talented musician were uppermost in my mind; although I had planned to have dinner, I hadn't given any thought to the menu. I hasten to add, however, that the meal was quite delicious.
This would not be the first time for me to hear Raney perform. There had been several instances where I had enjoyed his music from a "front row" table at the old Fat Cats on Bardstown Road and at the Hyatt Regency downtown and at Downstairs at Actors.
Not counting his wonderful musical talent, there are two things about Jimmy Raney that astound me. One is that it is so easy to get to hear the gifted musician play his wonderful music – and it comes with dinner. The other is that the 62-year-old gentleman can sit for extended periods of time on a bar stool to play his guitar, while many a younger performer would doubtless succumb to an aching back.
The evening was a wonderful success. Raney spoke very openly and interestingly about many subjects – about his interest in photography, science and writing, about his music career and about the Meniere's disease that is gradually robbing him of his hearing.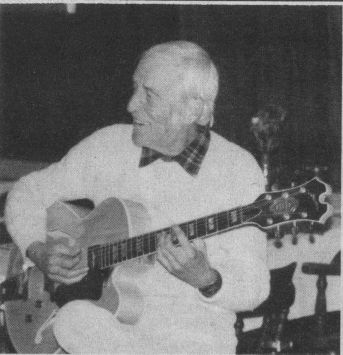 One might expect that hearing loss would be devastating to a musician, but Raney is philosophical about it. He allows as how he's glad that it's a gradual thing and adds that what he misses most is "listening." "I've got 150 tapes of all my favorite music, with a good system," he said. "I have always read a lot, but I read more now." "I don't watch TV," he added. He does write music, though. "You don't need to hear to write," Raney told me and I believed him.
Trained by studying composition under "a guy at Julliard" who taught him to write without a piano or other instrument, Raney explained that "when you write for an orchestra or a string quartet, you've got to picture what the instrument sounds like in your head."
Raney said that he had just finished composing the first movement of a string quartet piece and "I didn't touch the piano. There's a baby grand there (at his home), but I didn't touch it," he emphasized. He does, however, sometimes use an instrument "to grub around for ideas."
"To create something of your own is a need. The main part is the doing. Nothing else is as good as that. After you write a piece of music, hearing it played for the first time is a real thrill. The actual hearing of it, hearing someone interpret it, is a real thrill." That's Raney speaking.
Once he has made a record and "listened a couple of times," he doesn't listen anymore. He doesn't know any artists who listen to their own stuff.
Raney wrote prose in the third grade and science interested him when he was a kid. He also wrote poetry but lost interest in it when he discovered music.
Raney still likes "language and science and art and music." He is an "amateur painter," although he confesses that he hasn't done any painting for five or six years. He has recently "started to think about photography," which he became interested in while living in New York. "I could take pretty good black and white," he said.
Responding to my request for his opinion as to whether musical ability is innate or learned, Raney said, "I think people are born with an ear for music, which I have – not the best in the world – but that's not the main thing. You have to have a good ear but not perfect pitch. I have poor perfect pitch. I think what you have to have to be an artist is a creative gift."
Born in Louisville, Ky. on August 20, 1927, Raney developed an interest in playing guitar at the age of ten. His first "important" job was with Jerry Wald's Orchestra in New York in 1944. During that period he was introduced to what was at that time the revolutionary music of Charlie Parker. Raney was among the first to translate Parker's music to the guitar, and he became famous in the process. Only one other guy did it back then; others did it later on.
Raney told of the time when Parker, whom he described as a "jazz genius," knocked on the door of Raney's apartment in the area of New York where Lincoln Center is now located. (According to Raney, Parker depended upon the kindness of friends for a place to stay and apparently never suffered a shortage of invitations.) Raney, well aware of Parker's fondness for booze, as well as other things addictive, invited him in, allowing as how he had a bottle of gin on hand.
The two talented musicians sat in the apartment, listening to Bartok. Said Parker, "We've got Bartok, we've got gin, what else do we need?" It was a rhetorical question and Raney found it quite sad.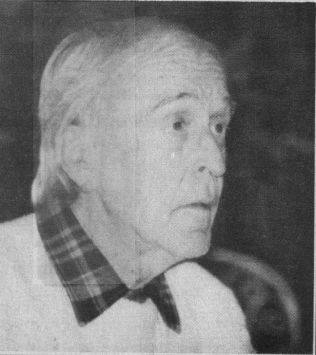 Raney himself was not involved with drugs or alcohol – Parker discouraged others from adopting his own personal habits – and it wasn't until some years later at the age of 32 that Raney developed an unhealthy taste for liquor. That was quite a few years ago and he admits, quite frankly, that it "nearly killed" him.
Jimmy Raney, although looking very much the part, is not a grandfather. He does, however, have two sons: Doug, 33, a guitarist, lives in Denmark; John, 28, lives in New York City. John plays piano, but, according to his father, is "not doing much yet."
Although no one thing stands out as being the most memorable in his musical career, Raney does think that the most satisfying period was when he was playing with Stan Getz when he first started out. "He got very hot. We had the best jazz group in the country –it was a quintet – and everybody knew it."
The group made an album in George Weems' club in Boston. "Everybody played there," Raney said. "The records are called classics and they really are. They were cut live. You can imagine the quality. It wasn't so hot They did it through the telephone lines. The records are still being reissued." Raney's first recording period was in 1948 with Getz and the records were 78s.
I asked Raney what he thinks of synthesized music and he said he is not interested in it, but that his hearing problem causes it not to make any difference. He added that he would rather play without amplification, but that it is necessary if one is to be heard by a group of any size.
Upon a moment's reflection, however, he did say, "Now they've got something I like. So I'll have to withdraw what I said." He went on to explain that his "lady friend" has an instrument called a sampler. "(On the sampler) she has all kinds of organs. She has a sample of a concert grand, with the exception that it sounds like a real Steinway grand record."
I inquired if Raney practices his music diligently. "Not enough," he replied. "Before coming over (to the restaurant) I took a whole bunch of tunes and worked on the fingering. I wasn't happy with the way I played tunes off the top of my head. All my life I have been known as an improviser. I know hundreds of songs; I have to practice on them, but not for my fingers' sake. I am not doing here what I usually do. What I'm doing here is partially worked out. Very little of it is improvised. It's just the standards that I like, but for some reason it's still jazz, but I think it's because of the attitude and the harmonies. I think anyone who came in here and didn't know me would know that it was jazz. See what you think," he said. I was flattered … and it was jazz.
Our table was very close to the stage and Raney talked to us between and sometimes during, songs. He played "Someone to Watch Over Me," "When I Fall In Love" and "Moonlight in Vermont," then removed his coat, saying, "This Paris tweed is a foot thick."
"Bet you don't know the name of this one," Raney teased. "I used to play it in New York at The Blue Angel at least once a week." The tune was vaguely familiar, but he had to tell us (my husband had joined me for dinner) that it was "He Loves and She Loves," written by George and Ira Gershwin.
Continuing to furnish little tidbits of information about specific tunes, Raney gave the clue, "It's from a Shirley Temple movie. Never heard anyone else play it before." At song's end he furnished the title – "Goodnight My Love."
Another bit of information that he provided was that Jimmy Lyon, with whom Raney played in New York City, made a record at the Waldorf-Astoria called "Jimmy Lyon Plays Cole Porter," using Porter's personal piano!
From the movie, "Sun Valley Serenade," Raney played "I Know Why And So Do You." "It wasn't a very good movie," Raney said, "but I always liked the song and played it in Louisville when it was popular."
After a couple of tunes from "West Side Story" and a lovely rendition of "Embraceable You," the gifted guitarist said that the only thing about jazz that he misses, or doesn't miss perhaps, is that "the dynamic level seems to always have to stay about the same." "But since I'm playing solo I can change that," he said, whereupon he did just that in a reprise of "Embraceable You."
Other old favorites that we recognized – and we recognized almost every song – were "Long Ago and Far Away," "All the Things You Are," "Just the Way You Look Tonight" and "The Song Is You."
Turning to the waitress who was listening raptly, Raney said, "I'll bet you don't know these songs," and she confessed that he was correct. She did recognize the next two numbers – "Yesterday" and "Michelle."
Raney looked my way during his next song and asked, "Puzzled?" I was and admitted it. So, with his eyes a-twinkle, he identified it as "I'll See You Again." After "I've Got It Bad And That Ain't Good," he set a lovely mood with "The Christmas Song" ("Chestnuts Roasting On An Open fire"), tagging it with a little bit of "Jingle Bells." Nice.
Raney says that he does not worry what critics think of his music – he is aware of his ability. He does, however, admit that there are several musicians who would matter if, for instance, they should say he does not play well. I doubt that he will have to deal with that eventuality.
Jimmy Raney plays an Attila Zoller signature Hofner guitar. The guitar is one of four pre-production models made by the German manufacturer. The first two instruments remained at the factory, Zoller got the third one and Raney's is number four.
Unlike many guitar players, Raney does not have a collection of guitars. He has only one. Well, actually, he did admit to having a second guitar – one that was given to him by a friend. (He had earlier told me that his interest is "not so much in guitar, but in music.")
We spoke of his "fame" and the fact that many people – even in his hometown – do not know who he is, despite the fact that he is truly a music legend. Raney echoed what most musicians have found to be true – "You have to be from somewhere else" before crowds come to see you.
Raney admits to being able to go into most any store in the world (where jazz and classical music is available) and find some of his records. He once went into at big store in Cologne and found about fourteen of his records on display. "You get bugged when you don't find them," he says. "If I go into a store and they only have four I think, 'What happened?
"Twice winner of Downbeat magazine's International Critics 'Poll – they still rank him among the top 10 jazz guitarists in the world – Raney has performed at the most prestigious jazz festivals (Newport, Nice, Nimes, Frankfurt, Kool, et al.) and has made recordings over the years with many famous artists. He has as many as 40 albums under his own name and was a recipient of the Dutch Edison Award (Grammy equivalent) for Duets, a recording made with his son Doug.
Raney laughingly told of an incident that happened while he was tending to things at his mother's modest Louisville-area home, which he visits daily. (His mother is in a nursing home.) Seems a young neighborhood lad approached Raney and said that he had heard that the gentleman was famous. "Is that true?" the youngster wanted to know. After a bit of hedging, Raney allowed as how he supposed it was ... well ... sorta true. "Then what are you doing living here?" the boy shot back.
Raney chuckled, than offered a comparison between the significance of his fame as a musician and fame in any other profession. "A famous bus driver only matters to other bus drivers," he declared.
A partial list of Mr. Raney's albums includes The Influence, Solo, Live In Tokyo, Duets, Stolen Moments, Raney '81 and Wisteria. A check of several Louisville-area stores turned up only one Raney album – a CD of Two Jims and Zoot at Four Seasons Records. Four Seasons will special order Raney albums, as will Hawley-Cooke Booksellers and Ear X-Tacy.
Jimmy Raney will continue his Thursday and Friday night dinner performances (from 7:30 to 9:30 p.m.) at the Swiss Restaurant, 1015 Barret Avenue, in Louisville. Additionally, restaurant owner Luther Tyler Jr. plans to add a Jazz Sunday Brunch sometime this January, with Raney performing from 12:30 until 2:30 p.m.
A special thank you to Mr. Raney and to Mr. Tyler and his employees for their gracious hospitality.
Tags: