February 1998 Articles
Cover Story
Kevin Gibson
Columns
Berk Bryant
Decimus Rock
Mike Stout
Paul Moffett
Todd Smith
Vicky Moon
Vicky Moon
Keith Clements
Tim Roberts
Laura Spalding
Henry C. Mayer
Jimmy Brown
Alan Rhody
CD Reviews
Kory Wilcoxson
Brent Starkey
Brent Starkey
Paul Moffett
Robert Gruber
Robert Gruber
Brent Starkey
Brent Starkey
Brent Starkey
Kory Wilcoxson
Brent Starkey
Brent Starkey
Robert Gruber
Paul Moffett
Brent Starkey
Performance Reviews
Wally Stewart
Tim Roberts
Laura Spalding
Calendar
Paul Moffett
News Item
Henry C. Mayer
Opinion
Blogs
Got Shows?
Send Them To Us
Bookmark Louisville Music News.net with these handy
social bookmarking tools:
Available RSS Feeds
- Top Picks
- Today's Music
- Editor's Blog
- Articles
Add Louisville Music News' RSS Feed to Your Yahoo!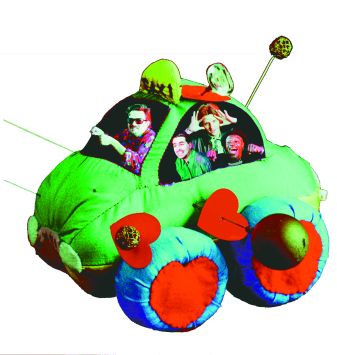 Voodoo Love Taxi
Voodoo Love Taxi:
A car of a different color on the road to success.
By Kevin Gibson
Photos By Ralph Sidway
Greg Neat's eyes narrow slightly when he talks about the road his band has followed, a road with no dividing line and no restricting guardrails. It's a topic he takes seriously, which might help explain why Voodoo Love Taxi's stock has grown so, and why this road has brought the band increasing success.
As far as Neat and his bandmates are concerned, it is the only road worth traveling because it is one they map themselves as they go. And, because wherever it takes them, they already know it is the only road on which they'd feel they were truly getting anywhere.
Voodoo Love Taxi enjoys talking about the band's new sound, the added players and especially the new album,It's Taboo. It's their own creation, no outside influences and no consideration for what critics - or other motorists - might think.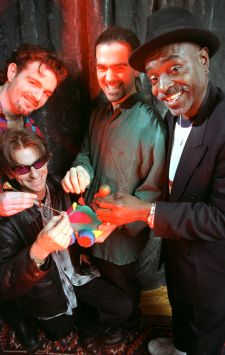 From left, Greg Neal Brad Piontkowski, Rick DeBow and Chad Phillips I(in rear)
This bandis what itis," guitarist Chad Phillips said. "We're our own little animal."
What kind of animal is difficult to say. Phillips, co-founding member and bass player Brad Piontkowski and Neat think of Voodoo Love Taxi as a hybrid of several musical styles, but a hybrid that isn't in hock to any of those styles in particular.
The rock elements are definitely there, but there's also pop, soul, blues and funk. Maybe a little swing, too. And some big band. Maybe. But the whole shebang rides on a funk groove that, while it doesn't necessarilydefine Voodoo Love Taxi's sound, at least distinguishes it.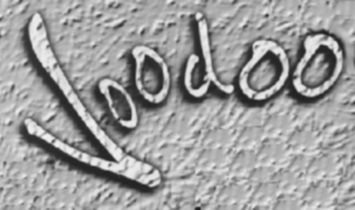 Credit Phillips, Piontkowski and Neat, the three core members, for making this possible. It was their plan from the start to ignore the rules and see where their imaginations might take them.
We're always stretching to make a sound that is different," Neat said. He figures they could write songs that are easier to categorize, "but where's the challenge in that? Why be a Milli Vanilli when you can be a Beatles?"
Does this mean he expects Voodoo Love Taxi-mania? No. What he means is that, like Lennon and McCartney, VLT is testing its creativity in hope of giving birth to something that hasn't been created before. So don't expect an abundance of middle eights or songs that end with a harmonized "oooooooh." (Actually, the core members toldLouisville Music News that they are heavily influenced by the theme from "Shaft" - no word yet on whether they were exaggerating).
Apparently, their inventiveness is working. After five-plus years of experimenting, refining and redefining, Neat, Phillips and Piontkowski have come up with a sound they all believe in. Now they have to wait for the music industry to catch up with them.
Onward and Upward
For anyone who hasn't yet heard any Voodoo tunes, the best advice is to listen to the band's first album, 1993'sWhere's Your Soul?, first. Then proceed to the 1997 release,It's Taboo, to better appreciate the effect of the band's growth. One might even call it a metamorphosis. After years of experimenting and trying to find just the right sound, they finally decided to expand by adding horns and other accompaniment to fill out that sound and fully explore the girth of their sound.

Ryan Murphy
We've always wanted to," Neat said. "We've auditioned keyboard players from time to time and we always wanted to use horns in the band. But nobody was really interested because we were a totally original band writing original songs in Louisville."
From the start, VLT's core members put all the money they made back into the band, too, which discouraged some because - obviously - there was no paycheck involved.
We had a bigger goal in mind," Neat said.
Unwavering, they followed that goal. Several years and many learned lessons later, Voodoo Love Taxi is, at the minimum, a local hit with a loyal following. The band is also getting some label attention now, as well, and suddenly this plan seems to be nearer to its intended effect. Suddenly, everyone wants a ride in the Voodoo Love Taxi. "The musicians are coming out of the f***ing woodwork," Neat said.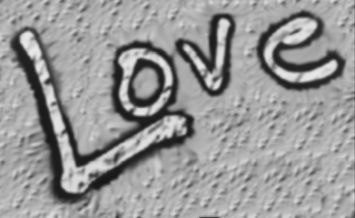 It isn't all about getting rich. Each of the band members admits they've learned a lot, and all agree they did the right thing by staying in Louisville instead of transplanting to a more musically forgiving area of the country. Developing their sound and their name in a city that has long held a reputation for being a few steps behind the times was a challenge, and it helped them to more clearly see their goal.
We've finally got our heads together," as Piontkowski put it.
If that means that they finally found the right road, then three heads truly are better than one. Now there are a few more added to that head count.
Two of the more notable additions to Voodoo Love Taxi include drummer Ryan Murphy and saxophonist/flutist Rick DeBow. Percussion was also added to the VLT sound, not to mention trumpet, keyboards and organ. A band that began as a quartet now puts seven or eight bodies on stage on a given night. But that was all part of the plan, or at least part of the discovery.
If you listen to the first album, it's very ambient and very spacious - it lends itself to a bigger band," Phillips said.
True enough, and the core members are happy with their recent acquisitions. DeBow is an accomplished musician who has played with many noted musicians including Percy Sledge.
He's got a smooth sound," Piontkowski said, "smoother than what's on our CD."
The band considers DeBow a treasure that they were lucky to stumble upon because of his obvious talent and his background in music.
It's easy to forget that for every James Brown there are six to ten guys in the background that are excellent musicians, but their name never gets out there."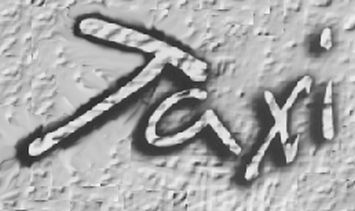 In addition, the 44-year-old DeBow, according to the core members, is in tune with the band's direction. "He sees what we're doing. He sees it as something interesting to him as a player," Neat said.
I think it's a nice fresh thing to get into," DeBow said. "It's something different. They seem to be serious about what they're doing, and I'm serious about it too."
DeBow believes in the project enough that he would consider signing on indefinitely. "I won't ride in a boat that's got holes in it. As long as there's no water leaking in and it's going forward in a positive direction, it can definitely be long term. Maybe until death do us part."
Murphy, meanwhile, has stepped into his role and received rave reviews from the other band members. Of their two previous drummers, one was more adept at groove and rhythm while the other was noted for laying down a more aggressive, driving beat. Murphy is what Phillips called a happy medium between the two. Murphy has been with the band going on only three months, but he also seems to fit into the band's overall personality, part of which includes getting complaints off your chest without delay.
In Voodoo Love Taxi, "You say what's on your mind, you get it out in the open, and it's over," Neat said. Like a successful marriage.
And as Phillips said, Murphy has "the vision," meaning that he is on that same musical road on which VLT has been traveling for several years.
Murphy said he had seen Voodoo Love Taxi play dozens of times before he heard from a friend that the band was looking for a new drummer. That friend set up a meeting and it came together, he said.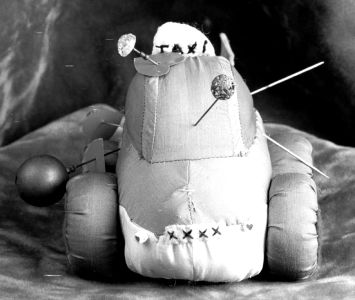 They've got the potential for major label interest," Murphy, who also plays with a band called Room For Emotion, said. "I'd heard the old CD before, and when you hearIt's Taboo, it has more of a funk edge to it and more of a dance edge as well. It does more in the way of stretching out."
His first impression of the new disc was, "They had potential before, but now it's like, 'Wow.'"
And Murphy's status in the band, he said, is still a trial based on if they continue to enjoy playing music with him and vice versa. But he isn't thinking too much about "what if."
It's kind of like good sex: Just enjoy it, don't think about it," Murphy said.
With the help of Murphy and DeBow, it all seems to be coming together for Voodoo Love Taxi. What does that mean? Difficult to say when talking about the music business. With the recent success of bands like Days of the New and Edenstreet, and the promise of bands like 100 Acre Wood, the word is out that there is a bubbling cauldron of musical success in Louisville, Ky. Voodoo Love Taxi believes they are a part of that recipe.
There has been label interest in the past, but "nobody knows where to place us," Piontkowski said. "We're like a hybrid and people want to have a label (to put on a band's sound). We have to make our own doors and make our own way. We're going to have to wait until people can appreciate us for what we are."
The Road to Success
It's been a long wait already. Voodoo Love Taxi is a band that has been in the blossoming process for several years now. What began as an idea has turned into a successful game plan.
It was 1992 when Phillips and Piontkowski reunited as the earliest incarnation of Voodoo Love Taxi. They had written songs together as early as 1984, and joined forces again after several years of working in other projects. The idea was there, and some rough sketches of songs had been put together, but they needed a vocalist.
Neat had just moved to Louisville from Nashville, and he found few opportunities here to capitalize on his interest in playing music.
Music had always been a big part of my life, but I never did anything with it," Neat said. His interest in music intensified when he was in college. He wanted to hook up with a band but didn't know anyone in Louisville, so he found the going rough. He befriended a guitarist and they started writing songs together. Then the guitarist and his band moved back home to New Orleans. Greg wasn't interested in relocating again, so he thought he was back to square one until his guitarist friend introduced him to Phillips and Piontkowski.
I listened to their tape and really dug what was going on," Neat said.
He auditioned, and improvised by mumbling gibberish into the microphone as the band played. Sounds crude, but Phillips and Piontkowski were impressed, so they offered him the lead vocal duties.
This audition would evolve into he song "Long Gone," which led off the band's first album. Greg added lyrics and vocal stylings to the song, which is based on "a strange experience in a hallway with a girl." Ask him sometime. He declined to elaborate during an interview withLouisville Music News, despite a reporter's prodding and interest in hearing the story behind the song. ("There are a thousand stories you shouldn't know," Neat said.)
Whatever the untold stories add up to, Piontkowski's impression of Neat's first contributions to the project won his attention. "I said, 'Wow, this is cool - we could work together.'"
Soon afterward, Voodoo Love Taxi played its first gig as an opening act for Love Jones.
And the rest is history," Phillips said. Maybe, but the band hopes there is more to the story that hasn't yet been written.
Getting An Education
Perhaps what makes Voodoo Love Taxi a true contender is the willingness of its members to learn. Much of their excitement when talking about their music is the feeling the members have of a true evolution in their songs and playing style.
The live shows started the journey, and with each album and each new stage in the band's life the chemistry improves. Best of all for the band's members is that the sound continues to expand.
For example, Phillips, Piontkowski and Neat believe they have honed their craft much more since the release ofIt's Taboo.
This second album was a real learning experience for us," Phillips said. "It taught us to write better songs."
Specifically, it taught them to stay more focused while recording, thus making them a tighter band. On stage, Voodoo Love Taxi lets loose and the members feed off each other's energy, but in the studio, when everyone is in his own separate room, the process is less impromptu and more painstaking. It's more scientific.
That provides a whole other level to the band, and it's a discovery they vow to learn from. Paying attention to detail when in the studio is important, they now understand. In the meantime, the live shows allow them the freedom to be creative and spontaneous and, let's face it, that's what musicians thrive on.
We do what we want to do, but the common denominator is groove," Phillips said. "We play something and it hits everybody and makes you want to move - that's where it's at for me. It's almost a religious experience."
Added Piontkowski, "It's like being totally alive."
And often it's impromptu and improvisational, which is something the three core members enjoy about playing music together. Interestingly, they said the "schooled" musicians tend to get frustrated with them because they believe in rules, whereas Voodoo Love Taxi's modus operandi is to bend those rules. Neat pointed out that they aren't "schooled" musicians, so it comes naturally to them to test structural boundaries and move into unknown territories. Kind of the USS Enterprise of music.
But the result from spectators in the know is admiration, maybe even envy. "Our biggest fans are musicians," Neat said.
It's a high level of satisfaction for three guys who, when they aren't on stage or in the studio, are just regular people. Neat is a graphic designer, Phillips teaches guitar and Piontkowski delivers pizza.
Interestingly, or perhaps ironically, it's the day jobs that define them as dedicated musicians. Between playing shows, writing songs, practicing and living their lives outside the music, it isn't always easy to keep up. There has been some travel involved, too. Voodoo Love Taxi has gone on mini-tours with stops in St. Louis, Indianapolis, Nashville and New Orleans. They played a music showcase in Boston - which included meetings with some music industry representatives - during the second weekend of January, which kept them away all weekend. Then there was a band photo shoot the day they got back. One of the keys to any band's schedule is time management.
It's about balancing out your shows with doing promotional work," Neat said. "You can play every night and it won't do you any good if you don't get the right people there. Play the right shows, not every show."
A little understanding from those in a musician's personal life doesn't hurt either. "Thank God my wife is patient," Murphy said.
Voodoo Love Taxi is getting some airplay on The Fox and the New 92, and the band said in January that they have been talking to LRS about getting some of their songs on that station. They also are sending the new CD to various music labels in search of a recording contract. Some might call it a quest for a miracle, but VLT believes their hard work will someday be rewarded. As long as they continue to learn from their experiences and as long as they continue to weather the bumpy spots in their musical road, their optimism will continue.
When we first started playing out we thought we were the s**t," Neat said. "Now we listen to tapes and stuff (of early shows) and we realize we were not that great of a band. In a way, we all are tuned into the idea that this is going to evolve into something bigger than we are as individuals.
What's great about this band is you can go in any direction you want to go."
So far, that direction has been forward - and on the right road at that.
SIDEBAR:
NAME-CALLING
Greg Neat is used to having people approach him after shows and ask just what Voodoo Love Taxi means. The truth is, he's not completely sure himself.
As he tells it, his idea for a band that predates VLT was something called Soul Beat Taxi, because he was writing songs with a heavy soul influence.
Chad Phillips and Brad Piontkowski, as founding members, were in on the naming and since the Voodoo Love Taxi project incorporated a lot more than just soul, they expanded on Neat's idea.
We wanted to have a name that depicted that we were a groove band," Neat said. "Brad was driving a taxi at the time, and that's what nailed the 'taxi' part."
Also, the first three songs the band wrote together were ballads, accounting for the word "love," and the voodoo came in because "we were going to have some element of mysticism in the show." Specifically, the band was going to incorporate some voodoo props that Piontkowski and Phillips had collected. But at first they were fearful that it would invoke a negative image.
We did some research and found there are different types of voodoo," Neat said. "They all have different types of beliefs and we thought that fit with our music because there are so many elements to our music. It doesn't really say that directly, but to us it made sense. It just adds a really nice visual element, the word does. We're interested in trying to evoke images, and 'Voodoo Love Taxi' doesn't necessarily evoke one image; each word has its own concept behind it. It works well."
At the first gig the band played, they billed themselves as Voodoo Groove Taxi. Soon afterward the "love" element was added.
There was really a lot of thought that went into the name but there wasn't any thought," Neat said. "When the words came together, that was it. There's really no big 'voodoo' story behind it."
The band can be reached at:
Voodoo Love Taxi
743 East Broadway # 211
Louisville, KY 40202
Tags: