September 1997 Articles
Cover Story
Vicky Moon
Features
Bill Conger
Jean Metcalfe
Scott McCormick
Paul Moffett
Columns
Berk Bryant
Decimus Rock
Mike Stout
Paul Carney
Vicky Moon
Vicky Moon
Keith Clements
Tim Roberts
Laura Spalding
Henry C. Mayer
Jimmy Brown
CD Reviews
Brent Starkey
Robert Gruber
Brent Starkey
Paul Moffett
Kory Wilcoxson
Roark
Brent Starkey
Brent Starkey
Bob Bahr
Bob Bahr
Brent Starkey
Bob Bahr
Brent Starkey
Kory Wilcoxson
Roark
Performance Reviews
Mike Stout
Paul Moffett
Leo Durham
Calendar
Paul Moffett
News Item
Blogs
Got Shows?
Send Them To Us
Bookmark Louisville Music News.net with these handy
social bookmarking tools:
Available RSS Feeds
- Top Picks
- Today's Music
- Editor's Blog
- Articles
Add Louisville Music News' RSS Feed to Your Yahoo!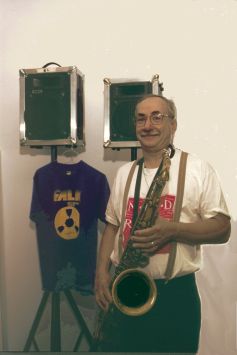 Gary Falk. Photo by Ralph Sidway
Gary Falk
By Victoria Moon
There will always be the superstars of music, the black-leathered images of rock-and-roll fantasies, the MTV darlings who so often are the sirens calling innocent teenagers to pick up a microphone or a guitar.
They are the ones driving the myth that someday, some way it could be you up on that stage, with thousands of fans screaming your name and singing along to your lyrics, that someday you could be the one on the cover of People magazine.
And then there are the people who really make the industry work. People like Gary Falk.
Okay, so People magazine hasn't called lately. Yes, it would be a bit hard to picture this soft-spoken, casually dressed man as your typical rock god, even if he can play some down-with-it sax.
In person, Falk looks a little like a science professor, or one of those guys who's always tinkering with electronics and computers. Come to think of it, he is one of those guys who's always tinkering with electronics and who can build or fix most anything.
But don't let the mild-mannered nerd image fool you. If you know the music scene in Louisville, you know this guy is the fellow who runs Falk Recording Service (& Custom Tape Duplication & Custom Speaker and PA Builder & On-location Audio & Etc.), the only guy in town to go to for all those little fundamental things that people seem to forget about. Like tapes and wires and copies.
After all, how are you going to be a rock god without copies of your masterpiece to hand out to labels and sell in clubs? Or without a decent PA system? If you're going to be a professional musician in Louisville, at some point you're going to need the services of Gary Falk. It's just a fact of life.
To find out how one becomes an indispensable part of a city's music scene, I drove to the unassuming, industrial building just south of General Electric, where Falk is moving his business, to have a talk with this behind-the-scenes guru of Louisville recorded music. In the next hour and a half, I discovered some of the secrets of Falk's success.
Secret #1: Love what you do, and do what you love.
What Gary Falk loves is music. First and last, music. Making it and recording it.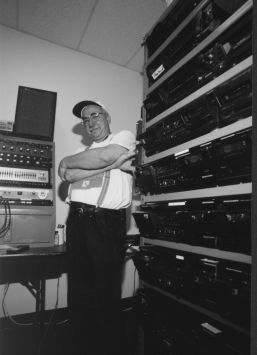 Gary Falk and his rack of tape duplication equipment. Photo by Ralph Sidway
"We're all a bunch of starving musicians around here," he jokes, referring to his small staff at Falk Recording Service, many of whom are players. He has taken an active role in Louisville's music scene for close to thirty years and frequently hires musicians.
"When I moved here in 1968, there was a really broad music scene," he relates. "I mean, there were fifty or sixty places you could go to play music and you could make a reasonable living at it."
And when he wasn't playing music, he was working in it.
I was working in a music store when I started the audio production and recording studio thing," he remembers, "and back then they were just about no recording studios around . . . and it was very, very expensive thing to get into."
So I was just working in a music store and I was promoting a little band that I had and making recordings, and I just knew a lot of people and I started doing demo tapes — that was a big market then — and [eventually started] a recording studio that functioned for about fifteen years."
That business — Falk Recording Studio — was taken over about five years ago by Tim Hartell, Falk's chief engineer at the time, and Chris Cassetta. The studio subsequently split into TNT Studio and Canyon Productions. TNT does the rock/alternative recording and Canyon works with mostly classical and jazz recording.
Falk, meanwhile, has been taking his lifelong love of music and combining it with his other lifelong love: electronics. By mixing the two, he has created a niche business that is completely one-of-a-kind in Louisville. This brings us to his Number Two secret:
Find your own unique niche and build on that.
Falk designs and builds custom recording and PA equipment. He also does archival and restorative recording (transfer recording from reel-to-reel tapes and acetone records), real-time and high-speed tape duplication and laser-burning CDs.
Falk started each of these assorted businesses almost by accident. "People would send me the jobs that they'd never want to fool with," he says with a wry grin, "and I built a business out of it."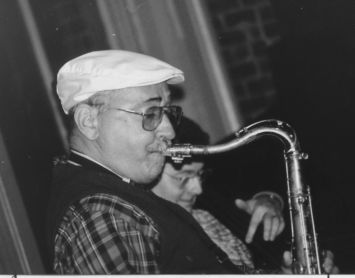 Gary Falk blowing sax at a show at the Rudyard Kipling. Photo by Jean Metcalfe
Audio duplication, a lot of that editing and getting involved with all that archival and restorative type thing . . . nobody ever wanted to get involved with that, so in a sense I had a built-in advertising format because all these other studios would get the same kind of calls that I was getting [at Falk Recording Studio], but all they wanted was to sit behind a console and record bands, and I would always try to service those other things."
Falk's willingness to do the things other studios would not is another secret of his success:
Know and please your customer.
"Recording is a young person's thing," he confesses, by way of explaining his lesser role in the recording studios he leases out to Hartell and Cassetta. "It's not that it is physical labor, [rather] it is emotionally very draining, because . . . you spend the lion's share of your time trying to bring about a consensus of thought between all the participants of that recording, a central focus if you want to call it that. [You] say things to try and get the best out of people."
People say 'what's the criterion, what's a good recording consist of?' I say it consists of just one thing — it has nothing to do with reality, it has nothing to do with 'does it sound like the original?' or any of that — the bottom line is, do people like the way it sounds?
It may not have anything to do with the original . . . or objective assessment or any of that. Does it please your customer? That's all that matters. I learned a long time ago, if you do re-creative recording as opposed to creative recording, where you try to make everything sound just the way it was, you won't last in this business".
It's a matter of reality assessment," he says, which leads to secret #4:
Understand the necessity of compromise and that less is more.
While Falk was taking me on the grand tour of his much larger and newer facility at 6303 Fern Creek Pass, he showed me the space that will eventually be used for Cassetta and Hartell's recording studios when they make the move from their present space on Fegenbush Lane to the new facility. Shoved into one corner of the room was what Falk called "a little piece of recording history": an 800-pound monolith of an analog 16-track recorder with 2-inch tape reels.
"Up until about five years ago, this is how recording was done," Falk explained. "And some people even now will tell you this is the only way to make a recording. Here you've got a machine that originally cost about $35,000. You can replace it with a machine that does twice as much for $4,000 now."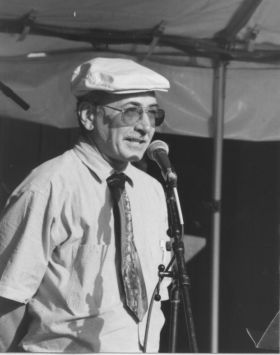 Gary Falk presented the Helen Humes Award to the family of the late Duke Madison in 1993. Photo by Jean Metcalfe
Tim Hartell wants to take this [machine] and put it in Plexiglas and just put it in the front office of the studio [with a sign] saying 'this is how we used to do it.'" He laughs ruefully as he recalls dragging a 200-pound analog machine to recording sessions for live performance groups like the Bach Society."
"We had to have some way to record multi-track on location, so we hauled that 200-pound monster, put it on wheels and built a cabinet for it. We hauled this thing to every concert we recorded. It's why I had a double-hernia surgery about 2 years ago!"
"One person can do [the same thing] now," he continued. "Just takes one recorder weighing 35 pounds."
When I asked him about the studios that advertising 64 or 72-track digital recording, he's quick to explain his opinion that less really is more.
"By and large, when we do concert recording, like where you've got full orchestra and choir, we don't use more than 5 microphones, and normally not more than five channels. We rarely use all eight tracks. That board that we built [a custom-built board that has been written up in Electronic Musician magazine] has 24 channels. I can't say absolutely positively, but to guess, I doubt if we have ever used more than twelve, thirteen channels maximum at any one time."
"That's the stuff that neon signs are made of," Falk said about the 64- or 72-track boards. "It's like hyperbole."
There's a whole philosophical system called minimalist philosophy. I would contend that technically speaking, less is always better. If you can do it with less, you'll always get a better result, and from an engineering standpoint, there's always a whole less to go wrong.
You never get something for nothing. I always say that, especially to new customers. If you want EQ, if you want me to boost the highs or boost the lows, anything I put in that recording to enhance it, it's like a teeter-totter. You jump on up one side, it's always got to be down on the other. You want to bring up the back side, well, then the front side goes down."
You never get something for nothing. It's impossible in audio. And when you audio process, the more that you audio process to get something, if nothing else, you get slightly higher elements of distortion, you get more noise — you get punished. You get a slap on the wrist for everything that you do, so it's a tradeoff. It's back to that compromise thing again: 'Well, I will give you this,' but implicit in what I'm saying is in giving you this, I have to take something away. In a sense you always end up with the same thing you started out with."
So here we have it: life according to Gary Falk. Love what you do. Find your niche and work from there. Please your customer. Understand the principle of "less is more," and the inevitability of compromise. With these secrets, Falk has built a mini-empire that mixes technology and music in beautiful harmony. But where is he planning to go from here? What does he see in the future for Falk Recording Studio and all its many sideline businesses?
"Really where I want this to go is I want the studio to stand on its own. [Hartell and Cassetta] have got a total love for recording and their whole lives are just immersed in it."
I like being behind the scenes, I really do. Electronics — I want to do more custom-designed electronics — and that's it. I just want to be the caretaker for all this. I would like to have more music-related businesses in here if I could."
And is Falk really one of those rare human beings, a musician who loves his day job as much as his music gigs?
"It has ups and downs, you know, but those ups and downs, they're in a field that's up from where the normal ups and downs are. They're ups and downs within a very tolerable region."
And I think any business you have, especially a small business, you take all the blows. So there are good days and there are bad days. But there are never those terrible days. I know when I worked in industry, there were some days that were so arduous . . . but now I count my blessings every day because I've had good fortune. Some things bring you great joy, other things bring you great heartache, so you just move on to the next thing."
Which, knowing Gary Falk, will probably be just as successful as the rest of his endeavors.
Tags: