June 2013 Articles
Cover Story
Kevin Gibson
Features
Eddy Metal
Columns
Berk Bryant
Mike Stout
Paul Moffett
Mike Suttles
Martin Z. Kasdan Jr.
Eddy Metal
Alexander Campbell
Blogs
Got Shows?
Send Them To Us
Bookmark Louisville Music News.net with these handy
social bookmarking tools:
Available RSS Feeds
- Top Picks
- Today's Music
- Editor's Blog
- Articles
Add Louisville Music News' RSS Feed to Your Yahoo!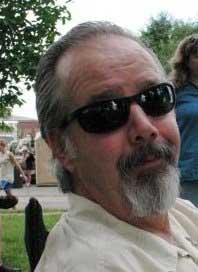 I've Got A Mind To Ramble
You're Gonna Miss Me When I'm Gone—The Life and Times of Jim Rosen. Part I.
You're gonna miss me when I'm gone, (expletive deleted). It makes me laugh now to think of that statement but at the time, Jim Rosen was dying from cancer and that was the message that a number of his friends heard followed by the loud, gruff laugh that all of them had come to know through the years. Rosen knew that his time was short but by all accounts, he lived his last two years like he had lived the previous 40 – grabbing life by the balls, swinging it around and letting the chips fall where they may. This is an account of the man and that life.
Born February 16, 1956 to Al and Jesse Rosen. Jim Rosen was the middle of three sons in the family. Marty was the older and Pete the younger brother. Due to a number of factors, his was not the typical middle class upbringing of the times. The family moved around considerably, traversing the country to places like Detroit and Iowa and back to Louisville, depending on the situation at the time. Al and Jesse eventually divorced in 1968. Shortly afterwards, Al married Idell Bizer. The Rosens moved to Indiana and became a blended family, with the three boys now having 5 other siblings.
It was during this time that Rosen began to hear the music that would shape his career. His dad insisted that they listen to lots of music and not just listen, but learn about it. This was the first entryway for Jim into the music that would become his forte. There was lots of jazz and some blues in Al's record collection; recordings by the likes of Charlie Parker, Thelonius Monk, John Coltrane and Illinois Jacquet were played as the family sat around the table. Al also owned Joe's Palm Room at one time, so Jim was able to hear jazz first hand; many of the artists stayed at the Rosen house. Later on, when he became an accomplished harmonica player, it was obvious the influence these greats had on his playing.
It was right after Jim moved to Indiana that he met his life-long friend Phil Haas, when they both were in trouble in middle school. Jim had been placed out in the hall at a desk due to some infraction and Haas was down the hall in the same situation. They struck up a conversation that Haas says felt like they'd known each other forever. It became one of those friendships where oftentimes it wasn't necessary to say anything because the facial expressions or nods said it all. There were many days and nights spent together.
Jim played his first harmonica when he was fifteen. Older brother Marty worried that Jim might be heading down the wrong path, involved in drugs and drinking. One day, he was in a pawn shop and decided that Jim needed something other than the street to occupy his time, so Marty bought him a Marine Band harmonica. Jim immediately began learning all he could about the instrument, even taking the time to read the instruction sheet that came with it. Haas remembers that was it for Jim. He spent all of his time listening to his father's records and playing the harp trying to match the sounds he heard. Haas relayed the story that he, Jim and Piney Woods spent a lot of time riding around at night in an old VW, listening to the rock and roll of the early 70's, to artists like Clapton and Led Zeppelin. Jim would be in the back seat, trying to play along with the songs and the others would keep telling him to stop that whiny sound!
Both Woods and Haas say it was also around this time that Jim really began to dig into blues music. He would spend countless hours practicing on the harp. He would call up Piney and they would sit around playing the blues as a duet. Woods, a well-known musician and DJ from Bloomington, Indiana credits Rosen with teaching him all about the blues and also with pushing him in the right musical direction.
But music wasn't the only thing that interested Rosen. When he wasn't practicing or listening to records, you could find him reading Louis L'Amour novels and watching old westerns on television. He also played football at Jeff High as a sophomore and was class president that same year. By this time Rosen had let his hair grow long and had a beard (it's been said that he could grow a beard at 14, the only guy at JHS that could). He was even referred to as Jesus because of his hair and beard.
Once he graduated, Rosen got a job and continued to play the harp. During this time, Jim wasn't in a band so he would venture over to Louisville down to Washington Street to sit in with any number of bands, including Quickdraw and Red Beans and Rice. He spent the next several years honing his craft and started to make a name for himself as a bona fide harp player.
As the years went by, Rosen continued to get further into the blues and in particular, Muddy Waters and Charlie Musselwhite. Rosen sat in with Lonnie Mack when he opened for Stevie Ray Vaughn in 1983 at The Stage. There was talk among his friends of him joining Mack's band but that never came about. Sometime around 1987, the late Ricky Mason told guitarist John Burgard about this harmonica player in town that he had to hear. They went to hear Rosen play at a blues jam and ended up asking him to join The Bluebirds, which was his first blues band. This incarnation of The Bluebirds lasted about a year. There were some issues among members and Jim decided to leave the band.
It was during these years that the blues revival was going on big time in the country and, in particular, here in Louisville. Scott Mullins was one of the movers and shakers in that era of the blues as a DJ and promoter. I spoke to Scott at length about Rosen.
"Bigger than life" was how Mullins responded when asked what he remembered about Jim. He felt that Rosen played a huge part in the blues scene in those years. One of the best parts of those years for Mullins was watching Rosen grow as a harp player. "He was tremendous. He mastered that instrument and I would include him as one of the best I've ever heard. He rumbled like a freight train and then could bring it down with such a subtle fluidity." When asked to describe Rosen the person, Mullins was quick to say that he was a great guy. He could always be counted on to perform at benefits, sit in at blues jams and do whatever he could to help Mullins out.
Not long after breaking away from The Bluebirds Jim Rosen became a member of da Mudcats, one of the premier blues bands of that era. In Part II of this article in the July issue I'll delve into that part of Jim Rosen's life as well as get into the Jim I knew for the last years of his life.