This page was generated in 0.07 seconds.
June 2013 Articles
Cover Story
Kevin Gibson
Features
Eddy Metal
Columns
Berk Bryant
Mike Stout
Paul Moffett
Mike Suttles
Martin Z. Kasdan Jr.
Eddy Metal
Alexander Campbell
Bookmark Louisville Music News.net with these handy
social bookmarking tools:
Available RSS Feeds
- Top Picks
- Today's Music
- Editor's Blog
- Articles
Add Louisville Music News' RSS Feed to Your Yahoo!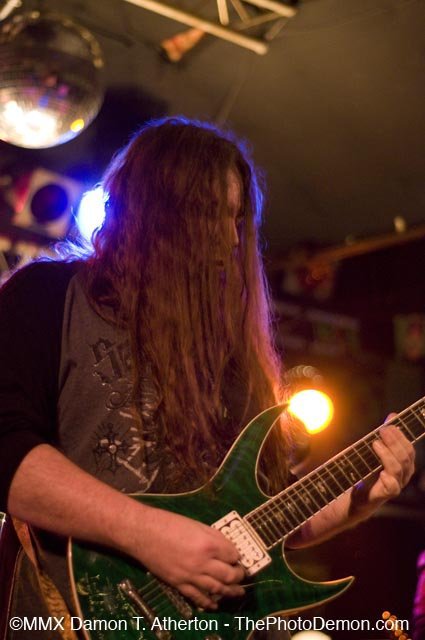 News From the Pit
Did all of you have a nice Derby? Mine was a bit uneventful. I did go to see Jackyl and some regional cover bands at Phoenix hill Tavern on Derby Eve, and had a blast as always. Thank god I didn't bet on the horses, because I would have lost!
I've been a busy bastage for real, with shows like Jackyl, Soundgarden, Fear Factory and Chimaira to checkout, not to mention playing in two original bands. I can't complain, though, because music is what I love and being able to review shows and regional music for you peeps makes me happy. I like to be able to help the scene out as much as I can. You guys always show the love out at the shows, too. Thanks for the support and I'll continue to do my best.
And if you are a hater, farg off.
Summer is here and we got some badass shows to look forward to! Iron Maiden in Nashville, Rockstar Mayhem Festival and Black Sabbath in Indy, Children Of Bodom at Expo 5, Billy Idol at Horseshoe Casino, Trapt at Phoenix hill, Candlebox at Jim Porter's, Cannabis Stock in eastern Kentucky (with Louisville bands on the bill), and it's just been announced that Skid Row is coming to Diamond Pub (and my band Year Of The Gun is opening! I'm sooo excited). I have been wanting to play the new venue Diamond Pub and I was getting frustrated with trying to get a show, but we finally got a national show there, and Skid Row is absolutely perfect for us. I can't wait to play on that cool stage.
I guess every dog has his day, even an old loveable mutt like myself;)
I do need your help in selling some tickets, so please call ME to get your Skid Row tickets!!! Help out a local band. The band and myself would greatly appreciate you buying from us. Call 502-367-2080 or email Eddymetal1@aol.com.
Oh yeah, I have started a new segment called The Bad Humor Report . It is a sarcastic attempt at humor regarding things in our music scene and town. I got the idea from reading The Onion News, a hilarious parody newspaper that is as original as they come. You will see at least one BHR a month in my column. For openers, my first idea was given to me by some guy who was getting on my nerves with his endless hate ranting on Facebook. This person was annoying many a good folk with their "my music is better than yours bullsh*t." But yeah, there are many things in our scene that can be made into a humorous article, like the time I almost choked to death on my own hair when I was singing for Inhuman back in the late Nineties. That topic would have read; Louisville Musician Ingests Own Hair During Performance. Or the time when Rahul Borkar got so excited he leaped off the stage with guitar into no one's arms!!! He about broke his back. That topic would have read: Excited Rocker Catapults Self Off Stage, Sets New High Jump Record, and Angered That No One Caught Him. See what I mean? This will be fun. I'm open to topic suggestions. So let the fun begin!
Remember peeps, I cannot print what I do not know, so hit me up if you have any ideas/show dates you want printed, CDs to be reviewed, and I'll see what I can do. Eddymetal1@aol.com.
In the meantime, try your hardest to get out and support some local original music. I know times are rough, but we have got to support our rock scene more. The support for each other is at an all time low in my opinion, and I've been booking bands/rocking this town's clubs since 1995. Splitting up into close-minded cliques/and not supporting each other is a dead end road, but together we can make some good things happen. Support original Louisville music!
The Metal Grapevine
Soundgarden Review:
Wow, what a fun night! I didn't intend on making this show, but I'm not about to reject a V.I.P. pass to cover such an awesome and talented band at a sold-out event. So yeah, it was a last-minute type deal where I had to get my butt in gear quick to get the story going. Special thanks to The Louisville Palace and their staff for always being so good to us here at LMN.
I frikkin' love that place and their staff is awesome!
I was able to get some decent pics, but a nice photographer I was talking to named Jonathan Newsome took some that were much better, so thanks to Jonathan for being super-cool and sending us these for you folks to check out. Great pics, Jon!
I was startled there was no opening band on the bill. There is usually always an opening band on a big-time concert like this. It would have been nice to have a band from around here open the show with a few songs. The stage setup was as no nonsense as you can get. No big theatrics or gimmicks, just some guitar amps, a big screen projector, and some top notch rock n' roll to go with it.
I had seen Soundgarden vocalist Chris Cornell a few years back at The Louisville Palace and it was a great show, but I had never seen Soundgarden before ever, so I was looking forward to seeing something new to me. The place was packed. Sold out! Which is very good for the venue and our city.
Chris Cornell's voice is always good, and this night was no exception. Chris sang and played guitar on a wicked hollow-bodied electric Guild for over two hours and didn't even seem like he got tired at all. Cornell is a battle-hardened vocal warrior. All the ladies were swooning over Cornell, too. I heard many women proclaim "He's soooo hot!!" I bet dude has to keep the horny women off him with flyswatters and mace! The range and power in Chris' voice is substantial and with proper effects and a good soundman, sound incredible. He has that really high vocal range, and when combined with killer effects and his extended notes, create an epic sound that few singers can achieve. A few parts of the set he opted to go for lower notes to ensure he didn't crack, but they were few and far between. Mostly Cornell pulled it off as usual. He actually tries very hard to hit the notes fans are used to hearing with Soundgarden's music. I have seen many a lazy/scared singer opt out with lower notes just to get by. Cornell pushed his vocals to the limit, only then does he choose to alter notes to get by safely.
I wasn't too familiar with Soundgarden guitarist Kim Thayil, but if Rolling Stone magazine rated him #100, of 100 best guitarists of all time, then he must be great. I was looking forward to seeing what he has to offer live as a guitarist. The guy is a terrific rhythm guitarist who comes up with some very catchy/memorable rhythms, but live, his harder leads did not do too much for me. Sure he was very good on guitar, but the leads did not stand out as much as I had hoped. I am a guitarist so when I check out a guitarist to review for the paper, I study that chit like a science professor. Thayil kept things really simple. Guild SG shaped guitars and loud amps. Maybe a few effects here and there. Nothing major. I heard no major mess ups on his behalf, and he only seemed to be slightly off maybe once or twice, if that.
His slower, more melodic riffs sounded the best, like the trippy, melodic lead riff with wah in "Pretty Noose." On slower riffs, Thayil really shined.
Bassist Ben Shepherd was a beast on bass. You could tell this guy was a pro by his movements and stage presence. He pounded and worked his way through the set like it was nothing. He has great bass tone and even used some bass wah on a few songs and even some bass distortion once or twice. He is the only guy I've sever seen using a wah pedal standing backwards. Kinda cool! Soundgarden's original drummer Matt Cameron was very good as well and did not miss a beat the whole night long.
It's impressive that these guys have been jamming together soooo long, and that they get along so well.
The band works well together and sounded very tight as a unit. It wasn't pounding, fist-raising metal by any means, but there was some hunger still there musically. The bassist was all over the place, eating up the limelight. Cornell was so busy making sure the music was right, and Thayil was plodding around rockin' those Guilds! They were not just some ancient dinosaurs slaughtering classic Nineties songs. They still have some fire! I'm not familiar with the names of the songs so I won't pretend to know their names," but they started off with a rockin' "Spoonman," "Jesus Christ Pose," a new song "By Crooked Steps" off 2012's King Animal CD (one of the better songs off the new album), "Flower," "Outshined" (which rocked), "Hunted down" (a really simple riff when combined that with Cornell's voice becomes something special), "Live To Rise," a soundtrack single off the Mission Impossible movie and the first song recorded in 15 years by the band. Another song I really liked is "Blow Up The Outside World," which has a real laid-back trippy Beatles feel to it (it sounded great!). "My Wave," "Fell On Black Days" rocked. "Been Away Too Long," the band's newest single, I didn't like at all. "Pretty Noose" was awesome and "Rusty Cage" is always a rocker of a tune.
The band said goodnight, but came back out for a encore, of course. They played "Taree," and "Black Hole Sun" which had the crowd going nuts. The last song was "Rowing."
As always at the Louisville Palace, I had a blast, all went well, except for a few very young teenagers in front of us, who wanted to stand up for the entire show and dance, with no regard for any of the people behind them. Oh well, some people are just not civilized and there isn't much you can do about that, so I gritted my teeth and took one for the team (but I really wanted to kick those mofos in the ass and say "sit down, you little a-holes!").
There was this one little old lady who was really high on something, because she was soooo into the music it was scary. She was on her knees in prayer mode right in the aisles, swaying with her eyes closed, and seriously rocking to the music while everyone around her was thinking "What the heck is this woman doing?" It looked odd.
Skid Row coming to Diamond Pub on July 11:
Eighties rock icons Skid Row will be in town for one night only on July 11 at Diamond Pub, so get your tickets ASAP, as this will probably sell out! I have always liked this band, from "I Remember You" to "Subhuman Race," and particularly the great guitar work by Scotti Hill and Dave "Snake" Sabo, and the awesome bass playing by Rachel Bolan. Sebastian Bach hasn't been with Skid row for many many years, so don't get your hopes up regarding singers. But fret not, singer Johnny Solinger is a solid frontman with plenty of skills to make you have a great night. I'm looking forward to this show in more ways than one! My band Year Of The Gun will be opening the show that night along with fellow local rockers Signal The Revolution and Some Kind Of Saint, so come out early!!! And if you would be so kind, please buy tickets from me and my band! I'll deliver. Call Eddy at 502-367-2080.
Iron Maiden and Megadeth coming to Nashville in Sept:
Here is one you should surely mark your calendars for. Thursday, September 5 at the Bridgestone Arena (I reviewed The Scorpions and Ratt there a few years ago, and it was a nice venue w/ good staff who treated us here at LMN great.) in Nashville, it's British metal legends Iron Maiden, with American thrashers Megadeth! Last summer, I drove to Indy to see/review Maiden and it was superb! Well worth the two-and-a-half hour drive. It was one of the best shows I've seen in a good long time. So do not miss this chance to see one of the all-time metal greats live in action. This is something special to see and hear! And Megadeth on top of this? A Must See!!! I about had an orgasm when I noticed the tour has Testament, Overkill and Anthrax on the show bills out West, but I am not sure if we will get the same lineup way out here in the Midwest. I hope so. That would be extra icing on top of the cake to have Testament, Overkill and Anthrax! But if not, Maiden and Megadeth is enough for the likes of me! Get your tickets now! And don't forget where you heard this!
Black Sabbath coming to Indy:
The all-powerful Black Sabbath will be making a critical stop in Indianapolis on the 2013 World Tour. The show is Sunday, August 18 at The Klipsch Music Center in Noblesville. I had the pleasure of seeing the original lineup a few times in the late Nineties and I'm telling you right now that this is a rare opportunity to see one the top great bands in action before health and age become too much of a factor. Don't miss this chance. Do what you have to to see this show. Guitarist Tony Iommi is unreal and bassist Geezer Butler is still a fireball. And what can you say about Ozzy? Say what you want about Ozzy, but he is a "real" inspiration. What he has done is amazing.
It sucks that drummer Bill Ward won't be playing, but I'm sure one of the three fill-in drummers will be good enough to make it a great night. Get your tickets! Don't be a fish-eyed foo.
Cannastock, a Cannabis Awareness Festival:
This is sooooo cool. A righteous cat named Arthur Vanwinkle has set up a three-day-long festival at The Blackii Whyte Barn and Grill Concert And Festival Venue at 1283 McKee Road, Berea, to raise awareness for Cannabis Reform. Arthur is also the founder of Kentuckians For Cannabis Reform, which is is trying to reform the Cannabis "Hemp and Marijuana" laws here in Kentucky. I talked to Arthur a good bit about what he is trying to do. Arthur states "Kentuckians for Cannabis Reform's efforts are about much more than just getting high. It's about supplying our farmers an alternate crop to replace tobacco. It's about compassionate care for our ill who need it. It's about a much safer substance than alcohol. It's about changing the economy here in Kentucky. Let's face it. We have been getting people high, and killing them by the millions for many many years. Remember whiskey and tobacco? Marijuana has never had a death from an overdose. Has been proven an effective treatment in cancer and many other serious illness. Then the economic impact would change Kentucky from being the 5th poorest State, to being one of the nations leading economies. Let's bring our #1 cash crop out of the closet, and supply the world with a quality product. Why not? We have the perfect climate for it to grow."
Arthur means business, and his tireless work towards this festival shows. Three Days and over 30 bands to book and work with! Also attending and/or supporting: The Cannabus, The Cannasense Campaign, Kentuckians for Cannabis Reform, Kentuckians for Medical Marijuana, Legalize Medical Marijuana in Kentucky, Hemp Rock Radio, N. Kentucky Sensible Tokers, Kentucky Freedom Coalition, 420 Times, Legalize It Apparel, Stoner Couture Clothing and Apparel, Big Daddy's Concessions, Dubtape Records, Emerald Fields, Broken Robot Clothing, Fundamental Clothing Inc, Special ED Productions, Shawn Tye DJ/420 DJ. Blackii Whyte Productions, Island Earth Music and more.
Arthur has arranged a killer lineup of entertainment for you folks attending. Here is what he has so far:
Friday's Lineup: Rap Night!!! With performances by Nappy Roots, Elephant Room, Bass Drum Aliens, Josh Woods, Juxtapoze, N- U- T- Z, DJ Shawn Tye/DJ four20, Infinowness, Knowledge.
Saturday Night is rock night, with performances by Zebras In Public, Chief Greenbud, Signal the Revolution, Krosjoint, Kung Fu Grip, Tom Hagley, Surly Mutt, Strange Tang, Blackii Whyte and The Reefer Kings, Max Random, Bury The Wicked, The Beat Daddy's, Devon Rosenblatt, The Redstone Band, The Kentucky Blue Collar Band, The Opposum Trot Blues Band, Str8 Jakkit and Fueling Fate.
More information is to be announced next month. Look up Cannastock on Facebook and sign up to attend and support the cause! There are already almost 1000 people attending!
Billy Idol Coming:
Holy cow! Billy frikkin' Idol is coming to Horseshoe Casino on Saturday, June 22. Sweet! I've always liked his music and have never seen him live. I don't seem to recall him touring much at all, to be honest. He has several songs that I like – "Rebel Yell" being my favorite – so I'm gonna try to cover this one just to see something new, and to see if Billy still has the goods to put on a great show for us. Will guitarist Steve Stevens still be in the band? Will Billy play all his classics? We will soon find out hopefully. Get those tickets now because this RARE show might sell out on the retro-Eighties/weird factor alone!!! Thanks to Horseshoe Casino for bring in something different and rockin'. It's been a while since they've had a good rock show there.
Former Days Of The New/Tantric Guitarist's New Project, Whitener:
Ex-Tantric/Days Of The New guitarist Todd Whitener has a new project with bassist Dave Moody and drummer Terry Harper. They have recorded a full-length album at Todd's home studio, which, I heard. is "over the top!" Apparently Todd used his Tantric/DOTN money wisely and invested in some top-notch studio equipment. I wasn't a huge fan of Tantric, but Todd's former band Recourse To Reason (also with Dave Moody) was seriously awesome. I liked that music very much! Maybe it was Todd's vocals that made me like it more than Tantric. Recourse To Reason played my big Rock For Kosair benefit for the kids a few years back and brought all kinds of people to help out the Kosair kids for Christmas. I will never forget such noble actions! Much like Recourse To Reason, the new music from this project called Whitener is Grunge-ish rock with lots of melody and feeling. Harper calls it "Jerry Cantrell-ish." The band recorded fourteen tracks in Todd's studio in January of 2013. A few of the songs had been sitting around for a good while. I'm listening to the track 'When I'm Done" and it is definitely different. It has a great radio rock style that many people could relate to. It starts out with a cool piano with effect intro that sounds neat. The acoustic tone/sounds on the songs are great. Todd's vocals are good. Creative note placement and lovely melodies. You can actually understand the man when he sings and I love that. So many bands have a singer with the Stevie Nicks/Bob Dylan syndrome: you cannot understand what the hell they are saying! The song is about being out on the road doing something you truly love, but also missing home and family very much at the same time. This song is deep and it rocks. It has those infectious melodies in the lyrics and chorus that kinda suck you in, and then it keeps the melody there all day long. It's very well-written and thought-out music. Meaningful lyrics. There are no stand-out guitar solos, burning leads, or heavy guitar parts, but they are not needed here. It's perfect the way it is. It's Todd Whitener's work of art, and the dude is an artist. The next track is "Away" and it starts with a cool acoustic intro that screams "hills of Kentucky." It quickly jumps into an energetic, upbeat rock song. Todd's voice gets much higher on this song. This song kind of reminds me of Tantric a little bit, especially the vocals in the beginning. But it gets away from that shortly after. The breakdown towards the end with the acoustic guitar with effects, and the acoustic lead sounds amazing. Badass. Now that is feeling! All these musicians are exceptional in my opinion. Dave rocks on bass, and Terry is a beast on drums no matter what kind of music he is playing. Todd is a whiz in the studio to get such incredible sounds from the guitars. I'm ready to see these guys play in action, so I might have to get my big rump out to Headliners on Friday, June 21 to see them finally play out. Meet me up there for a drink!
To get a taste of what these Louisville rock n' roll veteran musicians have been up to, go check out the new tunes at whitenermusic.com
Death/Hardcore Metal Feast to be served up in July:
Entrees for this feats include Children Of Bodom, Amon Amarth, Behemoth, Emmure, Motionless In White, Born Of Osiris, Job For A Cowboy, Battlecross and Huntress, so this looks like a regular death metal feast from hell. Wicked. If you love death/hardcore brutal metal, then this is a must-see concert of the summer. It's Monday, July 29 at Expo 5, a great place to see live music! P.S. You might want to take off of work for that Tuesday, because you will probably be all "beat the farg up" from the pit. Support the heavies!!!
More info, prices/times below in Upcoming shows.
Popkiss Chainsaw Review of New Single "Reasons":
Louisville hard rockers Popkiss Chainsaw have some newly recorded tunes. I'm listening to the new song 'Reasons." The guys have been through some serious member changes in the last few years, something that would normally kill most bands, but this band has regrouped and is back with a vengeance with new singer Billy Burton and new guitarist Tony Henry.
The first single is called "Reasons." It starts out with a rock n' roll bang, then goes into kind of a poppy riff that has good groove. Billy Burton's voice is good as always, having been tested in many bands, cover bands and original bands alike. Billy and I were in 13th Level together for a few years, and I can tell you this guy has some serious talent at singing, writing lyrics and guitar riffs. Dude is overflowing with stage personality. Heck, Billy can do it all. He could make a CD all by himself if need be, including playing drums! Billy does his usual actual singing technique (one of the things I love about his style), mixed with pure hardcore growl at times, usually at the end of the song. I've noticed that Billy likes to sing about ex-girlfriends a lot, hence the 13th Level song "Skunt." Ha!
Oh well, you should write about whatever motivates you, no matter the topic. I've been known to write about ex's a bit myself, hence the song "Inhuman F**king Wh*re." A song that was kind of shocker on the scene when we debuted it in 1997. Hey, whatever works! Troy Ford's drums are rock n' roll personified. Dude lives for the gig and is happy just playing music in general. He is a heck of a drummer. The background vocals in the chorus sound great with the lead vocals. Like I said, it's a poppy endeavor with a radio-friendly rock vibe that could appeal to many types of people. It's got groove, feeling and it's catchy, indeed. It's good to see that these guys didn't give up when things got bad.
Be sure to check out the new PKC lineup on Friday, June 7 at Phoenix Hill Tavern with my band Krosjoint and others! It's going to be off the hook. PKC will be filming a DVD at the show.
Anagnorisis Up Close:
Anagnorisis is a Greek word for "discovery." Speaking of discovery," I have just discovered that this five-piece black/death metal band with a flair for the extravagant is at the top of the death metal heap here in Louevil. Hailing from Louevil and formed in 2003, Anagnorisis has been busy putting out demos, a full-length CD and two EPs, as well as touring and playing many shows. I heard this band's name all the time but had never heard their music or seen them live.
The band went through a few member changes a few years back and were kinda at a low point there for a bit, but they finally made the return they wanted in 2012, with the brutal lineup that they had hoped to have. The lineup is Zachary Kerr on vocals, Zak Denham on lead guitar, Josh Mumford on bass guitar, Samuel Hartman on keyboards and Chris Smith on drums. These guys are not your run-of-the-mill screamers and loud guitars. They have a style and epic feeling about their music that makes it much more than just your ordinary death metal band. The band makes use of keyboards, beautiful classical stringed instruments, mandolin and even saxophone, instrumentation rare in most metal bands. Since I don't know much of these rockin' fellas, so I'm going to check out some of their past releases. "Clan Of Kerr" is off of the Ghosts Of Our Father EP. Brutality! I'm liking guitarist Zak Denham's muted picking technique and the subtle, eerie leads in the background. This is wicked. These riffs are not easy to play at all. Plenty of fast riffing, pull-offs and lead fills.
The solo in the middle is as dark and sinister as the vocals in this track. It reeks of a darker, more violent side of human nature, where everything is not all happiness and love, like Leave It To Beaver land.
The vocals are perfect for this type of music. It's a cross between a wailing banshee and a demon bursting up through the ground to wreak havoc upon humanity. Nice dark vocal technique. The founding Norwegian black metal fathers would be proud. This song is heavier and more groovier than the next song, and I like this one better with the killer guitar work. The quality of the recording is good, too. They took their time to record this. "When Obsession Awoke Tyranny" is off the 2009 Alpha and Omega EP. The song starts off with beautiful keyboards and some sick drumming. Zachary Kerr's vocals are pretty vicious, from shrieking screams to guttural lows. Zak Denham's guitars started out super-fast like most death metal then exploded into some nice melodic leads that really brought out the feeling of the song. Denham uses pinch harmonics a lot, which I like and use quite a bit myself. The drums are out of control. Some people say that death metal isn't real music and that anyone can play that crap. But I disagree! To be able to play this stuff takes serious skill, intricate muted picking technique, super fast hands, and the drummer pretty much has to be an athlete of the highest order. Vocalist Zachary Kerr must have trouble speaking after every show, the way he shreds those vocal chords. Dude must have iron vocal muscles to withstand such a consistent beating day after day.
The band has been hard at work on a new full length CD. It is finished and in the process of being mixed and mastered as I write this. Zak Denham says: "The title of the album is Beyond All Light. It's about 50 minutes worth of material, pushing the boundaries of what we have done before. It has elements of a more raw, cult black metal feel, fused with beautiful strings/mandolin/saxophone parts, then leading right into the most extreme blast beasts and caustic guitar riffs we have ever attempted. We're extremely proud of this new album. It will be released on CD/Vinyl/Cassette/Digital somewhere in the middle of July as we leave for tour on July 27th, kicking off here at the Louisville Deathfest at The Vernon Club on July 27th!"
I had the pleasure of visiting the band's studio, and hanging out a bit. These guys got it going on! Zak's studio is awesome. I listened to some of the new music and it is unreal. All of it. Death metal may not be my favorite type of metal, but there is no denying this band's dedication and skill. Louevil death metal band Anagnorisis is the real deal.
Guitar Emporium to Re-open:
Guitar Emporium is going to re-open! That should make many of you Bardstown Road musicians as happy as a crackhead with a hundred dollar bill. The longtime Louisville music store has been purchased by Sherman Buschemeyer, who intends to rehire the five employees who lost their job when the store closed in March. Good job Sherman! Good luck to you and your new endeavor! Remember folks, support our city's local shops!
Attention Ladies, Candlebox Coming to Jim Porter's:
Nineties rockers Candlebox will be at Jim Porter's on Friday, July 12 to celebrate their 20th Year Anniversary Tour. Everyone knows how much the women love this band, so they draw hot chicks from all over. So guys, get your butts to Jim Porter's to see all the hot babes and you also get to see a good rock show. I have never seen Candlebox , so that could be interesting, if not to look at the sexy women in attendance! Popkiss Chainsaw would be a good opening act for this show.
New Band Alert, Hellfire Militia:
This new band is made up of veterans of the metal scene from bands like My Own Victim, Snake Eyed Savior, Caldera, Kentucky Deathwish, Kallus and Graveflower. Members are guitarist Jeff Toy, bassist Todd Conn, drummer Jason Proctor and vocalist JD Hall. Guitarist Toy states "This new project is brutal. It's the heaviest stuff we've done in quite a while. We are all excited about it and can't wait to play out. So be on the lookout for Hellfire Militia in the next month or two." There is no doubt that these guys are very talented musicians, so I'm thinking this is going to be one rockin' band. More info coming when I get it.
Chimaira, Granshaw and a Cajun Chicken Sandwich Review:
After the Soundgarden concert, I hurried my rump up to Diamond Pub and Billiards to see a heavy metal band that I like, Chimaira! I got there kinda late, but in time to see South Central Kentucky's Granshaw let loose for a few songs. At first, when walking up to the gig I heard the music and thought Granshaw was Chimaira! But it was our Kentucky boys in action. A good band, and I am happy to report that I have made a mistake by saying the vocals of Bo White weren't very good when I reviewed their demo some time back. The truth is, this is a band that shines live in action. The demo did not do Bo White justice. White was ripping it up and was killing on some vocals! So yeah, I was wrong. It happens. But at least I admit it! I talked to Bo (nice guy) after their set, and he said that they had reduced the lineup to only one guitar, but I said that was fine because guitarist Corey Arnold was rockin'. He has nice guitar tone, and his rig was crushing. All those guys were rocking, for real. The bass, the drums, I was digging it! So much, in fact, that I booked them for July 5 at Phoenix Hill showcase. Don't miss these Central Kentucky metalheads in action.
Cleveland's Chimaira came up next and I was tired but still wanted to see them yet once again (I've seen them at least four or five times). This is another band that I do not know the names of their songs, so work with me here on this.
I like this band because they are heavy as hell but still maintain massive amounts of groove and feeling. They have beats you can actually get into, stuff that isn't too heavy for the mainstream heavy metal fan. They stay right on the cusp of going too far, like some of the darker more brutal metal bands do.
The vocals of Mark Hunter are awesome. Dude has range, power and can sing when needed. He seems like a good dude too, as he always makes a connection with the fans whenever they play.
I noticed with great sadness that guitarists Rob Arnold and Matt DeVries were no longer with the band. (It had been a few years since I had seen them play.) That is a huge loss, as Arnold was a guitar monster! Rhythm guitarist Matt DeVries (now playing bass with Fear Factory) had been replaced because he had to be there for his girlfriend who had just given birth to their first child. Matt DeVries was no pushover on guitar, either. Together Arnold and DeVries were a lethal combo that was hard to beat. Many fans did not like this turn of events, even saying it would be the death of Chimaira. The new guitarists Emil Werstler and Matt Szlachta are awesome, don't get me wrong, but they aren't as good as the DeVries and Arnold juggernaut that I had come to know and love as Chimaira. The new guys aren't bad at all though, and the Chimaira guitar sound was still there, still powerful, still rockin'. New bassist Jeremy Creamer was all over the place with great stage presence and killer bass sound. Sean Zatorsky's keyboards were good, and he looked like a Norwegian black metal keyboardist as he threw his hair back, headbanging during the songs. The band played "The Flame," "Year Of The Snake," "Severed," "The Venom Inside," "Pure Hatred," "Power Trip," "Nothing Remains," "The Dehumanizing Process" and, for the last song," the crushing "Resurrection." The band still sounded good, but it wasn't quite the same without Arnold and DeVries. I still give all credit to these guys for hanging in there and moving on the best they could. The new guys are pretty good musicians and I wish them the best with re-creating Chimaira and finding success in the future. I had fun at the show. There weren't as many people there as I had hoped, maybe a hundred, but the ones that were there made up for it. They were totally into the music. It was cool to see the metalheads soooo into the music. No one gets into music more than metalheads. Thanks to Diamond Pub and Terry Harper for the kindness to us here at LMN.
We were starving towards the end of the show, and we saw that Diamond Pub serves food, so after my bro Jared recommended the Cajun chicken sandwich, we ended up eating there and OMG, they had one of the best chicken sandwiches I've ever had. Their homemade chips are the bomb, too. Where can you watch some badass metal bands AND get a delicious meal at the same time?
You can at Diamond Pub and Billiards! Amen!
Musician Of The Month: Derek Hibben, G uitarist F o r IIattatime:
Be sure to look up this month's feature musician, IIattatime guitarist Derek Hibben (son of famous knife maker Gil Hibben) on my Louisville Rock Close Up Segment online! Dude is a great guitarist.
Experienced Singer Needed For New Project:
Burning Babylon drummer Don Wilson (not the Dragon!) and some friends have formed a new band and are needing an experienced vocalist to complete the lineup. Don describes the music as groove-oriented, heavy rock/metal with an aggressive, yet not too heavy side. Don is a beast on drums and usually has very good musicians with him in his bands, so this could be a great opportunity for some lucky singer to be involved with a rockin' band in hardly any time at all. They are waiting for you, so do not hesitate. These guys rock! Contact Don at 502-643-4638 if you are ready to rock.
The Bad Humor Report: Local Man Commended for Tireless Hate
Louisville death metal fan Jon D. Crepid has been commended for giving, above and beyond the call of duty. Never before has one man given so much to a single community. A high-ranking Louisville government official gave the award to Mr Crepid and announced to the crowd of 2000 in attendance "Mr Jon D.Crepid has kept true to his calling in life, and has showed a deep passionate love for death metal music by insulting and targeting anyone who likes any music but death metal. His unflagging posts on the Internet and heart felt statements have set a high standard to any rising hate-monger looking to make a name for himself. Without Mr Crepid's efforts, who knows what terrible music we Louisvillians could get into."
A blushing Mr Crepid replied "It's all good, bro. It just really gets under my skin to see young kids wearing Asking Alexandria and Bruno Mars tee shirts to a death metal concert! And what about these old guys who listen to Judas Priest? C'mon man! That ancient crap went out of style 20 years ago. There is only one kind of music, and that is DEATH METAL."
The Bad Humor Report: The Human Groundhog Emerges Once Again
Criminal mastermind and slick-talking weasel, Squallon Bolt, a.k.a. "the human groundhog," has emerged from hiding once again. Mr Bolt has quite the reputation as a man who would steal from his mother on Mother's day. A bad apple. Computer hacking/scamming," narking, fraud by deception, website scams, ruining an event to benefit poor children; no crime was too much for Mr Bolt. And like any scared groundhog, at the first sign of trouble, Mr Bolt would bolt to the nearest and safest hole to lie in wait for things to cool down. Being the patient half-rodent that he is, Mr Bolt can stay underground for long periods at a time if need be, going months without outside contact, safely within the confines of his hole with his unsuspecting mate. But like the famous groundhog Punxsutawney Phil, Mr Bolt is back poking his nose into the outside world this spring in Louisville. So my word of advice is be on the lookout for this little weasel-y fellow who would love to make you his latest in a very long line of victims. Be careful, the human groundhog is found in various small clubs around Louisville where he plies his sometimes trade as Blues Groundhog, guitarist and dirt picker extraordinaire.
Upcoming Shows
The Alley Theater (1210 Franklin Street)
Saturday, June 8 – Metal Up Your Eye III art show, with special guest performances by The Stonecutters and The Revenants. Artists include W. Dave Pollard, Eric "Rico" Rakutt, Pat Thompson, Erik Angelini and lots more. 7 p.m.- 2 p.m. Free.
Diamond Pub
whi
Wednesday, July 17 – The Agonist w/ Krosjoint and others. 7:30 p.m. $10.
Thursday, July 11 – Skid Row with Signal The Revolution, Year Of The Gun, and Some Kind Of Saint. 7 p.m. 18+ $22 Presale/ $25 Day of Show.
Friday, September 27 – Kamelot with Delain and Eklipse. $22-$70.
Sunday, November 17 Fates Warning 7 p.m. $18.
Thursday, November 21 – Kreator, Overkill and Warbringer. 8 p.m. $25-$75.
Expo 5
Monday, July 29 – Children Of Bodom, Amon Amarth, Behemoth, Emmure, Motionless In White, Born Of Osiris, Job For A Cowboy, Battlecross and Huntress. 3:30 p.m.!!! $25.
Headliners Music Hall
Friday, June 21 – Whitener w/ Zebras In Public, The Blue Soul Gypseys and Talk Of Spring.
Friday, July 5 – Reliant K with The Almost/Driver Friendly. 7 p.m. $18.
Jim Porter's
Friday, July 12 – Candlebox. 7 p.m. $20.
Phoenix Hill Tavern
Friday, June 7 – Popkiss Chainsaw, Krosjoint, Heavens Gate Gospel Revival, Demise Of The King and RustNbones. Free before 9pm. Only $5 after 9.
Saturday, June 22 Boombox Poets with Bubba Sparxxx. 9 p.m.
Friday, July 5 – The Tri Tones, Granshaw, 18 XRAY, Skies Of Alaska.
Saturday, July 6 – Trapt w/ Candleight Red and Era9. 8 p.m. $15 advance/$18 day of show.
The Vernon Club
Saturday, June 22 – A Great Big Pile Of Leaves. 7 p.m. $10
Thursday, July 11 Krizz Kailiko with Mayday, and Stevie Stone. 7 p.m. $15-$20
Saturday, July 27 – Louisville Deathfest w/ Enfold Darkness, Putrid Pile, Rivers of Nihil, Young and in the Way, Gutrot, Anagnorisis, Saprogenic, End It With A Shotgun, Abdicate, Kamikabe, Dawn of Dementia, Order of Leviathan, Littledidweknow and Dysphoria. EarlyShow! 11:30 a.m. Show at 12 Noon!!! $20
Wicks Pizza in Middletown
Saturday, June 1 – Southern Solstice. 9 p.m.