January 2013 Articles
Cover Story
Kevin Gibson
Features
Eddy Metal
Columns
Berk Bryant
Mike Stout
Paul Moffett
Djinn Shockley
Sue O'Neil
Martin Z. Kasdan Jr.
Eddy Metal
Alexander Campbell
CD Reviews
Martin Z. Kasdan Jr.
Blogs
Got Shows?
Send Them To Us
Bookmark Louisville Music News.net with these handy
social bookmarking tools:
Available RSS Feeds
- Top Picks
- Today's Music
- Editor's Blog
- Articles
Add Louisville Music News' RSS Feed to Your Yahoo!

Issue: January 2013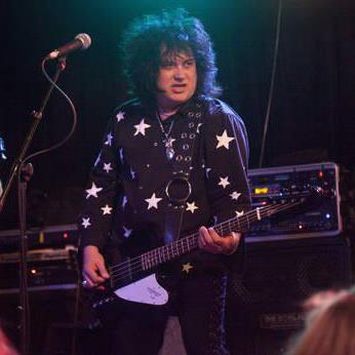 Justin Bush
Name: Tom Dawson
Age: 44
Instrument: Bass. I also sing and play guitar, but my main instrument is bass.
Band/Former Bands: Right now I'm in three bands. I'm in a heavy metal band called "Thunder Tribe." I also play country and pop/rock with the Olivia Henken Band. In addition, I play in a hair metal band out of Indianapolis called "Hollyweird." I've been very fortunate to play with some great musicians in my bands!
I have been in a number of quite popular bands in the past. Let's see: Riff Raff, Tora Terrain, Rabid Lych, Beholder, Creeper, False Alarm, Audiorotic, Hotter Than Hell (Kiss Tribute), and Kiss Army (Kiss Tribute). Beholder was an original, operatic metal band in the early '90s that recorded three albums at Ardent and Kiva studios in Memphis, TN. Beholder also spent the summer at Full Sail in Orlando, FL recording audio and video. We caught the interest of Metal Blade and Warner Brothers records and were nearly signed to a record deal in the early '90s. The grunge movement screwed that up for us.
The two Kiss Tribute bands I was in was a great time!! We played hundreds of shows all across the nation in those 3 to 4 years in front of large 5,000 seat crowds. Biggest crowd was approx. 50,000 at the Michigan State Fair with Grand Funk Railroad. Playing thousand seat clubs, auditoriums, and outdoor concerts was a regular occurrence for HTH and Kiss Army. We warmed up for some great rock bands, too.
How long on instrument: About 10 years on bass. I started playing piano at age 5, then guitar at age 9 after I heard some KISS songs. I soon gave up the piano and stayed with the guitar. I switched to bass about 10 years ago because I have noticed all my life that I hear bass lines in my head. I think it has worked out well for me.
Equipment: I have used all kinds of basses and amps. I finally feel like I've found something very close to what is in my head telling me "that sounds good!" My basses are almost exclusively Gibson Thunderbirds. Not Epiphone! (Yes, there is a difference.) I use different amps for different situations. It's mostly Mesa Boogie, but I do use Ashdown for some gigs. When I'm playing big shows on big stages, like warming up for Charlie Daniels, I use my Mesa Boogie M9 Carbine amp and a Mesa Boogie Powerhouse 1200 cab. When I play smaller stages I use my Mesa Boogie Walkabout 112 combo and a satellite Boogie cab.
Influences: Nikki Sixx, Paul McCartney, Gene Simmons and Geezer Butler.
My first gig: I don't remember what my first gig was (it might have been a place called "The Cove" in Berea), but at age 16, I was playing live in clubs around Kentucky while still going to high school. I was playing Louisville (Toy Tiger), Lexington, Richmond, and Berea when I was 16
Hobbies: My hobby is trying to find the holy grail of bass tone!
Favorite movies: "Frantic" with Harrison Ford, "As Good As It Gets" with Jack Nicholson. There are others, but these are two that came to mind.
Favorite food: I like Italian food the best. The problem is…it's full of carbs!
Favorite place: My favorite place is on stage, playing with a band that is well rehearsed and knowing that we are getting ready to kick some ass! Feeling the power of a great band is like nothing else in the world.
Favorite sports or team: Anything UofL!
What I'm listening to nowadays: I think most new music sucks! So, I listen to the old stuff when talent actually meant something. In my truck right now is: Boston, Queensryche, Journey, Mercyful Fate, Led Zeppelin, KISS, Black Sabbath with RJD, Fates Warning, and Lizzy Borden.
Coolest thing I've done: One of the coolest things was playing to a packed Toy Tiger when I was in Hotter Than Hell while White Zombie and Pantera were at the venue. We played the Tiger after Kiss had just played Freedom Hall on the Reunion Tour. Dimebag was standing in the front row rockin' out to us!! Then, he looked at my mic stand where I had my picks all lined up and he asked me for a pick. I thought that was super cool!!
Most embarrassing moment: I've had plenty of them, I'm sure. I remember a musical train wreck that happened at the Wrocklage in Lexington when I was in Creeper. That one sticks out for some reason.
Bad Habits: I've tried to kick most of those.
When/where did you first get some: Some things are better left a mystery.
If you could meet a Rockstar ( past or present ), who would it be, and why: Elvis! He was and will always be the king!! How many rockstars would be known by only their first name by most of the world, including some jungle tribes? Only Elvis!
Who do you love: I love my parents, my dog and cat, and my musician brothers and sisters.