October 2011 Articles
Cover Story
Kevin Gibson
Features
Eddy Metal
Columns
Berk Bryant
Mike Stout
Paul Moffett
Keith Clements
Martin Z. Kasdan Jr.
Eddy Metal
CD Reviews
Martin Z. Kasdan Jr.
Martin Z. Kasdan Jr.
Martin Z. Kasdan Jr.
Kevin Gibson
Kurt Reynolds
Kevin Gibson
Blogs
Got Shows?
Send Them To Us
Bookmark Louisville Music News.net with these handy
social bookmarking tools:
Available RSS Feeds
- Top Picks
- Today's Music
- Editor's Blog
- Articles
Add Louisville Music News' RSS Feed to Your Yahoo!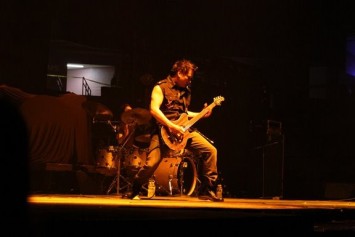 Todd Stricklin
Name: Todd Stricklin
Age:Old
Band:Superunknown
How long on instrument:20+ years
Equipment: Guitars: Gibson Sykes Aged Les Paul Custom (my #1), Gibson Bloomfield Les Paul R9, Gibson Page Les Paul R9, Ernie Ball Musicman Rosewood Axis, Ernie Ball Musicman Van Halen, Martin Acoustic, Vintage Fender Stratocaster (formerly owned and purchased from Eric Johnson).
Amps:Cameron CCV-100 (my #1), Cameron (Jose Mod) Plexi, Cameron (Aldrich) Mod JMP, Cameron (Ocean) Mod Plexi, Diezel VH4, Wizard Modern Classic, Mesa Boogie IIC+.
Cabs:Bogner Straight 4X12, Mills Straight 4X12, EVH Straight 4X12.
Effects:Fractal Audio Axe-FX II, Maestro Echoplex EP-3, TC Flashback Delay, Analogman Chorus, Evidence Cables, Scumback Speakers.
Pics:Red Bear Lil Jazzer (the best pic on earth).
Influences:Guitar:Edward Van Halen, John Sykes, Yngwie Malmsteen, Joe Satriani, Gary Moore, Shawn Lane, Paul Gilbert, Guthrie Govan, Buckethead.
Songwriting:Bob Dylan, Mutt Lange, James Hetfield, Chad Kroeger, Jimmy Page, Chris Henderson, Tom Scholz, Jerry Cantrell, Mark Tremonti, Edward Van Halen.
Producers:Mutt Lange, Bob Rock, Ted Templeman, Howard Benson, Keith Olsen, Joey Moi, Rob Cavallo.
My first gig:Playing the "Star Spangled Banner" in front of the entire high school at the season opening basketball game. It started out well, but just as the crowd got into it, the principle pulled the plug on me for being too loud :-) My first real band gig was in Louisville at RG's Last Call with my old cover band, Good Wood. It was a train-wreck but we had a blast.
Hobbies : Songwriting, Golf, Fishing, Swimming, Working Out, Trading Gear.
Favorite movies : Shawshank Redemption, Heat, Godfather, Rocky, Fletch Lives, Vegas Vacation, Borat, Coming To America, Chris Rock (Bring The Pain).
Favorite food: Lobster and Crab
Favorite place : Malibu, California
Bad habits:Biting my fingernails and staying on my iPhone too much.
What I'm listening to nowadays:Alter Bridge, Badlands, Blue Murder, Van Halen, Joe Bonamassa, Gary Moore, 3 Doors Down, The Aristocrats.
Coolest thing I've done: Well, on the music side it would have to be having my band personally chosen by Paul Stanley and Gene Simmons to open for KISS in front of twenty thousand people. Runner-up would be getting to play through Angus Young's rig at AC/DC's sound-check at Freedom Hall. On the real-life side, it would be becoming a father to my two daughters....very cool indeed.
Most embarrassing moment: Being handed a severely out-of-tune guitar while playing in front of ten thousand people opening for Motley Crue. Thank God that it all worked out, but it scared the shit out of me!
Who do you love: Hands down, my beautiful wife Jennifer and my two little girls Isabella and Amelia. Mom and Dad as well...
When/where did you first get some:
I'm still a virgin...
Random tip for guitar players: Trash your Wah Pedals! That pedal has been completely overused/abused over the past 20 years...