July 2011 Articles
Cover Story
Kevin Gibson
Features
Eddy Metal
Columns
Berk Bryant
Mike Stout
Paul Moffett
Keith Clements
Martin Z. Kasdan Jr.
Eddy Metal
Alexander Campbell
CD Reviews
Martin Z. Kasdan Jr.
Kevin Gibson
Martin Z. Kasdan Jr.
Blogs
Got Shows?
Send Them To Us
Bookmark Louisville Music News.net with these handy
social bookmarking tools:
Available RSS Feeds
- Top Picks
- Today's Music
- Editor's Blog
- Articles
Add Louisville Music News' RSS Feed to Your Yahoo!

Issue: July 2011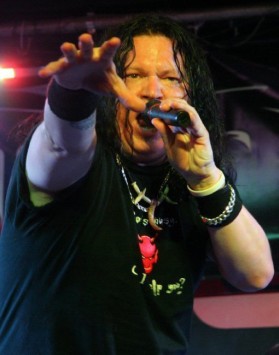 Michael Duncan
Eddy's two cents:It's time I featured some worthy musicians in Kentucky who don't necessarily live in Louevil. Michael Duncan is Central Kentucky's top metal vocalist (maybe the best in the state) and has been in the music business for about 15 years. I used to play many shows with Mike's band Pownd back in the Nineties. While he hasn't played Louisville as much lately, Mike has done some pretty cool stuff, putting out some darn good CDs, and playing all over the region and beyond, even opening for Dio. Mike has an incredible upper range voice and a versatile singing style that puts him on a pedestal above the rest, regionally. You don't see many singers with the talent that Mike has. So I figured it was time to pay tribute to Central Kentucky's vocal master Michael Duncan. If you like Queensryche, Judas Priest, Dio, Iron Maiden, then you will love Mike's voice....look up his bands!
I'm going to see his new cover band Thunder Tribe soon, and I can't wait to see them in action.
Name: Michael Duncan.
Age: Unknown.
Instrument: Vocals.
Bands/Former Bands:Pownd (the most well-known), Shatter Messiah, Godlyke Status, Legacy Uprising, Thunder Tribe and Soul Cage.
How long on instrument: my whole life!
Equipment: Vocal Chords.
Influences: Dio, Iron Maiden, Triumph, Judas Priest, Neil Diamond, Prince, Death, Slayer, Pantera, the list goes on......
My first gig:St. Clair Mall, Frankfort KY; 1995 (1st Soulcage gig)
Hobbies: Music, my children, Farm, my record label, True Metal Records (TMR).
Favorite movies: Blazing Saddles, The Jerk, anything w/Will Ferrell, Spinal Tap, any Marx Brothers movies.
Favorite food: Steak, potato Spinach Pie, METAL!!!
Favorite place: Anna Maria Island...Florida.
Bad habits: Sex, drugs and metal...in that order.
What I'm listening to nowadays: Shatter Messiah, because that is what I'm working on these days...Also listening to the classic metal tunes for my new cover band, Thunder Tribe.
Coolest thing I've done:Rocklahoma (2008); Getting to meet Ronnie James Dio, when Pownd opened for him @ Toy Tiger ('97); Circle Of Power/Pownd being signed to Nightmare Records (2006); being called out by John Oliva (Savatage founder) onstage at Nightmare's Metal Fest in '09 in Tampa, FL...asking where did you come from and I said "Kentucky."
Most embarrassing moment: numerous pyro incidents, but knocking myself out onstage.
Who do you love:my daughters, Mikayla, Sierra, and Elshka.
When/where did you first get some:Which state or which country??