June 2011 Articles
Cover Story
Kevin Gibson
Features
Eddy Metal
Columns
Berk Bryant
Mike Stout
Paul Moffett
Keith Clements
Martin Z. Kasdan Jr.
Eddy Metal
Alexander Campbell
CD Reviews
Kevin Gibson
Kevin Gibson
Kevin Gibson
Bookmark Louisville Music News.net with these handy
social bookmarking tools:
Available RSS Feeds
- Top Picks
- Today's Music
- Editor's Blog
- Articles
Add Louisville Music News' RSS Feed to Your Yahoo!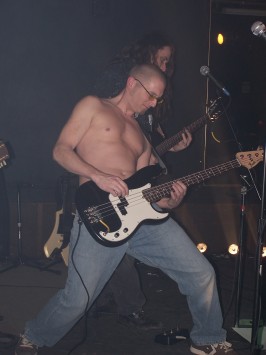 Sean Flannery
Name: Sean Flannery
Age: seldom spoken aloud, but 45
Instrument: Bass
Band/former bands: I am currently 1/3 of the hard rock/metal band RIFLE and have been so for approximately 15 years; although I think we were calling ourselves MindHammer for the first two years after our inception. I am currently in an acoustic band named Unloaded. The longest endeavor was Crown of Thorns, Queen Assassin, Skeptic Frenzy, Deathlehem, Shaun Teak, at least one incarnation of Cold War with Pat from Crazy Train, and, of course, who could forget Pus/
How long on instrument: I have played for about 30 years.
Equipment: My main bass is a 2006 USA Fender Precision with a Badass Bridge; a 1963 Fender Precision; an S.D. Curlee. The rig with RIFLE is a 1973 Acoustic 370 amplifier and a mid-70s Sunn SPL cabinet with two 15" speakers
I also have a 1970 Acoustic 150b and a late 60s Kustom cabinet with two 15s, . Oh yea, use a 60w Peavey with one 12" speaker for Unloaded and I use ghs bass boomers, medium gauge strings.
Influences: Geddy Lee is the reason I play bass. Steve Harris's right hand technique; listening to Flea not only inspired me to learn slap techniques etc., but prompted me to rediscover all the old funk music. Les Claypool, Geezer Butler, Paul McCartney and James Jamerson just to name a few.
My first gig: My first real gig was when I was 14, for a showcase, or talent show, at the Toy Tiger. They had me go in the loading door and stay in back. I remember this security guard, a huge and intimidating man, just staring at me, After all the equipment was in he walked me into a corner and said, "you have to drink back here, you can't go out front until you get on stage", "yes sir" I replied and promptly asked my band mate to bring me a beer while I went into the bathroom and puked!
Hobbies: I don't know if it is a hobby, but I spend much of my time running. I also love to hike and bicycle. I read about science and technology and pull my telescope in the backyard once in a while as well.
Favorite movies: The Lord of the Rings trilogy without a doubt. All Sean Connery "James Bond" flicks are fun and anything with Steve Buscemi in it!
Favorite food: Pizza with garlic and spinach hands down! I also love potatoes, cooked anyway.
Favorite place: Oddly enough, my favorite place is my back yard. I love being outside and I feel safe and comfortable there.
Bad habits: I may drink in excess from time to time; I also enjoy touching myself.
What I'm listening to nowadays: I still listen to Black Sabbath and Thin Lizzy, all the stuff I grew up on, (funk included), but the newer stuff I'm into includes Machine Head, Clutch, Mudvein, C.O.C., Primus, Down, Life of Agony and RIFLE.
Coolest thing I've done: So far, the coolest thing I have ever done is successfully raise my daughter to the age of 16 without detention, criminal record or pregnancy. I love you Britt!
Most embarrassing moment: I was working on my truck with my buddy and had to run to the hardware store. While we are standing in the store, this attractive woman is staring at me, my buddy Robbin even said, "man, she's hot, why is she looking at you?" Well we also went to Wal-Mart and the trend continued. We decided to stop at a bar where the couple of women in the bar seemed to really be checking me out. Feeling good about myself, we went home and told my wife the whole story, all the girls everywhere, thinking she would agree that her man looked good today! Instead, she patiently listened and then stated, "they're looking at you because you ripped the entire back end out of your pants." It was still nice to feel sexy for a while.
Who do you love: I love my lovely wife Amy, my daughter Brittany, my dogs, Hunter and Spencer, my cat Stuart, Rick and Kenny from RIFLE, my mom, Bill, Robbin, Paco, my brother Ira, all the friends I have forgotten to mention and Neil DeGrasse-Tyson, (my favorite astro-physicist).
When/where did you first get some: Ahh, a gentleman never tells, especially when the story lacks any real content!