December 2010 Articles
Cover Story
Kevin Gibson
Features
Eddy Metal
Columns
Berk Bryant
Mike Stout
Paul Moffett
Keith Clements
Martin Z. Kasdan Jr.
Eddy Metal
Alexander Campbell
CD Reviews
Kevin Gibson
Kevin Gibson
Kevin Gibson
Martin Z. Kasdan Jr.
Blogs
Got Shows?
Send Them To Us
Bookmark Louisville Music News.net with these handy
social bookmarking tools:
Available RSS Feeds
- Top Picks
- Today's Music
- Editor's Blog
- Articles
Add Louisville Music News' RSS Feed to Your Yahoo!

Issue: December 2010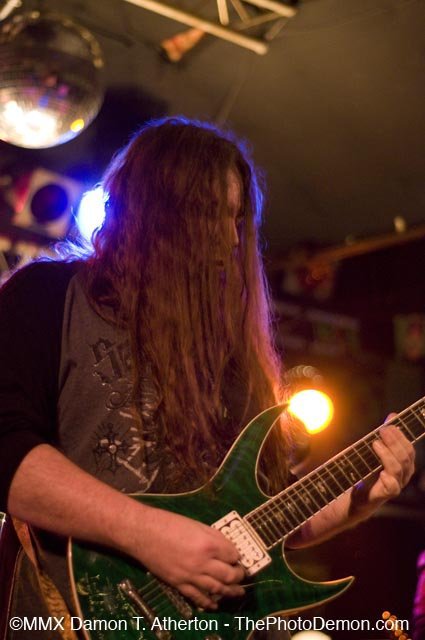 News From the Pit
Geez, it's tough being a critic. To tell people how good/bad their music is, and to suggest the things that could be better sometimes makes people angry. It's hard to make everyone happy doing what I do
I'm always going to make someone mad. It's what critics do! Let's see you try it without upsetting someone! One dill-hole even questioned my credentials for making such comments
Do you think I got this position by accident? Or that I haven't earned the right to be able to say what I do? I assure you, I have paid my dues times ten, first as a musician (started on guitar in 1984); I've been very active in the scene, starting way back in '95. Second, I was a former local music DJ on The Fox for two years (in The Fox's heyday). Third, I have been an original rock/metal promoter since '95. Finally, and not least, I've been a rock/metal columnist for 10 years! I think that should clear up any supposed lack of credentials on my behalf and if that isn't good enough for you, FARG OFF
The fact is, some people simply don't like being told the truth. About a month ago, I wrote a review on a new band and said that the young band was promising, but I also mentioned that their guitar tone and soloing wasn't very good, and tried to give them some pointers on achieving a better, cleaner sound, but they took it wrong and proceeded to insult me on their website.
I like to think that my honesty is the one thing that makes my monthly column so popular, i.e., well-read. Yet, instead of paying some attention, these hotheads ran their mouths. I'll let this one go because they are young, but this is NOT how you climb the ladder of success in this town. When I was a young rocker, I would welcome any help/advice anyone had to give me because I liked to improve myself and my playing. I never insulted someone for trying to help me. I just want you to know that I've always been very honest with you folks and know that I will continue on the path of honesty and truth as long as I write for Louisville Music News, no matter the consequences
I was going to do a Louisville Top 10 type deal like I did last year, but with all the bands breaking up this year and several of the top Louevil bands being egomaniacs, I've decided I'll just do a honorable mention list, in no certain order.
To be honest, I am having a hard time with the fact that I would be helping some A-holes to succeed. That crap is over. Don't get me wrong, I love helping bands, it's what I've done for 15 years, but this is a whole new ballgame. If you heard the stories that I have heard about some of the unsavory actions some of these popular bands have made, you would have an issue with this as well. Would you hide Bin Laden? Would you buy Bernie Madoff a bowl of soup? Would you invite Kim Jong Il to your house party? I think not - you would want to steer clear of those people
Which is my point - I'm turning over a new leaf. If you want to act like ungrateful, selfish and self-centered egomaniacs, then prepare to be treated equally as badly. This year, I'll just go by talent, rather than popularity
Here are the people/musicians/and bands that I think are the city's top dogs. This is just my personal opinion, mind you, so don't take this too seriously. I'm sure I will have forgotten somebody or made some mistake at least once in the following paragraphs
Give me a break though, nobody is perfect or knows everything, especially an old rocker who has partied way too much in his forty years of life. Ha.
So sit back and enjoy reading about Louisville's baddest mofos
Vocalists who Wail:
Hugo Ferreira (Tantric and an unnamed upcoming project); Pat Michaels (Seize The Day) sounds amazing in his new cover band; Chris Volz (Flaw) is a troubled soul, but still very talented; Pat Quinney (Thomas Medicine/Tentonhypemachine) is a musical genius; Andy Paul (Factor 9) was in his best form at Rock For Kosair 6 for their return show; Soulful singer Marty Triplett (BoneJinn) is back and rocking; Tim Mullins (X) has great range and highs; Steve Sawyers (Year Of The Gun) for his lows and songwriting skills; Brian "Buzz" Piles (Krosjoint,/Dogwater); Ricky Payne (Shatterstone) sings and writes well; Corey Robinson (Some Kind Of Saint) for creativity, and Drew Wagner (Heatherfield) has a great voice, too
Guitar Demons:
Kevin McCreery (Ugly/Big Rock Show) is always impressive. Andy Russ (Nailgun Strategy. Flaw) is phenomenal. George Paul Smith (XS) is an Eighties rock demon; Lance Arny (Nailgun Strategy; Flaw) has great tone and creativity; Others include Tim Flaherty (Hot Action Cop); Kris Kerr (Heaven Hill); Adam Young (Scary Uncle); Jeff Toy (My Own Victim/Snake Eyed Savior); Kyle Simpson (SnotOzzy and The Crazy Babies/ Slakker). He is also only 15 years old!
Bass Aces:
Chip Adams (Strumbeat) is amazing on bass; Bruce Lafrance (Nova Red); Joey Goldsmith (Fivesecondzero) is a longtime Louevil rock scene veteran; Rob Payne (Shatterstone); Frank Green (Ugly); Juan Chavolla (Hot Action Cop); Joe Stephens (Wax Factory); Dave Moody (The Zoo Kings/Jefferson TARC Bus); Teague Ridge (Heaven Hill); Todd Conn (My Own Victim/Snake Eyed Savior); Ronnie Watchmaker (Big Rock Show)
Drum Gods:
Steven O'Reilly (The Zoo Kings) is the baddest mofo on drums I've seen in a while. He is very entertaining to watch play! Terry Harper (Tentonhypemachine); Sean Rued (Nailgun Strategy/ Flaw); Dave Wathen (Factor 9); Mitch Kirkpatrick (Shatterstone); Josh Ricci (Ohlm); Kevin Davidson (Grindstone); Don Wilson (Burning Babylon); Ryan Murphy (Wax Factory); Donnie Highland (Ugly)
Awesome Keys:
Josh Kaplinger (Rock Station); Drew Wagner (Heatherfield); Michael Sanders (The Delicate); Rob Shy (XS)
Most Entertaining Bands:
The Zoo Kings; SnotOZZY and the Crazy Babies; Velcro Pygmies; Jefferson Tarc Bus (with Steve Clark); Shatterstone; Ugly; Heaven Hill; Scary Uncle; Thomas Medicine; BoneJinn; Trust Divided
Biggest Hearts 4 Charity:
Dave Moody and Jefferson TARC Bus, Rahul Borkar and Nova Red, David "Sailor" Bryant
Funniest Bands:
Two Pump Chump, Jefferson Tarc Bus and Boozer
And BTW, be sure to contact me if you need anything from me here at the newspaper. I'll be glad to help you, but I cannot help if I don't know about it. I'm not Edgar Cayce, so seek me out and I'll do my best to help you, if I can
Eddymetal1@aol.com
The Metal Grapevine
Win Tickets to 30 Seconds to Mars: (Free Ride)
Sunday January 30 at Expo 5, 30 Seconds to Mars will be making up two canceled shows that angered a lot of people in this town. I knew a bunch of people really looking forward to seeing the band back in October. I was even going to go! A metalhead! When it was canceled, the peeps got pretty mad about it. A few even swearing off 30 Seconds to Mars for good. F**k Jared Leto was the battle cry! I'm sure promoter Terry Harper wasn't happy about it either. Sounded like a major headache for the poor guy
Unfortunately, it seems that 30 Seconds to Mars does the canceling bit quite a lost. Hopefully, they will honor their obligations this time around, for the sake of their fans. For a chance to win tickets to this popular show, email me (Eddymetal1@aol.com) on Sunday January 23 at 9 p.m. sharp! In subject line put "30 Seconds to Uranus!"
Rock For Kosair 6, A Record!
Thanks to all of you who came to the 6 annual Rock For Kosair benefit concert I put on a few weeks back. It's true that I was a bit worried about attendance, with some of the bigger Louevil bands dissing the cause/kids, but because of you awesome people, it ended up being a success anyway. We collected a record $6069. Thank you so much for supporting the cause!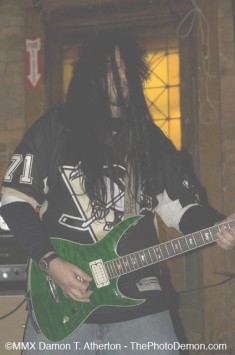 Eddy Burke, Rock4Kosair 6
I'm sure the Kids at Kosair and Kosair Charities will be ecstatic when we pull up with a record amount of toys for the young'uns.
I had an absolute blast, and I think everyone had fun that night! There was some serious partying going on, and lots of cute females in attendance. Hmm - what other benefit could I have?
Jokes aside, I worked my butt off for this cause (more than any other show) ever, but I did not do it alone and could not have. First, I want to thank all the excellent bands who donated their time and work to help the Kosair Kids in need. You are truly good people to have heeded the call to help these sick and poor children have a better Christmas at a critical time, even though all of you have busy lives, families and jobs.
Special thanks to Nova Red (who played their last show ever); The Zoo Kings who rocked the place; SnotOzzy and The Crazy Babies (the Ozzy Tribute band with the 13- and 15-year-old musicians) who tore the roof off the building; Some Kind Of Saint; BoneJinn; Shyaway; Factor 9 (the reunion sounded great, better than ever!) and Ugly (who are awesome, and whose singer drove all the way from Detroit to play for free!! Thanks, Geo!). Trust Divided; Heatherfield; 16 Bones; E-Flat; Fifth Omen; Year Of The Gun (we had a great show!); Talk Of Spring and last but not least Rockaway Drive, who saved the day when one of the bands canceled at the last moment. Thanks guys! I was stressing about that, and you came through for the cause! Next, I'd like to thank the sponsors for donating some very cool stuff to the concertgoers for coming to the show: Jeff and Pam at Uncle Sam's Jamms (who have been with Rock For Kosair from the start); Jeff and the crew at First Quality Music; Bill and the crew at Professional Musicians Center; Allensdrums.com for the drum set (you rock!); Jay's Needful Things for the tobacco products; Body Decor and Body Art Emporium for the Tattoo giveaways; Chip Adams for the guitar bag and lesson; U of L for the game tickets; Comedy Caravan; The Improv; Joe's Crab Shack, and Photographer Damon Atherton.
The following people helped me run this show and keep things on time: Promoter Tim Hicks (who donated seven hours of his time to bring in a better PA System and run the Tap Room for me while I ran the show. thanks dude! That was very unselfish! Great job running sound too.), Angel Hall Taylor for helping get sponsors and for running the Roof Garden, James "Fender" Vize, Jacob "Wild Man" Edwards, Nick Hall, Billy Yeakey and Travis Cline were very helpful, too
Thanks to the Kosair collection girls: Amy and Jerica (who did the best); Jeanette Martinez; Nicole Harkness; Mrs Steven O Reily and the nice lady who ran the raffles!
Thanks to the people who helped with the flyers and helped me get them out there: Monte Starling for designing the flyer; Angel Taylor; Shannon; Kristy; MJ Roxx, and Steve Sawyers
Thanks to Big Al Harley, who made the Official RFK6 Tee Shirts
Thanks to 93.1 the Fox's Charlie Steele for helping the cause; Mudd (he always helps give away the stuff, and even helps load the toys!) and Chris Allman. Finally and most importantly, thanks to the Phoenix Hill for letting us have such an important and meaningful event at their club. Every stage! You guys have been great about the Rock 4 Kosair Benefit from the start:)
Check out photographer Damon Atherton's RFK6 pictures!
Nevermore Review:
I've waited for years for this Seattle metal band with a cult following to come to my hometown, and because of promoter Terry Harper, I finally got my wish. Nevermore is one amazing band of über-talented musicians. Every member! I got to see Canadian symphonic folk metal band Blackguard open but wasn't too impressed with the thing as a whole. The guitars were cool but vocals and keyboard samples were very hard to hear for some reason.
Oh well. I came to see Nevermore anyway
Nevermore came on and had the best sound I've probably ever heard at Headliners and I have seen so many bands there, it's ridiculous! The guitars were nuclear warheads! The drums were thunderous. The bass, sick!!! You couldn't have asked for better sound
That's why I love Headliners. I was a bit disappointed they didn't play a lot of the older stuff though, which are my favorites. The new stuff off The Obsidian Conspiracy doesn't seem to have the hooks, feel and emotion that earlier efforts achieved. They are branching off into some weird stuff that I'm not sure I like as much as the older material, but there is no denying the fact that they are incredible to see in concert.
The band waded through newer stuff like "The Termination Proclamation", "Emptiness Obstructed", "The Obsidian Conspiracy" as well as a few semi-older tracks like "Narcosynthesis," "Inside Four Walls" and "Beyond Within." The musicianship was as I knew it would be: unreal. They aren't one of my favorites for nothing!
Guitarist Jeff Loomis is probably the best metal guitarist active today and new guitarist Attila Voros is almost as good as Loomis! I was a bit worried that the new guy wouldn't fit in as well as Chris Broderick (now with Megadeth) or Pat O Brian (now with Forbidden) did, but Attila kicked much butt. Props to the new guy
Vocalist Warrel Dane is in my top 5 favorite metal vocalists of all time, but on this night, he was having some issues: he was hacking up some cheese like he had a bad cold. Warrel has never sounded this mediocre, and I have seen him perform four times (once even in Sanctuary) . He sounded especially rough on "Voyager" and "Born." Perhaps he was a bit tired from the constant touring, which is understandable. It's true he can't quite hit the higher notes like he used to, but who can after the same number of road years? Very few could match the high notes in Warrel's earlier days in Sanctuary, especially the song "Battle Angels." He didn't sound terrible, and my date said she thought he sounded great, but he wasn't in top form compared to earlier shows. I think he needs a few months to relax and take it easy on the vocal pipes. Singing the way he does is very demanding and has to be tough! I kept hoping they would play some stuff off of Dreaming Neon Black or their debut album. I badly wanted to hear "Deconstruction," but no go. My favorites were "The River Dragon Has Come" and "Beyond Within."
Man, that PA was smoking! I got to hang out with Nevermore a bit, too, and they were super-cool guys as always. I chatted with bassist Jim Sheppard (probably the most underrated bassist in metal) about his surgeries on his intestines. He said he don't have much intestine left (they removed some in several surgeries) and that it's starting to get serious. I really hope Jim does better. You can't ask for better people/talented musicians to look up to. They're down-to-earth guys and they care for their fans enough to hang out with them.. You don't see that much these days
They may not make millions like popular metal bands like Slipknot and Lamb Of God, but one-on-one. musically, they kick butt, and that is a fact.
502 Reunion Show:
Friday, December 10 at Headliners it's going to be just like the old days in Louevil. An old-school reunion is taking place, featuring My Own Victim (with Sailor on vocals), Incursion, Faceplant, Kallus and Flatlyne. It will be just like the Toy Tiger days in the late Nineties. I really had hoped to get 13 Level on this reunion show, but it never happened. Bummer. We would have been perfect for this bill. I expect this should be a pretty good turnout, so all you old-school late Nineties metalheads, bring your butts out to Headliners for a night to remember
Tentonhypemachine, Ready 2 Rock:
I've been hearing a lot of stuff about Terry Harper's new band, so here I sit checking out the new music. It does sound pretty darn good, I must admit
The music is kinda basic, but groovy in "Anime," but the vocals of Pat Quinney (also with Thomas Medicine) really bring out the melody of the song in a smooth, trippy sort of way. The music isn't that heavy, either. Nice chorus. The recording quality sounds great
The second song, "Shot Caller," is a bit heavier and more diverse. Stephen Jones is a good guitar player and has been in the scene a long time, and everyone knows Terry can wail on the drums. Quinney's vocals are a lot more basic than with Thomas Medicine and match well with Jones' songwriting skills
I'm going to have to try to make their show at headliners on December 19 to see what they sound like live. The music is more alternative melodic rock than anything. I love Pat's voice and his choruses and have since I first saw him sing. "Ariel" is a laid-back clean ballad with some nice clean guitars and effects. This tune reminded me of Thomas Medicine a lot. This stuff sounds great, but I'm still digging Terry's old band, Of Sound Mind, better. I think that band was Terry's best. I still have those songs in my head! This is Steve Jones best stuff so far. The band sounds like they will do well, especially with all the friends Terry and Pat have. Check out their music at www.tentonhypemachine.com
New Band Alert, Shyaway:
I like these guys. I haven't heard them until right now, but it sounds like they deserve the buzz about them. They are a talented, friendly and humble bunch of young guys who have something going on here, for sure. Formed in 2008, Shyaway spent a long time finding the right people for the task at hand. Shyaway is hard rock/alternative band with an alternative edge that I think would do well if introduced to the masses. I've heard nothing but good stuff from them, so I booked them on my Rock For Kosair Benefit. My band was playing that same time spot upstairs, so I didn't get to see them live, but I heard they did really well. "Feelin' For You" starts out with a rock 'n' roll bang that makes you want to snort a few lines and bang a few groupies. I like the groove of this song and the different drum timing changes that really bring out the riff's strong points. I'm not sure about the recording quality, though
It's not bad, but I don't think it does these rock n roll juggernauts justice. "Fly" starts off nicely, too, with a raunchy grinding guitar riff with some greasy wah-wah. More guitarists should use wah-wah pedal effects, but on riffs like these, it's a friggin' must!
Chase Skinner's vocals are pretty good, but the sound quality doesn't do him justice as would a great studio. Chase sings, semi-raps, and he does it well. All that equals decent modern vocals. Hyder Busheri's guitar goes from acoustic to bluesy to raunch to rockabilly to thrashy metal, and yet the changes seem to work fine as a whole
"Taken Back" is my favorite tune so far. This song is cool! It starts out kinda light but kicks in nicely! There are rap verses and then these catchy, heavy, addictive riffs come in and drag you in a different direction, toward the dark side. There's a sweet bass breakdown and buildup. "Wild Card" has a cool bluesy, redneck feel that reminds me of Cage The Elephant, the retro rock band from Western Kentucky. There is a bit of a rockabilly feel to some of Shyaway's music, and that is fine by me
Factor 9 to Reunite and Record:
Factor 9 had so much fun reuniting for a reunion show and sounded so good that they have decided to keep going again and record some new material. Somehow I had a feeling this would happen. The band did sound very fargin' good for their first show in several years! Andy Paul sounded better than ever. I guess all that experience with Intheclear proved very useful. I predict they will make some noise in the scene, too! The Louevil rock scene is wide open for some Factor 9. If they sound this good after only a handful of practices, imagine after a few months! Stay tuned, I'll keep you informed
Save Ear X-tacy:
Save ear X-tacy!!! Here is my take on the subject: while I have never been a trendy Bardstown Road type, I do have to say that we do need businesses like Ear X-tacy. For one, they have always supported Louevil rock and metal and kept local artists CDs in stock! Secondly, they always have a fat metal section in their store. A lot of stores diss metal, but ear X-tacy never has. You can find some pretty sick stuff in there. They even let us musicians decorate the wall with our band flyers. (A lot of places are A-holes about that.)
I went to FYE in Jefferson Mall a few weeks back to put up some Rock For Kosair flyers, but this nerdy little jerk wouldn't let me. He said he'd put them up for me. Yeah, right! Heck, sometimes they even have live shows at the store! So, yeah, everybody buy your stuff from ear X-tacy from now on, because otherwise, it could be gone forever. And to me, ear X-tacy is a Louevil landmark, no matter where it is!!! The new location is at 2226 Bardstown Road, in the Douglass Loop area. I've haven't been there yet, but I will find time to go check it out, maybe do some Christmas shopping
Bands, Stop Lying to Better Yourselves:
Lately I've noticed that some bands will do about anything to get the upper hand on the competition, including lying about supposed record deals, managers, contacts, or a number of business-related things that are supposedly going to help them in their musical careers. I was told some pretty lowdown stories to get exposure/interest and I have to tell you, I think it sucks and is dishonest in the extreme. I keep hearing about local bands bragging that they are signed to small labels. Bands, that means nothing! If your records aren't in Tahiti, then they aren't anywhere, so stop this bragging crap, it's ridiculous.
Another band invented their own record company to fool everyone into thinking they are stepping it up. A completely fabricated record label made entirely to boost the band's name and interest? Lame! If this band keeps treating people like doody, I'll be glad to tell who it is. You would get a big kick out of this. Another band told me I would have to go through their new manager to book them now, even though I've been working with them for years. The band has done nothing extraordinary lately but insists that things are different now that they have small label support. Whatever!
Yes, it is good to pump yourself up the best you can, but I think honesty is best. To try to fool your friends, helpers, fans, supporters is another thing entirely, and one I do not endorse. Whatever you do, make it on your own steam, your music/songwriting is the key
Project Sovereign Seeks 2nd Axeman:
The band Project Sovereign is seeking a dedicated guitarist to round out their lineup for future shows. This is a darn good band and is sounding better than ever, so if you play guitar, you might want to jump on this opportunity! Contact the band on Facebook
Year Of The Gun's New Drummer:
My band Year of the Gun is back with a brand-new drummer after having lost yet another drummer, this time to Heaven Hill in August. YOTG's new drummer is newcomer Rob Streander, a small powerhouse of a drummer who definitely adds to YOTG's sound. Our first show back was at Rock For Kosair, and it was great. Rob learned eight songs in only one month. That's faster than any drummer we've had so far. Dude killed on drums at the show and we are glad to have him aboard. I'm excited about the new music! See Rob/us in action Friday December 10 w/ Trust Divided at PHT
Krosjoint, Lineup complete:
The lineup of my new project Krosjoint is: vocals - Brian "Buzz" Piles (formerly of Dogwater); guitars - Eddy Metal (Year Of The Gun; 13 Level); guitars - Matt Roeder (Year Of The Gun; 13 Level); bass - Marcus Goldsmith (Caldera; Kentucky Deathwish; 13 Level); drums - Jeff Beaven (Dogwater) . The new music is doom-y groove-laden old-school metal a la Black Sabbath meets Alice In Chains. Buzz's high-ranging Dio-esque vocals are sounding killer over our down-tuned, double-axe attack. I'm pretty excited about playing heavy music again! It'll probably be February before we are ready though
Upcoming Shows
Expo 5
Sunday, January 20 - 30 Seconds To Mars. 7 p.m. $25
Headliners
Friday, December 10 - My Own Victim, Incursion, Faceplant, Kallus, Flatlyne. 7 p.m. $10
Saturday, December 11 - Thomas Medicine CD release w/ Ohlm, Born Empty, Look What I Did and Fall N Disgize. 7 p.m. $10
Wednesday, December 15 - Twiztid w/ Blaze. 7 p.m. $20
Sunday, December 19 - Tentonhypemachine 7:30 p.m. $10
Phoenix Hill Tavern
Friday, December 3 - The Original Rock Showcase Series: Evansville's Deliver Us From Evil, Nailgun Strategy (featuring former members of Flaw), Shines Negative, Slakker and Rockaway Drive. Free before 9 p.m.
Friday, December 10 - Lively Productions presents Trust Divided, Year Of The Gun and more TBA. 9 p.m.
Friday, January 7 - Louisville Music News Showcase w/ BoneJinn, Shyaway, Talk Of Spring, Heatherfield and Year Of The Gun. 9 p.m.
Union Station
Saturday, December 11 - Project Sovereign, Mama Thia and more TBA. $5 18 and over!
Props Of The Month
This month's props go out to a real honest, stand-up guy named Tim Hicks. Tim is a local music promoter at various venues. Right now, he is putting on shows at Union Station and Phoenix Hill Tavern. He has been helping bands for years now.
You know, most promoters look upon other promoters as competition and don't really support each other that much, if ever, but not Tim! He doesn't give a crap about all that self-centered doo-doo. All dude wants is for the scene to be the best it can be. (He reminds me of me!) I have to tell you that that is a pretty rare find these days
Tim is also a bit fed up with some of the douche-bags (those are his words, not mine!) in town who think they are too good. So you see, I'm not alone in my comments at the top of my column
We both feel that people/bands in the scene need to help each other more, support each other and stop being such rock-star wannabes and concentrate on the music, rather than ego
Not one of the other promoters offered to help me with Rock for Kosair, but Tim ran a room at the Hill, brought a PA System and even ran sound, too. I thought it was a very cool gesture on his behalf, and because of that, he now has a friend and fellow music supporter for life. (I'm very picky about my friends these days.) Heck, one promoter that I personally vouched for years ago to have shows at PHT didn't offer to help, or even bother to show up to support the Kosair kids/cause. And that's exactly what I mean! No unity or support at all
Oh, well. At least Tim stepped up to bat for the kids and bands sake
So props to you, bro, you are one of the few people who truly care about the Louisville Rock Scene
Bands, if you need a show, look up Tim Hicks on Facebook. He is a good dude