April 2008 Articles
Cover Story
Tim Roberts
Features
Eddy Metal
Jason Ashcraft
Columns
Berk Bryant
Mike Stout
Chris Crain
Keith Clements
Martin Z. Kasdan Jr.
Eddy Metal
CD Reviews
Bob Mitchell
Martin Z. Kasdan Jr.
Bob Mitchell
Kevin Gibson
Tim Roberts
Bob Mitchell
Kevin Gibson
Martin Z. Kasdan Jr.
Blogs
Got Shows?
Send Them To Us
Bookmark Louisville Music News.net with these handy
social bookmarking tools:
Available RSS Feeds
- Top Picks
- Today's Music
- Editor's Blog
- Articles
Add Louisville Music News' RSS Feed to Your Yahoo!

Issue: April 2008

Scuttlebutt
The Promoter Profiles
Frank Lewis Jr., Vill-a-Fied Entertainment
What made you start promoting and putting on shows?
"I've always loved music although I can't play a lick and I'm very diverse in my music collection. But I was helping some friends at St. Andrews Pub in '06 and they found their niche with doing local/original shows, so that opened me up to our local scene and seeing how may people were into it and seeing how some bands worked hard at it and how some had great fan bases. Plus they all seemed to play for the love of music and opportunity to be seen and heard. So after leaving the Pub, me and [and an] ex-partner decided to still put on shows and put together Villapalooza in October 2006. There, we brought in Of Sound Mind and met Terry Harper, who liked what we did and asked if we wanted to book shows and that opened the door to doing some nationals like Hellyeah in May 2007, Clutch in June 2007 and Hot Action Cop in August 2007. I haven't looked back."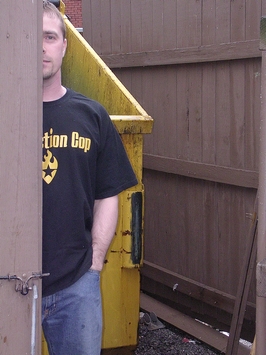 Frank Lewis Jr.
What is your goal for being a promoter?
"My goal is to put on best show possible, make it an event and [ensure] that everyone involved is taken care of for their efforts. After that is done, to enjoy the music and atmosphere and hope the bands got their needed exposure, that the fans had a blast and want to come to other shows and that when people come to a Ville-a-fied show, they have a great time and get their money's worth."
Who are some of your favorite bands to book?
"I loved Clutch live - just an awesome performance; Hot Action Cop always can get the party to another level as can American Bang (Nashville) and local boys The Broken Spurs. Thomas Medicine has a style unexplainable and seems to be the local musicians' favorite. [Also] Dogwater, who I have probably done the most work with are a great group of guys. There are others not mentioned but probably not enough room for me to list them all."
Tell us about a time when you were not happy about a bands performance or off stage attitude.
"As for onstage performance, everyone has been professional and brought their "A" games from what I have seen. As for off-stage, the only thing that I witnessed or which has been brought to my attention was at a September 2007 showcase. Ugly wasn't pleased but we had equipment problems that night. They bitched a little and made some myspace posts the following day but no sweat off my balls, I still like what they do."
Why did you choose Wick's on Dixie, or did Wick's choose you?
"Both. I choose Wicks to do the Hot Action Cop show because it was supposed to go to Uncle Pleasants and I really just don't like that place for shows. So I got HAC to do it there. They loved it. We had a great turnout and after that, Wicks liked how it was run and a month later asked if I would take over their Saturday music booking. I opened their mind to original, multiple-band shows and there's no stopping in sight."
On average, how much money do bands get paid for playing your gigs?
"As to what a band makes is up to them. I give every band (except nationals) fifty tickets to start with. If they sell them all, they make $150. [They] can sell as many as possible and make more. I have seen some sell them all and others not many, so on average, I would say $100, but depends on the band."
Is there another Louisville venue that you'd like to work with?
"I tried doing something at The Vernon off Story Avenue but they thought I didn't know what I was doing and decided to try it on their own. I will probably begin doing some Friday shows at Hoopla's inside Expo 5 and when I land the bigger acts, I'll put them in appropriate venues."
Which radio station do you think supports your efforts the best?
"Well, I do most advertising with WLRS. They take care of me and are on the ball, plus I get a 60-second spot for the same [price] as a 30-second with Clear Channel, but Mudd and Louie have been helpful with certain shows and are both great guys and so well-known in the local scene, I love to work with them anytime. But the best bargain and exposure has been with LRS. Skinny J does a good job hosting monthly showcases; he just had the Ville-a-fied Girls on-air to help push the latest showcase, took some pics and made a video you can view at WLRS.com. Also, internet stations Joker and wildliferadio.com are big assets to Ville-a-fied for promoting shows, interviewing bands and broadcasting shows."