April 2008 Articles
Cover Story
Tim Roberts
Features
Eddy Metal
Jason Ashcraft
Columns
Berk Bryant
Mike Stout
Chris Crain
Keith Clements
Martin Z. Kasdan Jr.
Eddy Metal
CD Reviews
Bob Mitchell
Martin Z. Kasdan Jr.
Bob Mitchell
Kevin Gibson
Tim Roberts
Bob Mitchell
Kevin Gibson
Martin Z. Kasdan Jr.
Blogs
Got Shows?
Send Them To Us
Bookmark Louisville Music News.net with these handy
social bookmarking tools:
Available RSS Feeds
- Top Picks
- Today's Music
- Editor's Blog
- Articles
Add Louisville Music News' RSS Feed to Your Yahoo!

Issue: April 2008


I've Got A Mind To Ramble
The KBS Celebrates 20 Years - Part 3
This month's article will complete the final saga of the Kentuckiana Blues Society's 20 years covering the time from 2000 to the present.
Brenda Major continued as president keeping the KBS monthly meetings on track in the back room of the Germantown Café on Goss Ave. Winston Hardy died on January 10, 2000. He had battled heart problems and was only 56 years old. His close friend and musician, Rocky Adcock, summed up Winston in a memorial tribute in the February issue of Blues News. Rocky said, "Winston's world was gonzo blues, country, rock, rhythm and roll. His life was destined as much by the muses of his own creativity as by his own free will and accord. He attained a precocious attitude long before he became legal." Leonard's Bar and Grill opened at 3105 Taylor Blvd. as "Louisville's Southside Home of the Blues" with Lamont Gillispie and 100 Proof Blues as the house band. This venue became Churchill's in August. Bottled Majic Music purchased Rooster Records and issued a 20 year tribute to Rooster Records that included Foree Wells' song, "Walkin' and Cryin' The Blues." We were encouraged that Foree's CD would soon be released. After five years of editing Blues News, Paul Schneider asked for some help. Natalie Carter came to the rescue as co-editor doing layout and design. Natalie eventually assumed full editor duties which she continues to do today. Paul Schneider did a two part interview of Mary Jean Zena in the July and August issues of Blues News. Mary Jean talked about owning Zena's since 1991 at 3rd and Market and her connection with the actors at ATL. When Mary Jean couldn't buy that building she moved Zena's around the corner in 1996 to 122 W. Main (formerly the Windmill) and it has been there ever since featuring local blues. Sadly Mary Jean Zena, Louisville blues housemother, died on Christmas Eve. Rocky Adcock received the Sylvester Weaver Award at the KBS Birthday party at Stevie Ray's on November 19. The Sofa Kings Deluxe who won the KBS competition from a field of eleven contestants, opened the party and Eddie Shaw and the Wolfgang closed it down.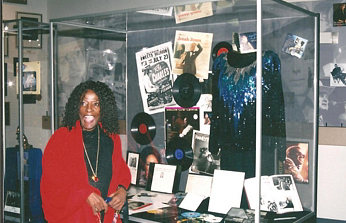 Mary Ann Fisher at the dedication of her exhibit at the Kentucky Music Hall of Fame 2001. Photo by Keith Clements
The KBS Board members started the tradition of answering phone calls for the Public Radio Partnership during the 2001 Spring membership drive. We volunteered during Scott Mullins Saturday Night Blues Party on WFPK. Stevie Ray's began booking national blues acts in March each Monday at the reasonable hour of 8:00 PM. The KBS Board of Directors lost a dear member when Paul McNeal died on June 4. He and his wife, Martha, came on the Board in 1997 where Paul's passionate and positive attitude for the blues knew no bounds. Louisville's own da Mudcats, got their dream gig of playing at the Monterey Bay Blues Festival in California in June. They were asked to return two more times. Blues Kravin came all the way from Marion, NC, to be the 2001 winner of the KBS Blues Competition. They had already won the Piedmont Blues Foundation Society contest. There was a benefit for soul blues singer Joe Wells at Zena's and the KBS had its Annual Birthday Party at Stevie Ray's in November. Scott Mullins received the Weaver; incidentally Scott was the person who originated the award. The music was provided by the Rose Island String Band which expanded into Dr. Hemiola and the Blues Activators. Sue O'Neil added a few songs and Chicago guitarist, Eddie King, went out on Main St. to play. The year closed out with Harry Lewman hosting a house party where he introduced twelve string blues troubadour, Paul Geremia, to his wide circle of friends.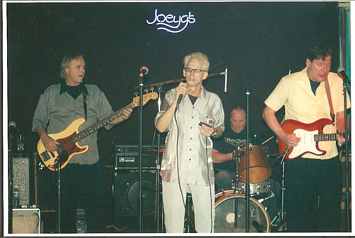 Lamont Gillispie and 100 Proof Blues at Joey G's. Photo by Keith Clements
The year 2002 began with a bus trip to Madison, IN, to hear Lamont Gillispie and 100 Proof Blues Band (plus Don Adams and Michael Murphy) record a live CD at Joey G's. Unfortunately Lamont was not satisfied with the sound quality and it was never released. Blues got a little leaner this year with the cancellation of the Blues and Barbecue Festival at Six Flags Kentucky Kingdom and the KBS Blues Cruise stopping at only two bars due to the lack of blues venues. On the national scene Black Top Records and Blues Access Magazine folded. On a brighter note guitar wizard, Cole Prior Stevens, settled in Louisville from California and started the group, Blue Trane. They hosted acoustic open mic nights at Zena's every Thursday. During July a House Party was held at Stevie Ray's for Fred Murphy. He had been a victim of predatory lenders and contractors and was getting assistance from the Legal Aid Society. This benefit helped cover his daily, medical and utility expenses. Even in his weakened condition he couldn't be kept down from stompin' and blowin' his harp. Blind Dog Gatewood, the one man band from Newburgh, IN, won the KBS Competition on his third try. Gatewood went on to win the Telluride Acoustic Blues Competition in CO. He returned to Stevie Ray's to be featured along with Michael Burks at the KBS Birthday Bash in November where Mark Stein got the Weaver.
The U.S. Congress officially proclaimed 2003 as the Year of The Blues to mark the centenary of W. C. Handy's first encounter with the blues. Handy heard a guitarist playing this strange music at a train station in Tutwiler, MS. In January we celebrated the release of Mary Ann Fisher's CD, "Songbird of the South" which was skillfully produced by Peter Rhee. Does anyone know what happened to Peter? The Filson Historical Society initiated its "Blues Night at the Filson" in February featuring the historic 10th St. Blues Band. Since money was tight and membership was down the KBS held a fundraiser at Stevie Ray's in March. To save on printing costs the KBS started publishing Blues News every other month with the Blues Calendar mailed on alternate months. The KBS had one of its best Blues Cruises in May with stops at Stevie Ray's (King Bees), The Black Cat (Lamont and 100 Proof) and Billy's Place (George Bracken Blues Band) at his new location on 26th and Broadway. Mary Ann Fisher was one of the cruisers and was called up to sing several times during the night. There were seventy other cruisers on two buses and the Jello shots were plentiful. Robb Morrison began hosting Sunday Blues Brunch on 95.7 WQMF radio on Sunday from 9:00 AM to noon. Sue O'Neil got surprised with the Weaver between sets at Stevie Ray's. The Year of the Blues closed with a whimper due to the passing of Fred Murphy on November 8. During his eighty four years he lived the life of a bluesman. At Fred's funeral his granddaughter said, "He didn't have much money, but he left lots of memories."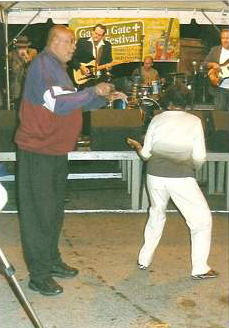 George Unseld and his dancing at the 2007 Garvin Gate Blues Festival. Photo by Keith Clements
Another passing marked 2004 with Mary Ann Fisher leaving this world on March 12. She died just three weeks after participating in a wonderful tribute in her honor at Stevie Ray's. During the last glorious year of her life she received many accolades including a display at the Kentucky Music Hall of Fame in Renfro Valley, KY, and opening their 2004 awards ceremony in the Frankfort Convention Center singing "Down Home Blues." During the May KBS Board meeting the dynamic duo of Bob Brown and Gary Sampson were elected to the board. The Stella Vees, an exciting band with a distinctive swing and jump feel, won the KBS contest. They collaborated with Lamont Gillispie and 100 Proof to add the musical fireworks for the KBS Sweet Sixteen Birthday on November 20. For some reason I received the Weaver at the party.
Henry Woodruff passed away on January 5, 2005 after a long stay at Eastern Parkway Medical Center. Henry was the first recipient of the Sylvester Weaver Award in 1989 and his distorted wah wah pedal made his interpretations of blues standards unique. February was a busy month with an acoustical blues performance of Cole Prior Stevens and Dan Stevens at Bardstown Road Presbyterian Church, the KBS contest winners, Stella Vees, hosting a jam at W.C. Handy Hall on Beale St. during the International Blues Challenge and A Musical Tribute to Mary Ann Fisher at Stevie Ray's, plus Stevie Ray's celebrating their 10th anniversary. The KBS agreed to be a sponsor for Foree Wells CD, "It's A New Day Brother." I easily got nine more sponsors to make its release financially feasible. Willie Bright, a past KBS board member and Metro Councilman, died in May. He owned the 537 Club and the Velvet Rose which were venues for many KBS blues meetings and events. Stevie Ray's stepped back from the blues when they decided to close on Sunday, Monday and Tuesday nights, reducing the number of national acts and eliminating the Tuesday jams. Due to lack of competitors, the KBS Competition was cancelled. Times were hard on the blues. Gary Sampson relieved Brenda Major from being president for life at the Annual KBS Membership Meeting. After her tireless commitment for the KBS, Brenda didn't completely go away from the Board because she continued as treasurer. The ever laid back John Burgard was actually taken aback at Longshots Tavern when he received the Weaver during their Tuesday jam.
The year 2006 opened with a tribute to Scott Mullins at the Rudyard Kipling. Scott had hosted the Saturday Night Blues Party on WFPK for twenty years and was moving to Milwaukee. Woody Chancy, the all night music maniac of Woody's Roadhouse, coordinated the send off. Kevin Yazell took over Scott's show in March and I swear they sound identical. Joe Wells died on February 15 at 68 after struggling with cancer. He sang his heart out at our Blues Cruise in 2004. The 12th Annual KBS Blues Cruise partnered with the Jeffersontown Crusade Blues Festival in May. The Festival started in 2005 with Dale Cashon organizing the event. The Festival was the first stop and then it was on to Uncle Pleasants for Cole Prior Stevens and Friends (Steve Boros and Andy Brown) and finally to Longshots for the regular Tuesday jam crew of John Burgard, Mike Lynch and omnipresent Andy Brown. Nelson Grube started his column Spinnin' in the Drawer for some off the wall comments and reviews for Music News. River Bend Winery sponsored the 10th Street Blues Festival in June. This two day event was like a giant block party that was both on the street and inside the Winery. The Louisville Blues-N-Jazz Barbecue Festival headlined Nora Jean Braso on July 8. She generated so much excitement the organizers, Bisig Impact Group, decided to make the future festivals all blues. Lamont Gillispie lost his dear friend, Sam Myers, in July. Sammy played many times with Anson Funderburgh and Lamont in Louisville. Lamont was honored to participate at the funeral service in Jackson, MS. During the August KBS meeting the Germantown Café got too noisy with their trivia game in the bar. We decided to move on trying several locations until we settled in at O'Shea's at 956 Baxter Ave. where we continue to meet the first Wednesday of every month. With more news and our coffers filled, Blues News went back to full newsletters every month with alternate eight and twelve page issues. Stevie Ray's came back with music six nights a week, including open blues and jazz jams on Tuesday and occasional shows on Sunday. The year 2006 closed out with the Stella Vees winning the KBS Competition for the second time and the Sylvester Weaver Award given to da Mudcats (all three of them: Gene Wickliffe, Rob Pickett, and Mike Lynch).
The rear building at O'Shea's was the perfect location for the KBS monthly meeting in 2007 with our own bar, bar maid, and sound system. Jim Masterson, veteran guitarist and painter of blues icons, was nominated to the KBS Board in February. The KBS threw another House Party at River Bend Winery on March 3 with the Mad Dog Rhythm & Blues Quartet, Jim Masterson Band and River City Blues. At last the release party for Foree Wells' CD, "It's A New Day Brother," happened on April 22 at Alumni Hopps. The 10th Street Blues Band and the Walnut Street Blues Band helped celebrate the long awaited event. The producer, Jim O'Neal, and his companion, Brenda, were there along with other special guests including Perry Aberli, Roger Wolford and Smoketown Red. The Jeffersontown Crusade Blues Festival expanded with a golf scramble, "Blues You Can Use" presentation by the KBS, silent auction and a Friday night Blues Bash at the Gaslight Inn, in addition to their two day festival in May. The KBS Ramblin' Blues Cruise had a shuttle bus that looped the downtown, stopping at four locations where seven bands played. Gary Sampson initiated a weekly e-mail hotline sent each Wednesday listing the blues events for the coming week for KBS members. Kush Griffith died on June 18 just two weeks after a benefit was held in his honor. This inspirational trumpet player was the musical director for James Brown in the 70s. The July Blues-N-Barbecue Festival at the Water Tower headlined Fiona Boynes on Saturday and added a third day on Sunday. The big news of 2007 was the resurrection of the Garvin Gate Blues Festival after an absence of eleven years. Thanks to Howard Rosenberg's organizational skills, Mike Suttles' booking on a tight budget and Metro Councilman George Unseld's generosity plus many sponsors, this dream became a reality in October. The mix of local talent and Chicago bluesmen Lurrie Bell and Jimmy Burns made this deja vu weekend a blues dream come true. There was a tribute to Jim Rosen during da Mudcats set with Sue O'Neil. Sonny Sitgraves, drummer for the 10th St. Blues Band and countless other bands over the years, was honored with the Sylvester Weaver Award. Velveeta Jones was the KBS Contest winner which gave them a chance to perform at Garvin Gate and the KBS Birthday Party in November at Flanagan's. MERF promoted a mega benefit to help musicians in time of emergencies at Stevie Ray's, Headliners and Jim Porters on November 11 featuring plenty of blues. Les Reynolds joined the Board in December where he was already sharing his writing and photography skills for the newsletter. The KBS made a strong come back over the past two years with the membership and bank balance more than doubling under the leadership of Gary Sampson.
What will 2008 and the next twenty years bring? You can play a role in the destiny of the KBS by joining, volunteering, and going out to support the blues.