June 2007 Articles
Cover Story
Tim Roberts
Features
Eddy Metal
Jason Ashcraft
Columns
Berk Bryant
Mike Stout
Paul Moffett
Chris Crain
Keith Clements
Martin Z. Kasdan Jr.
Eddy Metal
CD Reviews
Tim Roberts
Bob Mitchell
Kory Wilcoxson
Tim Roberts
Bob Mitchell
Bob Mitchell
Cricket Bidwell
Kory Wilcoxson
Tim Roberts
Blogs
Got Shows?
Send Them To Us
Bookmark Louisville Music News.net with these handy
social bookmarking tools:
Available RSS Feeds
- Top Picks
- Today's Music
- Editor's Blog
- Articles
Add Louisville Music News' RSS Feed to Your Yahoo!

Issue: June 2007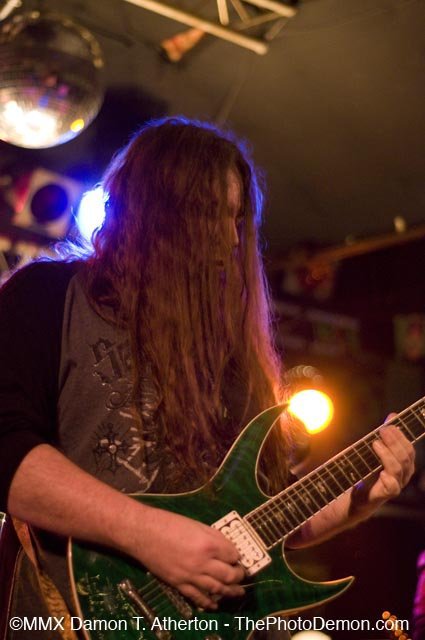 News From the Pit
I've been going out and having too much fun recently, which to me, is the only potential cure for the loss of a loved one (my dog Oscar), a breakup or just plain feeling blue. Derby started out with a cool death metal show: Incursion and MachineGunSkullF**k, at Club Exile (review below), then I went to the highly anticipated Crossfade Derby Eve babefest at Phoenix Hill Tavern (review below), then on Derby Day I went to Jay's Derby Bash at Expo 5 to see Flaw and others and had a decent time. Then I took my hung-over, whiskey-drinking rump to the Hill that Monday to see the Women of Metal Tour, (review below) with one of my favorite bands, Lacuna Coil, headlining! I was front row, baby! Sweet.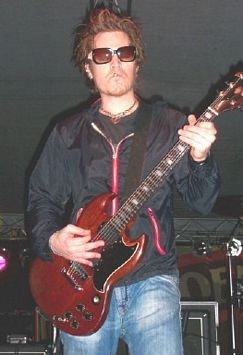 Les Hall of Crossfade; Photo by Eddy Burke
Static X was a fun night as well, although I'm not much into their techno nu-metal style. And finally, Hellyeah, featuring Mudvayne and Pantera members, at Expo 5, (review below) was killer!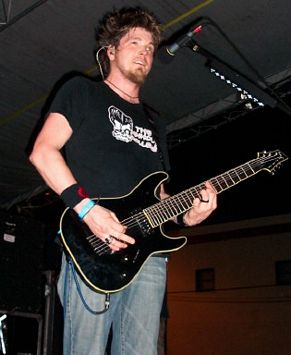 ED Sloan of Crossfade; Photo by Eddy Burke
Have things gotten busy in this music scene in the last few years, with new promoters and tons of new bands. Louisville music radio is very popular and there are several different shows to choose from on any weekend night. Very cool.
A lot of people/business' are sponsoring the original shows, so that usually means more radio, advertising and flyers being handed out. The more sponsors the better! I've gotten so many lately, that I've had to turn away sponsors to my Original Rock Showcase Series concerts at the Hill. I'd like to give a thumbs up to these businesses: Uncle Samm's Jamms, a music store on Durrett Lane, has been a Louisville music sponsor for many years at my PHT show and other events as well. Mom's Music has shown support over the years for Louisville musicians. Hornet's Nest Tattooing and Body Art Emporium have supported Louisville music as well. And Anthony at Bizarre Cafe (great food, check it out!) has recently started to kick in some cash to the scene, to share some advertising with the bands!
On the other hand, with every five new promoters in this great music scene, there's a complete nimrod, a poor fool who knows not what he (or she) does in the slightest and is only in it for the money and/or because it's cool. I have seen many of these through the years. They come and go, often in debt to many and hated by bands. I'm here to let all you future promoters/booking agents/managers that for our rock/metal scene, it's not about money or being cool.
It's about supporting and helping talented musicians in our region to be heard by as many as possible.
The Metal Grapevine
Tantric "The Breakdown": The original lineup of Louisville radio rockers gone national, Tantric has broken up because of personal and musical differences, to be nice about it. Too many delays in the release of the third album (finished for two years), plus multiple side projects has left the band floundering and unsure of their desire to continue on as the original Tantric.
Guitarist Todd Whitener announced on the Internet that he left the band in May and bassist Bruce LaFrance and drummer Matt Taul quickly followed. Rumors are that vocalist Hugo Ferreira is recruiting replacements and maybe try to carry on with the Tantric name. Hugo has a problem, though, because the original members still have rights to the Tantric name and don't want another band to use the name. It's a shame it had to come to this; I rather liked some of their newer stuff. It was heavy for Tantric!
Stoner Groove Madness: On Sunday, June 15 at Headliners, Clutch is playing, so you might wanna get your ticket now, because this will probably sell out! These guys are wild and crazy dudes! I'll never forget partying backstage with Clutch and Slayer in Chicago in the VIP area at the Metro. They had party favors by the bowlful set out on tables, free to anyone who had an urge to party like a rock star.
Chaos at Waverly Hills: Holy cow! Promoter Terry Harper has a treat in store for us come August 11 at none other than the most haunted evil place in Louisville history: Waverly Hills Sanitarium. This metal all-star bill, titled "Sounds from the Underground," is nearly too good to be true: Lamb Of God, Gwar, Hatebreed, Shadows Fall, Chimaira, Behemoth, Every Time I Die and more.
All this excellent metal and in a very weird place equals one cool show that should draw every metalhead within 100 miles. It promises to be a interesting night. The spirits of Waverly will not be resting!
The Women Of Metal Tour Review: Stolen Babies, the first band was horrendous. The music was a cross between the Munsters, Cannibal Corpse and No Doubt, if you can imagine that.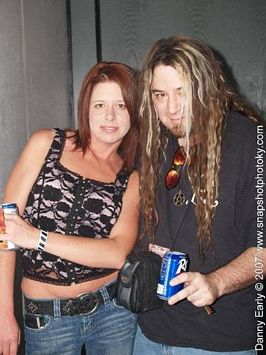 Vikki and Eddy Metal, Hellyeah, Expo 5
The leader looked like one of those 'living dead' dolls and she played, an, um, accordion.
Van from Incursion was wincing and I was ready to throw myself off the balcony had they not stopped. The next band was much better but still not very memorable.
Then came Scandinavian Goth rockers Within Temptation, who blew me away. Their singer, Sharon Den Adel, sang as well or better than my dream girl, Cristina Scabbia! She was hot, too! The music was way tight and well-written: an orchestral masterpiece, I thought. If you like Lacuna Coil, then check out this band. Within-Temptation.com.
Then the Italian band Lacuna Coil one of my favorite bands. They kicked butt as usual, with a decent-sized set, including stuff both old and new. Highlights were "From Within," Depeche Mode's "Enjoy The Silence," "Senzaphine" (in Italian) plus "You Create" and "What I See" off last year's Karmacode.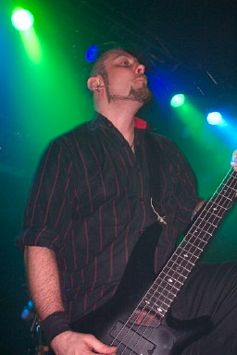 Marco Coti Zelate, bassist, Lacuna Coil. Photo By Eddy Burke.
The vocals were terrific and the band was pleased with the crowd response. This is what women rockers should be about: beauty and the beast.
Thanks to Terry for bringing this tour, which wouldn't have stopped here if not for him. Oh, yeah and for letting me sit up front to gawk!
Crossfade Babefest: Phoenix Hill on Derby Eve was a lunatic asylum! National act Crossfade was playing outside with the Villebillies. It was pouring early, but it stopped, so I went. I was glad I did, because it was a babefest like no other at the Hill in a long while. Women love Crossfade. Yeah.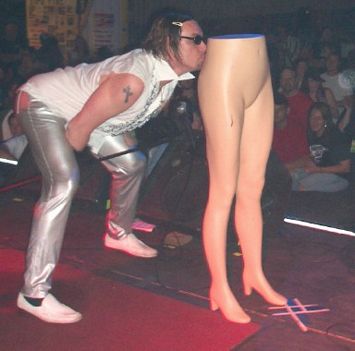 Geo Von Tuebel of the band Ugly, Gettin nasty with a mannequin. Expo 5, Derby Day. Photo By Eddy Burke.
The sound system outside was pretty good but rather quiet to conform to Louisville's noise ordinance. Crossfade sounded killer, although I am not a Crossfade fan. That night, I was a Crossfade fan fan!
Vocals were excellent, with harmonizing done by singer Ed Sloan and bassist Mitch James. Of course, the highlight was "Cold," their big radio hit and the only song I'm familiar with.
After Crossfade, I went into the Saloon to see the "World Famous" Velcro Pygmies. Two songs and I couldn't stand it anymore. The vocals were off key and the Jack Sparrow and Nikki Sixx look-a-likes were just plain cheesy. They could play, mind you, but I was looking for a pirate ship stage setting or something! Davy Jones, or The Kraken? Oh well, the people were eating it up and that's what counts, not my old Megadeth-loving rump.
Hellyeah at Expo 5: Expo 5 has taken care of their alcohol issues and now the place is ready for all-out fun and music madness! The Flaw show was okay, but the Hellyeah show was off the hook!
I got to go to the "meet and greet" and getting to see such bigtime musicians up close in an almost personal setting was very cool. You'd have to be a drooling idiot not to like this band. Mudvayne's singer Chad Grey on vocals, Pantera drummer Vinny Paul on the skins, Mudvayne's Greg Tribbett on guitar and Danzig's Jerry Montano on the bass. A supergroup! This was by far the best show I've seen at Expo 5.
They played some acoustic guitars, plus it got heavy at several points, but the highlight was their big song, "You Wouldn't Know." I love the line in it where he sings "alcohooooool and assssss!" The only thing missing was the ripping guitar of Dimebag. R.I.P. Hellyeah was a rip-roaring good time of gargantuan proportions. Everyone I know had fun that night. Thanks to Villified Productions, Terry Harper and Expo 5, for making it happen.
Props to Bowling Green's Sixth Floor, who opened up the show with a set of redneck Southern rock/metal. I like Sixth Floor. They wail.
Opened For Godsmack: Mungus got the opportunity to open for Godsmack at The Palace by winning a contest on 93.1 the Fox. I figured one of the top Louisville veteran bands would have won, but these relative unknowns took the victory. I am leery of these contests, because of possible multiple voting by one individual. I'm not saying Mungus did that, but it's happened in the past.
This band is hard to categorize. It's part rock, part alternative bluesy funk. The guitars were grainy and a bit muddy. The vocals reminded me of Tool a bit, with a different edge. Not too bad at all.
Vocalist Adam Lamb has talent, with some cool, slow parts thrown in. "The Ponderous Groove" sounded like Tool. It was catchy. "Beam" was a funky, bluesy rocker with jazz influences. These guys are a refreshing departure from the same ole stuff I hear all the time. Check out Mungus at myspace.com/mungusband
Wanna Be A Rock Star? Hot Action Cop Wants You! The Nashville-based alternative rock band Hot Action Cop, which has a record deal, needs a mid-twenty-year-old, singing bassist with good equipment who is prepared to tour in a van. Send reference material and MP3s of music you have played on to detourmusic@aol.com or hotactioncop@bellsouth.net
The New E - Flat: The foul-mouthed, rap metal hooligans are back with a new bassist and guitarist, none other than the insanely weird and funny Kenny Phelps and his sidekick and guitar monster Eric Starkey, both formerly of Dump Gang. I must say the change in E-Flat's lineup is pretty cool and works out for everyone. Eric and Kenny fit in almost too perfectly! Very powerful. As powerful as when E-Flat was at their peak a few years back. The next few months should be an active one for the E-Flat guys. The band has some ten unrecorded tunes. They are looking at July or August to do some recording.
MGSF Invades: I heard they jammed, but I wasn't prepared for duo twirling devils on vocals and demon guitar of that caliber. They were pretty darn young, so I didn't expect too much. I was mistaken, to my pleasant surprise. What I got was a very good death-metal type band that kept the listeners interested the whole time through, which is a big test to me. Killer screams by Frogg and second vocalist Spyder were quite good and made me think of them as Incursion's little brothers. Spyder has joined the Navy recently, so Frogg will take all the vocal duties.
The guitars were chunky and chockfull of groove-laden thrash riffs, but the guitarist definitely needs a better guitar head and fast. Guitar tone is very important! This was memorable stuff and a brutal good time, indeed.
They don't have a demo yet, but it's coming soon. Until then, Eddy Metal gives them the double thumbs up and for those into the brutally heavy stuff, you need to hear these young cats shred! You can see them on June 16 at Expo 5.
Later, Incursion tore the roof off the joint and had everyone rocking. They sounded great that night at Exile and I had a good time.
4th Street's New Rock Bar? I've heard the lowdown from friends I trust: it seems that 4th Street Live! is trying to gain street cred with the rockers in Louisville. It's not that rockers wouldn't like to have another place to hang out. It's just that those places at 4th Street haven't a clue what a real rock 'n' roll show is about! Seriously, you couldn't drag an actual rocker there: they would be kicking and screaming the whole way. The cheesiness of it all is overwhelming.
I heard all about it. A DJ air guitaring to "Iron Man"? Flashing neon signs? Guitars on the walls? A crowd of non-rockers if ever there was one.
I wonder if this 4th Street club screens its patrons, too? I can see it now: "Sorry pal, your hair is too long and you have a Van Halen tee-shirt on, you're outta here!"
Serene Review: Wow, this rock band is good. Much better than I thought they'd be. They played my Hill show with Subrosa and kicked major butt in the process. I love Tiffany Kaufman's voice and was rocking bigtime. Emotion is very apparent in her style and a great frontwoman she is! Very good songwriting for such a young age.
They seem to be real cool, down-to-earth people, too. Their demo is a very good recording, with nice guitar tone that draws you in, only to kick your butt. They are starting to play out a lot these days, so be sure to see this female-fronted band play! It's scary to imagine how good they'll sound a year or two down the road. Myspace.com/rockserene
4 Storie Failure: 4 Storie Failure is a hardcore/metal band of young guys who are not bad at all. I'm kinda digging this song called "Friends In The End." There's a pretty good beat to it and there are some decent vocals going. The song has an energetic, funky, heavy style that would set the toes to tapping. The vocals go from screams to singing to a fast rap-like lyric. Young but talented and decent songwriters.
The recording quality, however, is bad. I always tell bands that a recording is all-important. So save that cash, because I'd like to hear this on a real recording system. The band sounds fine, though
Visit them at myspace.com/4storiefailure
Sonic Epitaph Seeks Bassist: Sonic Epitaph, a female-fronted, power/symphonic metal group similar to Within Temptation, Nightwish or Lacuna Coil, is looking for a male or female bassist with decent experience, good equipment and a willingness to take the time to write original music. Contact the band at http://www.myspace.com/sonicepitaph or sonic-epitaph@insightbb.com or call (502) 645 - 6758 after 9 p.m.
How To Not Get A Show: A band from Greensburg, Indiana, contacted me a few months back about getting on my Hill shows. I was totally slammed with CDs to review and had not gotten back with them. I was planning on a positive write-up on them in a couple of days, when the singer logged on to my myspace comments list and said I suck because I didn't get back with them fast enough.. I was going to cool off a month and maybe write the story next month, but then came more insults and harassment, including from a girlfriend . I'm not going to mention their name, because they don't deserve the publicity this would bring them, but know this: insulting a promoter, radio DJ, record label person, or others in the media can totally screw with your reputation and future opportunities. Be patient and your time will come. Threats and insults are not the way to get noticed.
I Need A Singer: I'm looking for a singer/screamer for a new project I'd like to get going. Aggressive thrash groove with melody and bigtime hooks. Heavy guitar riffs, but with a melodic vocal edge, with screams as well. No egos, or laziness please! Eddymetal1@aol.com
Upcoming Shows
The Brickhouse
Saturday, June 2: Serene, Ashes Eve, Junction 907 and Aletheuo. 6:30 p.m. $10
The Bulldog Cafe
Saturday, June 2 - Holbrook, Dying Kind, Exhaustion Method, A Time Imperfect and Sever The Illusion.
Friday, June 8 - Descention, Last To Reconcile, Holbrook, Serene, Amendment and Sever The Illusion.
Saturday, June 9 - 16 Bones. 8 p.m.
Saturday, June 16 - Sphere, Embertide, Four Storie Failure and Hyndsite.
Saturday, June 23 - MSD, Halfway Hollow, Fall For Nothing and Serrated
Saturday, June 30 - 7Day,Sun, Return To Self, Serene and T.B.A.
Expo 5
Saturday, June 2 - Insane Clown Posse, Twizted, Z-Clan and Underworld Assassins. All Ages. $30
Saturday, June 16 - Master Of Fright presents, Incursion, MachineGunSkullF**k, Anvil Grey, Poetry Of The Dead, Shatterstone, Throwing Stones, De - Hydrated, Soul Filled Tomorrow, World In White and Maullee. 5 p.m. $10 Adv, $15 DOS.
Headliners Music Hall
Tuesday, June 5 - Necrophagist, Cephalic Carnage, Cattle Decapitation, Decapitated, Faceless, Ion Dissonance, Beneath The Massacre, Arsis, As Blood Runs black, daath and Killwhitneydead. 3 p.m. All ages. $20
Friday, June 15 - Clutch, The Tossers, Year Long Disaster and Your Electric Highness. 18 and over. $19 DOS.
Sunday, June 17 - Emarosa, Kinsey, Subrosa and August Burns Red.
Monday, June 18 - Straylight Run, Sparta and Lovedrug.
Tuesday, June 19 - Olympia, Moros Eros and We Are The Fury.
Saturday, July 14 - The Intheclear Summer Send off show, with Inept (Warped Tour band).
Phoenix Hill Tavern
Friday, June 1 - Original rock showcase series. 16 Bones, Thorn, Dogwater, Slokill and Prey For Maria.
Friday, July 4 - Original rock showcase series. 13th Age, Boom Orangutan, Caldera, The Burial and Antikythera (unconfirmed). Both shows 9 p.m.
Uncle Pleasants
Saturday, June 2 - Once Fed Lies, Dogwater, Poetry Of The Dead and Clear Conscience.
Wednesday, June 20 - Devil wears Prada, Drop Dead Gorgeous, Dance Gavin Dance and At The Throne Of Judgment. 7 p.m.
Outtownerz and Otherz
Saturday, June 9 - at the Shepherdsville city park. Retts Syndrome benefit with 4 Storie Failure and T.B.A. 7 p.m.
Friday, June 29 - at the Farm Bureau Building in Brandenburg, Kentucky. Heaven Hill, Born Broken, Deadsun, Serene and Sphere.
Props of the month
I met some super cool new promoters, who run a metal promotions business called Master Of Fright Productions. Robyn Durkin, Sean Durkin and Rob Caporale have as a goal to have a bunch of fun metal concerts, to get the bands exposure, network, make new friends and to do some good in the scene.
I'd say they are off to a great start, because they raised over $2,000 to Give A Lung Benefit to a man in need of a double lung transplant. A very unselfish and noble, classy move!
They have put on concerts at Uncle Pleasants, Rustic Frog, Wick's, Petrus, Exile, The Dugout and Fender's Den Of Sin.
Master Of Fright manages Poetry Of The Dead and MachineGunSkullF**k and promote Anvil Grey, Grae, Once Fed Lies and The Jane Rose Band.
On June 16 at Expo 5, it will be metal night for real. They got a helluva show lined up for you rockers: twelve bands, raffles and vendors, so it should be fun.
So welcome to the scene, Master Of Fright, for you have earned an honorable mention! Visit Robyn, Sean and Rob at Myspace.com/masteroffrightproductions
Sean is also a DJ on Aiiradio.net, so have a listen, or he will beat you!