October 2017 Articles
Cover Story
Paul Moffett
Columns
Eddy Metal
Eddy Metal
KYANA Blues Society
Blogs
Got Shows?
Send Them To Us
Bookmark Louisville Music News.net with these handy
social bookmarking tools:
Available RSS Feeds
- Top Picks
- Today's Music
- Editor's Blog
- Articles
Add Louisville Music News' RSS Feed to Your Yahoo!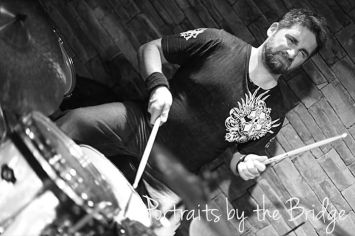 Jeff Williams
Name: Jeff Williams
Age: 45. 11-18-1971.
Instrument: Drums
Band/Former Bands: Planet, Speed of Sound, 99mph, Eight Inch Elvis, Crazy Driver, Big Empty, Eddie Anderson Band, Bankok and currently Naked Garden.
How long on instrument: 35 years.
Equipment: I keep my Ludwigs at home, so I'll talk about what I play with Naked Garden. 5 piece Tama Superstar drums, 2 rack toms and 1 floor tom (12", 14", 16"). 22" bass drum with a Drum Workshop double pedal. 2 Remo rototoms (10", 12"). I carry 4 snares with me, but I prefer my old hand hammer bronze Ludwig Paistecymbals. I prefer the Signature series, but I break them. 22" 2002 heavy ride, 18" Signature full crash, 18" 2002 heavy crash, 18" China (I like em cheap and trashy), some kind of cheap 10" splash (they all break pretty quick. I think it's a Zildjian right now.) and 14" Signature heavy hi-hats. This is all true to the best of my knowledge. I don't really know a lot of the details about my equipment or even a lot of the licks I play. I just know when things sound good, and try to use/do that. I'm 98% self taught.
Sticks: I like "ROCK N" best, but they're too loud and cause too many "hit points". I use Vic Firth "Extreme 5BN" with Naked Garden.
Influences: John Bonham (of course). Alex Van Halen, Neil Peart, Ringo, Tommy Lee, Charlie Watts, Rod Morgenstein, Keith Moon, Phil Rudd, Kenny Aranoff, Jon Theodore, Yuval Gabay, Matt Cameron and Gavin Harrison to name a few. There are a lot of other drummers I listen to, but can't really learn much from because they're just crazy good. Brad Canaday would say they're from "Percussatonia". I'm not sure where that is, but I'd like to go there. I'm sure it would require a spaceship because some of these new guys must be aliens.
My first gig: Annie's in Mitchell Indiana was my 1st paying gig, so I consider that to be my 1st gig. It was with Eddie Anderson and the 6th Street Band. I guess that was around 1987. We played every weekend back then and often 3 nighters. Thursday, Friday and Saturday. I'd be so tired at school on those Friday's after a Thursday gig. Get home at 5am and go to school at 7:30. I missed my proms and graduation because I had gigs. Those were the days!!!
Hobbies: Reading has always been one of my favorite things to do. I like soft back books. The hard ones are heavy and have sharp corners. Computer screens and tablet-like devices make my head hurt after a while. I'm mentally a juvenile, so if I told ya any more; I'd have to kill ya. Hunter S. Thompson and me would've probably been good friends.
Favorite movies: The Godfathers (I usually watch them all 3 after Thanksgiving dinner. Why they play them on Thanksgiving is beyond me). The Song Remains The Same, Casino, Good Fellas, Gladiator, Cool Hand Luke, A Clockwork Orange, Grease (I know, I know), An Officer and a Gentleman, The Harry Potter series (the books are WAY BETTER). I'll throw Game of Thrones, Shameless, The Rifleman, Wanted Dead or Alive and Orphan Black in too. You should expand this question to include TV, Netflix, Amazon Prime, etc. There are so many good things to watch from so many sources now that it's hard to have a favorite. These are just what popped into my head immediately.
Favorite food: Sushi.
Favorite place: Inside my house. Hazard, KY and Rough River are like home to me also.
Favorite sports or team: Kentucky Wildcats Basketball. HELLO!
What I'm listening to nowadays: Avante Guardog, Van Halen 1, Them Crooked Vulture, Tupac, The Mars Volta & Zep are currently in the cutting edge 6 CD changer in my car. I've been listening to my old original band, Planet, a lot also to relearn our songs for KevFest2 on October 22nd. We get the honor of playing 4:30-5:15pm with a moment of silence at 4:44. BE THERE!
15. Coolest thing I've done: Opened for Motley Crue at The Palace.
16. Most embarrassing moment: Running into a closed sliding glass door at full bore in my younger years. I threw a Wii controller against the wall at my brothers house the other day (10-06-17). That was embarrassing for about 10 seconds, then it was freaking hilarious. I'm still laughing.
Bad Habits: Playing covers in bars for minimal pay. Haha. I don't regret a single gig though.
What was your first concert ever: Metallica, Motley Crue and Ozzy in 1986 at Cardinal Stadium. Tommy Lee was a like a god to me back then. I would've given up had I not seen and heard him play.
If you could meet a Rockstar (past or present), who would it be, and why: John Henry Bonham. Because he's the best rock drummer who ever walked the face of planet earth in my opinion. I have so many questions and few answers. How he did things and why he did them that way. He changed rock drumming forever and was mostly just doing what felt right, without much to learn from. I think he credits Buddy Rich, Keith Moon and Motown records as his influences. He didn't have YouTube and Modern Drummer magazines to learn from and his finesse, dynamics, technique and power will live forever. Plus, he played for the best rock band in history. We could agree to disagree about all of this, but you'd be wrong.
Who do you love: I love so many people. My mother, Brenda. My family, all of them My girlfriend, Rhonda. I love so many people from the Louisville music community (fans and musicians) I recently had my prostate gland removed because I had cancer and Shirley's Way (Mike Mulroony) and M.E.R.F. (Shawn Wallace) showed me a ton of love by paying my bills for 8 weeks while I was off work without pay. Now my Naked Garden family (The Crigler's) are planning a benefit for me to help dig me out of this financial hole I'm in. As I get older and wiser I've notice I naturally gravitate toward people with a Positive Mental Attitude and away from negativity. This year has been a tough one for many reasons. Without the support of my friends and family it would've been a lot tougher. Thank you all.