July 2017 Articles
Cover Story
Paul Moffett
Columns
Eddy Metal
Eddy Metal
CD Reviews
Staff
Blogs
Got Shows?
Send Them To Us
Bookmark Louisville Music News.net with these handy
social bookmarking tools:
Available RSS Feeds
- Top Picks
- Today's Music
- Editor's Blog
- Articles
Add Louisville Music News' RSS Feed to Your Yahoo!

Issue: July 2017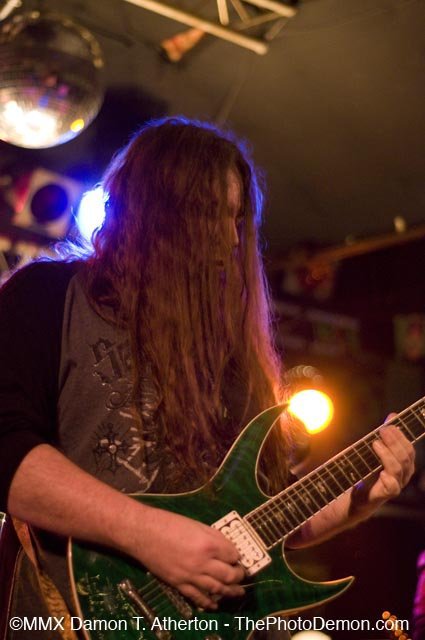 News From the Pit
Lord, Have Mercy! I have been so busy its ridiculous (See Reviews & awesome pics by the talented Michael Deinlein & me below). Work, band, column, shows, girlfriend, fixing up my house, reviews, upgrading my Jeep Wrangler, omg! I'm swamped as hell, but I've been having a ball doing so. Good things all-around! I've had an interesting month indeed. I made it past the ninety-day gauntlet of exhaustion trial period at my new job (yay, I did it!), and I just got to open for a band I dig from way back in the Eighties, LA GUNS at Mercury Ballroom. It's so cool to be able to open for bands you loved growing up! I've been pretty lucky in that department. Skid Row, Quiet Riot, Ratt, Prong, Suicidal Tendencies, Geoff Tate of Queensryche, etc, etc. My GF and I went and saw Ghost at the Palace, and it was pretty sweet, even though she thought it was weird, but good. And I got to cover legendary heavyweight boxer Evander Holyfield's first ever Real Deal Promotions Boxing Event, at Freedom Hall. It was awesome! I said hello to Holyfield. Wow! What a night!
So you see, I've been a busy bastage. So sorry if I have been absent from some events, and not returned calls or messages as fast as I usually do. My new job has me working 55+ hrs a week, so it don't leave a lot of time for anything else. I am kinda bummed out about not getting to see U2 at Cardinal Stadium (didn't get approved), or Iron Maiden in Nashville. I wanted to go to both pretty bad, especially Iron Maiden, but getting through this 90 day work trial period was priority one!
I did it. I'm home free workwise, and all this extreme overtime at work is going to end soon, supposedly. So in a few months I'm going to take it easy and head down south for a week to a place I've never been. New Orleans & Gulf Shores Alabama. I'm gonna check out the history of Nawlins, get some 'real' cajun food, then just lay on the beach for a few days and relax.
I've earned it. They'll work a MF half to death!
As far as the scene goes here in Louisville these days, it's frickin' abyssmal. Too sad to talk about almost. No unity. No real support for one another. Bullshit politics. Favoritism. Attendance for locals only shows is lame in what very few clubs we have left. No more Phoenix Hill Tavern, which was a major blow to the scene. That place was more important than we ever knew. It's too bad mismanagement destroyed a truly unique Louisville icon. It got to where they let every moron with a $150 guitar onstage. With vast quantities of bad bands booked and greenhorn wannabe promoters coming out of the woodwork at the end, it wasn't special no more. The End. When I started my showcase there in January 2000, it was an HONOR & PRIVILEGE to be able to play PHT. You had to earn it!
And now this horseshit, no radio support for local music anymore on a large scale. A few smaller stations (props to Axe, Luie & Hippyhead) are still plugging away, thank god, but we've no BIGTIME rock stations anymore. It was pretty great hearing your music played on the bigger stations, it was a special thing hearing music you created from nothing being played to the masses, but poof, now thats gone gone gone! Bastards.
So yeah, things are in a dark place for us local rockers.
But we are survivors! Like cockroaches after a Nuclear War! We won't die, or go away willingly!
I've had thoughts of throwing in the towel at times, but I love playing music too damn much!
It brings me up when I am down. I can be totally exhausted, and when I start playing at band practice with the guys, I suddenly have newfound strength! If you are sad, it can cheer you up! And if your girlfriend dumps you, or does you wrong, it will surely help you find another just as good or better! My point is — it's medicine!
And I need my meds!
So Music it is!! I'll quit playing, creating and reviewing, when I'm dead.
Until then, the haters can suck a turd in purgatory.
P.S. Come see me play July 29 at Monsterfest at Expo 5!!!
The Metal Grapevine
Louder Than Life Bands Announced!
You waited for it! So here it is folks. Enjoy. Here are the main acts performing. Saturday, September 30 — Ozzy w/ Zakk Wylde, Five Finger Death Punch, Rob Zombie, Mastodon.
Sunday, October 1 — Prophets Of Rage, Incubus, Stone Sour, Rise Against.
Other bands on the bill are: Halestorm, Gojira, The Pretty Reckless, In This Moment, Eagles Of Death Metal, Thrice, Of Mice And Men, Falling In Reverse, Hollywood Undead, Sleeping With Sirens, Steel Panther, Nothing More, Beartooth, Starset, We Came As Romans, Lacuna Coil, Miss May I, Radkey, Badflower, He Is Legend, Black Map, Ded, Through Fire, Palisades & Biters.
Get those tickets, why wait? As always, it sounds like a helluva time. See you there.
Here is some classic Ozzy n' Zakk. BTW, it has been many many years since Ozzy played Louisville!
Let's welcome him back with a huge crowd.
Holyfields Real Deal Championship Boxing Premier Review (pics by ME!) : Yeah yeah, this is a music publication. But sometimes, because my boss/editor is a cool cat, I get to cover sporting events too, so shut the hole under yer nose! I love Boxing! Always have. As a kid my dad watched boxing and me and him would get into it and cheer the fighters on! We would watch fighters like Azuma Nelson, and I was entralled. It was a fun m1emory. There is nothing like a good scrap! And my favorite fighter of all time is Evander Holyfield. You know, the legend? The guy who beat Tyson's ass so bad, that Tyson had to bite his ear off to get Holyfield off of him! The man has been in wars! Well, Mr Holyfield has started a promotion company called Real Deal Championship Boxing Promotions and their very first fight card was here in Louisville on June 24. I wasn't going to miss this historic event even if I had to pay to get in! But I got approved for Media Coverage so I was all set to go! I've covered Oliver McCall & Laila Ali fights in Louisville before, so I'm not new to this. I got there, got my credentials, and just wandered around inside the halls whilst the crowds gathered outside waiting for the doors to open. Turns out Mr Holyfield is a class act, and had special seats and food & drinks reserved for Media People. Delicious Italian food. I had all-access, so I was all over that place, checking out the setup. Freedom Hall looked amazing! Like an HBO or Showtime boxing event! Total pro setup. They even had the famous announcer with the long dreads, David Diamante, on the mic. That guy is good! He was surrounded by super hot ring card girls. Lucky bastage. Evander spared no dime for this, his first Boxing Card! The huge crystal clear TV screens above the fighters entrance just like the top networks, lazer precision effects, huge lighting trusses above the ring, it was amazing. I felt like I was at a top network boxing event for sure. The most memorable fights were of main event heavyweights Carlos Negron vs Derric Rossy, a give-and-take battle with no quarter. Both fighters gave as well as they took. Some very hard shots were fired, Rossy went down in round 2, he got up firing back hard, even hurting the larger Negron, and both fighters looked a lil' hurt at times, but Negron amped up the attack in round 3 with some very hard blows, and he had more stamina in the end, even though he was sometimes sloppy with punches. Rossy withered under the tall Puerto Rican's hammer blows, and Rossy's legs were kaput by round 4, when the bout was stopped. But I think the ref stopped it a bit too fast, and should have given Rossy the alotted time to recover, as he had certainly earned it by fighting back! It wasn't easy for Negron, let's put it that way. Both fighters were very active and were going for broke! No bullshitting going on in this bout! But the freakish 83-inch reach of Negron had no doubt played a factor into this bout. The accumulated shots had taken it's toll on the beat-up looking Rossy, who in my eyes, earned great respect even in loss. I saw him later that night, looking sad, and I said to him "Good fight, man!" Hopefully that helped a little. Props to both fighters for their effort.
Stephen Martinez of Bronx NY vs a super-tough Anthony Lenk of Niagra Falls NY, who seemed on his way to a victory, even though he was called in on one weeks notice and hadn't fought in over 3 years, tired in the end and was outworked by the Bronx native. It was very close though, and Lenk had the crowd cheering him on. Able "The Animal" Penna of Louisville fought a hard fought battle against a resilient opponent in Joseph White from Miami Fla, but Penna ran out of gas (he may have ko'ed his opponent if he was in better shape) in the later half and White was on him like flies on honey! He smelled the blood and went for it, but it wasn't enough, he earned himself a draw. Able never quit and fought hard till the end, but his punches had nothing on them at the end.
Louisville lightweight Carlos Dixon had a helluva night and pro debut as he ko'ed the more experienced Deangelo Huggins from Indianpolis, in under 30 seconds! Lightning fast was Dixon as he shot in with a left hook right on the ole' piehole. Pow! It was perfect. Down went Huggins, never to recover. I want to see this young fighter again! Something tells me we may be looking at a future champion one day, from Louisville!
There were opening bouts featuring fighters from Louisville. Young kids! They were great. Especially Louisvillian Trevis Burgos who scored a niiiice K.O. against Dayton Ohio's Kavon McDade. Lookout for this kid, who, I was told, is a determined smart kid who stays on the right positive path!
Evander helped some young Louisville urban youth boxers BIGTIME by giving them a shot to be seen. He went way out of his way to make this happen in our city, with our youngsters! It makes Evander look like a role model of what you could possibly become with hard work, confidence, and heart. This makes me like Holyfield even more! What a cool guy. Helping the kids, helping Louisville be the boxing city I know it can become, and treating me and the other Media folk good.
African Americans, white folk, hispanics, etc, etc — all got along famously! It was beautiful! I didn't see one instance of fighting or racial idiocy. Everyone got along and it was a blast, I'm telling you!
I was sitting next to this black guy who was a trip. He was sooo funny. He was 400 lbs with a big gap between his two front teeth. He was yelling at every punch, and his voice was booming!! You could hear this cat in the parking lot, I'm betting! He was yelling things like "awww lawd, he dead after that punch" and "he got hit so hard his mama feel it." Stuff like that, but maybe a lil' more extreme. Anyways, this big loveable guy, who works at the Ali Center, had everyone in our area cracking up! I might have to go visit him down there, since I've never been to the Ali Center. No, in fact, I'm going down there! No maybe to it.
It was good old fashion camraderie, minus the racial bullshit.
One thing did bother me though. That more of you mofo's did not come out and support this event. It wasn't dead, but it wasn't packed either. It was 45 to 55% capacity I'm guessing. Freakin' Evander Holyfield is trying to do stuff in our fair city! And help our children stay off the streets and do something positive and healthy. What more motivation do you people need? C'mon. Evander is right up there with Ali in my opinion. Not only does he have tons of heart in the ring, he apparently has tons of heart outside the ring too. He walked right by me and I got to say "Holyfield", and Evander Holyfield nodded politely to me. It was soooo cool.
I would like to thank the Louisville sports folk (you know who you are!) who worked with Holyfield to make this happen.
Do not give up, we will make this work. And work well! People like you and me, we will spread the word! For rumors are that another Real Deal Event is in the works for later this year, possibly not too far off.
But to make this work, you people need to get off your asses, put down the cell phone, and get your lazy rumps out to support! Louisville can be the Boxing town that it needs to be!
Ali would have loved that. R.I. P Champ!
GWAR Coming!
See these maniacs in concert at the Mercury Ballroom on Saturday September 16, go up early to check out The Stonecutters opening. I'll never forget my first Gwar experience. I was shot in the face from across the venue with goo-ey liquid that came from a giant Jesus costume's giant rubber dick hose! Uncool, but pretty damn funny.
Check out this video of GWAR playing Kansas! Wow.
Danny Wimmer Brings Us A Lighter "Louder Than Life" type Festival called the "Bourbon & Beyond Fesitval" set for Sept 23 & 24, fea- Stevie Nicks, Eddie Vedder, Steve Miller Band, Joe Bonnamassa, Kiefer Sutherland & lots More!
It's at the same place as Louder Than Life! Champions Park. Other bands are — Band of Horses, Gary Clark Jr., Paul Rodgers, Amos Lee, Buddy Guy, Trombone Shorty & Orleans Avenue, Kenny Wayne Shepherd, Jonny Lang, G. Love & Special Sauce, Chris Robinson Brotherhood, ZZ Ward, Nikki Lane, Shawn James & The Shapeshifters, Fantastic Negrito, Kiefer Sutherland, Dave Cavalier, bluegrass favorites curated by The Bluegrass Situation, and more. Yup, Bourbon, top chefs with even more great food than what LTL had, and some killer classic music will take over that weekend here in Louisville KY. All the fans of lighter rock music will be out having a ball!
Danny Wimmer is one smart cookie I tell ya! I absolutely love what he has done in Kentucky these last few years. And putting the festivals back to back like that at Champions Park is straight up brilliant. Get those tickets, because this is gonna be a winner too, guaranteed! Hell, I didn't even know Kiefer Sutherland played music! He is a great actor, though. More info coming as I hear it from the promoter! I'll keep you informed.
Nirvana (formerly Cahoots) Opens up:
Good, a new venue! Exactly what we need. Hopefully it will work out where a wide variety of "GOOD" bands are allowed to play.
Monsterfest on July 29 at Expo 5:
Come and support us local rockers! Bands playing are Call Me Monster, Year Of The Gun, 13th Step, The Quinney Brothers, Banshee Child & Point Blank.
Hellyeah Coming Back to Mercury Ballroom:
They will be back on Monday July 10 at the Mercury Ballroom! Should be rockin' as usual! I opened for those guys there a few years back and it was badass. Great dudes too! They even gave us props onstage mid-show.
Ghost at Louisville Palace Review (pics by Michael Deinlein (thanks bro) & ME!) :
This was a fun night. Openers Royal Thunder from Atlanta were very good. Female vocalist/bassist Mlny Parsonz was awesome as she wailed away with her Southernish falsetto rock voice. What a voice! The guitar tones were perfect, and the songwriting was great as well. This is a band to check out if you are about quality music and quality vocals. Ghost came on and kicked ass. They had a great crowd, although it wasn't packed, it was still a decent sized crowd! The lines for their merch was insane! Long as hell! I gotta hand it to Ghost, the know how to sell merch well. They made a fortune, no doubt.
The show was good as they weaved their way through a decent set of Ghostly material. They opened with "Square Hammer" and played a ton of tunes like "From The Pinnacle To The Pit" "Zero Zero" "Cirice" "Absolution" "Mummy Dust" "Ritual" and the last song was "Monstrance Clock.." thery had their stained glass background with the devils and nuns on it. Pretty evil looking when combined with The Palaces gothic vibe. Together it made for an interesting night.
Papa Emeritus sang pretty good, I thought, and entertained the crowd with tales of being a rock star. A friend of mine said he was off-beat a time or two, but I didn't really notice myself.
The nameless ghouls did their usual schtick and played Ghost's music to a tee. I do love the guitarists' tone of amps they use. Sounds amazing. And those weird ass guitars? I wanted one so bad, that I bought one that looks like a Ghost guitar! It is really close. The band seemed very tight, and the crowd more than appreciative. There was a young couple in front of us who was sooo excited to see Ghost. The girl kept yelling "I love you Papa!" Young people, old people, everyone seemed to love Ghost. It was a wide audience for sure! The outfits, costumes, gothic vibe, soothing tripping tones of Ghost's odd music … my GF and I had a fun time. I've seen Ghost several times now, so I think I'm good to go for a while now while they come up with some new material.
Thanks to The Palace for having a weird act like Ghost come play! My buddy who works The Palace, and deals with bands every day, said he would deal with Devil Worshippers any day of the week, because he said they were some of the nicest people you could ever meet, as opposed to some asshole bands he had dealt with recently. I thought that was super funny, so I had to share with you.
Don't let the gimmick fool you, apparently Ghost are some awesome people.
LA. Guns Review (pics by Michael Deinlein):
I was very happy to get the opening slot for this gig. It's always fun to play the Mercury Ballroom, but to open for a band you listened to when you were a kid? Pretty neat! I didn't get to do the thorough review I wanted to though, because I was moving gear, and trying to keep an eye on my very expensive guitar gear that was sitting in the back of the club.I'm not the type who leaves thousands of dollars in guitars laying around for anyone to walk off with, so I watch my shit like a hawk! So I wasn't able to do the review I wanted. But I saw/heard enough of LA GUNS to make a judgement that they were great!
Tracii Guns was on fire as usual, and Phil Lewis sounded like Phil Lewis of old. The band was super tight as they waded through classic LA GUNS hits like "Electric Gypsy," "Never Enough," "Sex Action," "Show No Mercy"and of course, their hit "The Ballad Of Jane."
My only complaint was that in that song, Phil didn't try as hard as he might have. The opening vocals seemed a bit lackluster. Phil was never the greatest singer but he was good and had something! Other than that, they were on it! The crowd was better than what I thought it would be, but it wasn't sold out or anything. There was a crowd of partying MF'ers, though, as most Eighties peeps are. It was my second time opening for Mr Tracii Guns! My band opened for Devil City Angels (Rikki Rocket of Poison, Eric Brittingham of Cinderella, and Tracii Guns) about two years ago at Expo 5. It was an honor then as much as it is now.
We had a blast and the crowd seemed to love our band as well, so I cannot complain. Tracii did two solos that were really good. He loves the classics, so he let loose with several riffs from classic rock hits. Tracii had seriously sweet guitar tones, and his new bearded curly hair look had me thinking it wasn't even him for a minute. But it was Tracii all right. No mistaking that guitar playing. Wow!
Thanks to The Mercury Ballroom for having the balls to have LA GUNS (an Eighties band not as popular as say Ratt or Skid Row), and also for letting us open for them. We had a blast! It was a time capsule show! Good times!
Korn/Stone Sour coming to Cinci:
Tuesday, August 1 at Riverbend. Be there! I've never been a big fan of Korn, but seeing them at Louder Than Life kinda won me over a bit I have to say! They were good. Jonathan Davis was kicking ass on vocals.
Slayer, Lamb Of God & Behemoth in Nashville:
Live at the Municipal Auditorium in Nashville on July 30! This is a show not to miss! Get those tickets and prepare for when hell comes to Nashville!
Musician Of The Month: Check out this months feature, vocalist Christopher Leone of Kingslayer!
Signal the Revolution is Back:
After a lengthy hiatus, STR is back in action! It's good to see those guys back! Kick some ass guys! They have a show at Bogart's in cinci on July 22! Drive up an check them out!
The LMN Bad Humor News Report — Have you heard of the Star Wars band? Galactic Empire!
SEE THEM IN LOUISVILLE JULY 17:
No I am not kidding. I just wuuuuuv Star Wars, so this is the cat's pajamas to me! You can see them here in town for one night only! On Monday, July 17 at Trixie's w/ The Dangerkids.
Send Me Those Live Videos!!
Let everyone hear you in action! Send those videos! Must be on youtube! Eddymetal1@aol.com
LMN Live — End Of Me:
Check out Bryan Fox in action!
LMN Live — Year Of The Gun:
My band opening for LA GUNS at Mercury Ballroom:
LMN Live — Banshee Child:
Check out this awesome new band. I like them!
LMN Live — Created To Kill:
Death metal madness at Metal Mondays!
LMN Live — Dustin Collins:
Live at Coyote Joe's!
LMN Live — The Tunesmiths:
Live at Air Devils Inn!
Upcoming Shows
Air Devils Inn
Saturday, July — 22 Jaggapoloosa featuring Juke Joint Revival, One Shot Johnny,Gavin caster
Jayson William Allen, Mac & Bones, Jason Lewis, Matt Jaggers and
Michael Talley. 6 P.M.
Brewskees
Saturday, July 1 — Gravel & Spiders w/ Out Of The Dark & Crimson Croft.
July 7 & 8 — Louie The Local Guys 15 year Celebration featuring 36 bands on 3 stages! 7 P.M!
Catfish Haven
Saturday, July 22 — Hollowpoint.
Corner Pizza & Pub
Saturday, July 15 — Gravel & Spiders.
Diamond Concert Hall
Friday, July 14 — 10 years w/ Borkar, Some Kind Of Saint & Them Evils.
Saturday, July 22 — Wage War w/ Gideon & Varials.
Expo 5
Friday, July 28 — Bugsy Moran, 100% Angus, Mary Mary, Pat Smith from Fire Dept Band. 6 P.M.
Saturday, July 29 — Monsterfest — featuring Call Me Monster, Year Of The Gun, 13th Step, The Quinney Brothers, Banshee Child & Point Blank.
Highlands Taproom
Monday, July 17 — Creature Of Exile
Levee Bar And Grill
Saturday, July 22 — Gravel & Spiders
Louisville Billiards
Saturday, July 8 — Soundtrip.
Magbar
Saturday, July 15 — Call Me Monster, Year Of The Gun & Pazuzu.
The Mercury Ballroom
Monday, July 10 — Hellyeah.
Wednesday, July 19 — Behemoth, Anagnorisis & Savage Master.
Saturday, Sept 16 — GWAR!
Nirvana
Friday, July 14 — Echoface.
Texas Roadhouse
Thursday, July 13 — Echoface.
Trixie's
Friday, July 7 — Devour The day, w/ Sons Of Texas, Manic Methed & Prey For Maria.
Wednesday, July 12 — Otherwise w/ Through Fire, Kiss Kiss Bang & Gravelswitch.
Friday, July 14 — Cane Hill, My Enemies And I, You Wont Feel A Thing, Pickwick Commons.
Monday, July 17 — Galactic Empire w/ Dangerkids.
Saturday, July 22 — Corey Feldman & The Angels w/ Banshee Child & Polterguise.
Friday, August 18 — Failure Anthem w/ Despite The Fallen, Some Kind Of Saint & Zeroking.
Sunday, August 27 — Texas Hippie Coalition w/ TBA.
Tuesday, October 3 — Soil w/ Saving Able & Kira.
Tuesday, October 17 — Dirty Rotten Imbeciles w/ VAMT.