May 2017 Articles
Cover Story
Paul Moffett
Features
Eddy Metal
Columns
Jean Metcalfe
Eddy Metal
Blogs
Got Shows?
Send Them To Us
Bookmark Louisville Music News.net with these handy
social bookmarking tools:
Available RSS Feeds
- Top Picks
- Today's Music
- Editor's Blog
- Articles
Add Louisville Music News' RSS Feed to Your Yahoo!

Issue: May 2017
Name: Rodney Adams aka Rod Mac.
Age:47
Instrument: Vocals, Turntables, Keys.
Band/Former Bands:  Currently: DJ for Chadillac Dundee, vocalist for E-FLAT (1996 - ?) Former: Aestus (2003-4), DJ for Boombox Poets (2013-16), Other Than Honorable (1993-1995).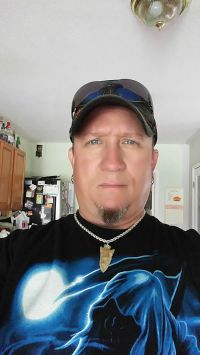 How long on instrument : I started recording vocal tracks in 1989, I started scratching, mixing records in 1985 on my mom's console stereo LOL! I started playing an organ in my room as early as 1981 when I got grounded for being a shit.  LOL.
 Equipment: Sure SM-58, Numark NS-6 DJ controller, Yamaha synthesizer.
 Influences: Grandmaster Flash, Melle Mel, Run DMC, Ice-T and Body Count, Suicidal Tendencies, Metallica, Megadeth, Slayer, Rage Against The Machine, Public Enemy, Anthrax, D.R.I., S.O.D., M.O.D., Ramones, Gary Numan
 My first gig: My first live performance gig was probably in 1990 at a talent show in Keeneland Hall, while attending school at UK. I t was a paraody of Ice, Ice Baby me and my buddy Steve Winn wrote called Crab Lice Baby.  It was hilarious!!.
 Hobbies: I love the outdoors, music and researching things paranormal and cryptic.  I am an avid researcher of Bigfoot/Sasquatch and have been on Finding Bigfoot (Season 5 Episode 1) and just did a show for Destination America called Terror in The Woods, which should air sometime this fall. I'll keep everybody posted on the air date.
 Favorite movies: Horror films, especially Evil Dead 2, Army of Darkness, Killer Klowns from Outer Space.  I also love a good comedy film.  Richard Pryor was a huge influence on me and I sampled several things from him over the years. My favorite film of all time in comedy is still probably Friday. That movie I can recite line for line!.
 Favorite food: I love seafood, especially shrimp.  I also enjoy a good thick pizza. Hometwon Pizza's Hometown Special is excellent and I love some Impellizerri's too!  Prime rib and Bacon also find their way on top of my list.  I love fresh grilled veggies and Japanese Hibachi and I do love sushi.
 Favorite place: Great Smoky Mountains National Park.  I have some Cherokee in my bloodline and those mountains just feel like home.  The forest is my church.  I get my strength and peace when I am in the forest, and that place is one of the largest.
 Favorite sports or team: I can't really say I am a huge sports fan but I do support the University of Louisville Basketball team, and I will watch UK too, to my wife's dismay LOL.
 What I'm listening to nowadays: My taste is so vast but currently in hip hop I like Tech N9ne, Rittz, Yelawolf, Jedi Mind Tricks, Childish Gambino, Lupe Fiasco. In the rock/metal world I am still jamming Crowbar, Down, C.O.C., Hatebreed, Suicidal Tendencies, Kingdom of Sorrow, Icepick, Body Count of course has a new CD which is off the chain!!.
 Coolest thing I've done: Ever?  That is tough, but I would have to say the coolest thing I've done recently was attending a private party in Wauwatosa, Wisconsin last September.  It was RUN DMC, Public Enemy, Sir Mixalot, Rakim, EPMD, Hot Action Cop (my good friends) Ayron Jones and The Way (check this guy out!) Sponge and Elephant Room.  It was all private, fully catered, open bar and one hell of a weekend!.
 Most embarrassing moment: I've had a few but one of the worst I remember was leaning back in my chair at Fazoli's in Hikes Point, in a full restaurant.  My chair came out from under me and the whole room was looking at me.  I stood up and said, "Kids THAT is why you don't lean back in your chairs!"  which then got me an applause and a room full of laughter.  
 Bad Habits: Smoking cigs, drinking too much bourbon.  I am no longer allowed to drink clear liquor. I am allergic.  I break out in handcuffs LOL!! .
 What was your first concert ever: Run DMC, Whodini, LLCoolJ and The Beastie Boys.  A few months later I saw Slayer, Wasp and Raven and became a die hard Slayer fan.
If you could meet a Rockstar ( past or present ), who would it be, and why: I've met quite a few, but I would have to say if I could meet another it would probably have to be Dave Grohl.  That guy is just a charismatic and down to Earth individual.  I've heard stories of how cool he is.  He does a lot for a lot of people and has been a huge contributor to keeping music in educational institutions.  I am a big supporter of that.
 Who do you love: I love my wife Mandi Adams and my daughters Shelby and Cierra. They've had to put up with my madness for many years and they support me in every way.  I also love, in a brotherly way, the musicians and friends who have supported me over the years.  You are one of them bro!  Thank you to all the people who believed in me when I didn't believe in myself.