July 2016 Articles
Cover Story
Paul Moffett
Columns
Mike Suttles
Eddy Metal
Eddy Metal
Blogs
Got Shows?
Send Them To Us
Bookmark Louisville Music News.net with these handy
social bookmarking tools:
Available RSS Feeds
- Top Picks
- Today's Music
- Editor's Blog
- Articles
Add Louisville Music News' RSS Feed to Your Yahoo!

Issue: July 2016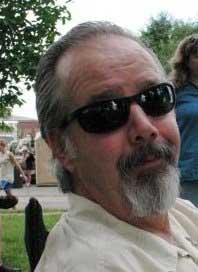 I've Got A Mind To Ramble
­Louisville Fats and The Rhythm Cats featuring Jimmy Gaetano
Even though I'm slowly coming around to expanding my acceptance of newer and broader interpretations of the blues, I still gravitate back to the blues of the old masters, those mainly from Chicago but also those of the West Coast and Texas. Imagine my excitement from the first glance at the back of the new self-entitled Louisville Fats and The Rhythm Cats featuring Jimmy Gaetano album (Dirty Laundry Records). Right before my eyes were tunes written by the likes of Joe Williams, Muddy Waters, Hound Dog Taylor, Freddie King and a few others. Anticipation was high.
Going into the studio to record, the Rhythm Cats decided to include songs from the repertoire they played in live performances around town in bars, clubs and festivals. Denny Thornbury, harp player and band leader, told me, "I felt comfortable with the songs we play live and that including them would get the sound I wanted on the recording." Guitarist Jimmy Gaetano wanted to pay homage to his influences and "wanted it to sound like the old guys" and wanted a compromise between "traditional blues and contemporary so that it would be better accepted."
The recording began about a year or so ago, when Gaetano was a member of the Rhythm Cats (he has since moved on and started his own band). Gaetano plays all the guitars and bass on over half the songs, Thornbury blows the harp and handles all the vocals, Chris Kress plays bass on five songs, Harry Franklin plays drums on all but two songs when Jeff McAllister takes over. Bill Dean plays piano on one track and Bob Ramsey adds piano and organ some of the tracks.
One of the things I found interesting was that Gaetano did all of the mixing and mastering on the disc. That in itself didn't grab my attention. The fact that this was his first time doing this, and using a computer program new to him, was. "It was a learning process doing the production process for the first time. I plan on doing much more of it." Another thing I was glad to hear was that Thornbury told me, "I don't write charts for my harp parts, I just play from what I feel, what I think it should sound like."
The album grabbed my attention from jump street as Gaetano plays a blistering lick on guitar to open "What Kinda Girl Is That," a Joe Williams song that invokes one of Gaetano's biggest influences, Anson Funderburgh. Clear crisp notes throughout the song (and album for that matter). This song swings, the meshing of the rhythm section with guitar and harmonica a real highlight.
"Thank You Baby" is a Thornbury-Gaetano original that is in the same Texas vein. Thornbury's lyrics show a definite growth in his writing and his harp playing is spot on. Once again the rhythm section has that shuffle going on that the lead players can build off. A highlight for me is Ramsey's background organ. Quite understated but filling in where it's needed. This song, along with the other original, "Hall Pass," an instrumental, are the strongest songs on the disc.
"Watch Out," a Hound Dog Taylor composition, takes the listener to the Windy City. Gaetano's slide guitar playing (Taylor's forte) grabs your attention and shows another of his talents on the instrument. I was disappointed that the band didn't stretch the song out and have him play more slide. The little taste I heard left me wanting to hear him tear off two or three more runs to appropriately honor Hound Dog.
A homage to Otis Rush is up next with the Rhythm Cats rendition of "I'm Satisfied." More Chicago blues is what you get. Gaetano mimics Rush's playing and this is an example of him hitting the note by sounding "like the old guys."
More Chicago blues is featured as the band covers Muddy Waters' "I Love The Life I Live." Thornbury steps up on this one. His vocals are very befitting, mixed out front more, and his harp shows that he continues to get better at his craft. Another song that is very true to its original sound.
"I loved Freddie King's two instrumental albums and that was the reason for including this one on there." Gaetano was referring to "Heads Up," a song that is a showcase for his guitar. He is very true to the original and shows his versatility on the instrument. Once again, Bob Ramsey does an excellent job with piano fills. I asked Thornbury and Gaetano why they decided to have the keys mixed in the background versus having them on leads on the album. Both of them responded that the addition of the work by Ramsey and Dean was somewhat of an afterthought and didn't really fit what the band does live. The songs had been recorded but they decided to add some keys. Giving the keys some out front time would have enhanced the recording quite a bit and helped a good record become better.
Next up is "Hey Hey," the first of two Big Bill Broonzy songs. The Cats add the electric guitar to the song as opposed to Broonzy's acoustic version. It's a very good rendition and reflects Gaetano's statement about a cross between traditional and contemporary blues being accepted. This was a missed opportunity because I can guarantee (and I suggested this to Gaetano) that listeners would have loved hearing the band playing it that way.
My favorite song on the entire disc is the second original mentioned before, "Hall Pass." Another Texas blues song with a little West Coast swing and an increased tempo that features the two main instrumentalists at their best. It's a rollicking, joyous two minute romp.
Texas blues reigns again with legendary T-Bone Walker's "Why Not." Thornbury again adds a strong vocal, the harp and guitar trade off each other, the rhythm section shuffles and Ramsey shows why he is one of the most respected players in town.
The second Broonzy song, "I'm Gonna Move To the Outskirts Of Town" is another example of influences being a good thing. Gaetano shows he paid attention in class as he evokes Funderburke with subtle notes. Ramsey again adds so much to the song with his piano (it was here on my first listen that it registered with me that more of the keys would have elevated the record). Nevertheless, it's another example of the quality playing here.
It's back to the Windy City on the last two songs of the disc. Muddy's "Don't Go No Further" is true to its origin as the band demonstrates its ability to play real-deal Chicago style blues. Thornbury's licks show the influence that Sonny Boy II and Little Walter have had on him.
Finishing the album is "Sticks Way Out Behind," another Chicago blues written by Snooky Pryor. It's a fitting way to end the recording. Thornbury's harp, Gaetano's guitar, the rhythm section, and Ramsey's piano blend together very well, the sum being more than its parts.
Louisville Fats and The Rhythm Cats featuring Jimmy Gaetano takes the listener on a trip through the various influences the band members credit for their sound. It echoes what the band (even without Gaetano) sounds like live. It's a mixture of the blues that have held sway on its listeners for years. The Rhythm Cats have done themselves proud with a fine recording.
The Louisville Blues, Brews & BarBQ Festival
The annual mid-summer event takes place on Friday, Saturday, and Sunday, July 22-24 at Water Tower Park, 3005 River Road.
The line-up for this year is:
Friday, July 22nd:
King Bees 5 - 6:40
TullieBrae7-9
Studebaker John & The Hawks 9:30 - 11:30
Saturday, July 23rd:
Da Mudcats 4 - 5
LittleT&A 5:15 - 6:30
Nora Jean Bruso : 7 - 9
John Primer 9:30- 11:30
Sunday, July 24th:
Carla Z and the Holy Smokes 1-2:30
Blues & Greys 3pm - 4:30
BoscoeFrance5:00-7:00


** Band schedule subject to change
You can find more information at louisvillebluesandbbqfestival.com
Two things to note:
*if you go to the fest's website and navigate you can find coupons for reduced admission prices.
*if you join the Kentuckiana Blues Society prior to July 10th, you will receive free admission to all three days of the fest. You can find more info at kbsblues.org