March 2018 Articles
Columns
Paul Moffett
Eddy Metal
Eddy Metal
Blogs
Got Shows?
Send Them To Us
Bookmark Louisville Music News.net with these handy
social bookmarking tools:
Available RSS Feeds
- Top Picks
- Today's Music
- Editor's Blog
- Articles
Add Louisville Music News' RSS Feed to Your Yahoo!

Issue: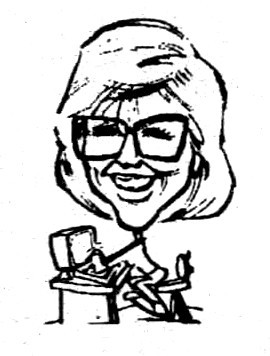 Newsical Notes
Congratulations and Best Wishes to Sally Mudd and Pat McLaughlin who were married this summer. Sally is a former LASC member who moved to Nashville several years ago and Pat is a singer-songwriter perhaps best known for writing the hit song "Linda."
Why don't you bring Pat up to Louisville and introduce him to us sometime, Sally. We'd love to see you and meet your new spouse.
One of the recording projects Music Man Charlie Walls' recently completed is an eight-song cassette album for up-and-coming artist Brent Maverick. Several of the tunes were written by friends and former members of LASC: Dot (Elpers) Ramsey-Patterson and Debi Knight wrote "I Can't Put Your Memory to Bed," Robert Morris wrote "Believe in Yourself," and Gardner Barger, Sam Reid and Charlie collaborated on "A New Number One." Charlie also included his "Comin' Home" on the album.
Debi and Dot are founding members of the two local songwriting groups: LASC (Debi) and NSAI Louisville (Dot).
"I Can't Put Your Memory to Bed" is in the catalog of Walls & Reid Music (or is it Reid & Walls?), and is also a cut on Music Man Records' Coyote's Country (released late last year). Additionally, it is a cut on the LASC's second compilation album, Almost Famous, which we played for Maverick and his manager Donna Larson in a pitch session on Memorial Day.
Debi phoned up from her home in Irvington, Ky., mid-month to thank Prez Paul Moffett and me for pitching her song to Maverick. She has promised to take me out to dinner (at my suggestion) if Maverick makes it to the majors and puts her and Dot's song on his debut album which would, of course, ship platinum. (I've had my eye on a couple of dining spots for a while, Debi, and neither is Po' Folks.)
Thanks to Charlie's efforts, the song was played on a radio station in Debi's area, prompting some 40-50 requests, she said.
Debi also related that she and former Board member (and talented lyricist) Krit Stubblefield had been to Louisville for the State Fair back in August and had a fine old time. (Krit co-writes with WHAS Radio's "Man of 1,000 Voices," former LASCer Randy Davidson.)
Went to the album release party for Charlie's compilation CD Crystal Ball at Colonial Gardens after the Sept. 19 meeting. Karen Kraft & Kiks were just winding the party down when we arrived, but we did get to say hello to member D.V. Gilbert, the Other Smothers Brothers and Karen, all of whom have cuts on the album.
Got a fax from Doc Dockery a week or two ago. He says he sure has been busy, and is sorry he hasn't been able to attend meetings lately. His partner in Mills & Dockery in London, England, has set up some appointments in Nashville during the CMA-sponsored SRO Convention the first week of October, and they'll be trying to snag a big label for their own Hitkicker Records CD.
Doc is still interested in doing recording projects at his New Albany studio. If you'd like to give him a try, give him a call at 812-945-5240.
It was good to see Joann Hatcher back at the meeting on Sept. 19. She's doing better following her recent heart attack, enough so that she and her daughters spent several September days visiting Nashville. Despite the unexpected hot weather (the temperature hit 97o one day, she said, adding that she had planned the trip for what she thought would be cooler weather), they had an enjoyable time, and they did see country artist Mark Chesnutt at one air-conditioned spot.
Karen LeVan has been busy trying to keep up with the Nashville scene, and it's quite a pace (does that sound like Karen?). Former LASCer Bev Summer has recently moved into Karen's condo, which helps the pocketbook of each, and both of them are actively pursuing the elusive butterfly of music. Karen is constantly running into music biz people and, ever the publicist, she touts them on the LASC.
Homefront's 10th anniversary bash at Bellarmine brought out several LASC members, past and present, to either entertain or be entertained, and the talent line-up was excellent. Tom Flood and the Memphis 4 (which included, among others, Ray Major on harmonicas) kicked off the evening, and they did a fine version of John Goodin's "Fool's Paradise" (a cut on the LASC's second album) on their set. Until moving to Iowa last month, John was one of the Memphis 4. Dallas Embry was there doing his part (he also lines up the talent) as was stagehand Jim Boklage. Seen in the audience were Wally Stewart, Susie Wood and her husband Bill (who are expecting their second child Oct. 1), Dave Evans (a founding member of LASC) with his wife Pam and their rapidly growing children, Prez Paul Moffett (covering the event for LMN) and his wife Beth, and Homefront regular Vince Callahan.
Sorry to note the resignation of our two newest Board members. In an unfortunate coincidence, our two newest appointees, Donna Dalton and Mike Swayze, noted that their individual circumstances had changed and they would be unable to fulfill the duties of the positions.
Thanks, Donna and Mike, for the willingness to give it a try, and we hope to see you both at meetings. Keep on writing those songs.!
Bryan Hurst was appointed by the prez and ratified by the Board at its Sept. 13 meeting to fill one of the unexpired vacancies.
Welcome, Bryan, and thanks for helping out with the contest first-round judging, including welcoming us into your home a couple of times to do it.
Sneaked away to the National Quartet Convention at the Ky. Fair & Expo Center on Sept. 22 to try to replace the stress of newspaper deadline (and song-contest judging) with the soothing sounds of Southern Gospel music. It worked. Almost immediately my husband Tom and I ran in to Board members Mike Boehnlein and Jack Roberts in the outer hall. Mike had just finished snapping photos from the front row at the Fan Awards and, after spotting prospective LASC member (on duty for Andy Frain) Ginny Virginia, we allowed Mike to use up his last frame on our foursome. (I'm not sure we qualified as the "something special" he had saved No. 24 for, but, hey, plenty of other people were taking Bill Gaither's picture.)
Sad to say, it seems as if this has become almost a nostalgia column. I'm assuming our readers still like to hear about former members and friends of the Co-op, and so I pass along what I see and hear. But we'd also like to hear from our newer and present members as well. Drop us a line ("in black and white" is the best method) or give us a call. Better still, come by the Union Hall for a meeting and hand me a note with your news written on it. Just in case you've forgotten, the meetings are held on the first and third Mondays of each month at the AFM Local 11-637 hall at 1436 Bardstown, two buildings north of Eastern Parkway. Be sure to come to the rear of the building off the alley where there is lighted parking.